This post is all about how to deal with a toxic roommate.
This post may contain affiliate links, which means I'll receive a commission if you purchase through my link, at no extra cost to you. Learn more: Affiliate Disclaimer.
Trying to figure out how to best deal with a toxic roommate?
Whether you're sharing a dorm in college or living in a house together, dealing with a bad roommate can be tough. Sharing a living space with anyone can be tricky, but it can feel incredibly hopeless when things start turning toxic.
Luckily, leases don't last forever and you can always move out when the contract is up. But in the meantime, you need to figure out how to live with a roommate that seems impossible to deal with.
In this post we'll go over 10 tips for dealing with a toxic roommate.
How To Deal With A Toxic Roommate
1. Talk It Out
If you've never had a talk with your roommate, they may not even know their behavior is causing problems.
Sit down and try to have a calm discussion about how you can both improve your roommate relationship. It's important to have this talk in person so that nothing gets taken out of context or misrepresented.
It's important to come equipped with suggestions and solutions for the problems you're having. For example, if your roommate hasn't been cleaning up after themselves you could suggest an apartment cleaning schedule. If your roommate has been eating your food, you could suggest a communal snack bin or splitting the cost of groceries.
Ideally, your roommate will hear your concerns and try to change their behavior. However, we know that doesn't always work. So if talking doesn't solve your issues, it's time to move on to the other strategies on this list.
2. Lead By Example
People tend to mirror the habits of those around them. One of the best ways to deal with a toxic roommate is by being a great roommate. If you want a roommate who respects your belongings and cleans up after themselves, make sure you're doing the same.
It's also hard to take advice and criticism from someone who doesn't practice what they preach. You can't expect your roommate to stop making noise at night if you're constantly playing loud music at other times in the day.
3. Have Some Empathy
When you're in a roommate situation that feels toxic, it can be hard to have empathy for the other person. But sometimes it can really help to try to see the situation from the other person's point of view.
Your roommate may be going through a tough breakup, family issues, or a mental health crisis. Rather than trying to fight with them or change their behaviors, try to understand where they're coming from first.
Having empathy towards your bad roommate doesn't necessarily mean letting them get away with toxic behaviors, but it will help you feel less stressed and angry when situations do arise. If you can approach a bad situation with patience and understanding, it will end up being less taxing on your own mental health.
4. Set Ground Rules
If you've tried talking things out and nothing has changed, it might be time to set up some rules or a formal roommate contract.
Make sure that you both have input on what goes into the contract, so neither of you are left feeling taken advantage of. This will allow you guys to find compromises for your current issues, as well as prevent future conflicts from arising.
Ideally you would have set up some ground rules when you first moved in together, but it can also be done even after you've been living together for awhile.
[RELATED: 50+ Essential College Roommate Questions To Ask Before Move In Day]
5. Create Personal Space
Constantly sharing your space with another person can be very stressful. Make sure that you both have areas of the house or room that you can go to for some personal space.
This is obviously much trickier in a dorm room – you're pretty much sharing every inch of the room!
If you start feeling overwhelmed in your dorm room, start spending more time in the library or coffee shop. Or head to a friend's room for a little bit of time away from your roommate.
6. Disengage From Negative Situations
Toxic people tend to feed off negative energy. If you can tell your roommate is about to start drama, try disengaging or acting unbothered.
Try to keep the conversation positive, change the subject, or just leave the room completely. When you don't contribute to the negative situation, the toxic person will often just give up.
I know it can be so tempting to fight back or get involved in their drama, but trust me, sometimes the best thing to do is just disengage. Fighting with them will only fuel their toxic behavior or justify it in their mind.
If you can't turn the conversation positive or change the subject, I recommend saying something like "I need to remove myself from this situation. We can discuss this further when tensions are a bit lower."
7. Consider Your Role
A relationship is a two-way street. It can be a hard pill to swallow, but it's very likely that you've contributed to the problem in some way.
I'm not saying that you're to blame for your roommates toxic behavior, but you may have contributed to things getting as bad as they are.
Try to apologize for your part in the situation and see if your roommate apologizes or changes their behavior. You may find that your role had more of an effect than you knew.
8. Get Out Of The House
If tensions are really high, it may be a smart idea to get out of the house for awhile. Whether that means spending the day at a friend's house, or even staying a few nights somewhere else.
Separating yourself from the situation for awhile will allow you to calm down and think more rationally about how you want to approach it.
This also could include getting out of the house and doing things together. A lot of times when roommates are having issues, it's because they haven't taken the time to get to know each other.
Spend some time engaging in each other's favorite activities and see if you can form a friendship. People are more likely to treat their friends well, so you may find that bonding with your roommate helps alleviate their toxic behaviors.
9. Don't Take On More Work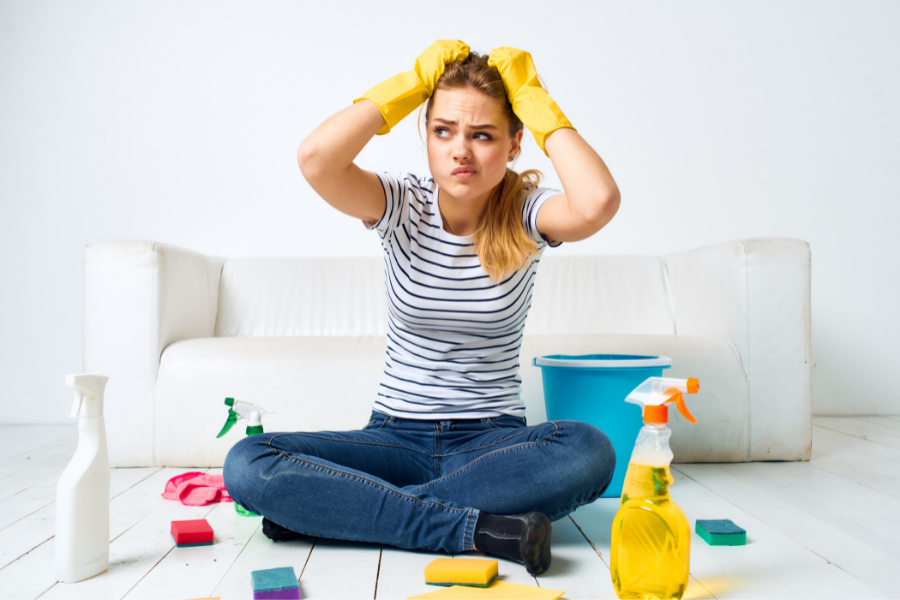 If the issue between you and your roommate is that they aren't pulling their weight with chores, resist the urge to take on their share of the duties. Doing their chores for them will only help reinforce their bad behaviors.
I had a roommate in college who would leave her dishes in the sink for WEEKS! My other roommate wanted to keep the peace so she would sometimes wash the dishes for her.
This made the problem worse because roommate one started thinking that she never had to do her own dishes. At one point, roommate one said she wasn't doing her dishes because she thought that roommate two liked cleaning so she left them for her.
Instead, just be consistent with your chores and continue to lead by example. Hopefully, your roommate will get the hint eventually.
[RELATED: 21 Dorm Cleaning Supplies Every College Freshman Needs]
10. Move Out
If all else fails, you always have the option to remove yourself from the situation.
I know, I know, your lease has 10 more months on it and you can't afford to break it. But seriously, your mental and physical health is way more important than a lease.
If you need to move out, there are options. Talk to your landlord about either ending your lease early or finding someone to sublease your place. A sublease is basically when you transfer your portion of the lease to somebody else.
There are also ways to have your roommate evicted, but it can be a complicated and expensive process. You may even end up needing to go to court. Check out this article if you need more information about this option.
This post was all about how to deal with a toxic roommate.
You may also like: