Looking for the best dorm bedding sets to bring to college? These cute & convenient bedding bundles will make dorm shopping SO easy this year.
This post may contain affiliate links, which means I'll receive a commission if you purchase through my link, at no extra cost to you. Learn more: Affiliate Disclaimer.
Your bed is one of the most important places in your dorm room. After all, aside from your desk, it's where you'll be spending the most time when you're in your dorm.
Plus it's a major focal point when it comes to your dorm room decor!
So if you want to make sure your bedding is totally cute & coordinated, you'll definitely want to get one of these dorm bedding sets. They'll make picking out your dorm bedding SO much easier.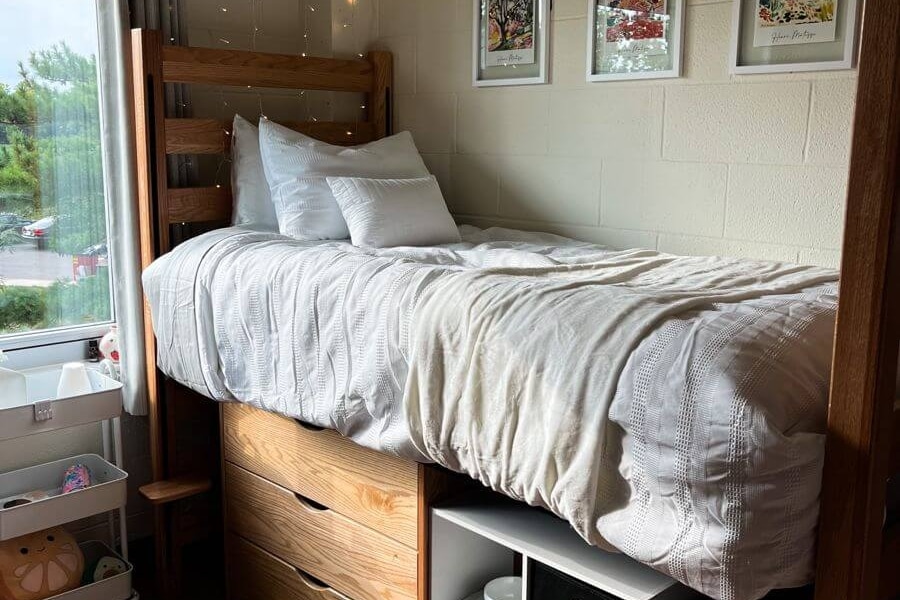 The Best Dorm Bedding Sets
1. Amazon Basics Bed-In-A-Bag
Looking for an all-in-one bedding set that comes in a ton of different styles? This dorm bedding set from Amazon has tons of different colors and patterns to choose from.
Here's what's inside:
Comforter
Flat sheet
Fitted sheet
Sham
Pillowcase
All pieces come in the standard Twin/TwinXL size so you know it'll fit your dorm bed perfectly!
The only things I would add to this dorm bedding bundle are a good mattress topper and a throw blanket for chilly nights.
2. DormCo College Bedding Set
Looking for the ultimate comfort set for your dorm bed? Look no further than this college bedding set from DormCo on Amazon.
It comes with EVERYTHING you need for your college dorm bed – including two sets so you can change them out on laundry day!
Plus it comes with matching bath accessories so your whole dorm will feel coordinated.
Here's what's all inside:
Twin XL comforter
2 Microfiber sheet sets
Mattress pad
Mattress cover
Foam mattress topper
2 Bath towels
6 Washcloths
Pillow
2 Extra pillowcases
Laundry bag
Mesh shower tote
Jumbo storage bag
Consider your dorm shopping basically done with this awesome bundle!
[RELATED: How to Make Your Dorm Bed More Comfortable (Without Spending A Ton)]
3. Reversible Bed-In-A-Bag Set
Are you someone that likes to change up the vibe of your room pretty often? If so, you NEED a reversible bedding set for your dorm room.
It'll allow you to change the entire look of your dorm without spending a single extra penny.
This dorm bedding set comes with all of the basics that you'll need for your dorm bed – comforter, pillowcase, fitted and flat sheets, and a pillow sham.
4. OCM Core Essential Bedding & Bath Set
We'll be honest here – some of the "bed-in-a-bag" dorm bedding sets out there aren't the cutest. They come in some pretty basic colors and designs.
Luckily, the OCM brand on Amazon is the queen of cute dorm bedding sets. They have SO many colors and patterns of their bedding set that are actually cute.
Like this adorable sherpa set is so on-trend right now.
So if you're someone who cares about their dorm aesthetic, you definitely want to check out this set. Here's what's all inside this 16-piece set:
Reversible comforter
2 Microfiber sheet sets
Mattress pad
Bed blanket
Pillow
6-Piece cotton bath towel set
[RELATED: 15 Dorm Headboard Ideas That Will Make Your Bed Look Way Better]
5. Bedsure 5-Piece Bedding Bundle
The Bedsure brand on Amazon is really reputable for having super cozy and comfy bedding. And this 5-piece dorm bedding bundle has some pretty rave reviews to back it up!
Plus, it comes in some really cute colors that we haven't seen in many other bedding bundles (olive green, taupe, burnt orange, beige, etc.).
It comes with a comforter, pillowcase, sham, flat sheet, and fitted sheet. All in a dorm-friendly TwinXL size.
6. Trendy Checkered Dorm Bedding Kit
Checkered print is having a HUGE moment right now in decor. And this cute neutral brown checker bedding would be so cute in a college dorm room.
This set just comes with a comforter and sham, so you'd have to buy your sheets separately. But it's definitely worth it for this super cute design!
We recommend going with these cute sand-colored sheets to keep with the pretty neutral theme.
7. Pinch Pleat Bedding Set
Looking for an elevated basic bedding? This pinch pleat bedding set is super cute without being too bold!
Plus, it comes in a ton of different colors so you can easily match your dorm room color scheme.
Here's what's inside this dorm bedding kit:
Comforter
Pillowcase
Flat sheet
Fitted sheet
Pillow sham
[RELATED: 23 Under Bed Dorm Storage Ideas You Need In Your Dorm Room]
8. 5-Piece Bedding Set For College Guys
College guys pretty much can't go wrong with this navy blue and gray 5-piece bedding set.
It comes with a pillow sham, pillowcase, comforter, fitted sheet, and flat sheet.
There are some other colors available but most of them are pretty masculine. Perfect for a bedding set for college guys!
[RELATED: 50+ Dorm Room Essentials For Guys (+ Free Printable Packing List)]
9. Solid Color 5-Piece Bedding Set
Looking for a nice bedding set that comes in a ton of solid colors? This is the perfect college bedding kit for you!
There are SO many colors to choose from for this luxurious microfiber bedding set.
Here's what's all included:
Comforter
Fitted sheet
Flat sheet
2 Pillowcases
10. Hypoallergenic Bed-In-A-Bag
Worried about allergies in those old dorm buildings? Worry no more with this amazing hypoallergenic bedding set.
It's even reversible, making it perfect for changing up the look of your college dorm decor.
This post was all about the best dorm bedding sets for college.
Looking for more dorm ideas?