Heading out as a friend group for Halloween this year? Here are the all-time best group Halloween costumes that you and your crew can recreate.
This post may contain affiliate links, which means I'll receive a commission if you purchase through my link, at no extra cost to you. Learn more: Affiliate Disclaimer.
Halloween is coming up fast, and one of our favorite parts of the holiday is dressing up with friends.
If you and your besties are looking for a group costume idea to recreate this year, we have you covered. From childhood-favorite characters to iconic pop culture moments, there's a group costume idea in here for everyone.
So here are the absolute cutest group Halloween costumes for you to recreate this year.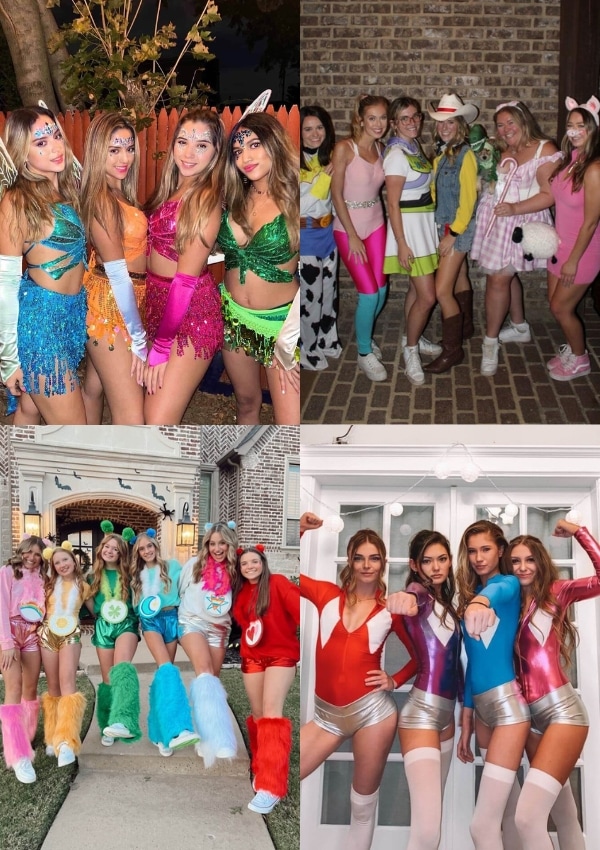 The Best Group Halloween Costumes
1. Scooby Doo Group Halloween Costume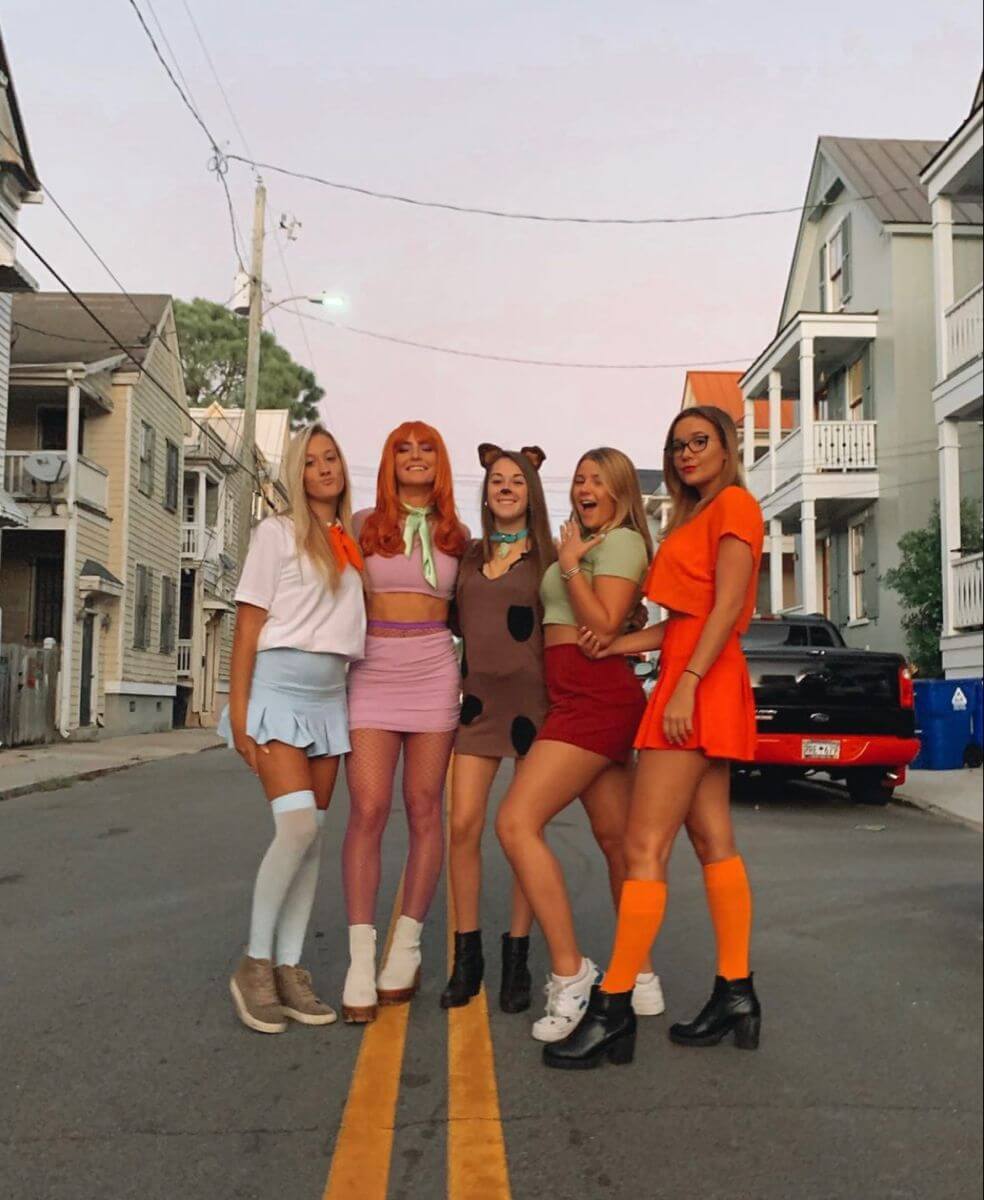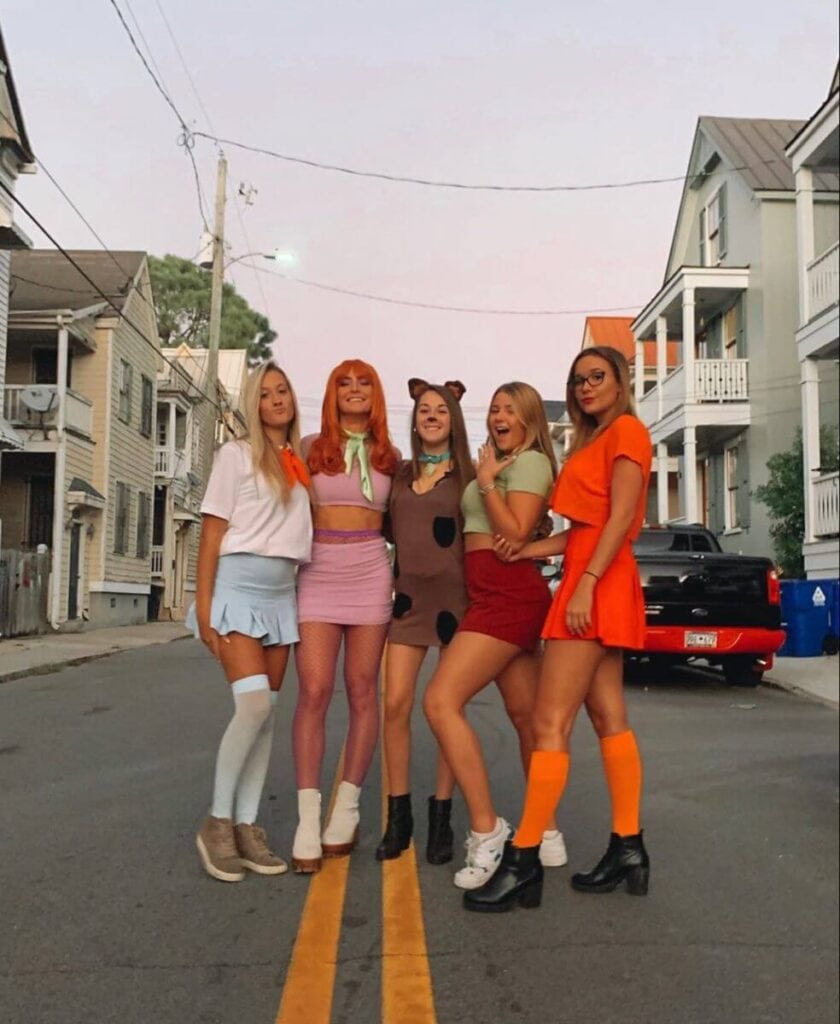 Zoinks! One of the cutest group Halloween costumes is to dress up as the beloved Scooby Doo crew.
Daphne, Velma, Fred, Shaggy, and Scooby are the dream team of fighting crime and looking good while doing it.
2. Powerpuff Girls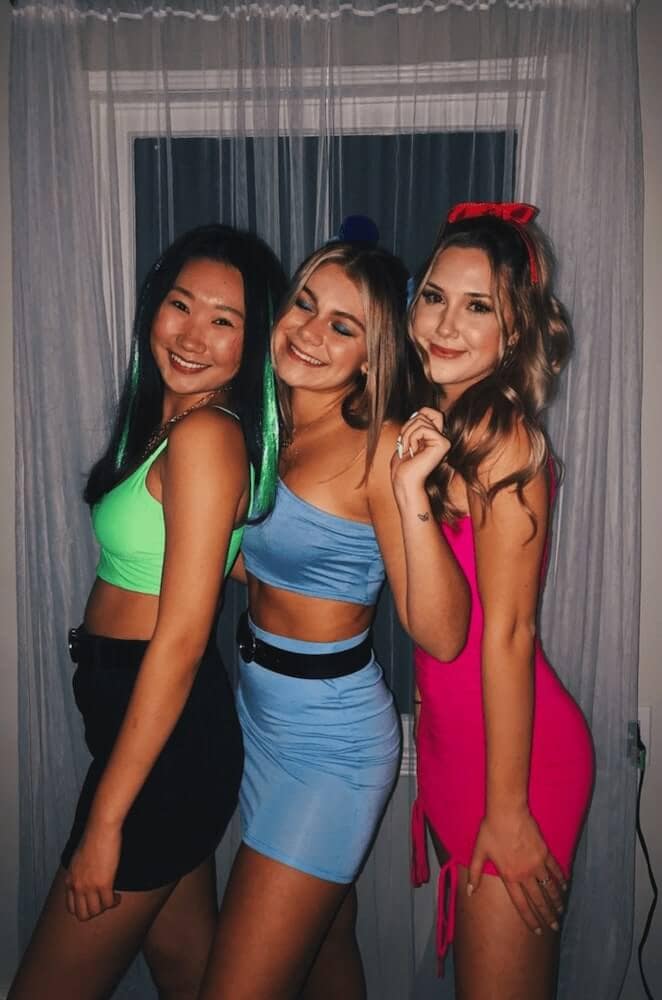 Sugar, spice, and everything nice! If you're heading out on Halloween as a group of three, you'll definitely want to dress up as the Powerpuff Girls.
Blossom, Bubbles, and Buttercup are an iconic trio that make for a super cute group Halloween costume.
This group costume idea is also super easy to recreate – just dress up in light blue for Bubbles, pink for Blossom, and green for Buttercup
[RELATED: How To Create The Perfect Powerpuff Girls Halloween Costume]
3. Wizard Of Oz Group Costume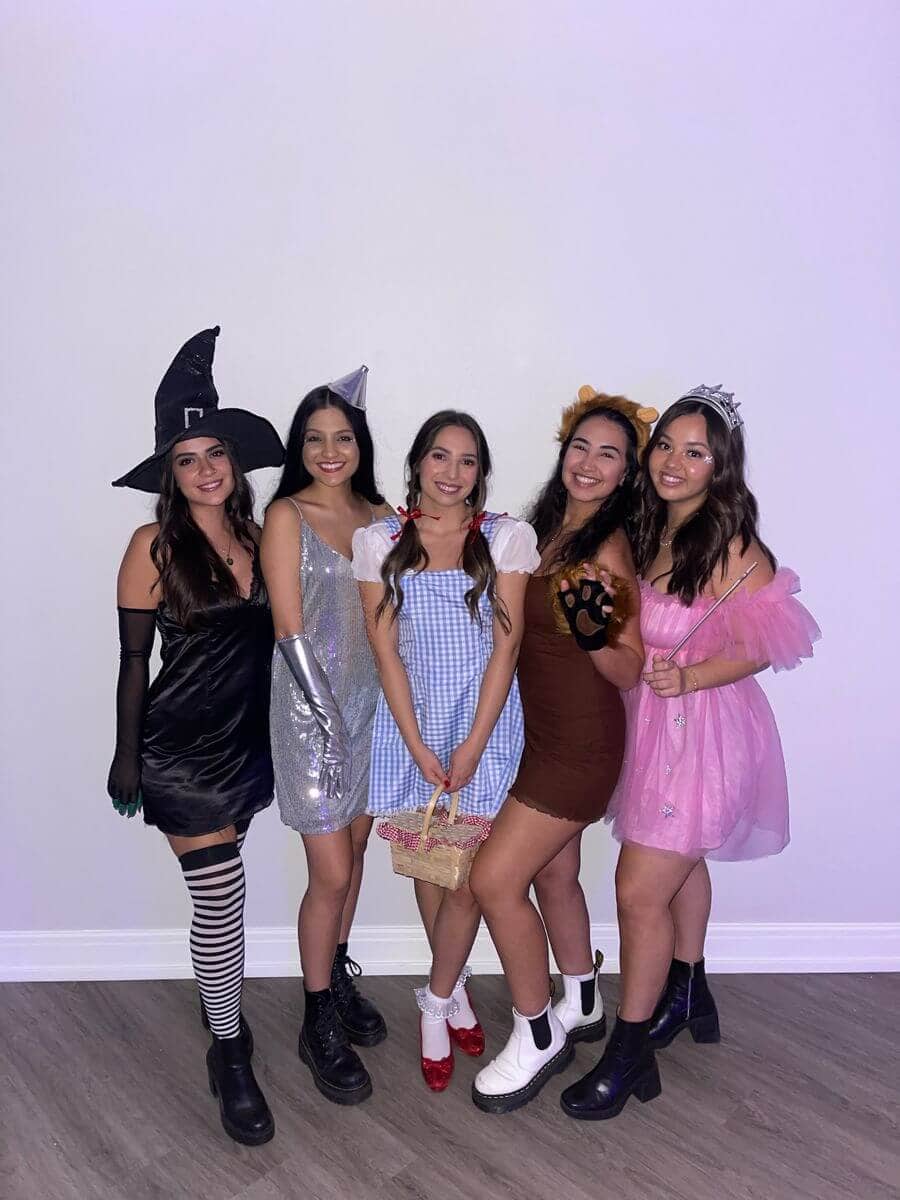 Follow the yellow brick road as Dorothy, the Tin Man, the Scarecrow, and the Cowardly Lion.
If you have more friends in your group you could add in the Wicked Witch and Glinda. Such a cute and whimsical Halloween costume idea!
4. Care Bears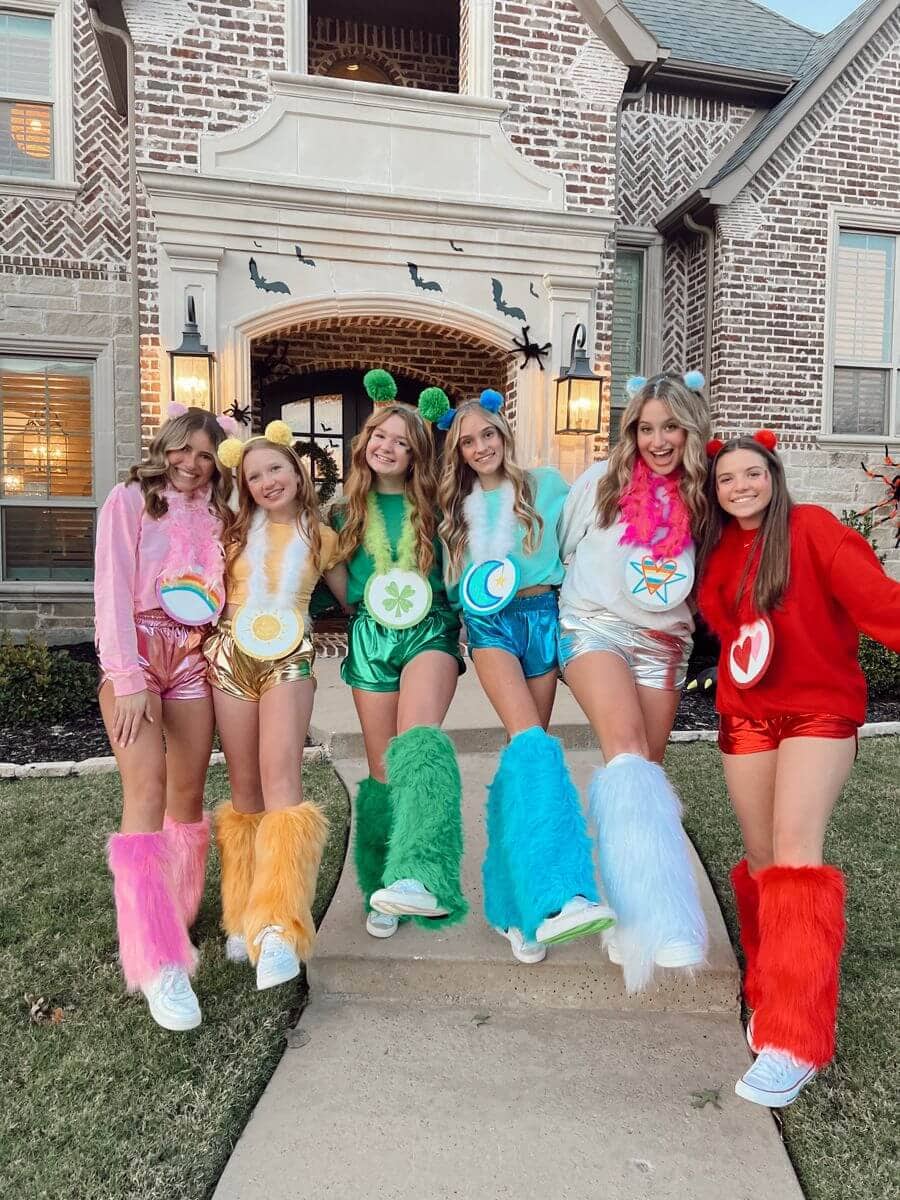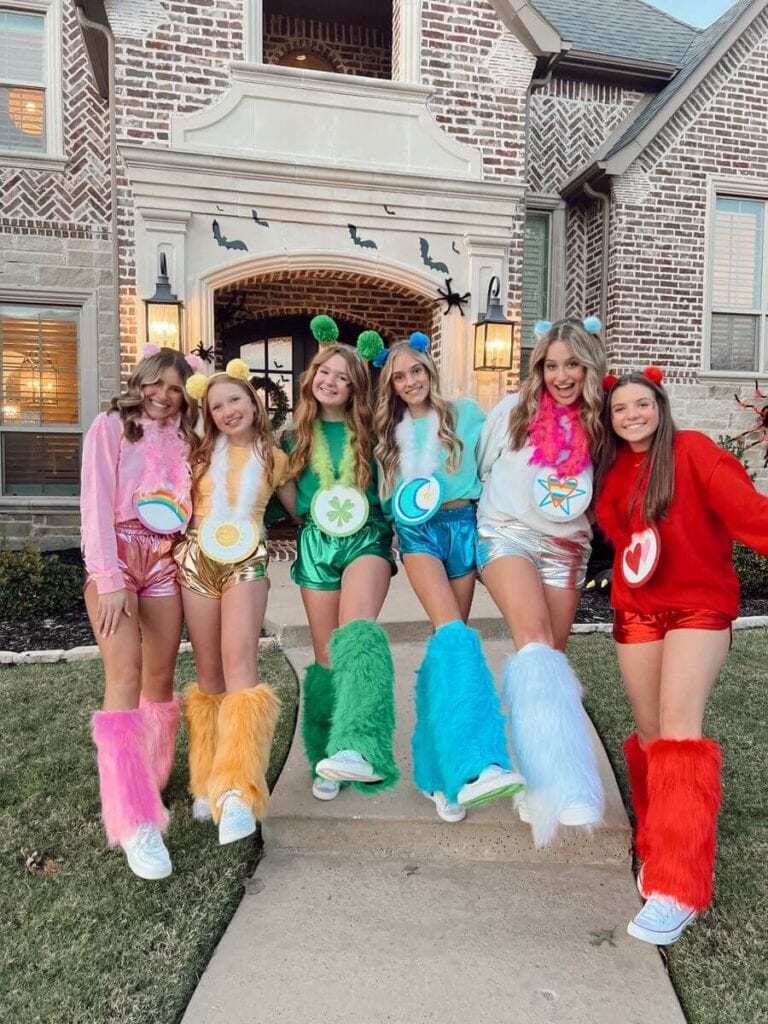 Bring on the nostalgia by dressing up as the Care Bears.
Each bear embodies a different emotion, allowing your group to match personalities with these adorable, cuddly characters.
You can find colorful metallic shorts, fuzzy leg warmers, and feather boas on Amazon. And then just print out each Care Bear's symbol and attach it to the end of your boa.
5. Toy Story Group Costume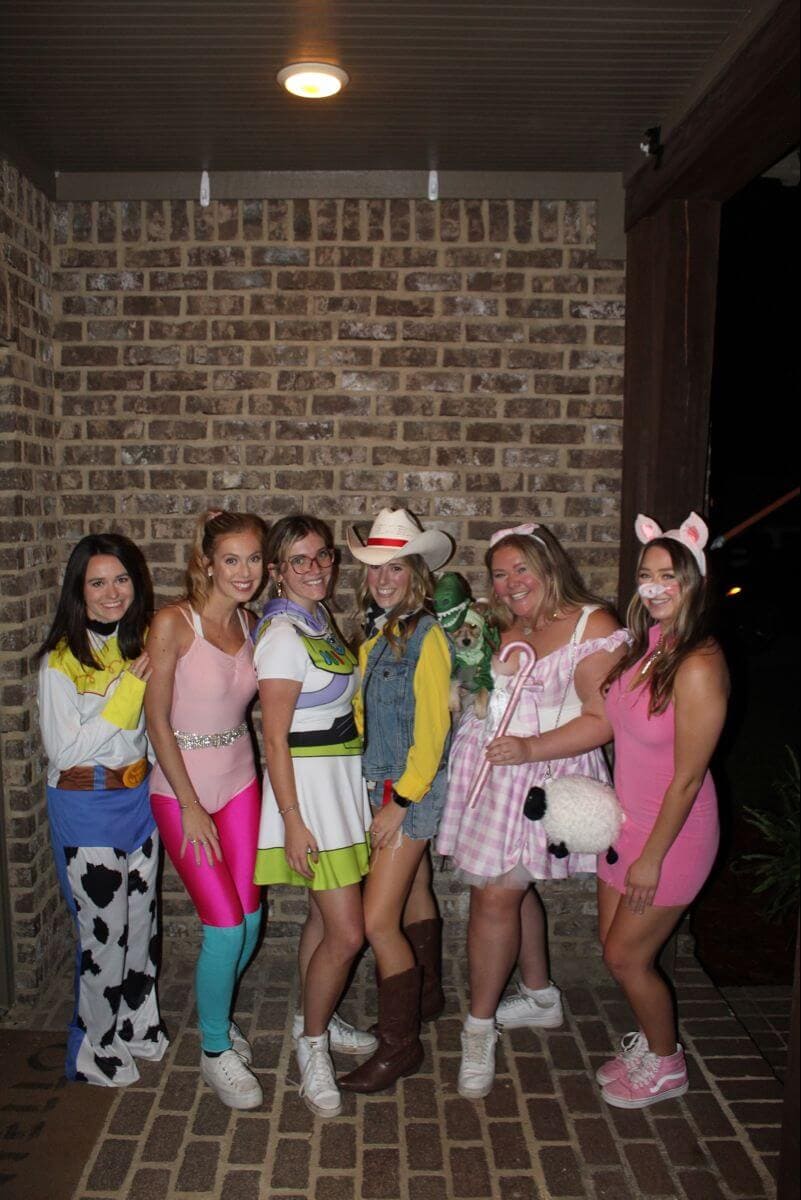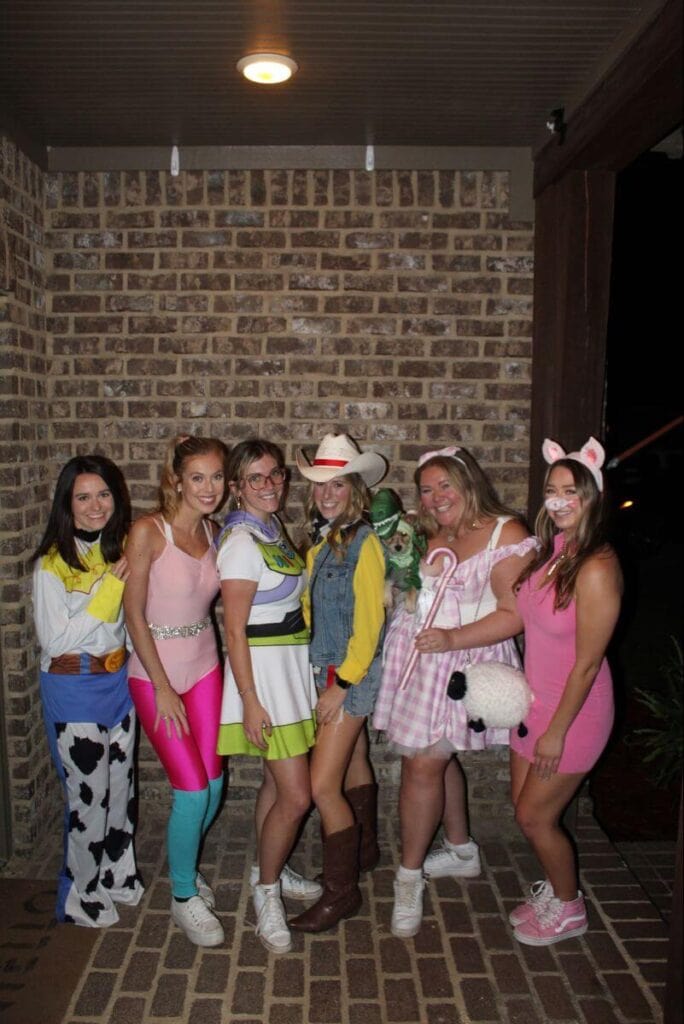 To infinity and beyond! Buzz Lightyear, Woody, Jessie, and the rest of the Toy Story crew make for an exciting and heartwarming group costume.
You can go with the original Toy Story cast, or mix things up and add in some characters from later movies.
6. Britney Spears Eras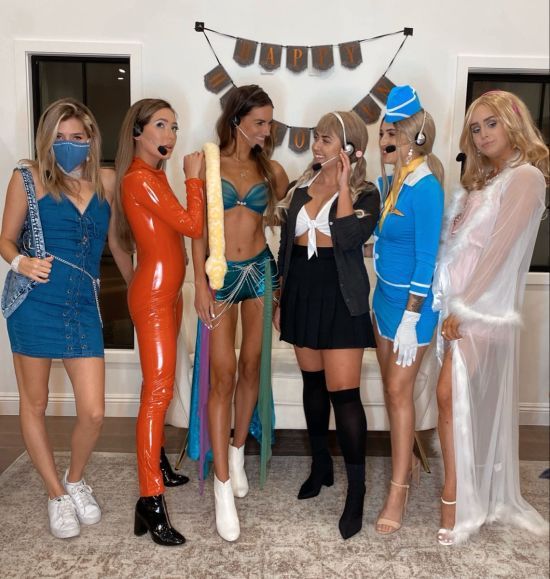 Hit the rewind button and channel different eras of Britney Spears' iconic looks.
From the schoolgirl look to her "Toxic" flight attendant outfit, this costume idea is a blast from the past and a tribute to the pop queen herself.
7. Mean Girls Group Costume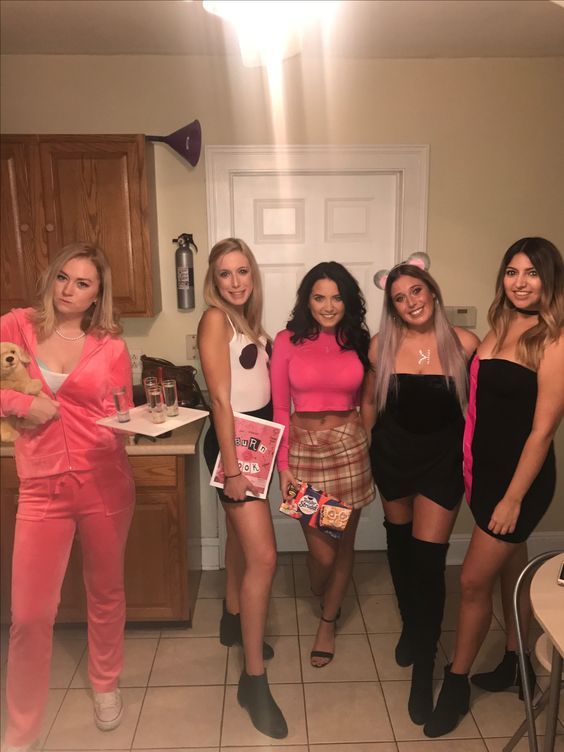 On Wednesdays, we wear pink! Dress up as the plastics group from the iconic Mean Girls movie.
If you have more than 4 people in your group, you can add in other iconic characters like Damien, Regina's mom, Janice, etc.
8. Disney Princesses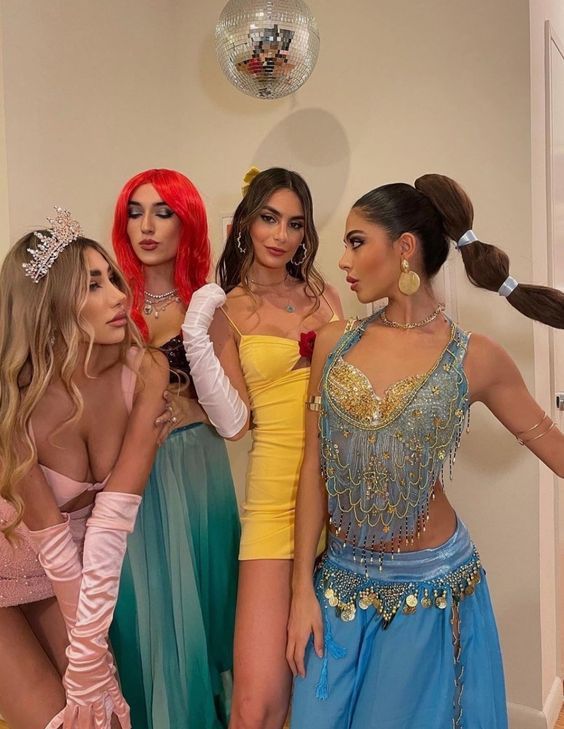 Live happily ever after as your favorite Disney princesses. From Ariel to Belle, Cinderella to Jasmine, the options are endless.
This hot group costume idea will have you feeling like royalty all night.
9. Taylor Swift Eras Costume
This one is for our fellow swifties! We all know about the iconic eras tour that Taylor has gone on recently.
But what about dressing up as her different eras for a group Halloween costume?
Pay homage to Taylor Swift's various music eras, from country sweetheart to pop superstar. Dress up in outfits inspired by her albums and music videos, showcasing her evolution over the years.
10. Three Blind Mice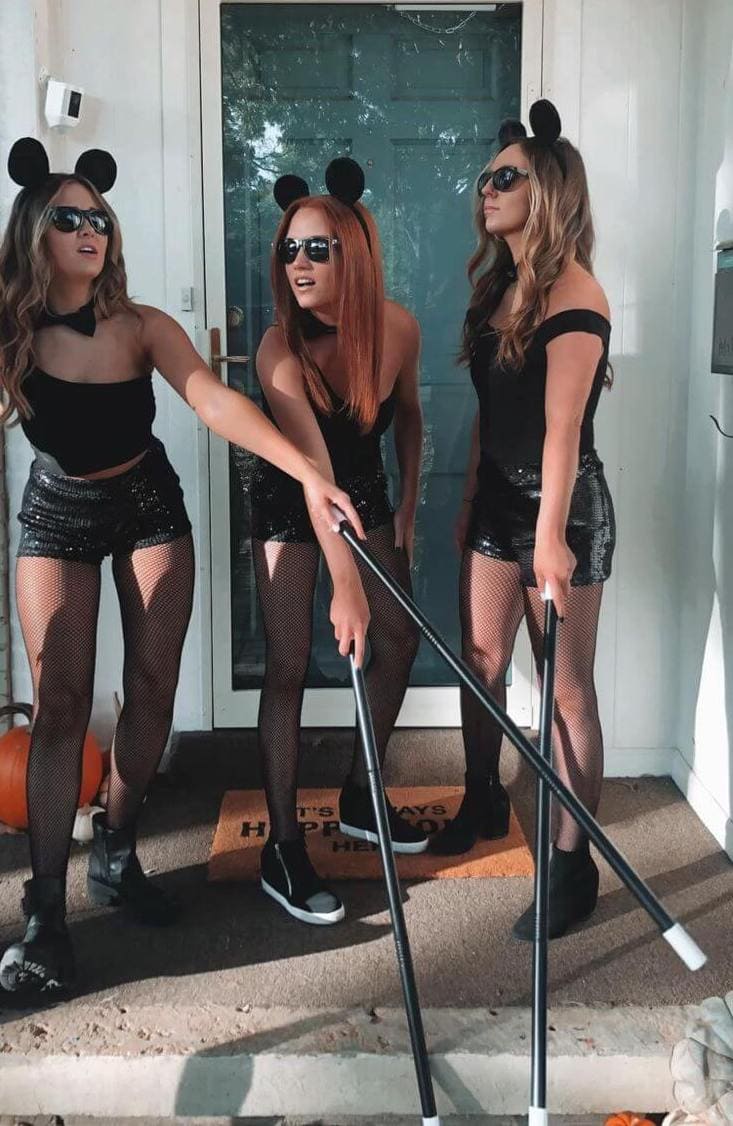 Going out as a trio for Halloween this year? Throw on some matching black outfits and sunglasses and go as the three blind mice!
11. Harry Potter Group Halloween Costume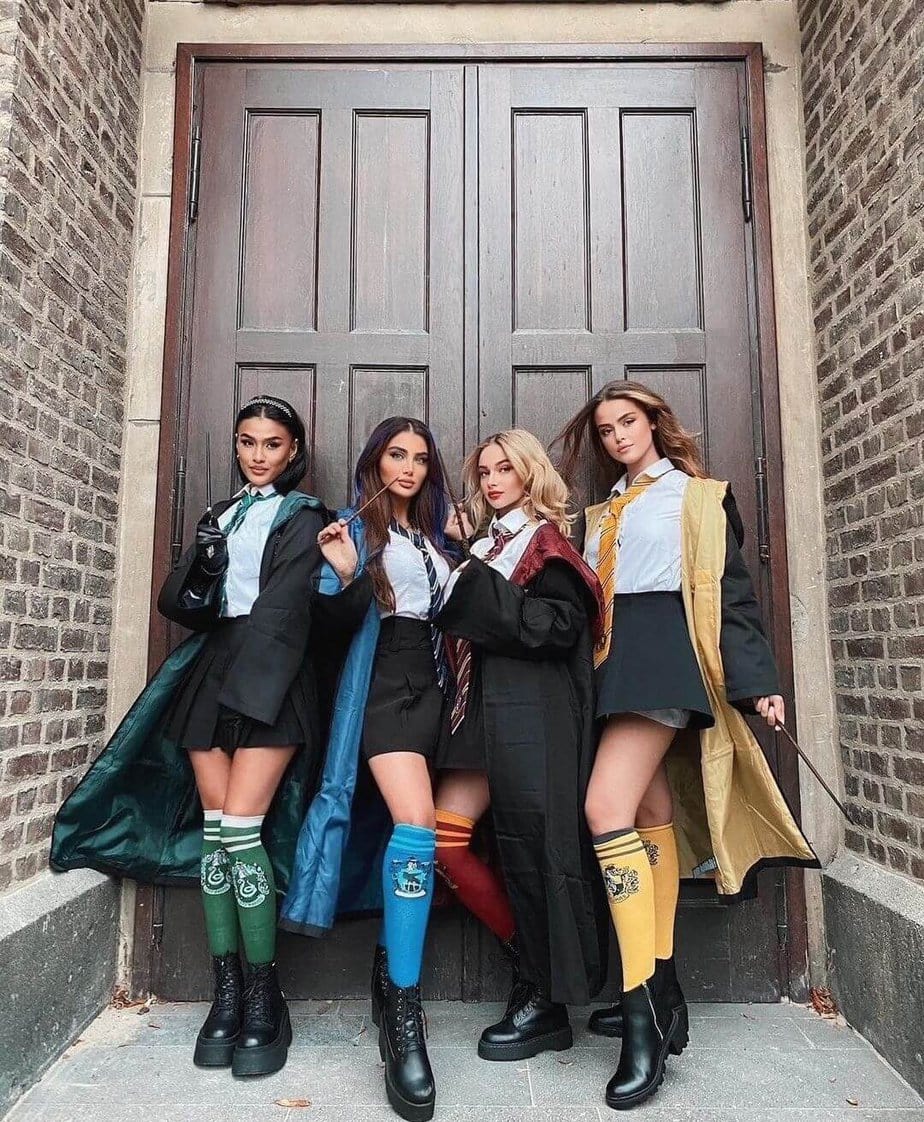 Whether you're Gryffindors, Slytherins, Hufflepuffs, or Ravenclaws, dressing up as your favorite Harry Potter characters is a great group Halloween costume idea.
12. Winx Club Costume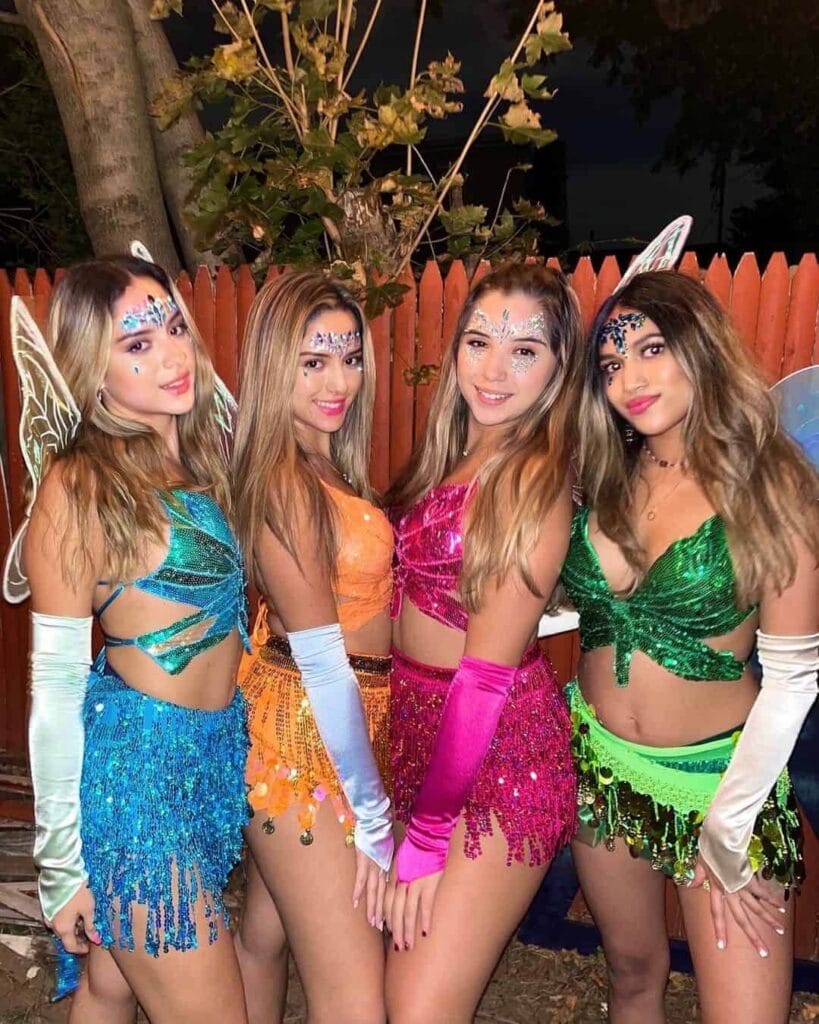 Embrace your inner fairy by dressing up as the Winx Club characters.
This early 2000s TV show is nostalgic but still super trendy as a costume idea!
13. Winnie The Pooh And Friends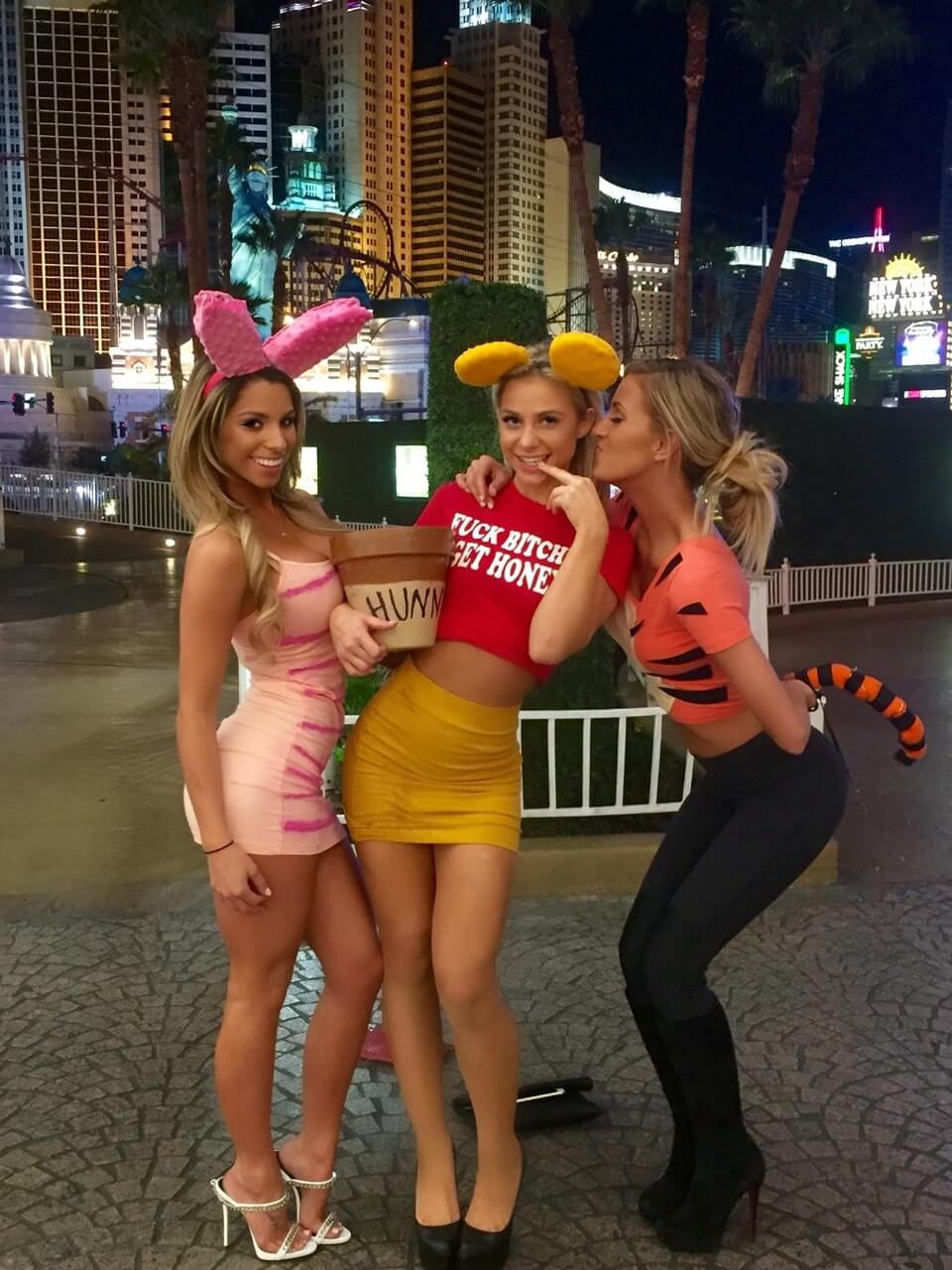 Bring your childhood memories to life by dressing up as Winnie The Pooh and friends.
Pooh, Piglet, and Tigger are the main three characters, but you can make this costume idea work for just about any group size.
Just add in characters like Eeyore, Rabbit, Kanga & Roo, Owl, and Christopher Robin.
14. Teletubbies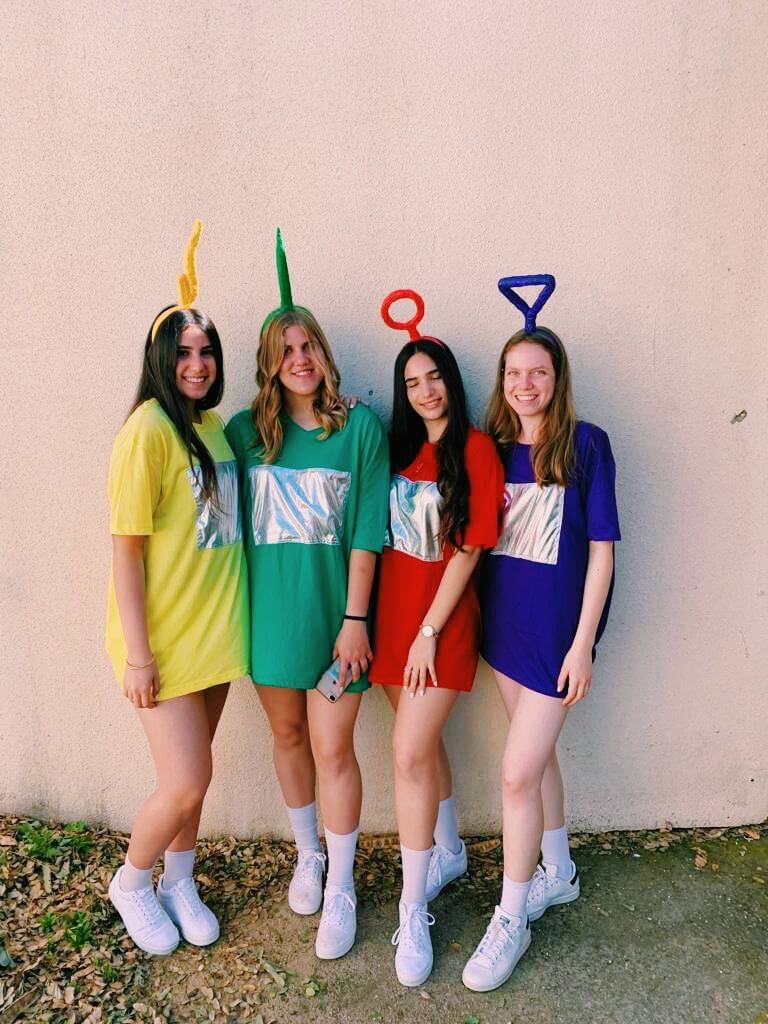 Another super nostalgic costume idea is to go as the Teletubbies.
Whether you're Tinky Winky, Dipsy, Laa-Laa, or Po, these colorful characters make for a fun and quirky group costume.
15. Superheroes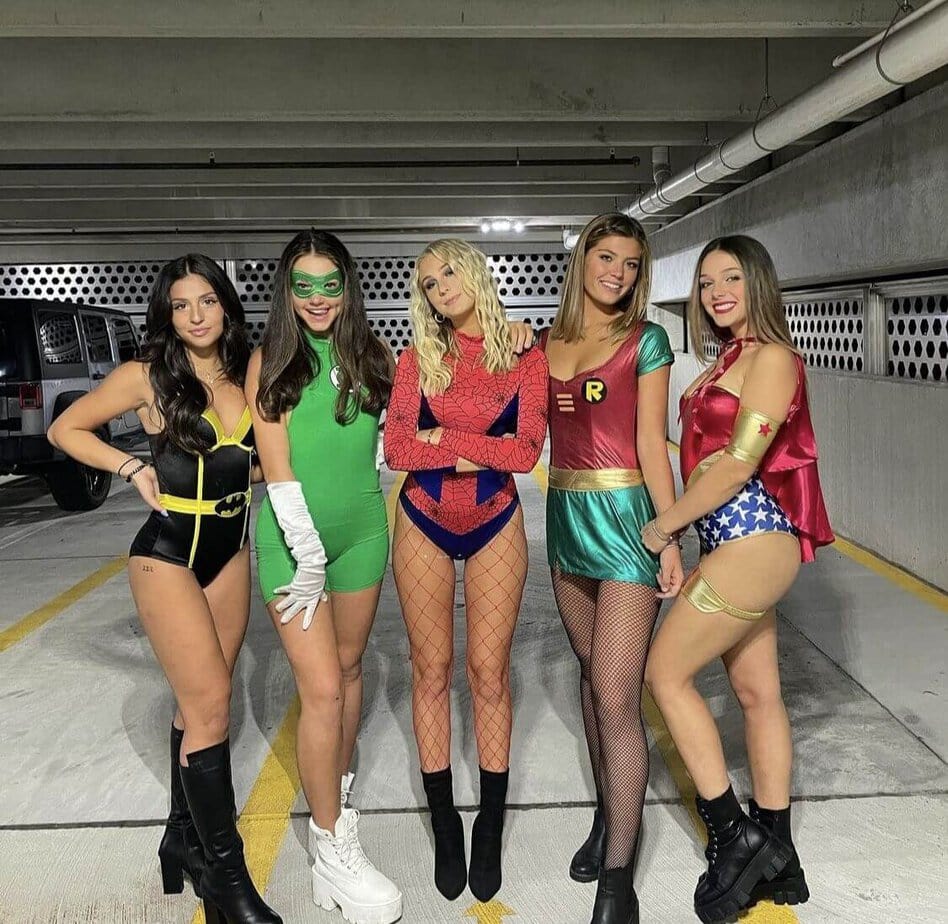 Unleash your inner superhero with a group ensemble of Wonder Woman, Spiderman, Batman, and more. You'll be saving the day in style.
16. Power Rangers
Morph into action by going as the Power Rangers for a group Halloween costume.
Each ranger represents a different element, making it an exciting and dynamic group costume choice.
17. Cave Girls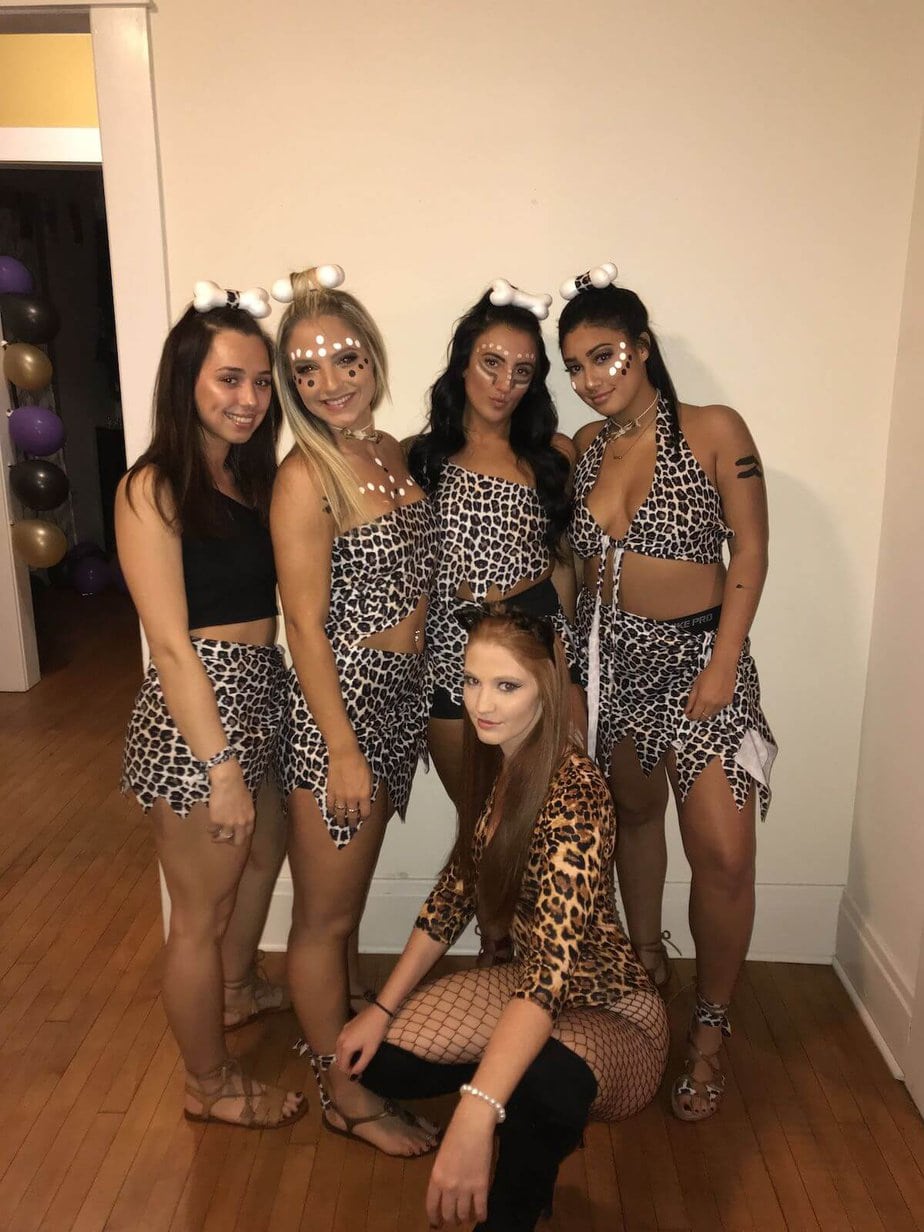 Channel your inner Flinstones character for this one. I love how simple it is but also so cute and original.
Get any cute animal print dress and add a bone headband to top it off. This is a perfect group Halloween costume for groups of any size!
18. The Incredibles Group Halloween Costume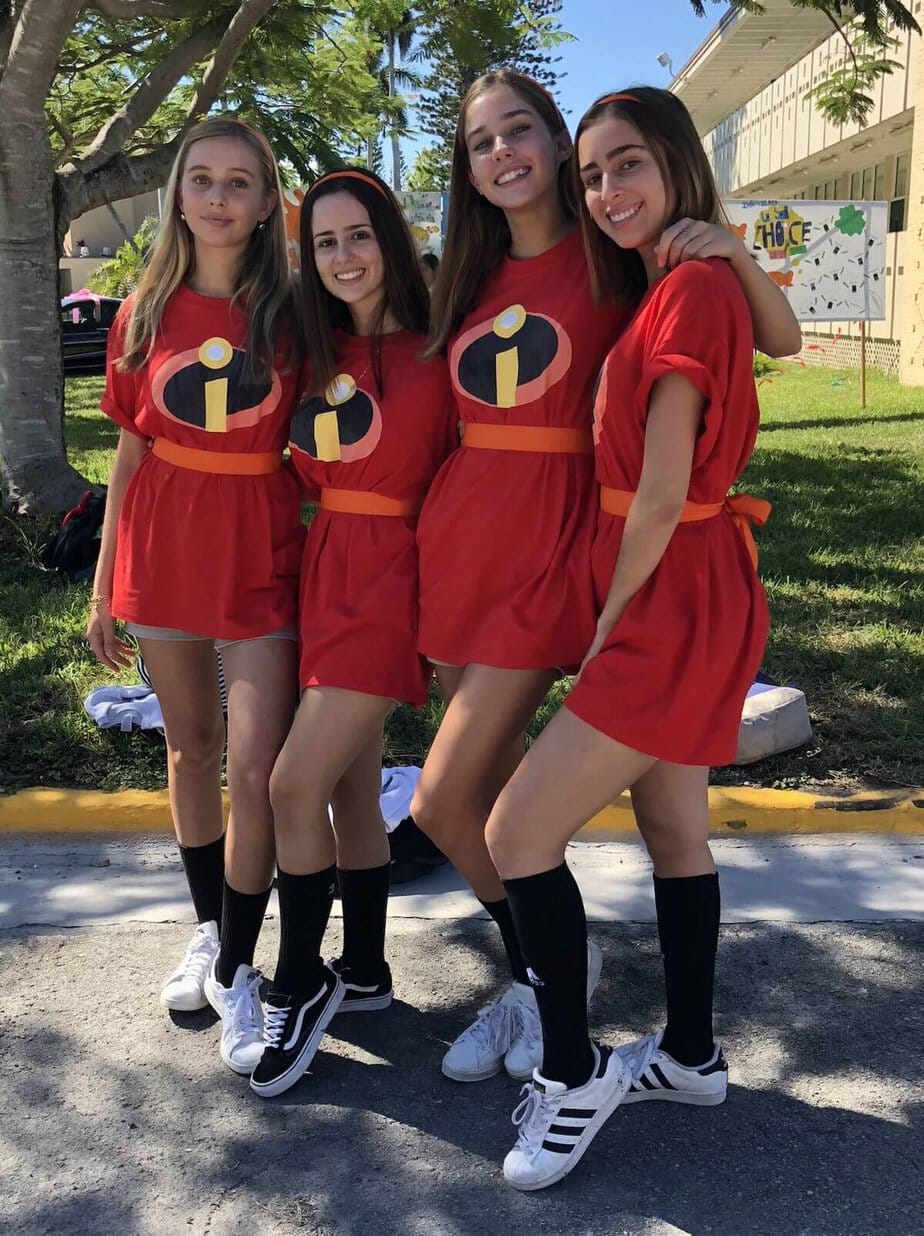 This is such a cute and easy group costume to recreate!
Just print out the incredibles logo, secure it onto a red dress or t-shirt, and throw on a pair of tall black socks. Then you're ready to save the day!
19. Hot Cops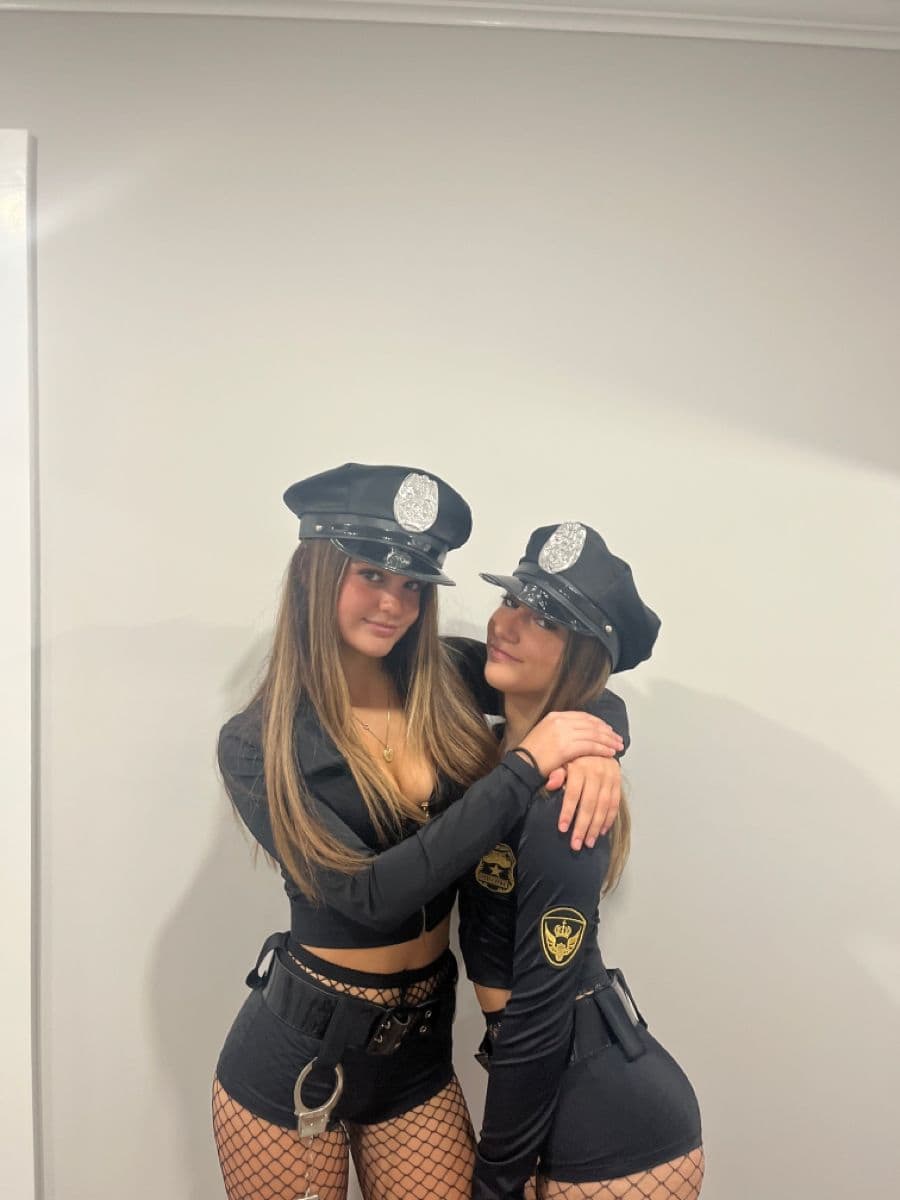 A Halloween party classic is to go as a sexy cop. And it's even more fun with friends!
No matter what size your group is, this is a fun and hot costume idea. Plus, you can easily find sexy cop outfits on Amazon.
20. Firefighters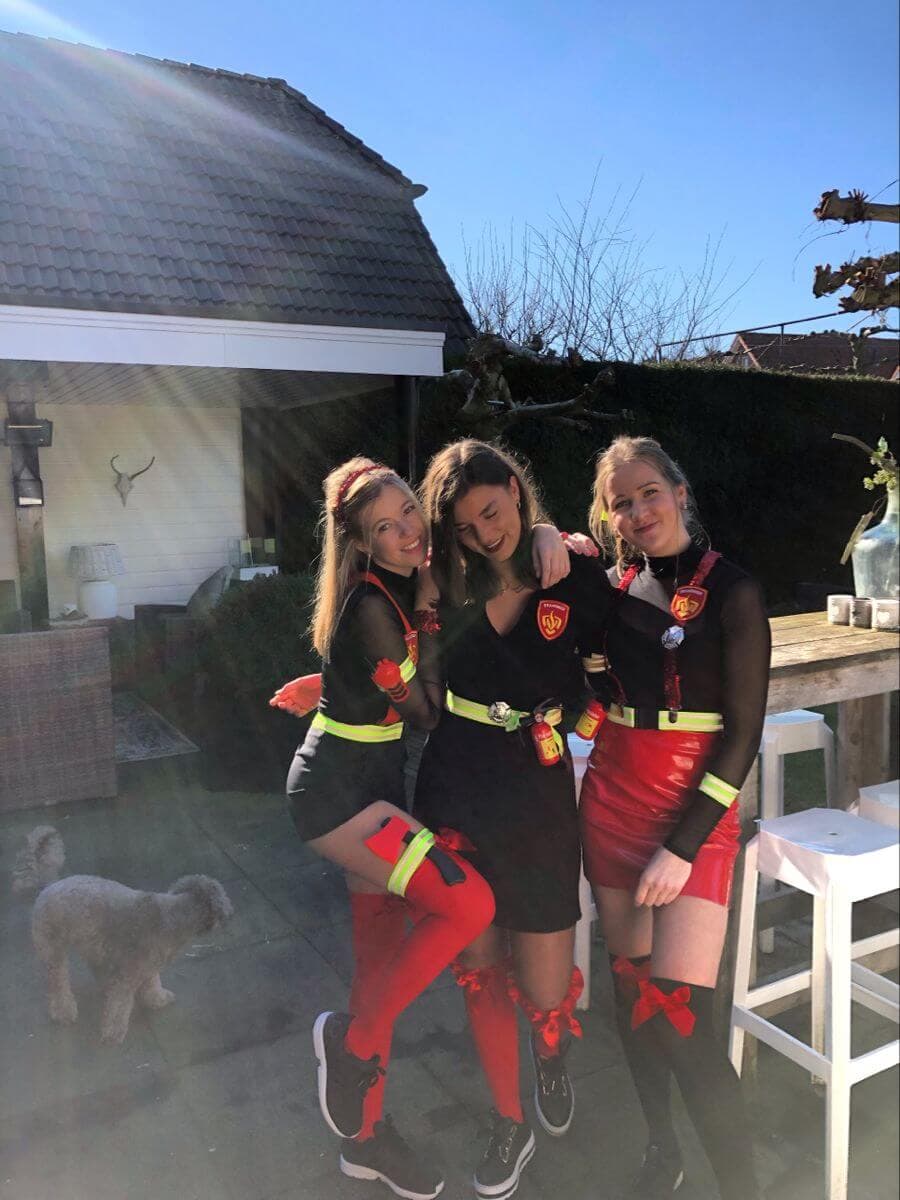 Things will definitely be heating up when you and your friends walk into the party dressed as a group of firefighters!
The best part is that you can easily find hot firefighter costumes on Amazon or at Halloween supply shops. So this is a really easy group Halloween costume idea!
21. Space Cowgirls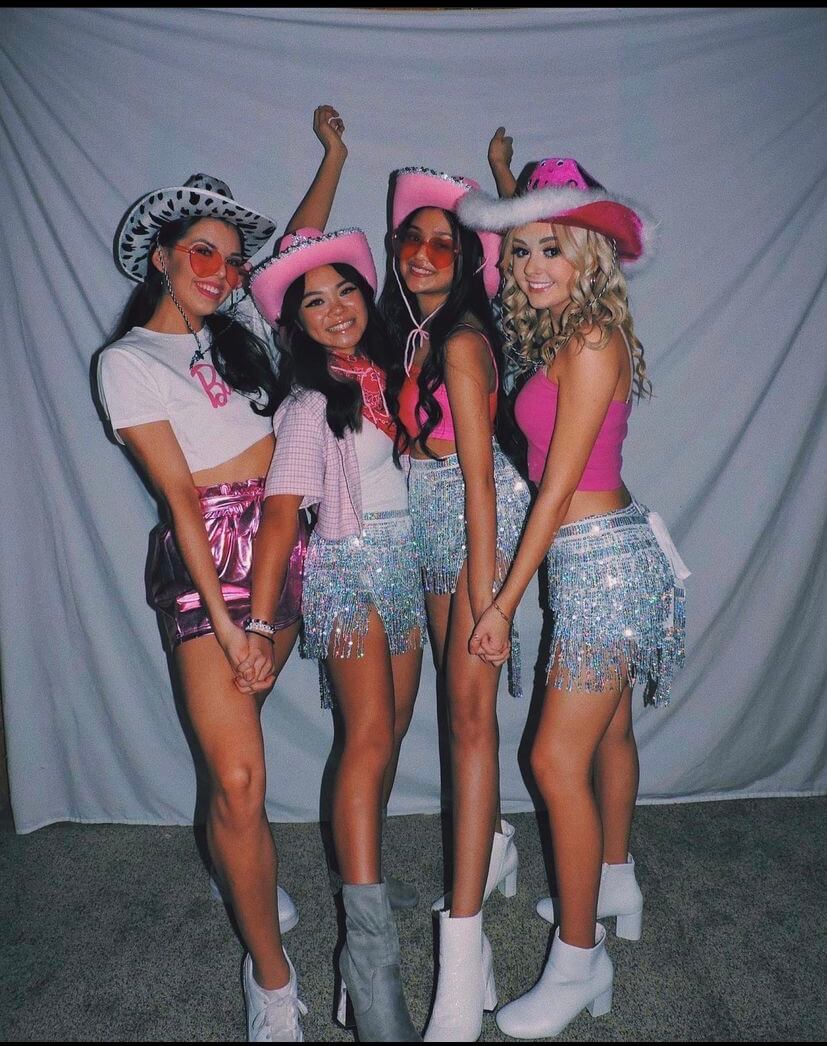 Looking for one of the trendiest group costume ideas right now? Get your friend group to go as Space Cowgirls!
This is definitely the "it" costume of the past few years. In fact, it's so popular that we wrote an entire post on how to put together the cutest space cowgirl outfit!
22. Aliens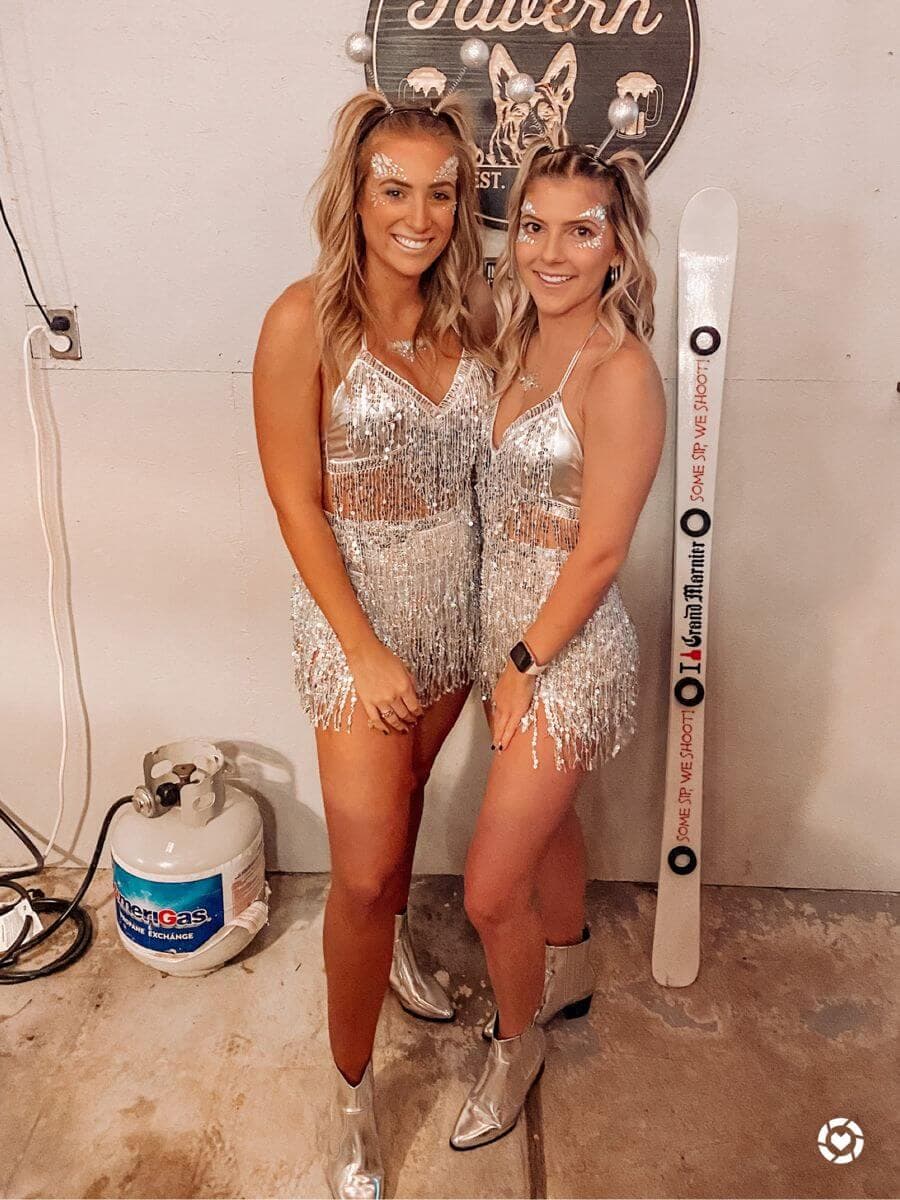 While we're on the topic of outer space, get a bit more extraterrestrial by going as a group of aliens!
This costume is also super easy to put together – just wear a full metallic outfit and a little alien ear headband! So cute and simple for a group costume idea.
23. Barbies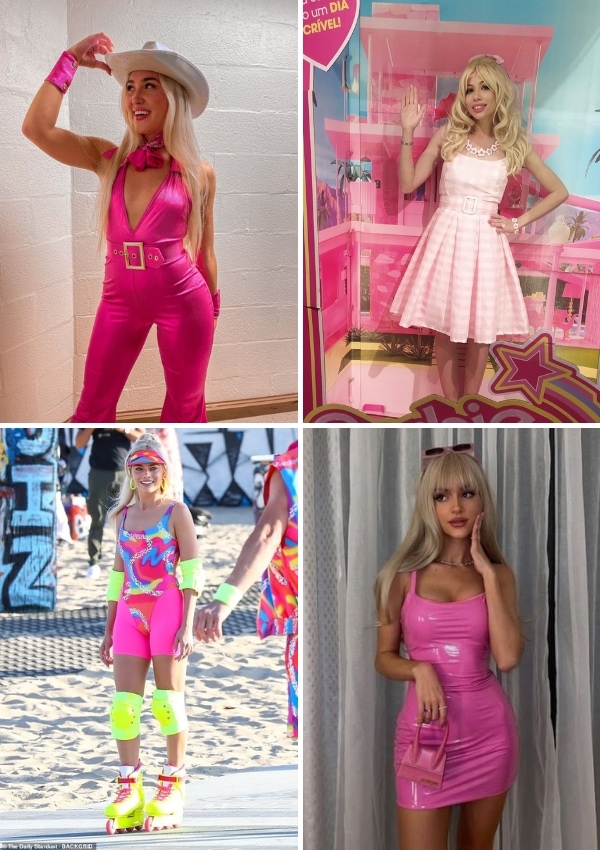 Unless you've been living under a rock, you've probably seen Barbie everywhere lately.
One really cute group Halloween costume idea would be to go as different versions of Barbie. You could use costumes from the movie (like sporty Barbie, western Barbie, etc.) or put your own spin on it.
Need some ideas? We have a full post on different Barbie costume ideas that will be sure to turn some heads at the Halloween party.
24. Alvin And The Chipmunks Group Costume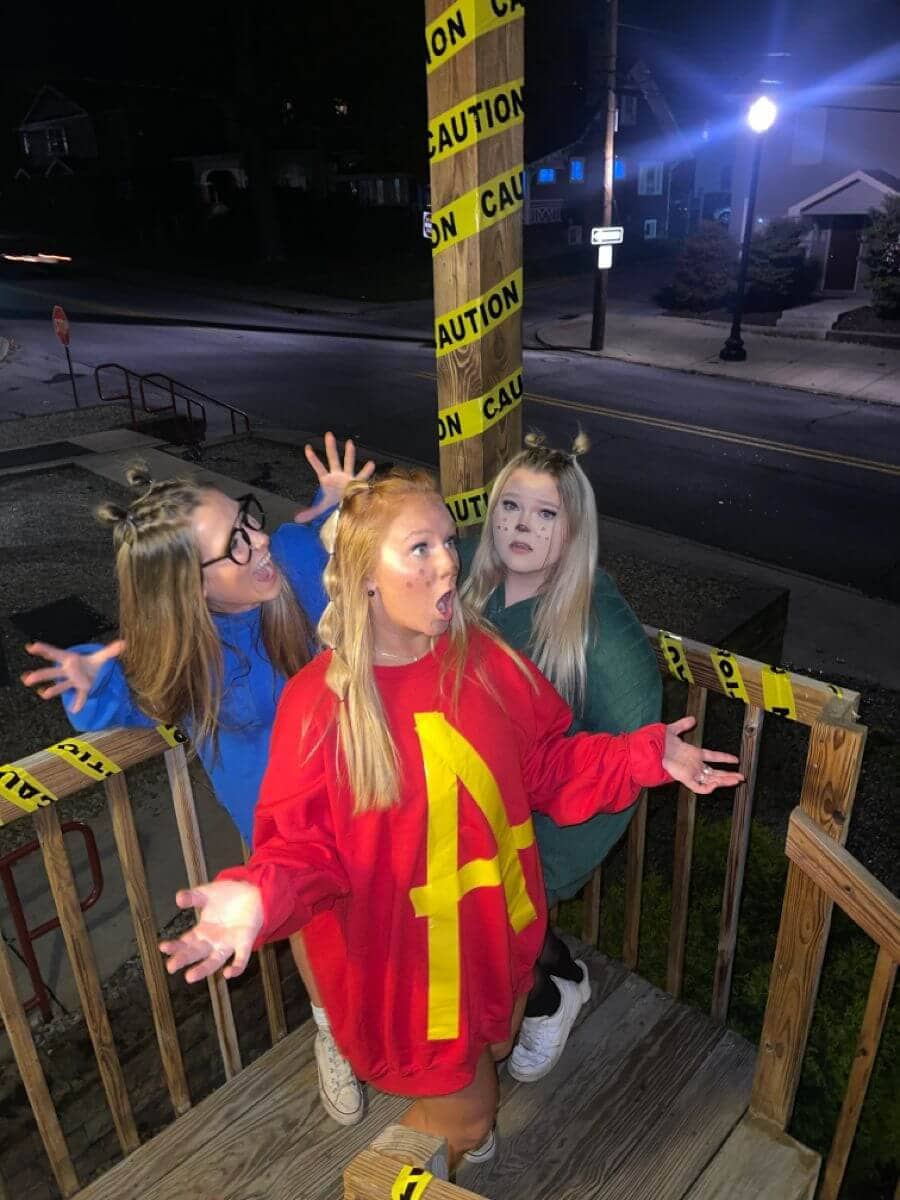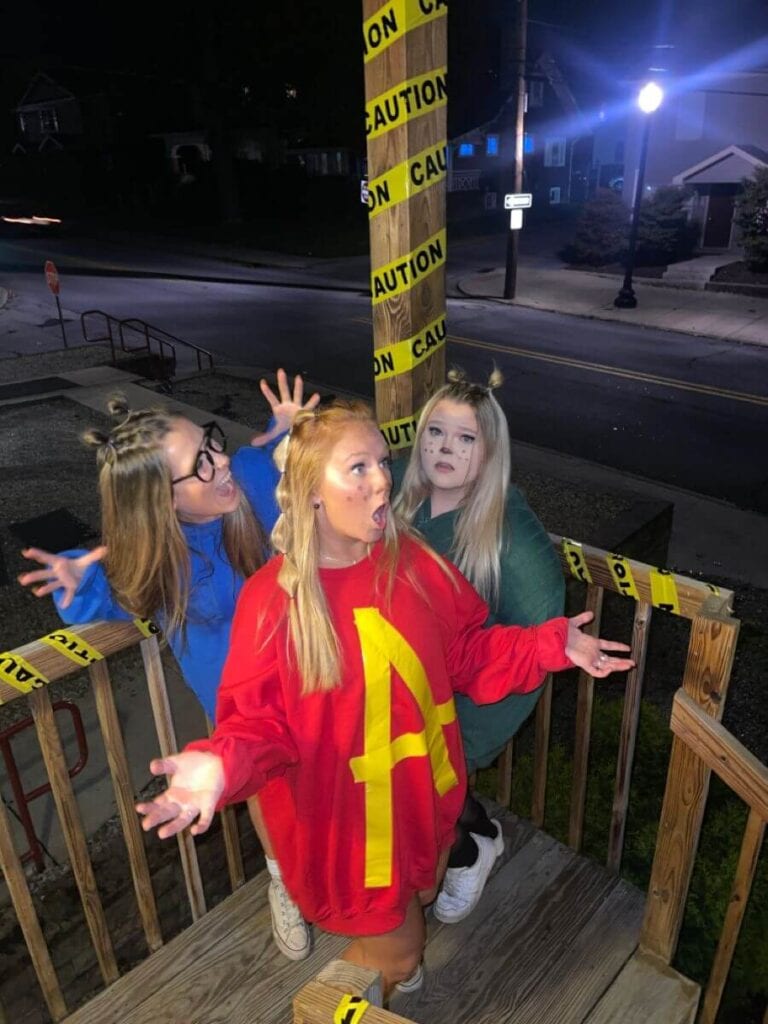 Going out as a group of three? Transform into Alvin, Simon, and Theodore for a cute and nostalgic group costume inspired by the popular animated trio.
25. Super Mario Characters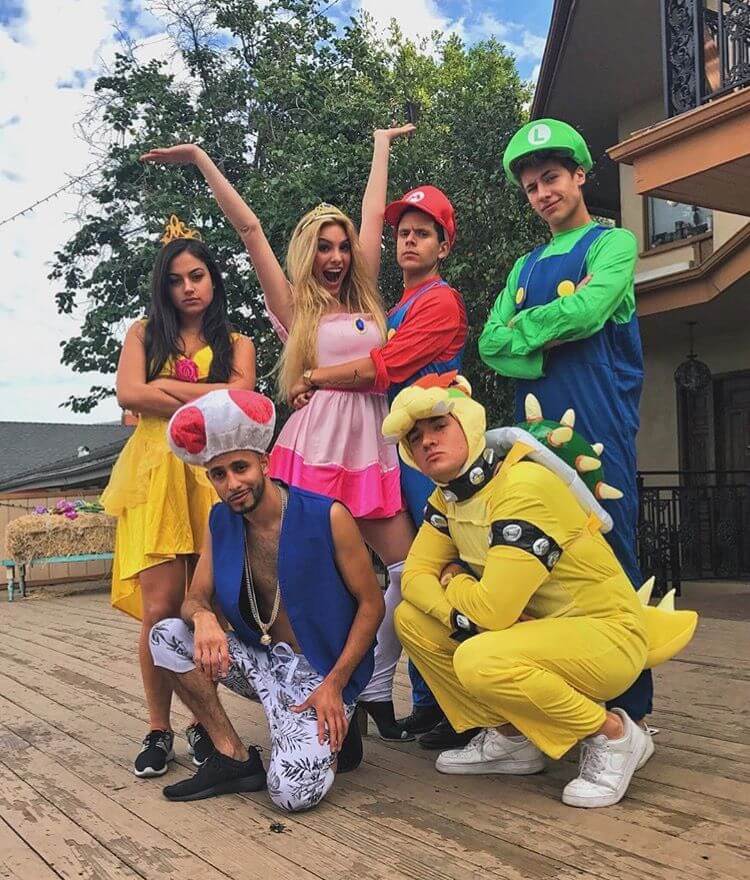 Another one of our favorite group Halloween costumes is to go as characters from the Super Mario world.
Mario, Luigi, Princess Peach, Bowser, Toad, and more. This beloved video game franchise offers a wide array of characters, making it a super fun costume idea for groups of all sizes.
26. Tequila Shot Group Costume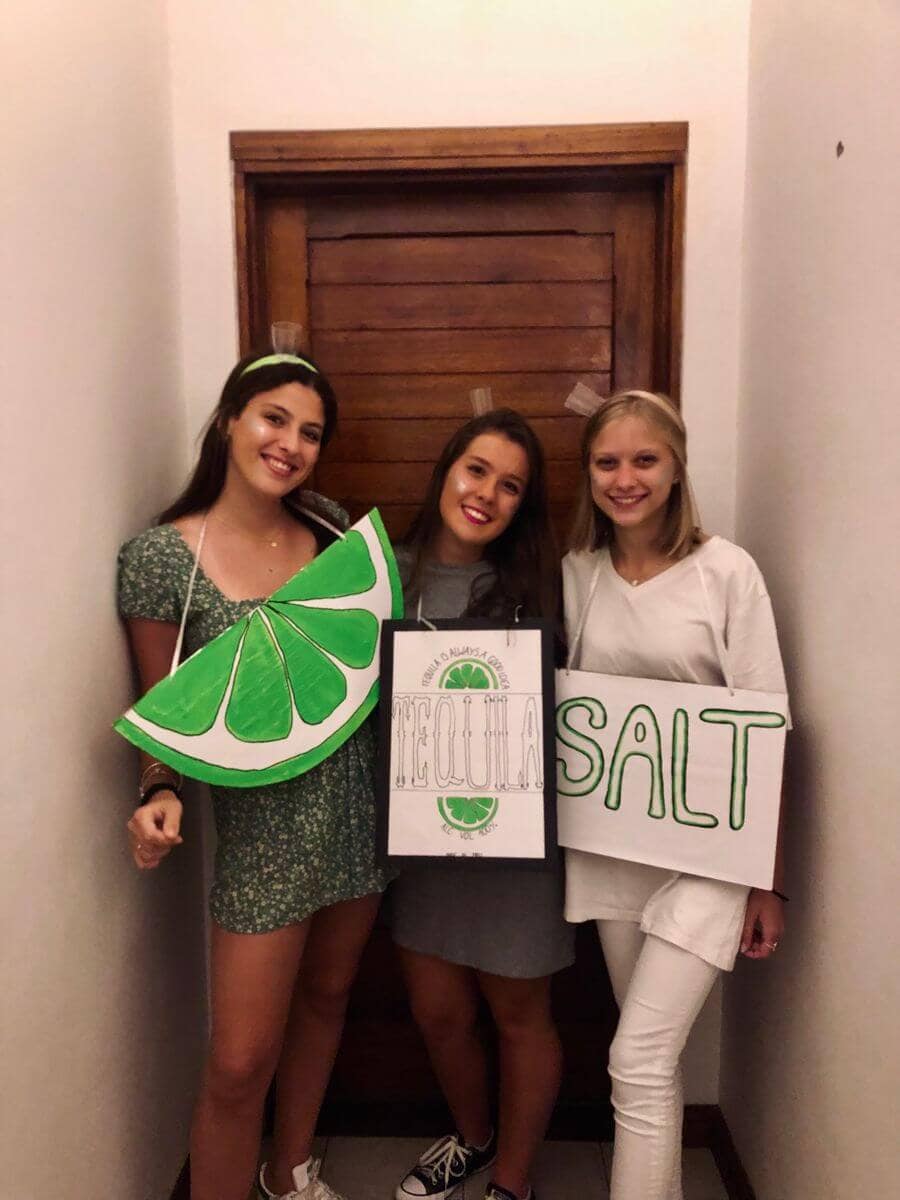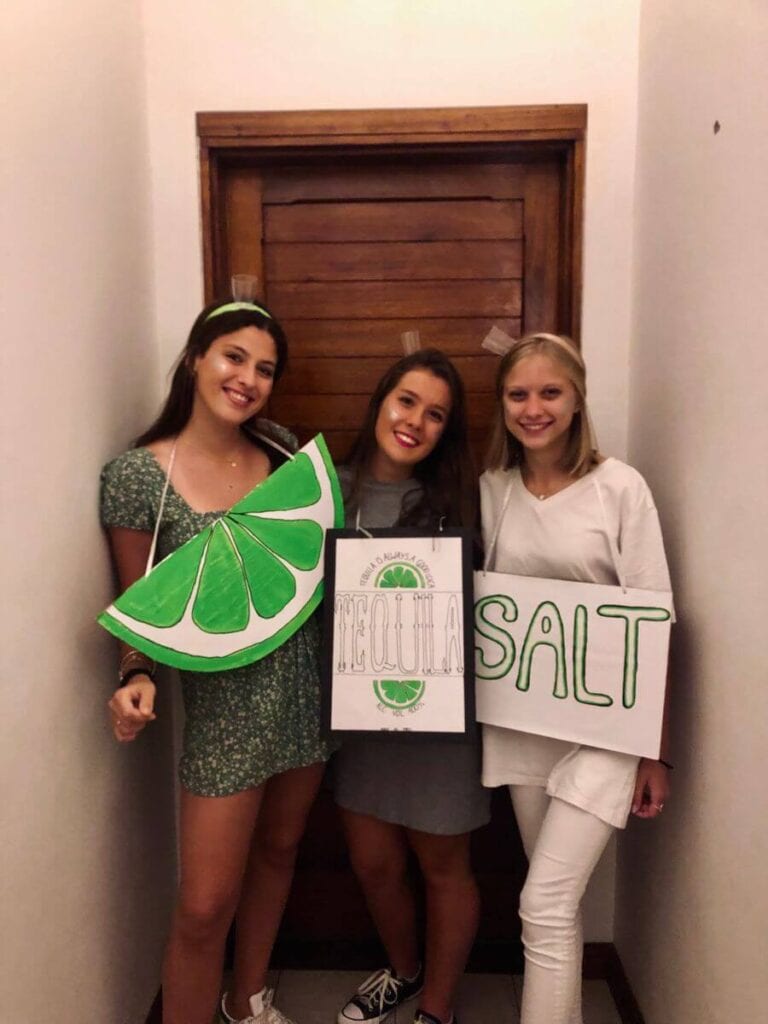 Another super cute costume idea for a group of three is to go as the different elements of a tequila shot.
One person goes as the lime, another as the tequila, and the other as the salt. Such a funny and creative group costume idea!
27. Spongebob Characters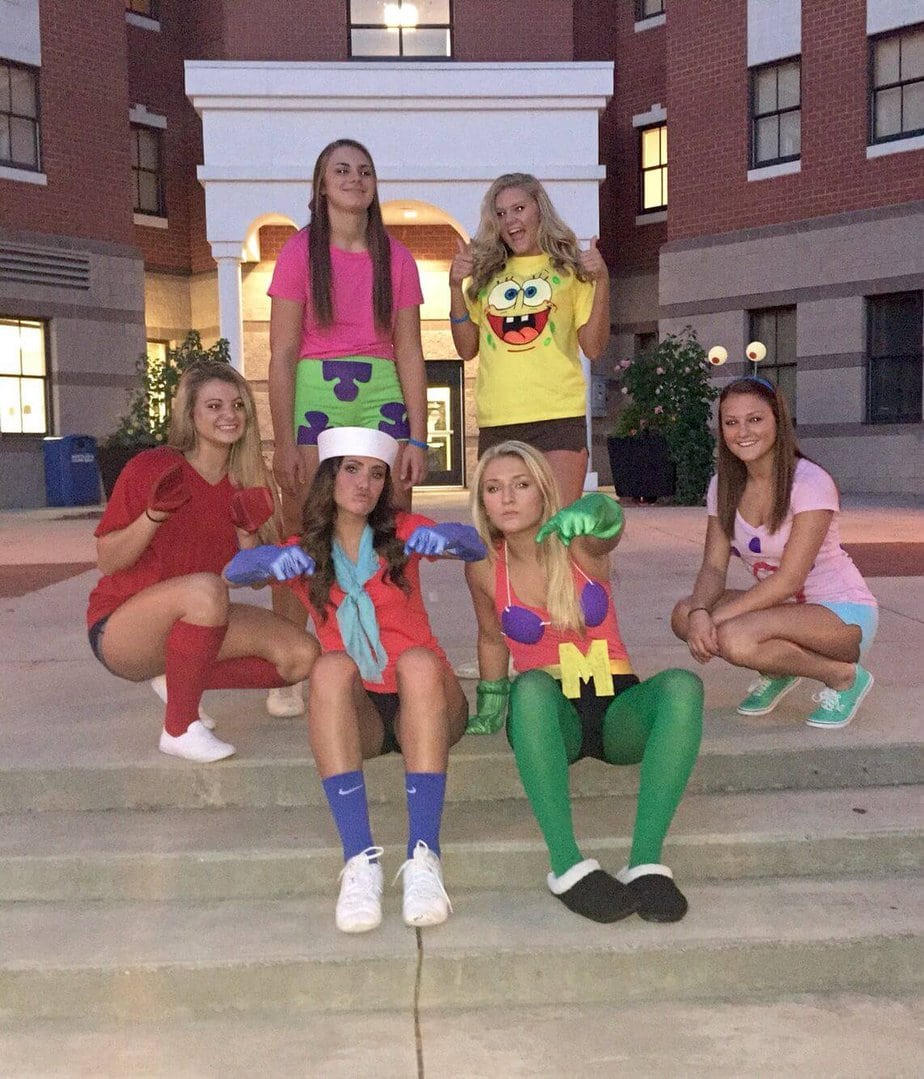 Make a splash at the Halloween party by going as the residents of Bikini Bottom.
There are a TON of characters to choose from – Spongebob, Patrick, Sandy, Mr. Krabs, Mermaid Man, Barnacle Boy, Gary, etc.
28. Hot Pirates Group Costume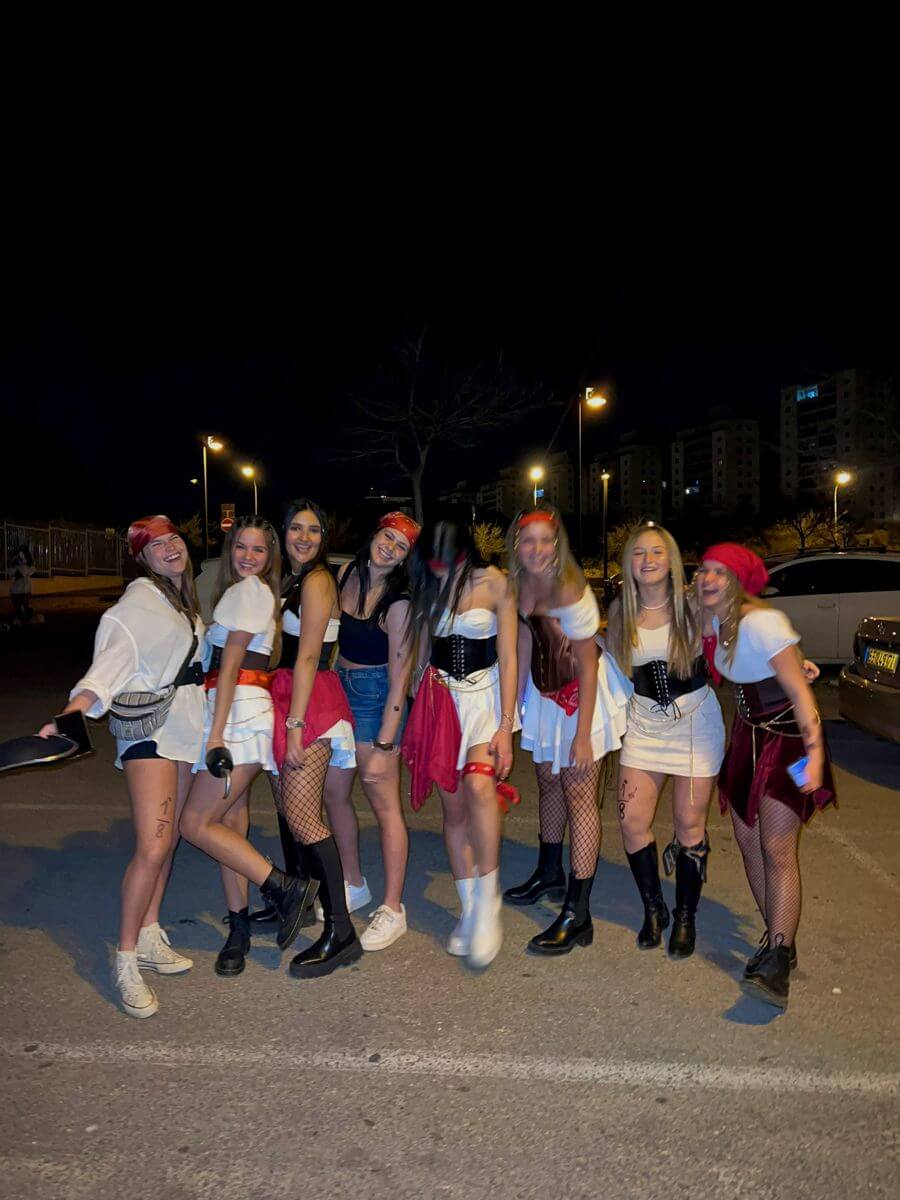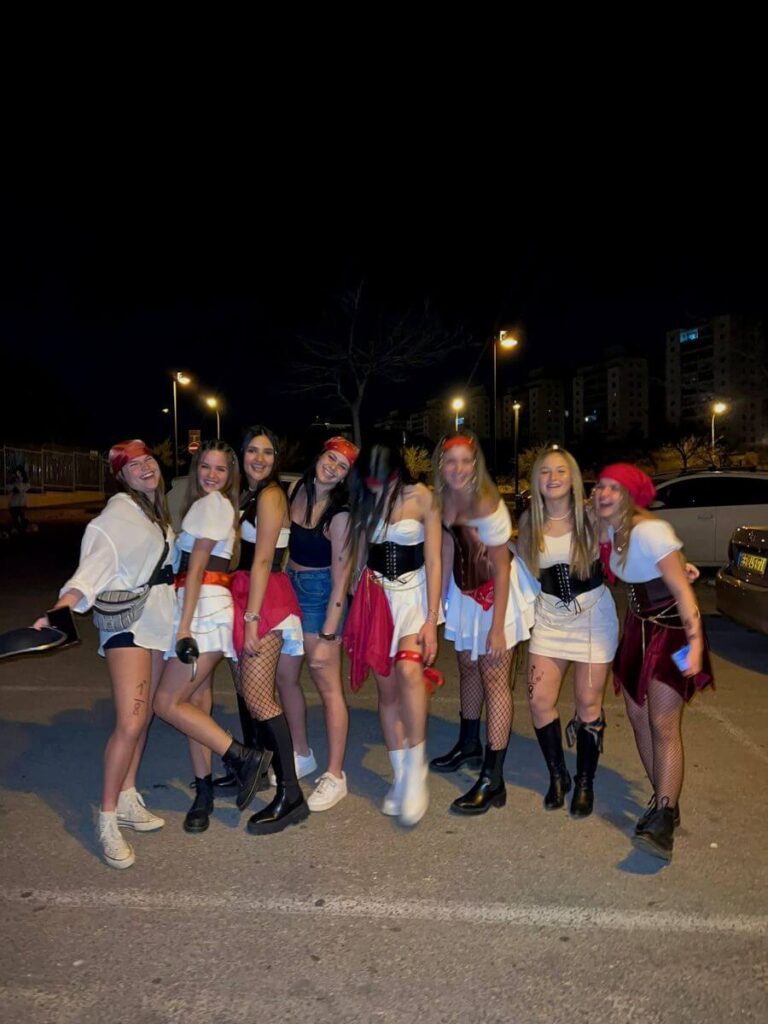 The sexy pirate costume is pretty much a college Halloween staple at this point.
Pair a white mini dress with a black waist belt, red accessories, and some fishnet tights. So hot but so easy!
29. Ninja Turtles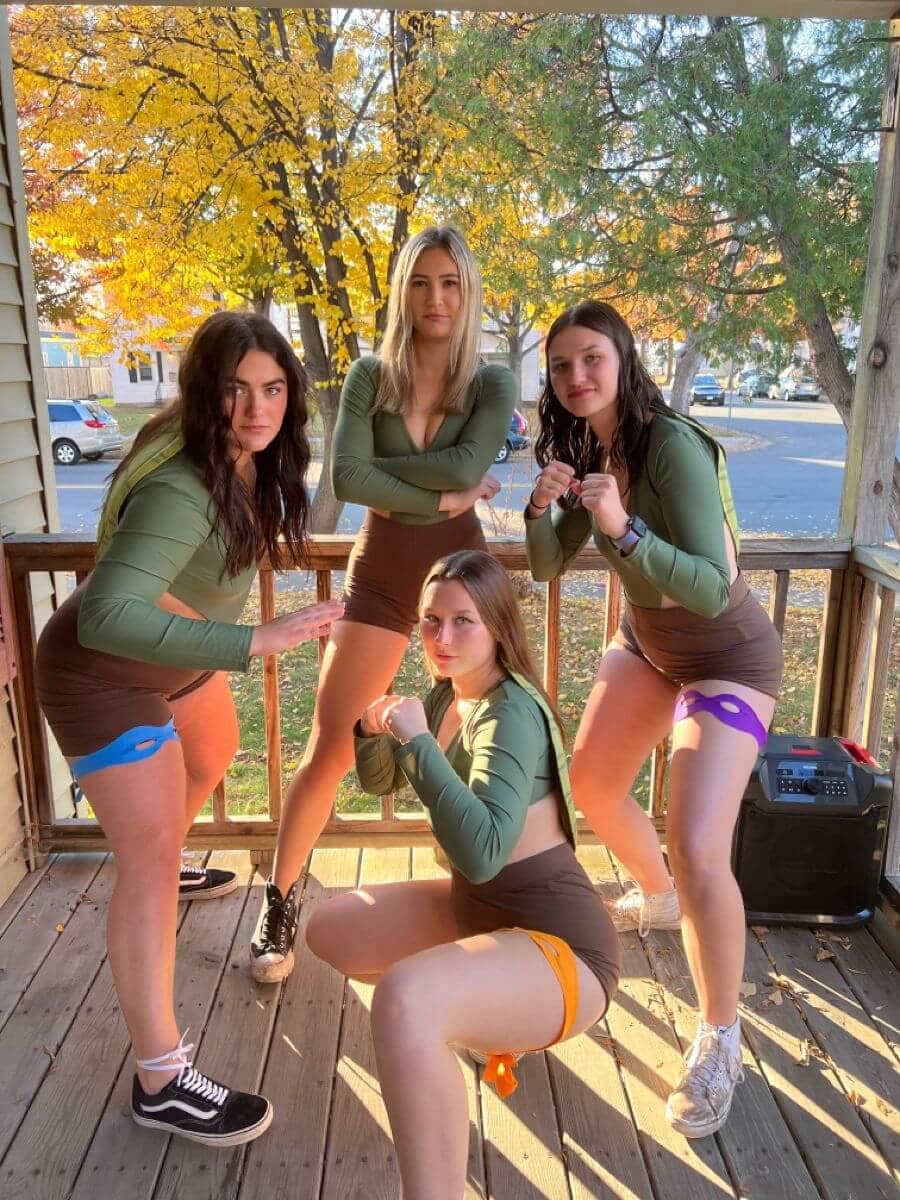 Unleash your inner crime-fighting reptile as Leonardo, Michelangelo, Raphael, and Donatello. This is the perfect Halloween costume idea for a group of four.
30. Cute Football Players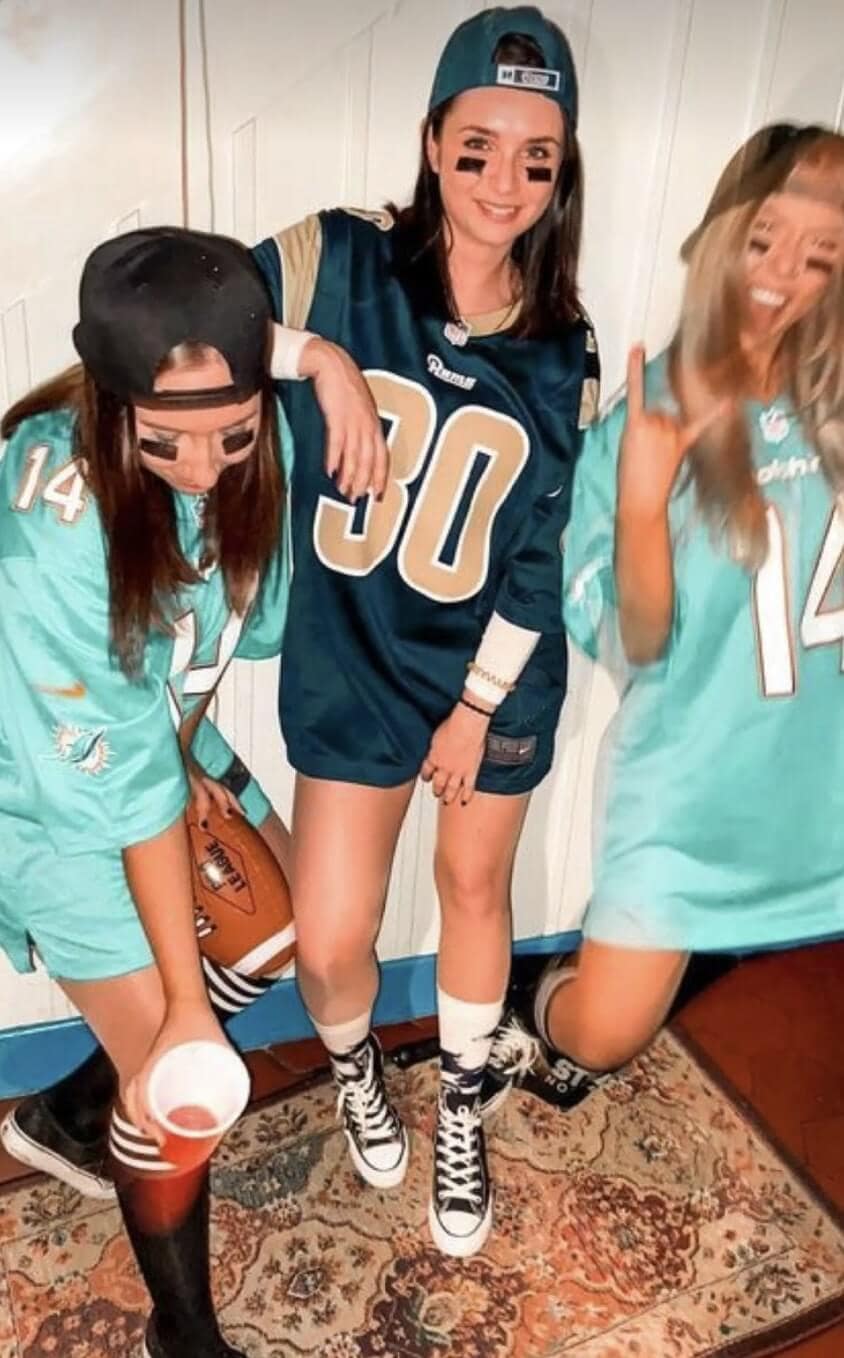 Looking for the absolute easiest costume idea?
Just throw on an oversized jersey, paint some eyeliner under your eyes, and call yourselves a football team! Such an easy (and comfortable) costume idea.
31. Pizza Planet Aliens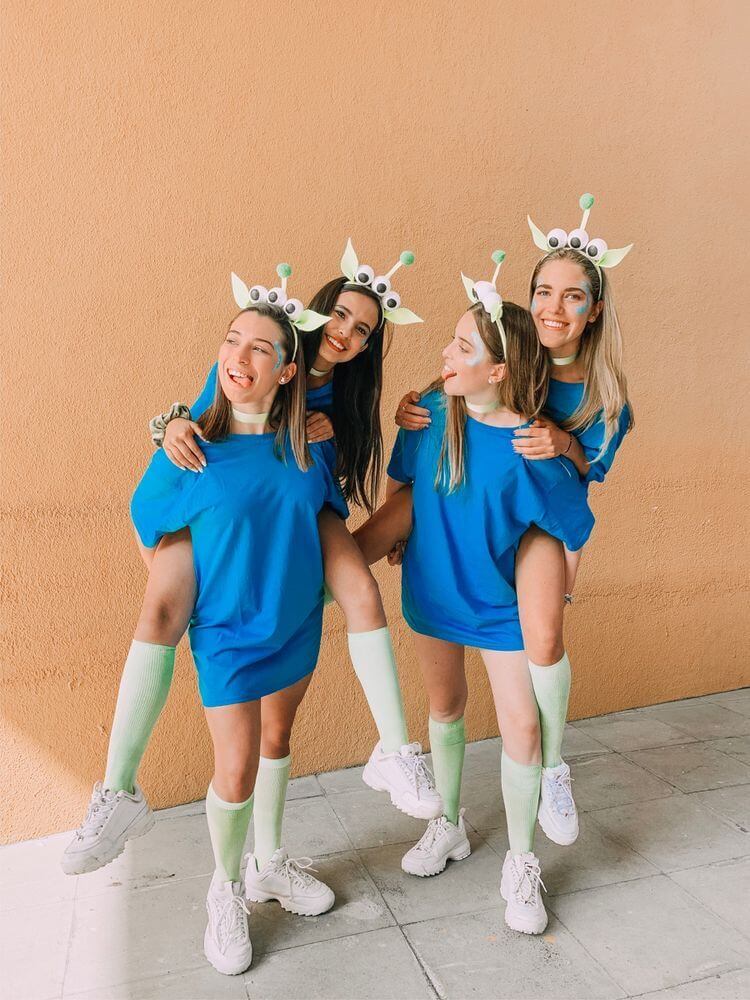 How adorable is this costume idea? The little aliens from the Toy Story movie make for such a cute but still low-effort group costume.
Just throw on an oversized blue t-shirt, some green knee-high socks, and a little alien eye headband (we've seen some cute ones on Amazon).
32. Bratz Dolls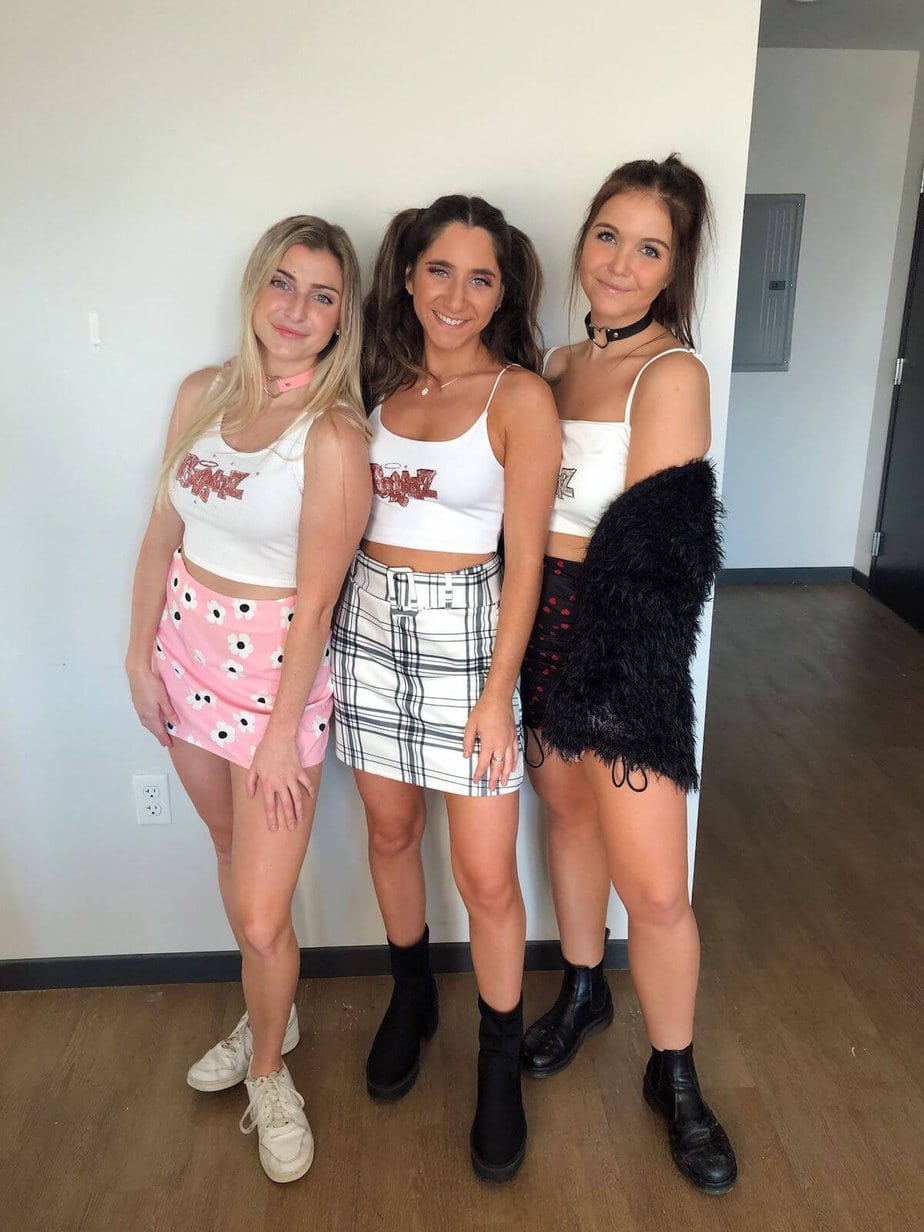 Get dolled up (lol) with your besties and go as a group of Bratz dolls!
All you really need for this costume is a fun mini skirt, a Bratz logo top, and a choker necklace. So cute and easy for a group of girls!
33. Alice In Wonderland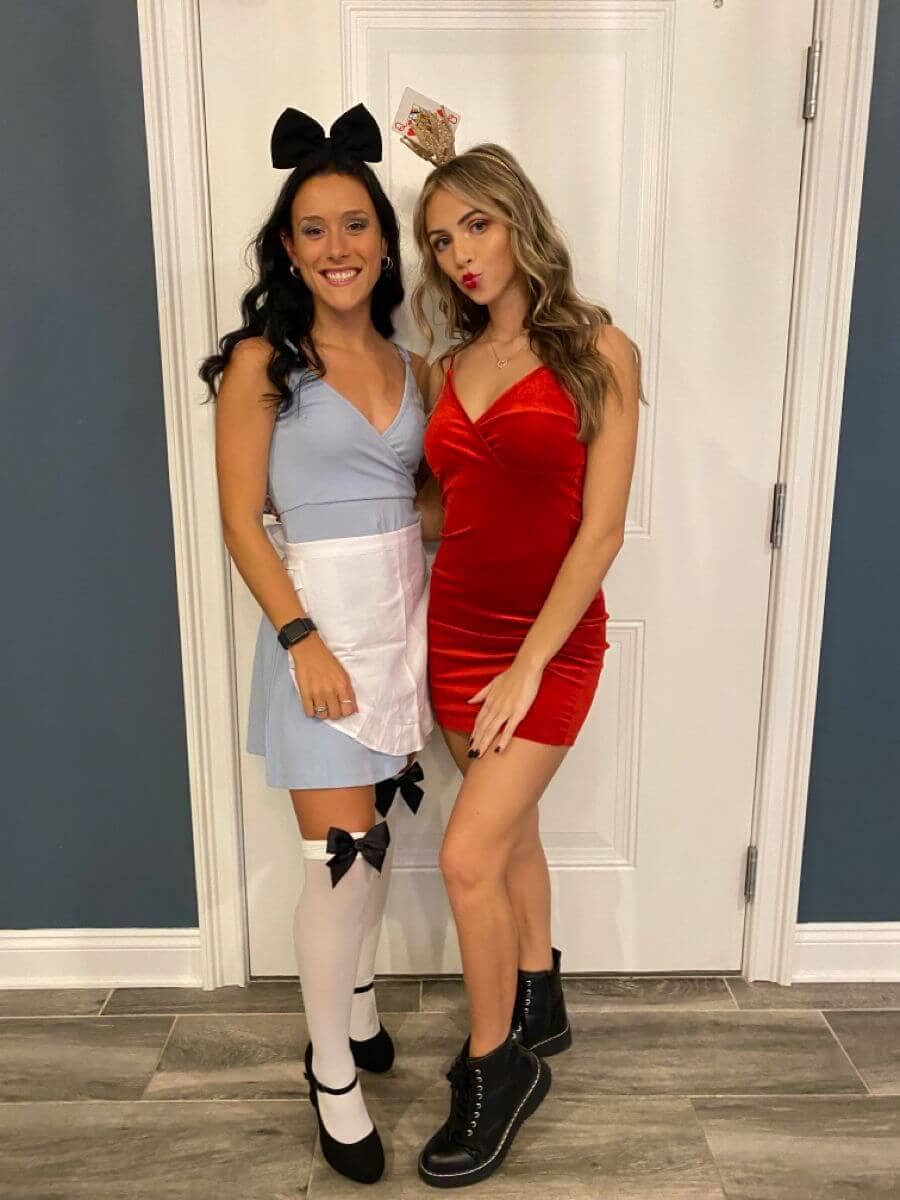 Everyone will be falling down the rabbit hole when they see your group costume.
There are plenty of characters to choose from like Alice, the Mad Hatter, the Queen of Hearts, the White Rabbit, etc.
34. Trolls Dolls Group Costume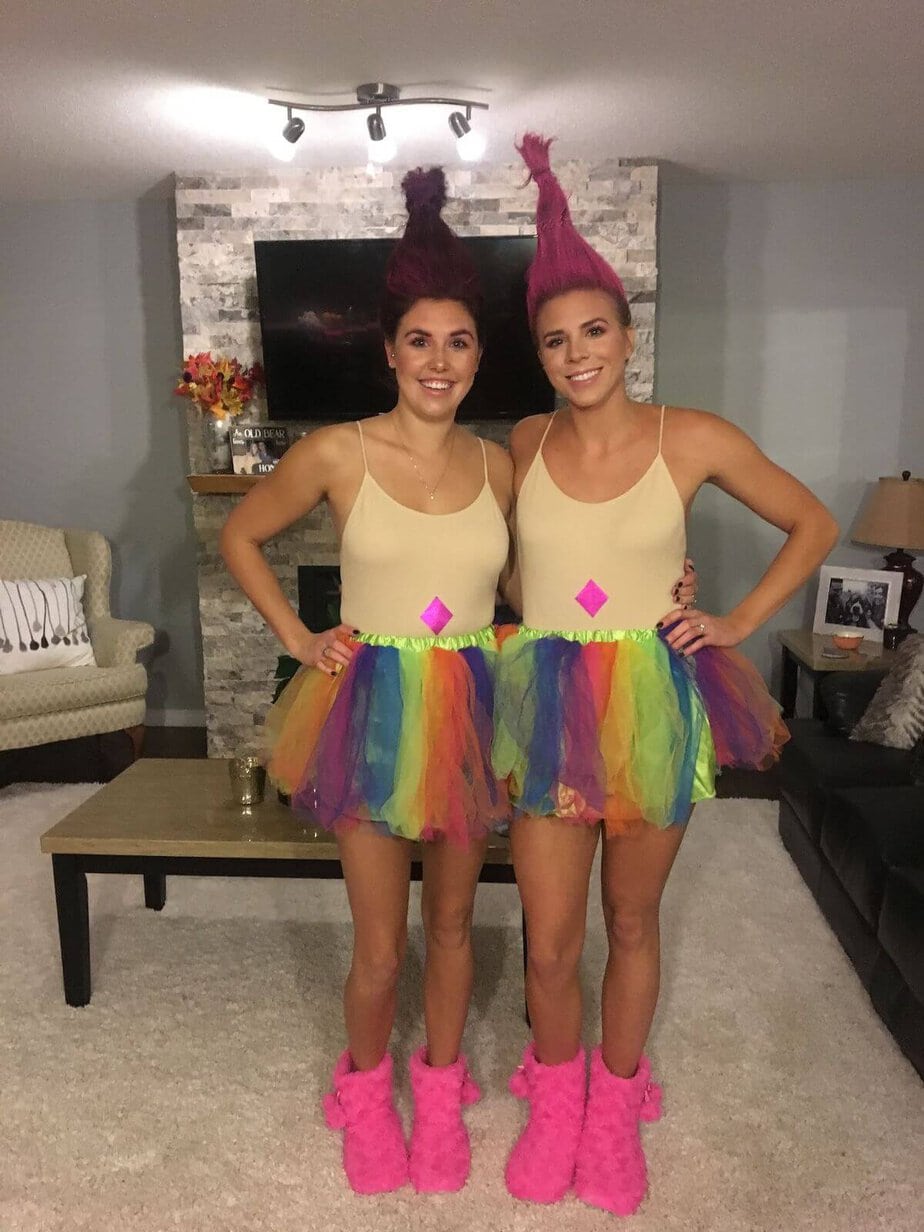 All eyes will definitely be on you guys if your group dresses up as Trolls dolls for Halloween.
Throw on some neutral clothing, a colorful tutu, and use some temporary dye for your trolls hair.
35. Monsters Inc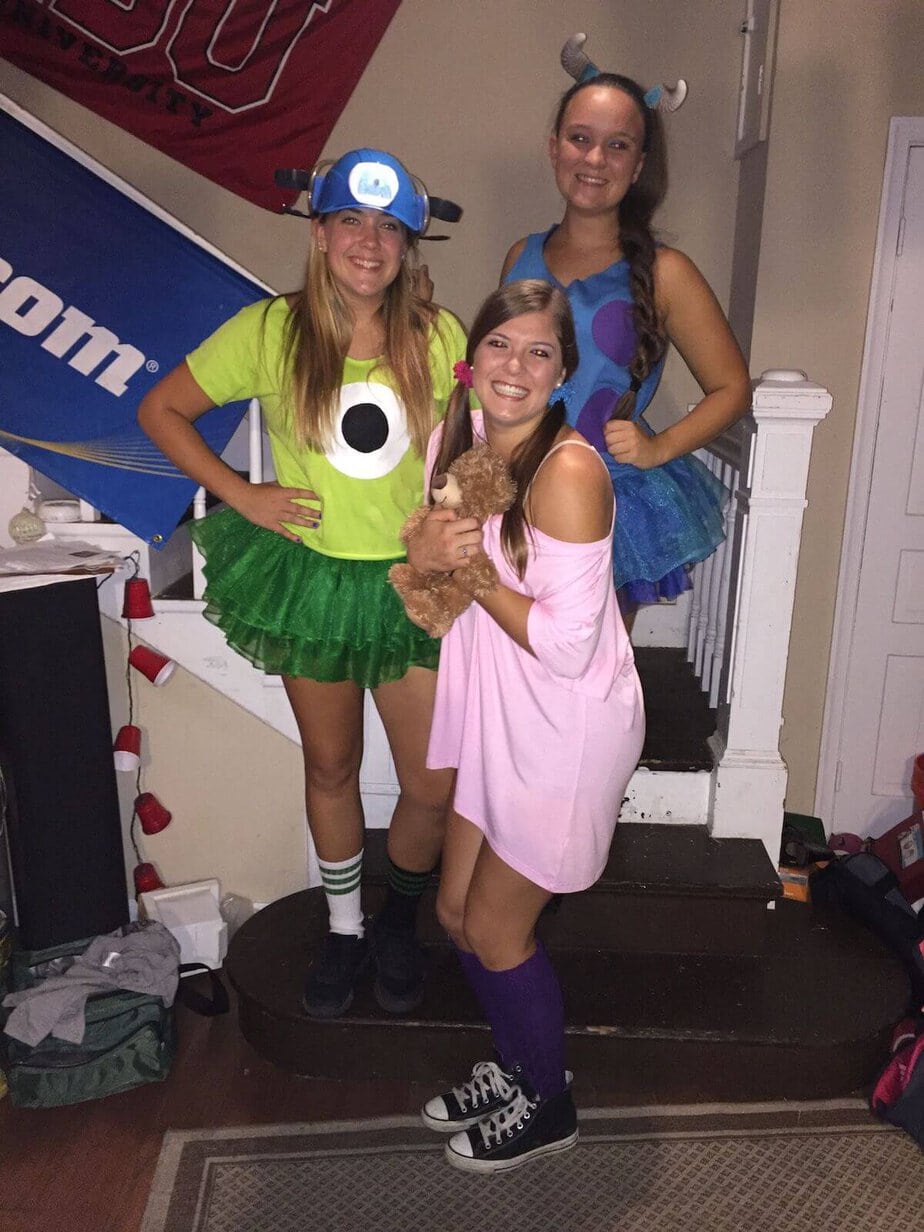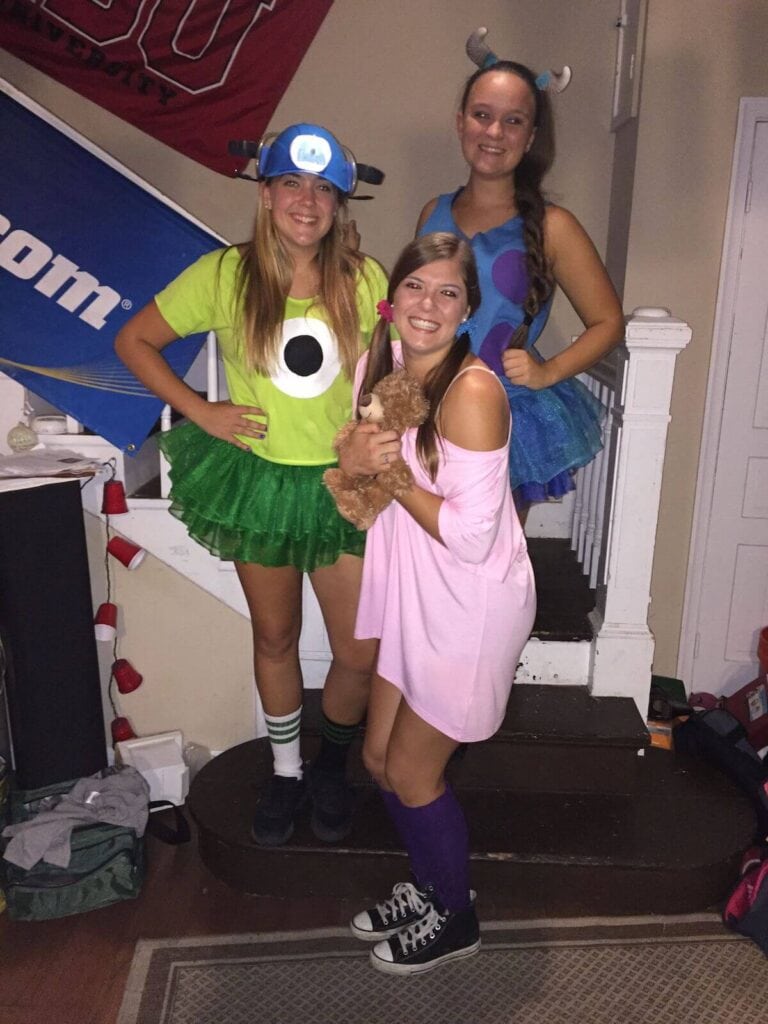 Scare up some fun by going as the Monsters Inc. characters.
The main three characters are Mike Wazowski, Sully, and Boo, but there are plenty of other supporting characters for bigger friend groups.
36. Seven Dwarves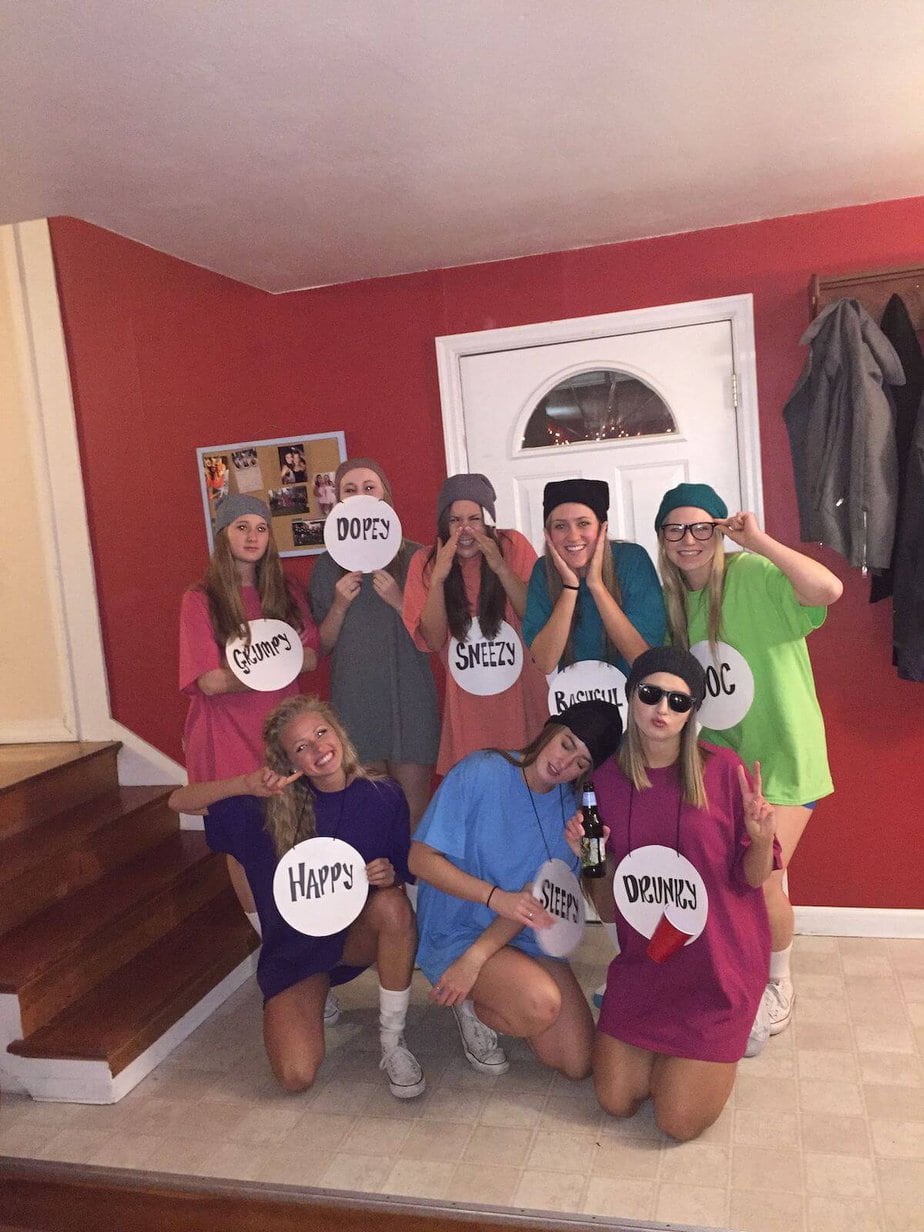 I know they may be called the seven dwarves, but this group costume idea works for any size crew!
Just make up your own funny dwarf names like "drunky", or "lazy", or "shorty". This is a fun one because you can choose your own characters based on your personality traits!
37. Cute Boxer Girls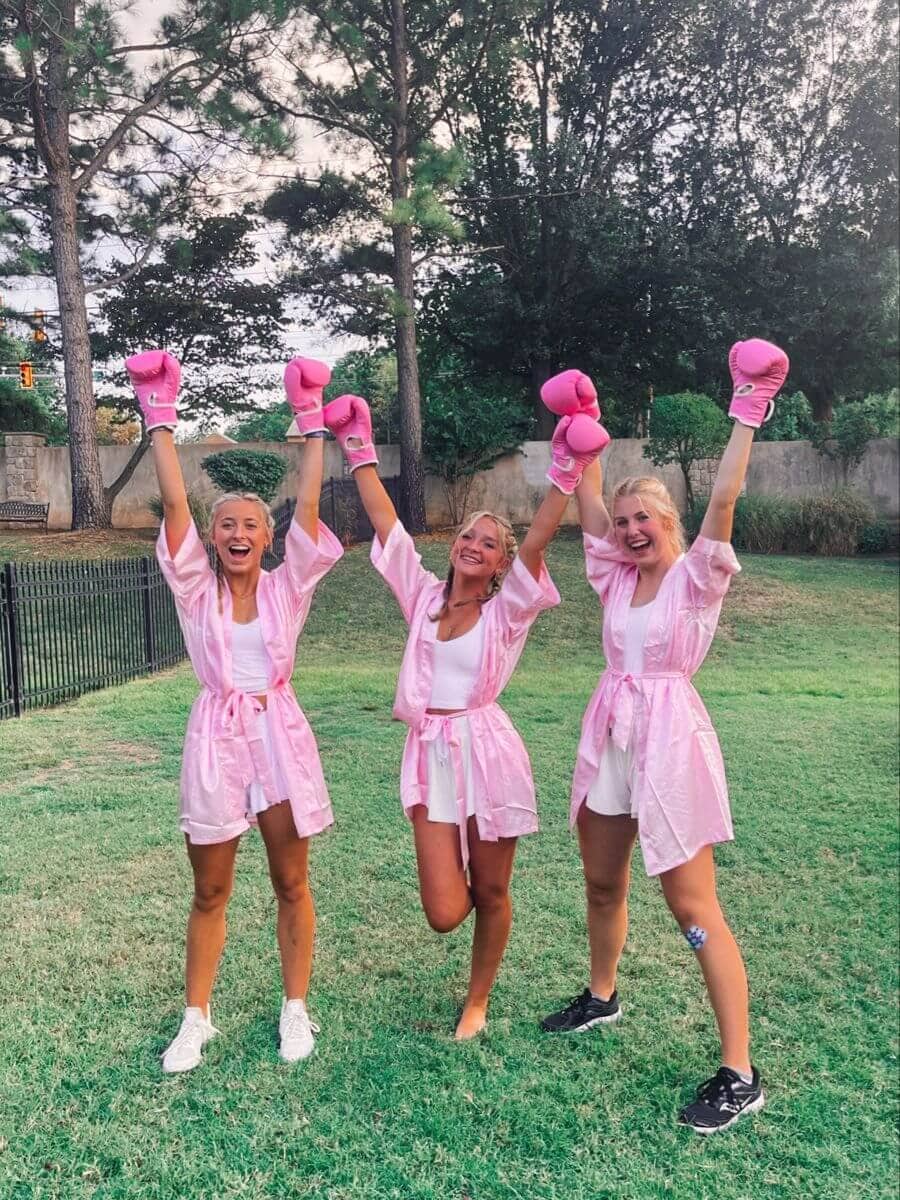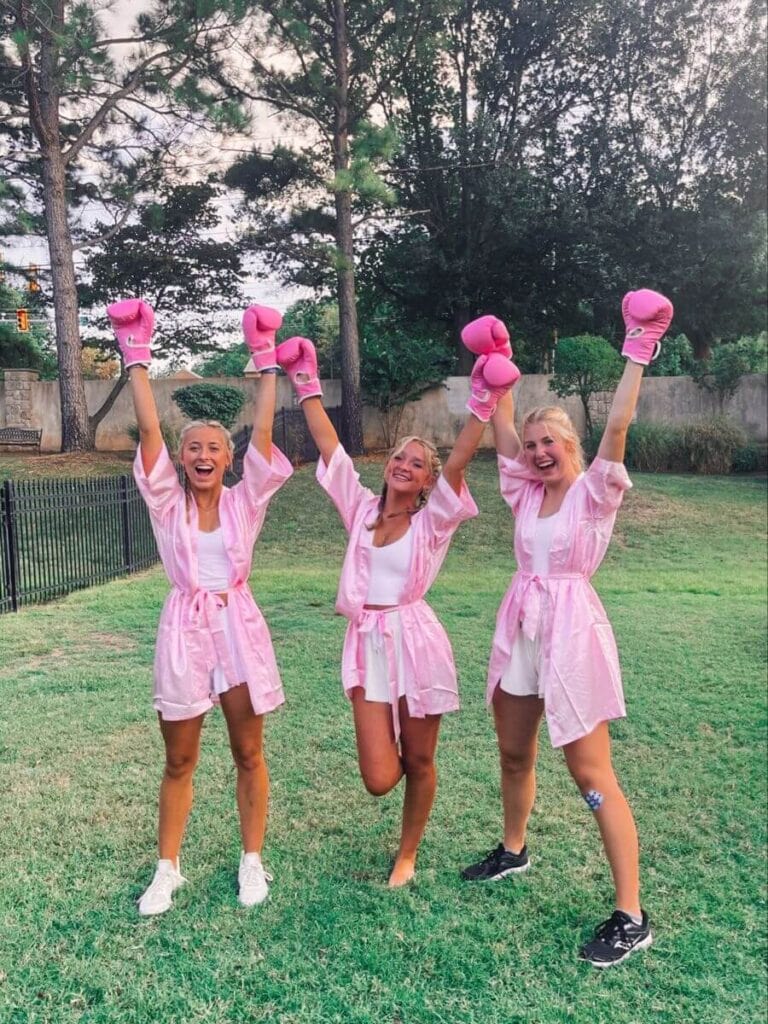 Knock everyone off their feet with this super cute group costume.
Just throw on some athletic wear, a silk robe, and some boxing gloves. Put your hair in braids if you want to really pull the look together!
38. Frat Boys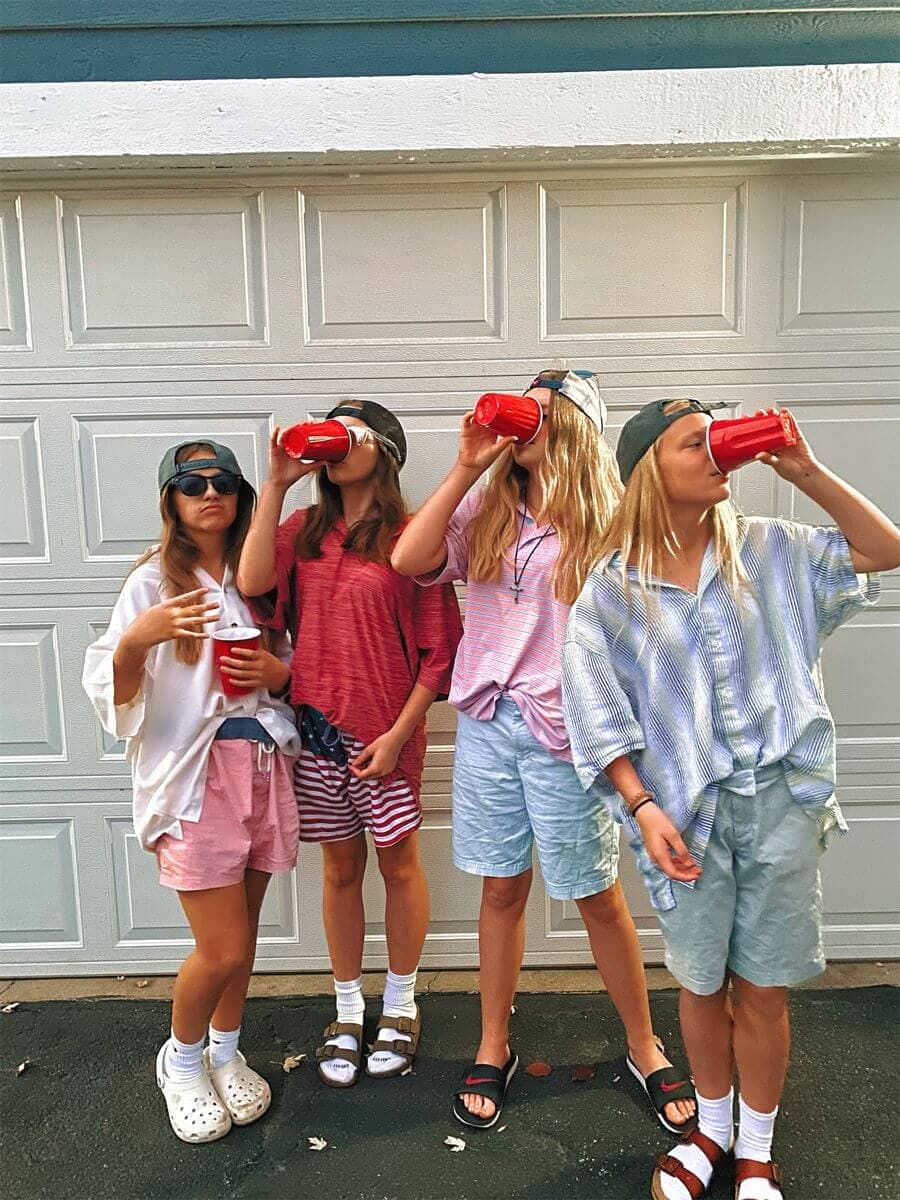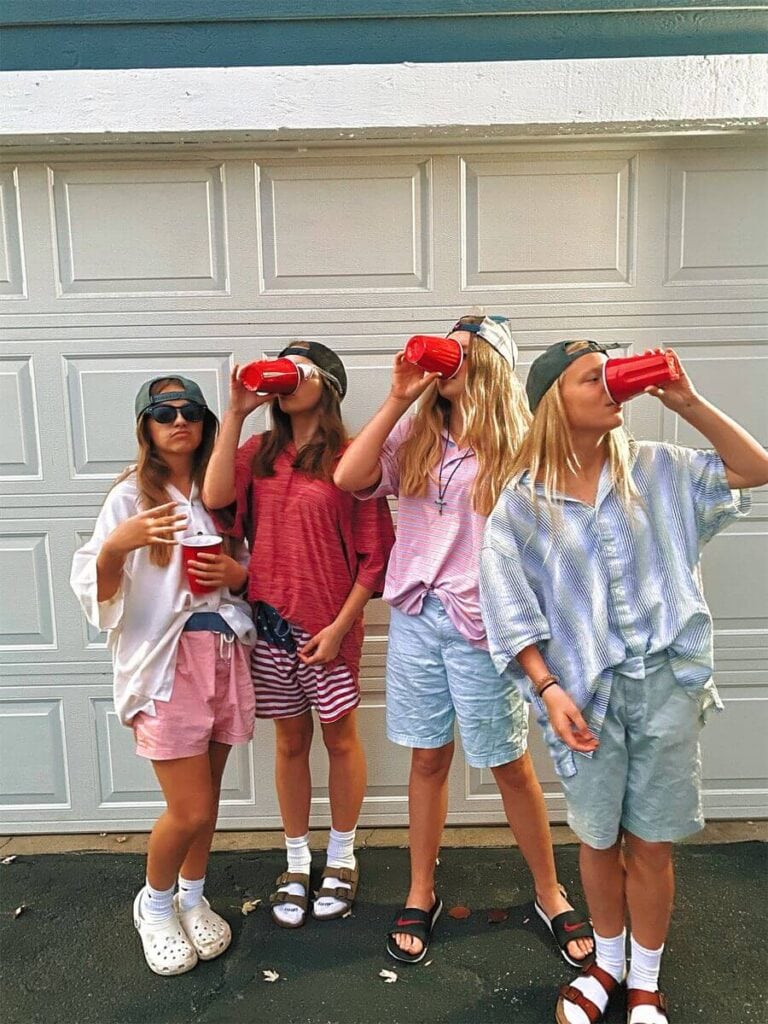 Looking for a super funny costume idea for a group of college girls? Go as some frat boys!
You can just borrow some clothes from a guy friend or brother, or you could hit up a thrift store and look for oversized polo shirts and a snapback hat.
39. Girl Scouts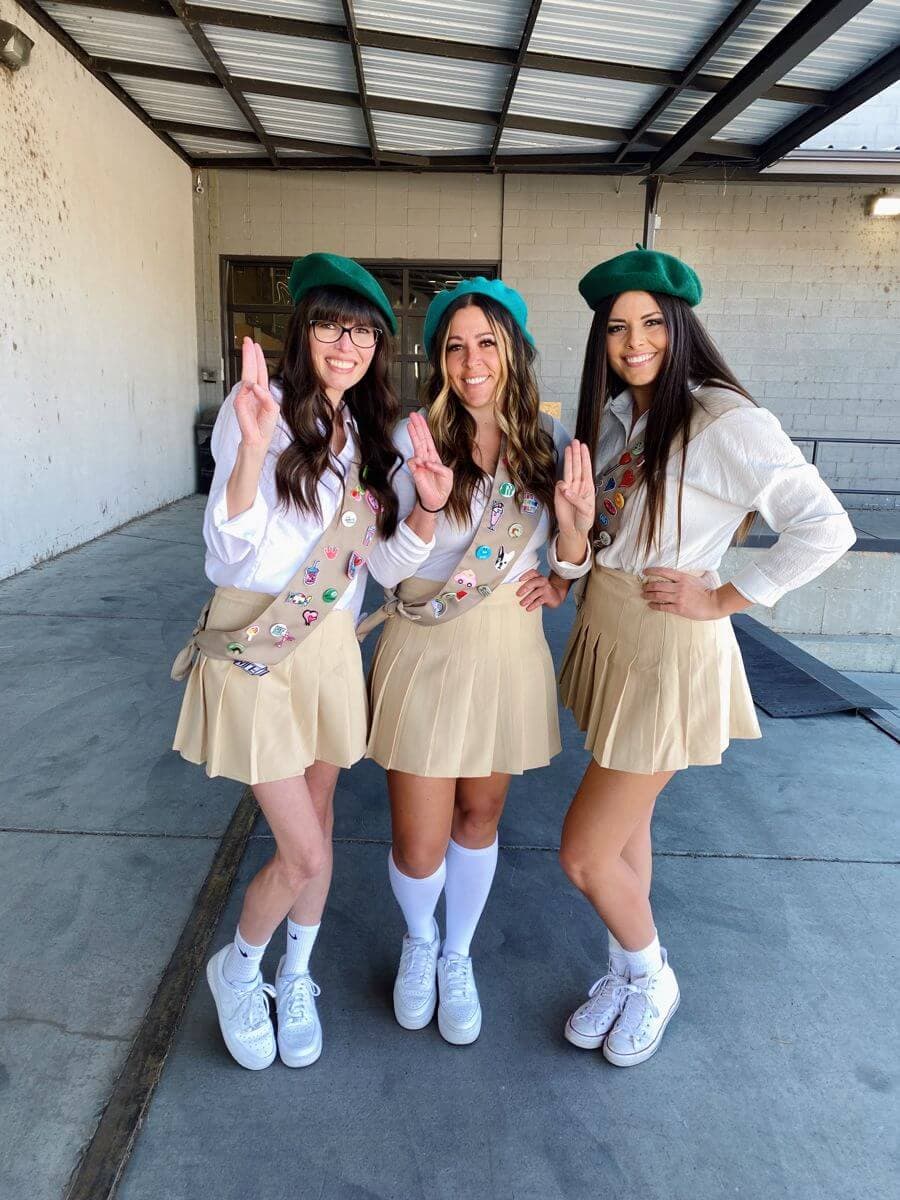 Go for the nostalgic look and dress up in Girl Scout uniforms!
To get this classic look, you'll need a tan pleated skirt, sash with patches, and a beret in either green or tan.
40. M&M's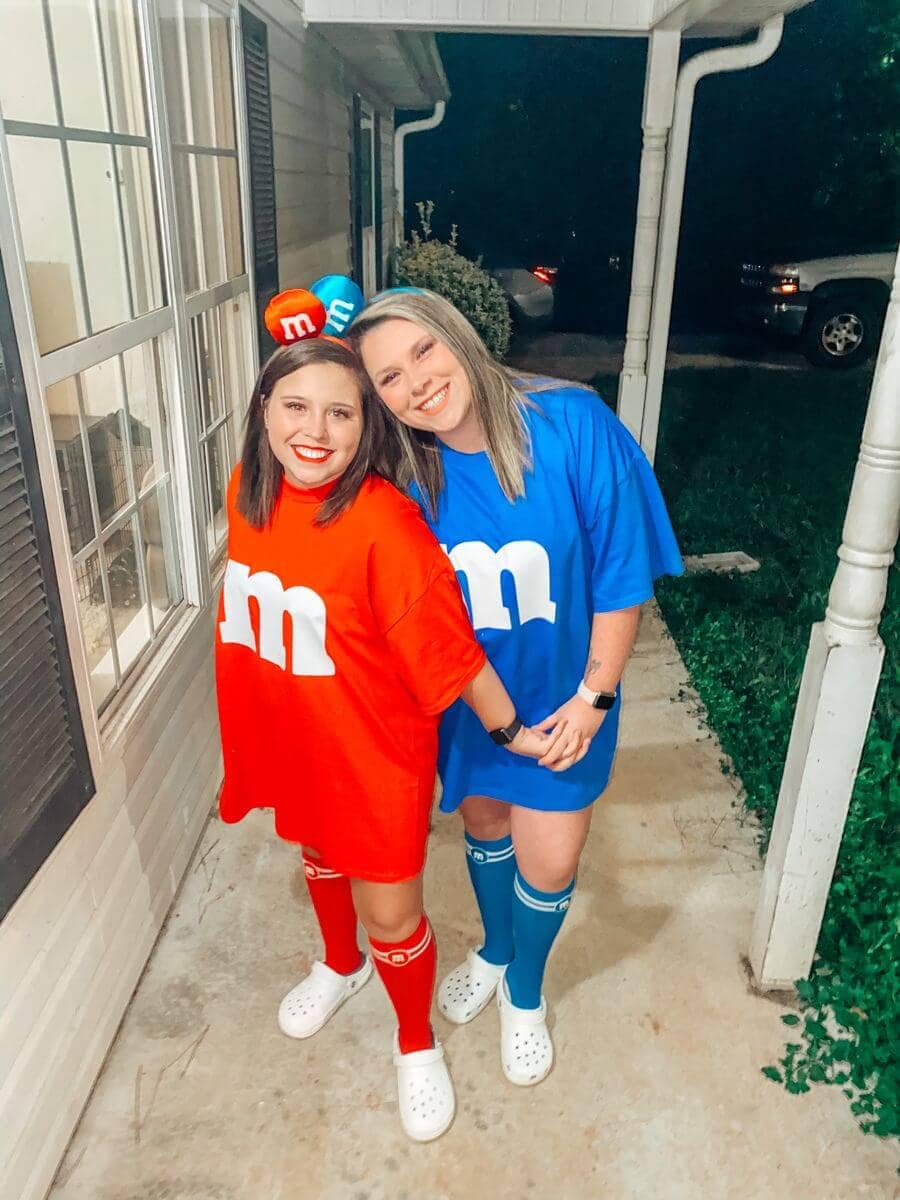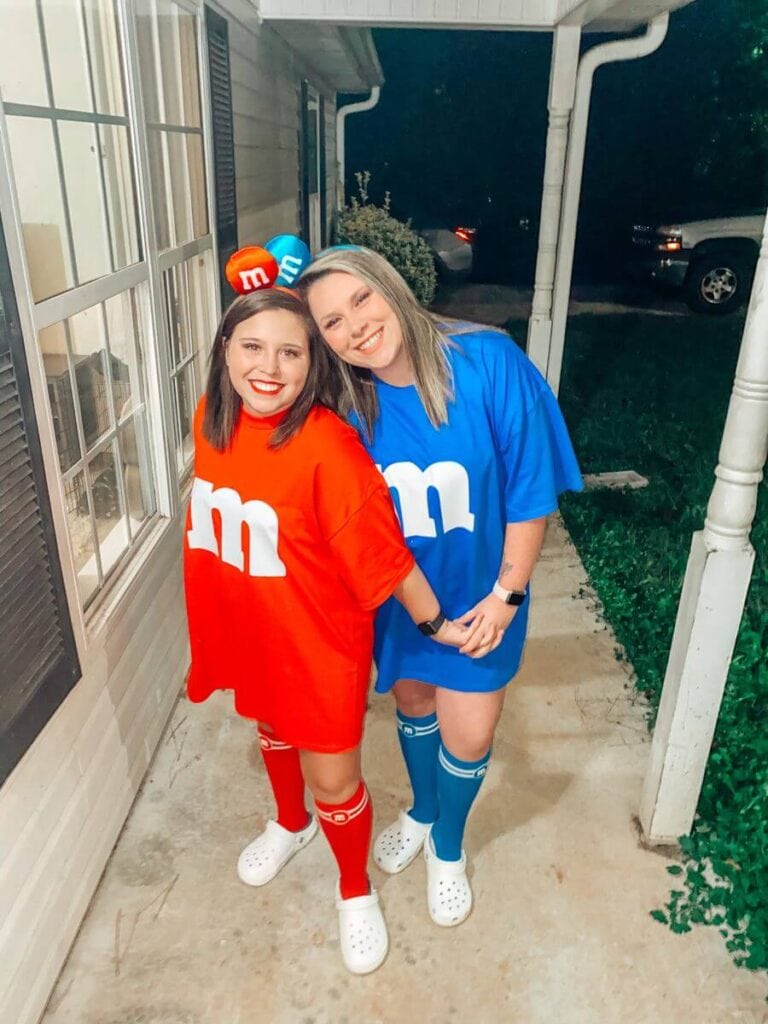 One of the most comfy group Halloween costumes is to go M&Ms. Wouldn't it be nice and comfortable to be in an oversized t-shirt and bike shorts all night?
To get this look, just print out a large M and fix it onto a T-shirt. Add matching knee-high socks and a pair of comfortable shoes and you're good to go for the night!
41. Grannies
Hit up a thrift store and dress like your Grandma for Halloween this year!
This would be such a funny and unexpected group costume idea.
42. White Claw Cans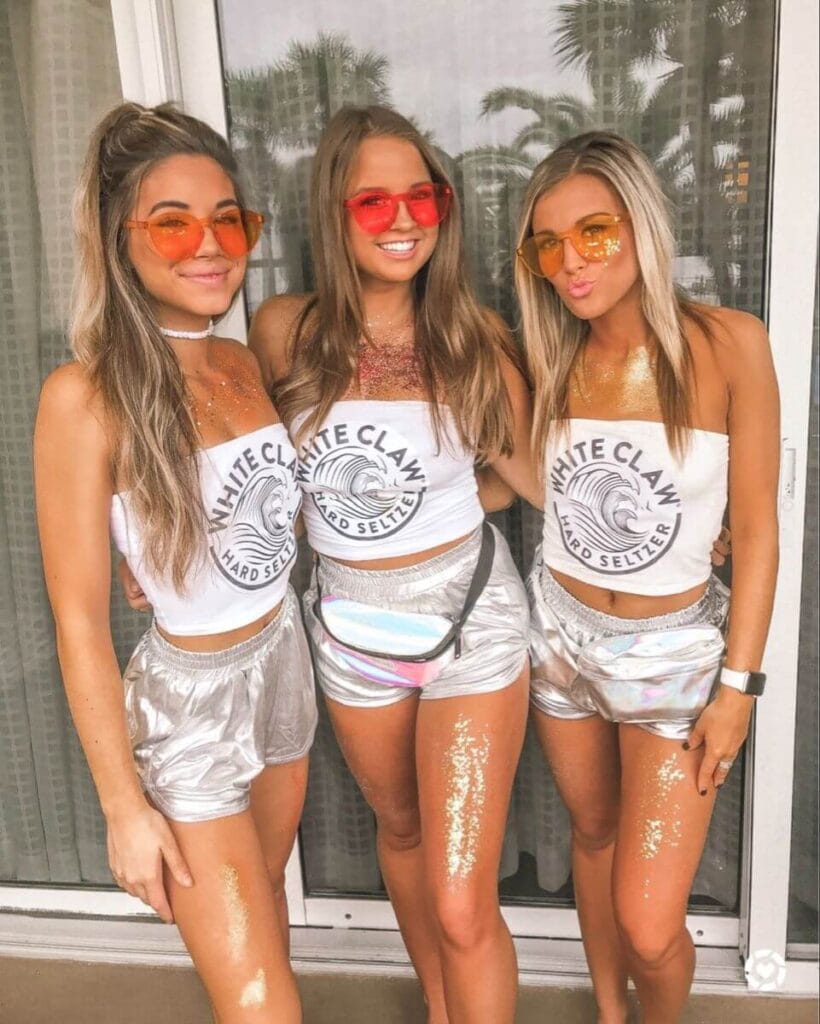 We're absolutely obsessed with this cute White Claw can costume idea for a group of girls.
Just throw on a pair of silver shorts, a white tube top, and tons of glitter. Print out White Claw labels to fix onto the front of your tops.
43. Taco Bell Sauces
Heat things up a bit by going as various hot sauce packets from Taco Bell.
All you really need is a plain colored dress and the rest can be printed out and taped onto your outfit.
44. Fruits Group Costume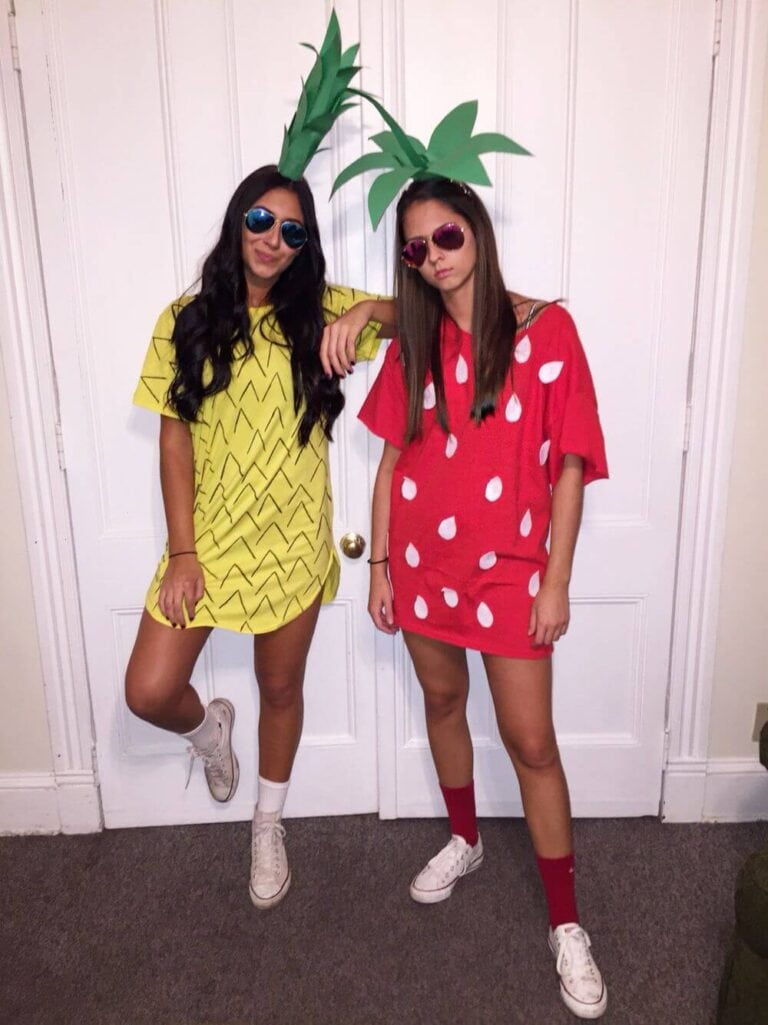 Here's another super easy Halloween costume idea for groups. Just go as different types of fruit!
You can DIY these costumes really easily with oversized T-shirts, construction paper, and some fabric paint.
45. Holes Characters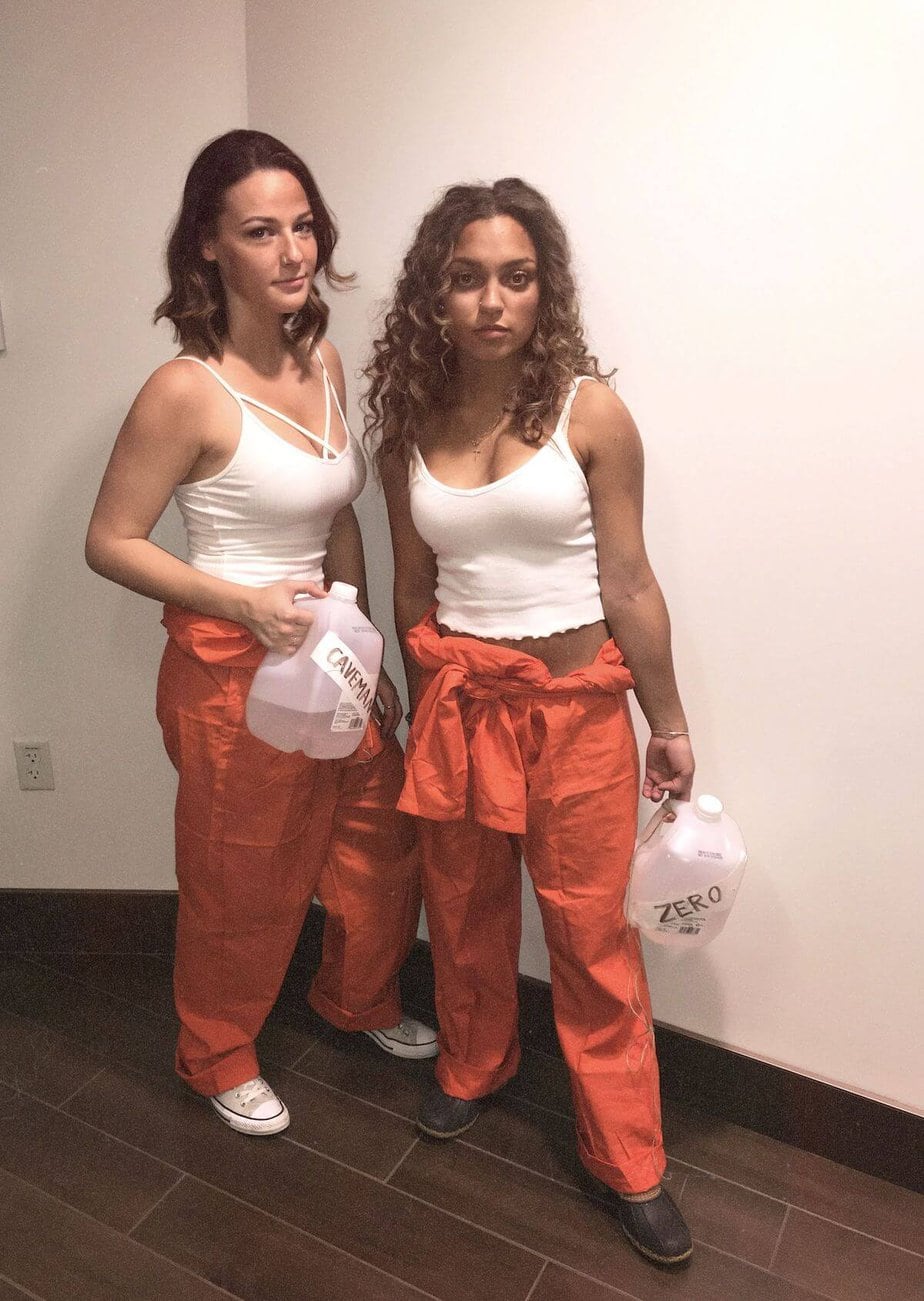 Another picture-perfect group Halloween costume idea is to go as characters from the movie Holes.
You'll need an orange jumpsuit or pants, a white tank top, and a jug of water. Or you can fill your jug with BORG – we won't tell!
This post was all about the best group Halloween costumes that you'll want to recreate with your friends.
Need more costume ideas?