18 Super Fun Date Ideas For People Under 21
This post is all about fun date ideas for people under 21.
This post may contain affiliate links, which means I'll receive a commission if you purchase through my link, at no extra cost to you. Learn more: Affiliate Disclaimer.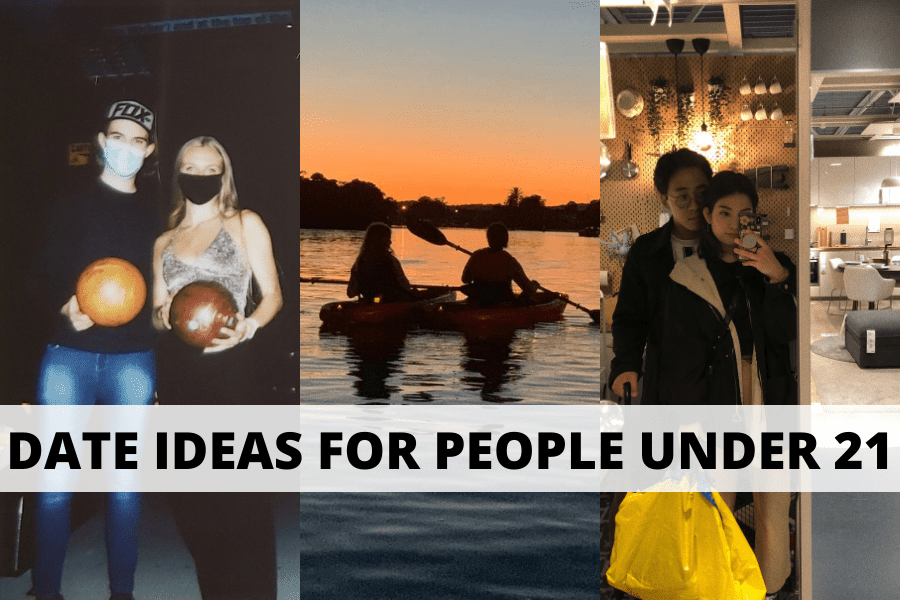 Heading off on a date soon but haven't turned 21 yet?
It can be hard to think of fun date ideas that don't involve drinking. But I'm here to show you that you can have an amazing date even if you're under 21!
These fun date ideas are great for any age, but they're especially perfect for couples that aren't yet 21 (or couples who are looking for sober date ideas).
Here are 18 awesome sober dates for people who aren't 21 yet.
Date Ideas For People Under 21:
1. Dinner Date
We're starting off with one of the most classic date ideas for people under 21. You can't go wrong with a nice dinner out somewhere together. Take your date to their favorite restaurant, or introduce them to yours!
If you're on a budget, you can also stay in and cook dinner together! This would be a super romantic way to have a dinner date without breaking the bank.
2. Go Hiking
3. Rock Paper Scissors Date
This is a super fun date idea that I've seen a lot on TikTok lately. Basically, you play rock paper scissors for who gets to choose the location you eat at.
But you actually end up going to several different locations. The first round is an appetizer, second round is a drink, third is the main course, and fourth is dessert. Each round you play rock paper scissors to see who chooses where you go next.
I love this idea because it takes pressure off of deciding where to go. You each will have a chance to pick somewhere for the different rounds. This can be a super cheap date or a little bit more expensive, depending on the places you choose!
4. Ice Skating / Roller Blading
Depending on the season, ice skating or roller blading would be a super fun date idea if you're under 21.
If you're both pro skaters, you can show off your skills and have some friendly competition. If one of you isn't the best skater, it's a great excuse to hold hands and go slow around the rink. Maybe you're both terrible and it's just an excuse to laugh at each other! No matter what, it's a super fun date.
If you're ice skating, make sure you find a cozy spot to warm up with some hot chocolates after!
5. Bookstore Date
A date to a bookstore might not sound the most exciting, but it can actually be really fun and a great way to get to know each other!
Grab some coffee and hit the shelves. Here are a few ways to make a bookstore date even more fun:
Pick out books for each other to read
Go to the children's section and show each other the books you read as kids
Try to guess the plot of a book just based on the title and cover
Or just sit and read books together for awhile! There's no bad way to have a bookstore date.
6. Stargazing
This is one of the cutest date ideas for people under 21. If it's a clear night, grab a bunch of blankets and pillows and lay out in a field. See how many constellations you can each name, or just talk and get to know each other better!
This would be especially cool if there was some kind of cool night sky event happening, like a meteor shower. You can check out the must-see night sky events in 2022 here.
7. Mini Golf
Mini golf is a classic date activity for teens or adults under 21. It's super fun, affordable, and very casual. There are even indoor mini golf places, so this is a great date option for a rainy day.
8. Ikea Date
I saw this date idea on Reddit and I thought it was so unique and fun! Spend the day at Ikea shopping, dreaming about your future homes, and filling up on Swedish meatballs in the food court.
I love walking through the display rooms and picturing what everything would look like in my house. You'll get an insight into what kind of design styles your date likes too.
If you don't have an Ikea near you, you could also have a mall date and eat lunch together in the food court.
9. Go Kayaking
If you live near a body of water, spend the morning or afternoon kayaking or canoeing. Water sports rentals are usually pretty affordable, depending on your area (check Groupon for deals!).
I used to do this with my college boyfriend all the time when we were under 21. It was such a relaxing way to spend a few hours together, while still getting some physical activity in.
10. Coffee Shop Study Date
If you and your date are under 21, you may still be in college or high school. Get together at a coffee shop for a cute study date!
Bring plenty of snacks, a playlist you can both listen to, and your textbooks. This is a great, low-pressure date idea because if you run out of things to talk about you can just focus on studying for awhile.
11. Comedy Show
Make your date laugh without having to say a single word! A comedy show is a super fun date idea, even if you're under 21.
Just make sure that the comedy show venue doesn't have any age restrictions. Some of them will require you to be 21 because they have a bar onsite.
12. Go Thrifting
Another super unique date idea for under 21 year olds is to go thrifting! Honestly, you don't even need to buy anything for this to be a fun date.
Hit up the thrift store together and pick out crazy outfits for your date to try on. Or challenge the other person to find you a full outfit that they think you would like!
13. Bowling
Bowling is a classic date idea that you pretty much can't go wrong with. It's affordable, casual, and super fun for a first (or 100th) date.
Just double check ahead of time that you don't need to be 21+. Most bowling alleys should be fine but there may be some that have an age restriction.
There was a mini bowling alley near my college that my friends and I got turned away from when we were under 21. It turns out the bowling alley transformed into a club at night and we had no idea!
14. Have a Picnic
Picnic dates are my absolute favorite type of date in the summer months. They're super romantic but also super affordable to put together! Just grab a picnic blanket and some snacks and you're all set.
You can set up your picnic at a local park, beach, or just in your backyard. This is a great date idea for couples under 21 because there's no drinking involved!
15. Sports Game
Sports games are great date ideas for people of all ages! Even if you're not a particularly sporty person, it can just be fun to get out and watch a game once in awhile.
Obviously they serve drinks at most professional sports games, but you don't have to be 21 to attend. If you're under 21, you can just order sodas and snacks (or sneak your own in lol).
16. Play Video Games
If you're under 21 and you just want to stay in for the night, a video game date night could be a really fun option. If you have a gaming console with two controllers, this is a totally free and fun date idea.
I don't really enjoy video games to be honest, but I always have a lot of fun playing Mario Kart or Dance Dance Revolution with my boyfriend and friends.
17. Go For a Bike Ride
If you want to get outside and get a little bit of physical activity in, go for a bike ride together! I love this date idea because it can be as strenuous as you want it to be.
If you're trying to get a workout in, you could go mountain biking. If you just want a casual night, go for a slow bike ride through your city! Just make sure you both are wearing helmets, unlike the couple in the photo above. Safety is sexy!
18. Take a Workout Class
Want to really get the blood pumping? Go to a workout class together! It's a great way to get a little endorphin rush and show your date that you care about your health.
Plus, you guys can flirt over protein shakes after the class is over haha.
If you don't know of any good workout classes in your area, check Groupon! I always find great deals for new fitness studios on there.
This post was all about the best date ideas for people under 21.
You may also like: