This post is all about the best date ideas for teens.
This post may contain affiliate links, which means I'll receive a commission if you purchase through my link, at no extra cost to you. Learn more: Affiliate Disclaimer.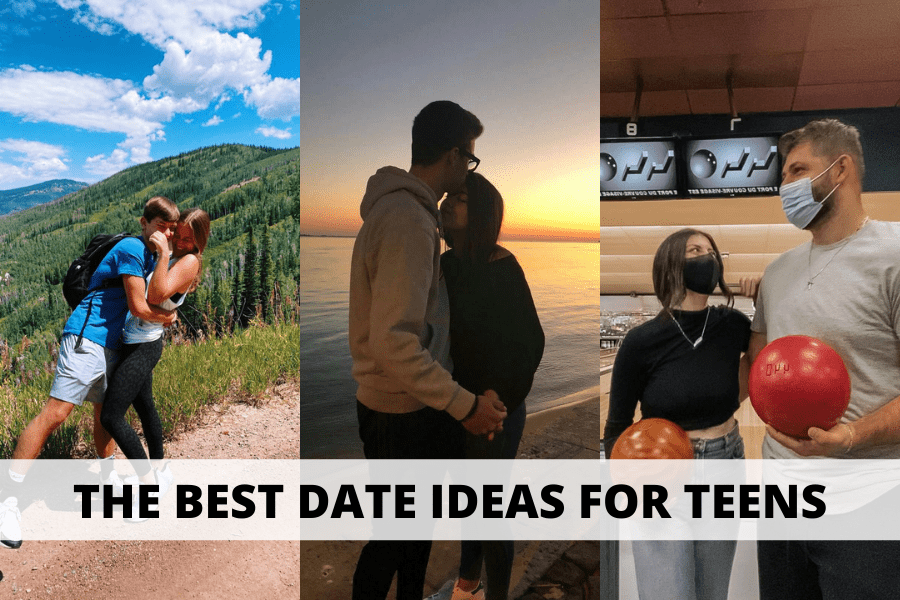 Dating as a teenager can be tricky. You want to have a lot of fun but still keep things casual and affordable.
Maybe it's your first date and you're worried about things getting awkward. Or maybe you've been dating for forever and you've run out of good date ideas. Either way, we have you covered!
Here are 50 insanely cute and fun date ideas for teenage couples that won't break the bank.
This post will show you the best date ideas for teens.
Fun First Date Ideas For Teens
First dates can be a little bit intimidating, especially if you don't know each other very well. The best first dates for teenage couples are ones that minimize a bit of the awkwardness. You should pick someplace with a bit of distraction so you can focus on that if you run out of things to talk about.
Here are my top picks for first dates for teens:
1. Go To An Arcade
There are tons of things to do at an arcade, so you two will never get bored! Plus, a little friendly competition can help spark the conversation a bit.
Just make sure you don't get too competitive! No one likes a sore loser (or winner) on a first date.
2. See a Movie
This is a classic first date idea, and for a good reason! When you two are focused on watching a movie, you don't have to worry about making conversation or having an awkward moment.
Plus, when the movie is over you can talk about what you just watched together!
This is a great first date idea for 14 year olds who may not have their license yet, because there's probably a movie theater really close by that your parents can drop you off at (or you can bike to). But it would be a super fun date for any teenage couple!
[RELATED: 21 Cheap Winter Date Ideas That Will Warm You Both Up]
3. Go To A Concert
Going to a concert is another great first date idea where you don't have to do too much talking. If you're both really into the musician, you'll be focused more on the music than on making conversation!
Find an artist that you both like and see if they have any shows coming up in your area. Plus, it's always a good sign when you have similar tastes in music!
4. Go Hiking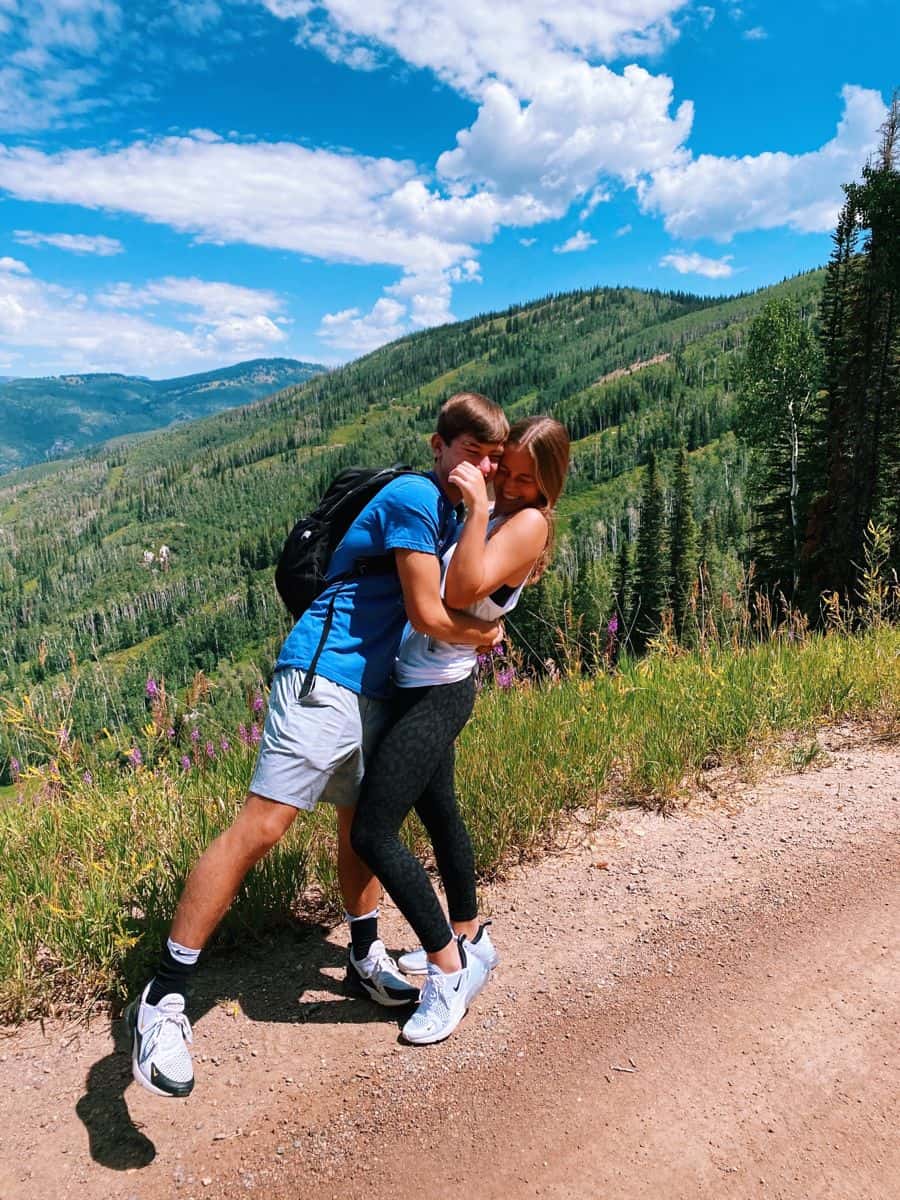 Hiking is a great first date idea because it gets you active and into nature. It requires a little bit more conversation than the other ideas on the list, but there's plenty to talk about when you're surrounded by beautiful things!
Just make sure you don't go on too remote of a hike, and make sure at least one of you has cell service the whole time. Getting stranded in the woods together would not be a very cute first date story.
5. Go To A Haunted House
A haunted house is one of my favorite first date ideas for autumn. It's super fun, gets your adrenaline pumping, and it's a great excuse to hold each other's hand.
I went on a few haunted house dates when I was a teenager and they were always so much fun! You can do this just the two of you or get a group together to go.
6. Go See A Sports Game
If your city has a sports team, take your date to a game! No matter what sport it is, it's always fun to watch a game together and eat stadium snacks.
This could be a pretty expensive date, depending on how big your city's teams are. If you can't afford tickets to a big game you can always go to a local school's sports game!
7. Amusement Park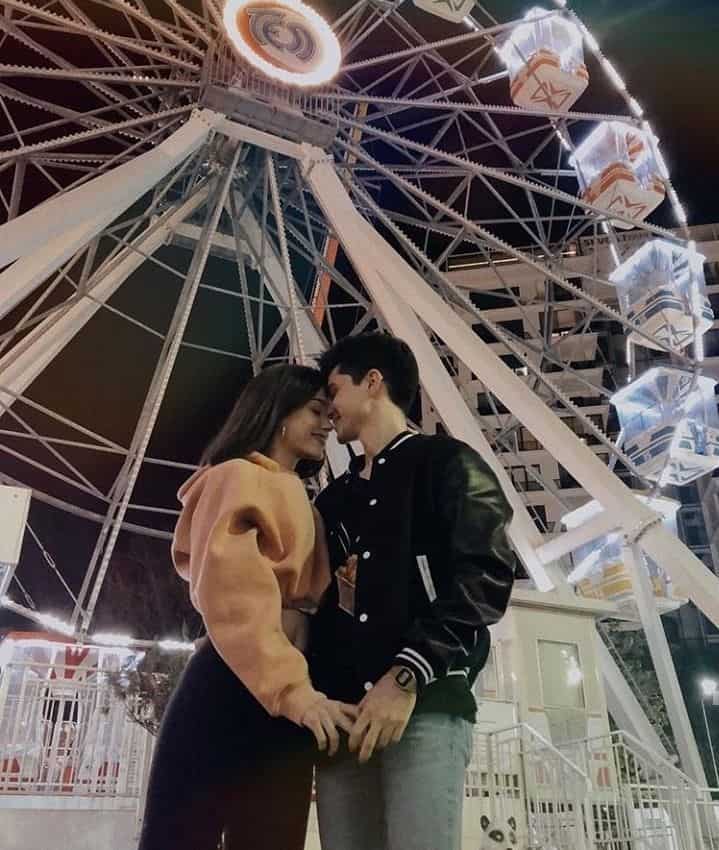 How fun would it be to have a first date at an amusement park?? There's SO much to do, that you two will never get bored or run out of things to talk about.
Go on rides, eat amusement park food, and play some of the games. Just keep in mind that this will likely be a very long date, so only choose this for a first date if you really like each other!
8. See A Comedy Show
Make your date laugh without saying a word by taking them to a comedy show. This is such a perfect date idea because it's fun and lighthearted, but there's no pressure to come up with things to talk about.
Plus, you'll be able to see if you two have the same sense of humor or not.
9. Rock Paper Scissors Date
This is SUCH a fun date idea that I've seen on TikTok lately. Basically, you play rock paper scissors for who gets to choose the location you eat at.
But you actually end up going to several different locations. The first round is an appetizer, second round is a drink, third is the main course, and fourth is dessert. Each round you play rock paper scissors to see who chooses next. For example, you could end up having fries at McDonalds, a drink at Starbucks, tacos at Taco Bell, and a milkshake from Dairy Queen.
I love this idea because it takes pressure off of deciding where to go. You each will have a chance to pick somewhere for the different rounds. This can be a super cheap date or a little bit more expensive, depending on the places you choose!
10. Do A Double Date
If you really want to take the pressure off, go on a double date! More people means more things to talk about and less of a chance that the date gets awkward.
Just make sure that the people you do a double date with aren't going to think it's funny to make things awkward between you guys lol.
11. Go To A Local Pool or Waterpark
There's nothing more fun than a pool or waterpark first date! If it's summertime, have a swimming date together.
You can lounge by the side of the pool with a good book, show off your handstand skills in the pool, or race each other down the waterslides.
12. Study Date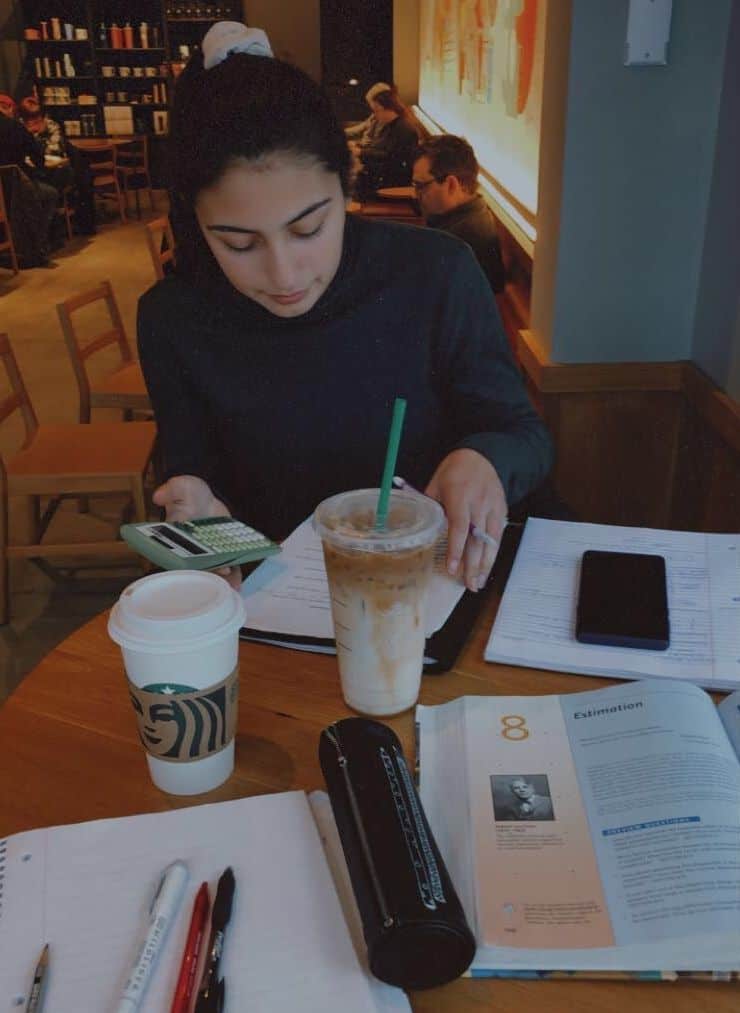 If you guys have a class together, a study date is a great way to break the ice and start to get to know each other.
Grab coffees or hot chocolates and find a cozy spot to do some studying together.
13. Go Bowling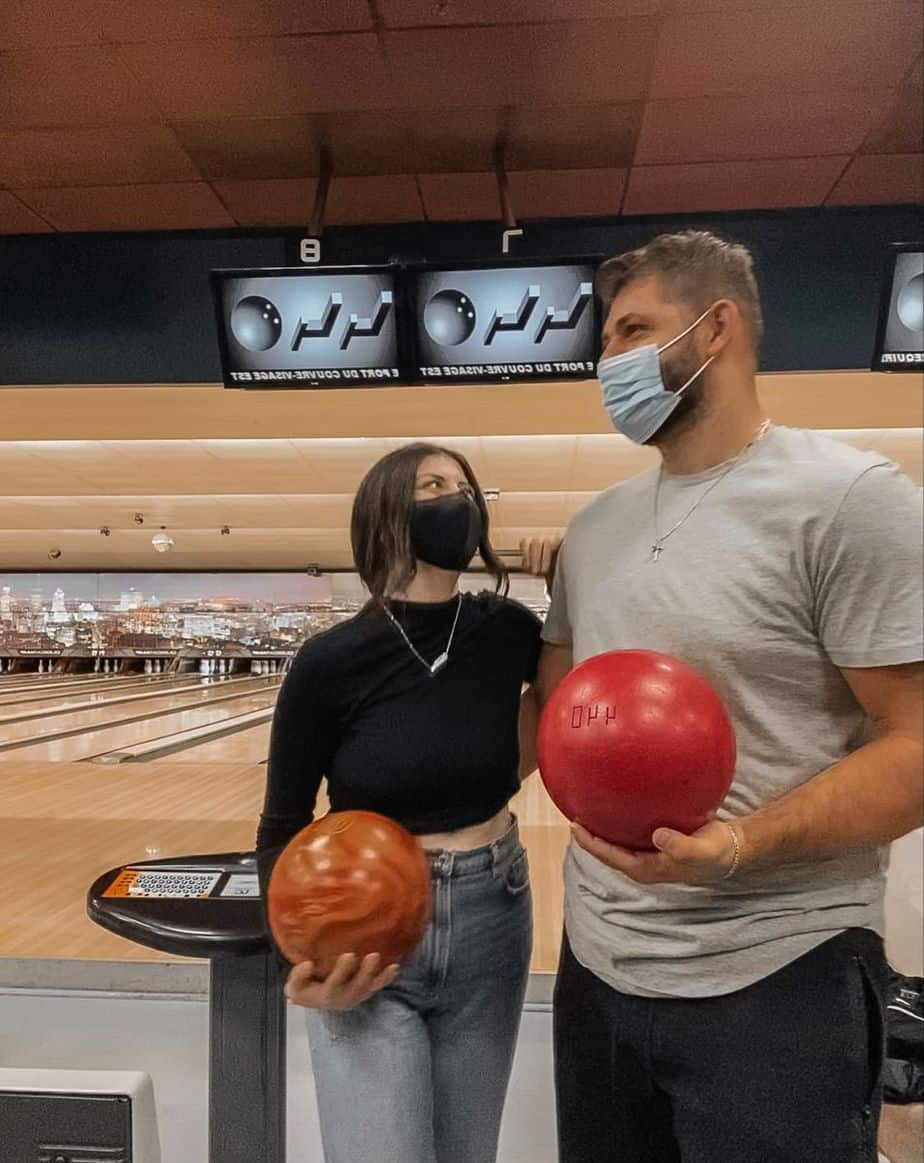 Bowling is another classic first date idea for teens. It's affordable, fun, and doesn't require too much awkward first date conversation.
One of you will always be taking a turn, so you won't have to sit there coming up with things to talk about. Plus, you can order up some fun bowling alley snacks!
14. Mini Golf
Mini golf is another super cute first date idea for teenage couples. I love that it's a little active, but not too strenuous. It's definitely not fun to get all sweaty on a first date lol.
Have some friendly competition, or just laugh at each other if you're both terrible golfers. Either way, it's a super fun date that you'll definitely remember forever.
15. Escape Room
Escape rooms are insanely popular right now. They're perfect for first dates because they're super fun, exciting, and a great way to get to know how your date's brain operates.
Plus, there's so much else to focus on that you won't feel pressure to make too much conversation. This would be a really fun double date or group outing as well!
Cheap Date Ideas For Teens
If you're a teenager, you probably don't have a ton of extra money to spare for dating. That's why I added this section of really good cheap date ideas for teens. Some of these are completely free, and others will only cost a few dollars.
[RELATED: 60 Romantic Valentine's Day Gifts For Girlfriend in 2022]
16. Go On A Bike Ride
This is one of my favorite cheap dates for teens because it's absolutely free (if you guys already have bikes of course). Bike around your town and show each other your favorite spots.
If you don't own bikes, there may be a bike share program in your city that you can take advantage of!
17. Go To A Playground
This is another favorite free date idea for teens. Head to a local playground and just act like kids again!
Hold hands while chatting on the swings, race each other down the slides, or play tag in the field. Honestly, just have fun and don't overthink things.
18. Have A Picnic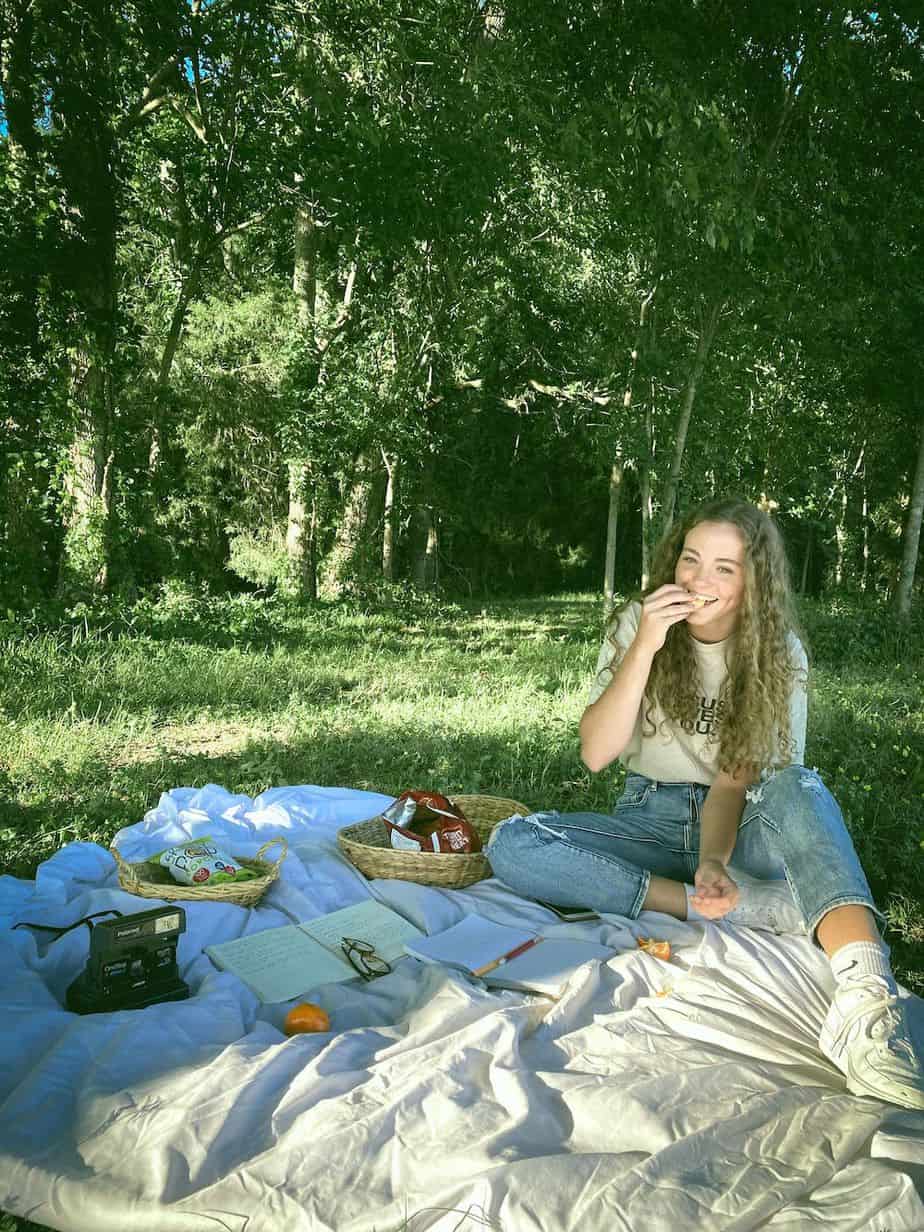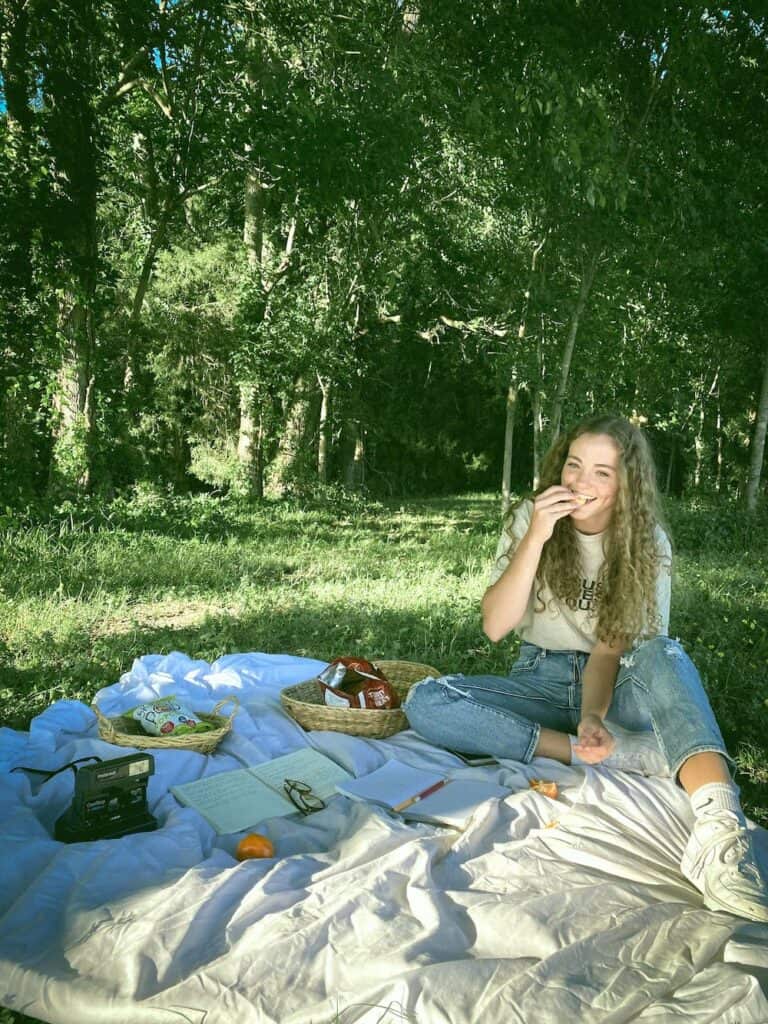 Picnic dates are so fun because they're romantic, cheap, and super easy to put together! All you really need is a blanket and some snacks for this date.
Grab some snacks from each of your houses, or run to the grocery store together and pick out some picnic foods. You can head to a park, local beach, or just one of your backyards.
19. Get Ice Cream
What's better than an ice cream date? Not only is it super cheap, but it's also perfect for first dates because it's casual and the date doesn't have to last very long!
20. Dollar Store Date
Honestly, dollar stores are super underrated. Have you seen some of the things you can get for only $1?!?
Go to the dollar store with $10 and pick out some snacks, games, crafts, etc. Then go home and play the games and eat the snacks. A super fun and cheap date idea for teenagers!
21. Go Thrifting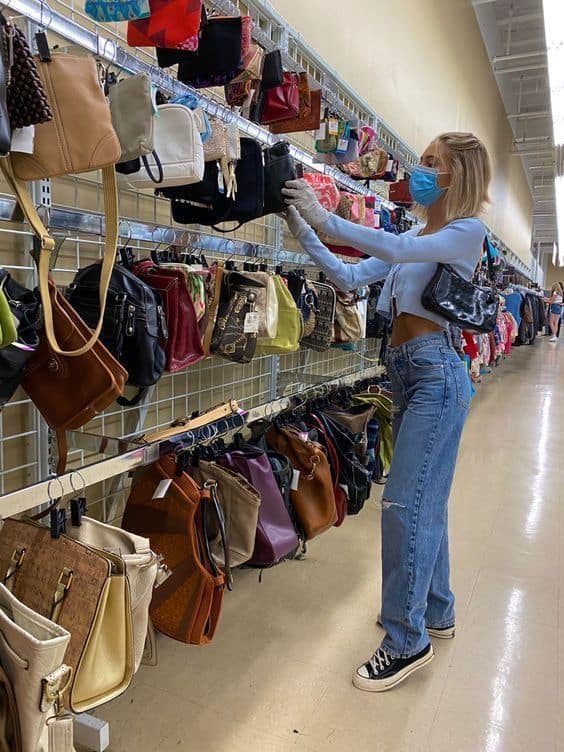 Another super cheap date idea for teenagers is to go thrifting! Honestly, you don't even need to buy anything for this to be a fun date.
Pick out the most ridiculous outfits you can find and try them on for each other. Or challenge the other person to find you a full outfit that they think you would like!
22. At Home Spa Day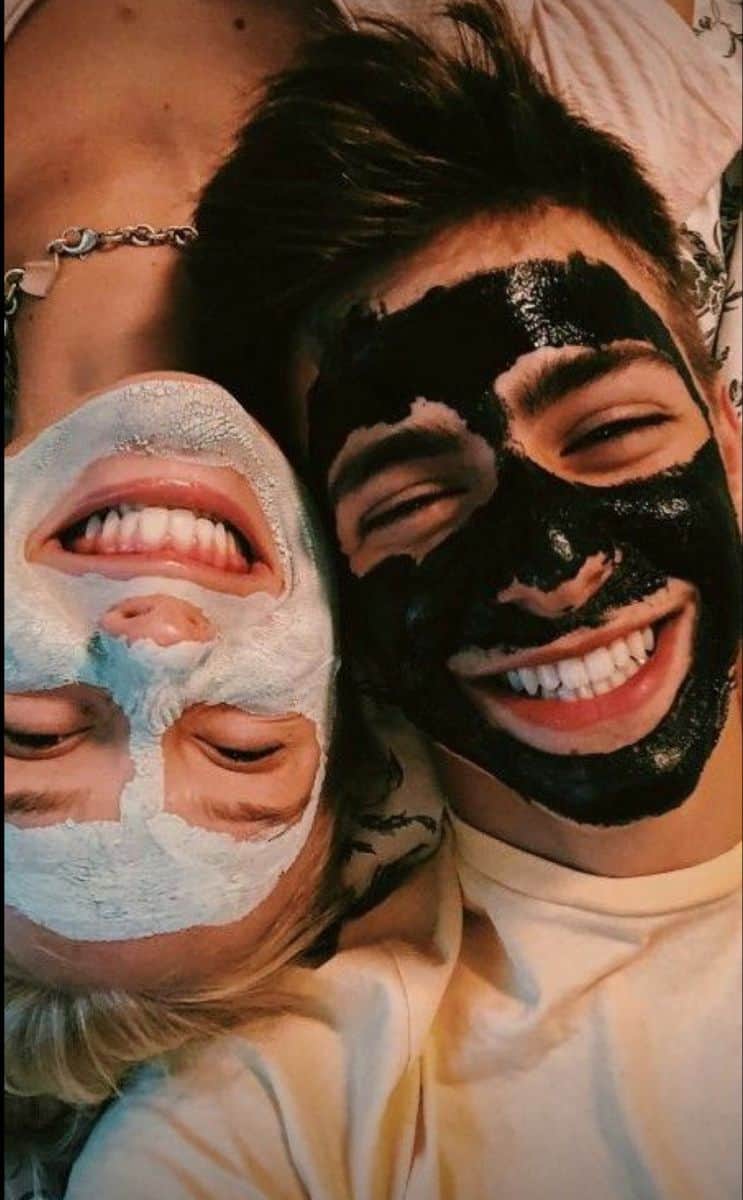 Spa days can be so fun and relaxing, but an actual spa is EXPENSIVE! Grab some sheet masks (I love these ones from Amazon), body scrubs, etc. and do an at home spa day!
If your date is a guy, he may need some convincing on this date idea at first. But I promise he'll secretly love being pampered.
23. High School Sports Game
Another super fun and free date idea? Go to your school's basketball or football game!
This is a great, low-pressure date idea because you both will probably have some friends there that you can interact with.
24. Coffee Shop Study Date
Coffee shops are one of my all-time favorite cheap date spots. Even the most expensive coffee on the menu will probably be under $6, so it won't be hard to keep this date affordable.
If you guys have some studying to do, this would be a great spot to do it together. Or just drink coffee and talk!
25. Visit An Animal Shelter
One of the cutest date ideas on this list is visiting an animal shelter together. Most animal shelters allow you to visit with the animals and sometimes even take them on walks. Just make sure to call or check their website before you visit.
This is a great way to do some good while also having a super fun time together. Plus, you'll see whether your date is good with animals or not.
26. Go To a $5 Movie Night
Most movie theaters have discounted movie nights at least once per week. For my local theater, they offer $5 movies on Tuesday nights.
Sneak in some snacks and you have a super fun date for only $10!
27. Go Fruit Picking
Depending on the season, fruit picking can be such a fun and cheap date idea.
In the summertime, you'll be able to pick strawberries or raspberries. In fall, head to an apple orchard. If you're having a lot of fun together, you can go home and make something with whatever you picked. Apple pie, anyone?
Romantic Date Ideas For Teenage Couples
[RELATED: 65 Super Deep Questions To Ask Your Boyfriend]
28. Sunset Picnic
I know we already have a picnic on this list, but this can be such a romantic date idea for teens so I wanted to include it here too. What makes this picnic idea even more romantic is that it's at sunset!
If you want to turn up the romance factor even more, pack chocolate covered strawberries, sparkling juice, and maybe some flowers. If you're planning on staying after it gets dark, you could even set up some battery powered string lights or candles.
29. Make Bucket Lists Together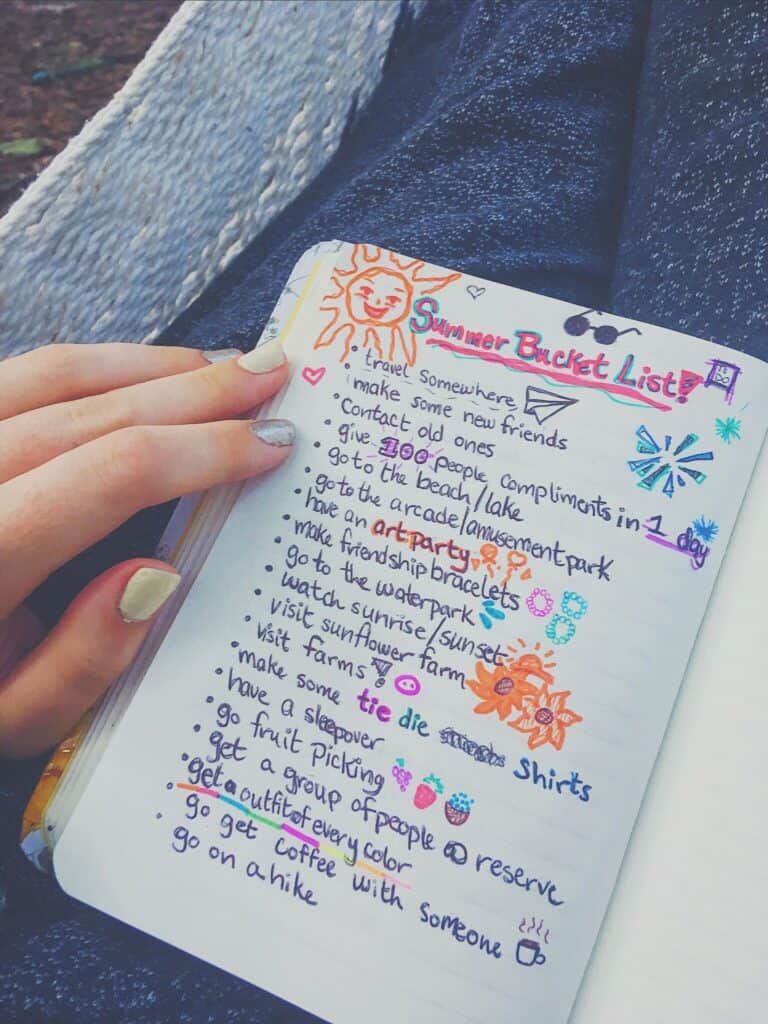 What's more romantic than dreaming about your future? Whether it's just a general bucket list, or a list of things you want to do together, it would be so cute to have a bucket list writing date.
After you've written them, you can compare notes and see how many similar goals and dreams you two have. This is a great way to get to know each other on a much deeper level!
30. Go Stargazing
Picture this – you're laying in a field together looking up at the stars. Maybe you're holding hands or resting your head on your date's shoulders. How romantic is that?
Just make sure that the park or field you're in isn't closed at sundown. I've heard horror stories of people being busted by police for stargazing in a closed area. Luckily, they just got warnings and told to go home, but still not a fun way to end a date!
31. Make Playlists For Each Other
My boyfriend and I did this at the start of our relationship and it was so much fun. We created playlists of some of our favorite songs for the other person to listen to.
We did this when we were long distance so that we could think of each other when we listened to them. But this would also be a fun activity to do together! You could even make one big playlist together that you each can listen to when you're apart.
32. Blasts Those Playlists While You Drive
If you have your driver's license, take those playlists that you just made out for a spin!
Go for a long drive and listen to the music that you both love. How romantic would that be??
33. Volunteer
There's not much in the world that feels better than giving back to your community. It may not seem like the most romantic thing, but volunteering together is a great way to grow closer together and get those warm fuzzy feelings about each other.
There are SO many ways you can volunteer together. Some of my favorites are working a soup kitchen, cleaning up litter in a local park, or visiting an animal shelter and helping walk or feed the dogs.
34. Do A Photoshoot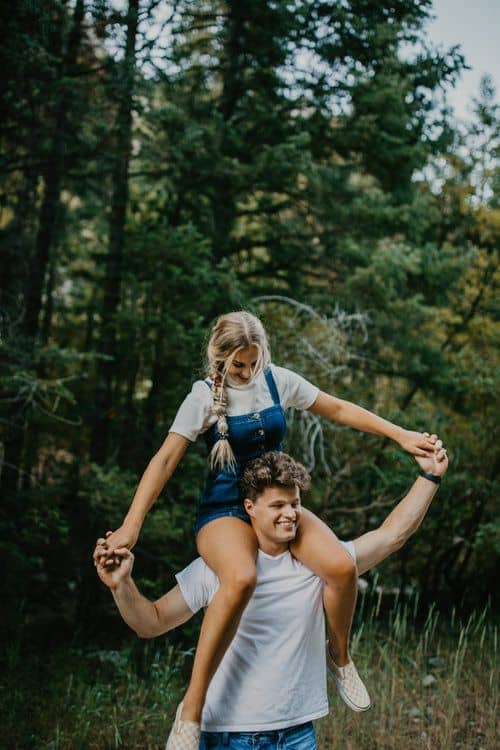 If you've been dating for awhile, it's probably time to get some cute photos together. Have a friend or family member do a photoshoot with the two of you, or just set up a tripod and snap pics yourself!
There are so many cute couples pictures on Pinterest if you need a little bit of inspiration.
35. Watch The Sunrise or Sunset
There's something so romantic about watching the sun rise and set together. Grab some coffees if you're waking up early for sunrise, or get hot chocolate for a sunset date.
Talk about all of your hopes, dreams, fears, and goals. This is a perfect opportunity to get to know each other on a deeper level.
36. Dinner And a Movie
You pretty much can't go wrong with dinner and a movie! You can chat all you want at dinner, and then snuggle up at a movie together.
A classic romantic date idea that pretty much never gets old.
37. Cook Together
Want a super romantic date idea that doesn't cost much? Cook a meal together! I promise, it's much more romantic than it sounds.
It's such a bonding experience to learn how to cook a new dish together. Depending on your personalities, you may even turn it into a cooking competition.
Don't forget to light some candles and enjoy your meal together after you're done cooking it! Such a romantic but simple date idea for teens.
38. Drive in Movie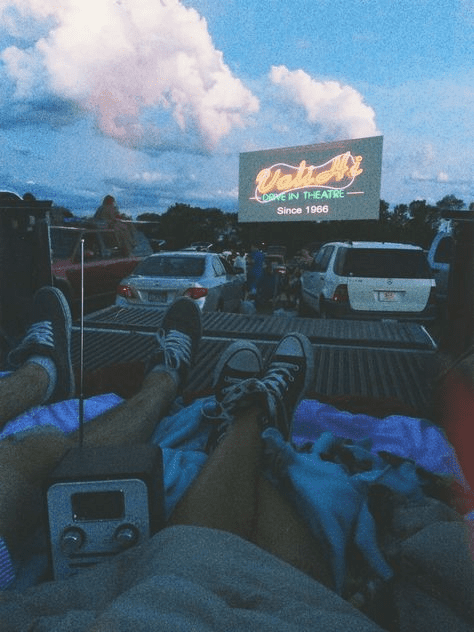 If you have a drive-in movie theater near you, I highly recommend taking your date there. Drive in movies are so much more romantic than movie theaters because you can snuggle up in the back of your car.
Fill your trunk with blankets, pillows, and plenty of snacks and enjoy a movie together!
Date Ideas For Teens During Covid
Dating in a pandemic can be tricky! You want to do something fun, but you want to keep safe and not get sick. Here are some covid-safe date ideas for teens that won't require you to be in crowded places.
39. Take a Long Drive
A long drive is a perfect date idea for teens during Covid because it doesn't require you to be around anyone else. Get a good playlist, maybe some car snacks, and just drive around and talk! You don't even have to have a destination in mind.
This is obviously a date idea for 16 year olds who have their license. If you can't drive yet, you'll want to stick to some of the other ideas on the list.
40. Build a Blanket Fort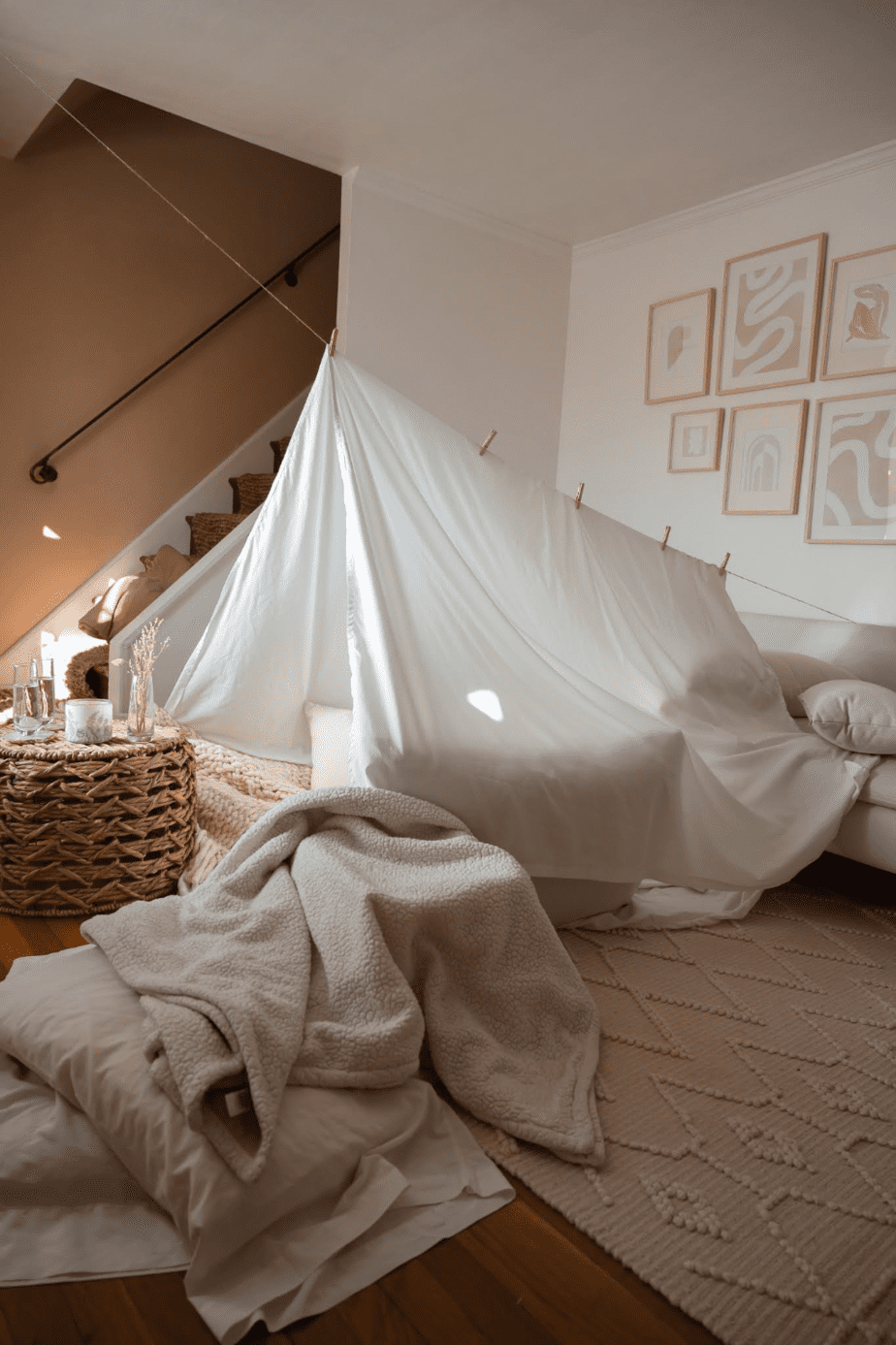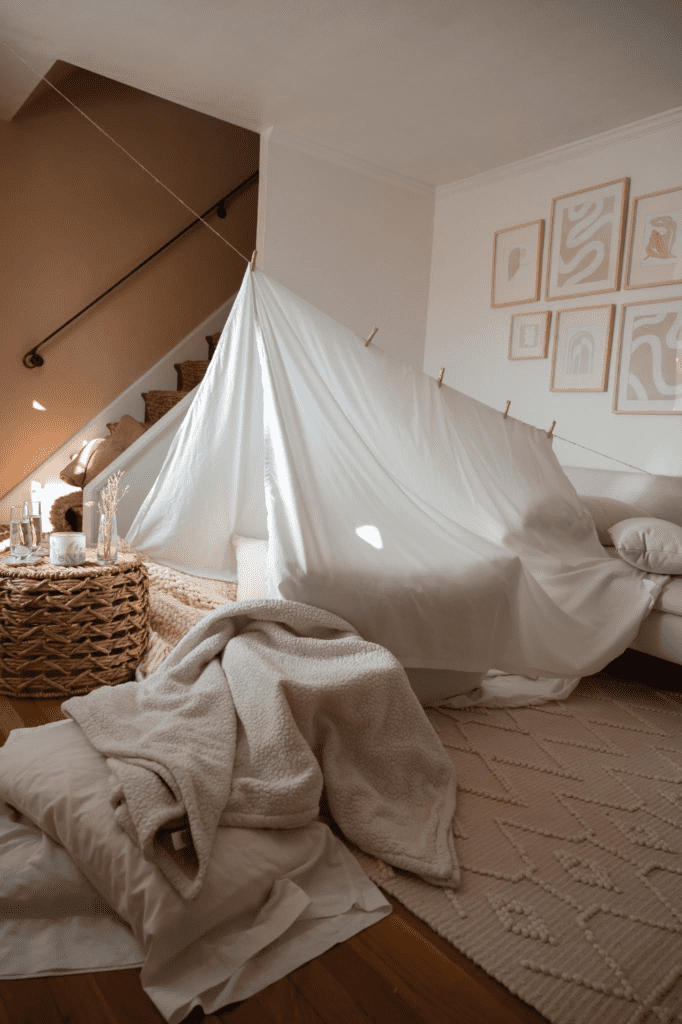 If you're staying in, it would be SO fun to have a date night building a blanket fort. I recommend going ALL OUT and hanging string lights, filling it with blankets and pillows, and having plenty of snacks.
Grab a laptop or small TV and watch a movie inside your fort. The only bad part of this date idea is having to take it all down when the date is over.
41. Have a Movie Night
This is still one of my favorite date nights, even though I'm not a teen anymore! Pop some popcorn, make some hot chocolate, and binge watch your favorite movies.
I like doing this with multi-part movies like the Harry Potter or Lord of the Rings movies.
42. Play Video Games
If either of you have a video game console, have a video game night together! Just make sure that you pick games that you both enjoy.
I'm not a video game person at ALL, but I do have fun playing the easier games like Mario Kart or Dance Dance Revolution.
43. Do A Craft
Even if you're not particularly crafty people, it can be so much fun doing a craft together. Some easy and fun crafts you can make together are:
Bracelet making
Dreamcatchers
44. Start A New Show Together
One of my favorite date ideas is to start a new series on Netflix together. My boyfriend and I would always start shows and promise to only watch them when we were together.
You pretty much have your next date secured with this because you'll want to keep watching the show together!
45. Build Legos
Okay I know this sounds like a weird date idea, but building legos isn't just for little kids! Get a lego set and spend a few hours building something together!
It's a great way to bond because you'll be working together on a shared goal. Plus, you can show off your problem solving skills.
46. Bake Something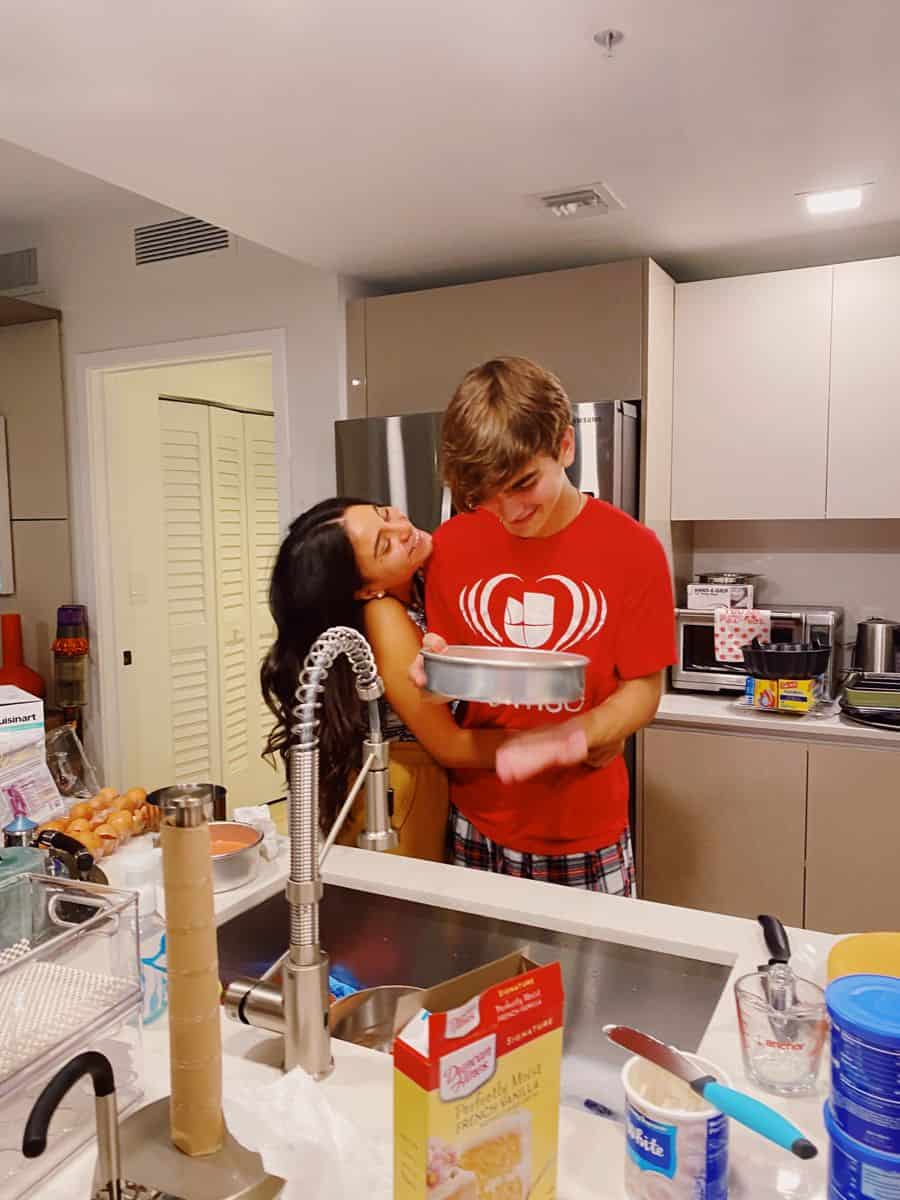 One of my favorite Covid-safe date ideas for teens is to have a baking night!
My boyfriend and I like to have baking competitions, even though we're both horrible bakers lol. We pretend we're on the Great British Baking Show and make different baked goods every time.
Just find some baking recipes on Pinterest and try to recreate them together! Even if they don't end up tasting great, you'll have a ton of fun making them.
47. Board Game Night
A great at home date idea for teenagers is a board game night. Get some two-player board games and spend a few hours in friendly competition.
Some of my favorite two-player board games:
48. Homemade Pizza Night
Want a cute dinner date idea that you don't have to go out in public for?
Make homemade pizzas together! You can either get pre-made pizza crust or make your own from scratch. If you have a Trader Joe's near you, they have insanely good fresh pizza dough for under $2. Personalize your pizzas with different cheeses, meats, and vegetables.
Then sit down to a candle-lit pizza dinner or enjoy it while watching a movie!
49. Do A Puzzle
There's something so romantic and relaxing about doing a puzzle, especially when you're with someone you're crushing on. Pull out your favorite puzzle, or get a new one to start together.
Plus, if you don't finish it in one night it's a good excuse for another date night!
50. Play A Sport At The Park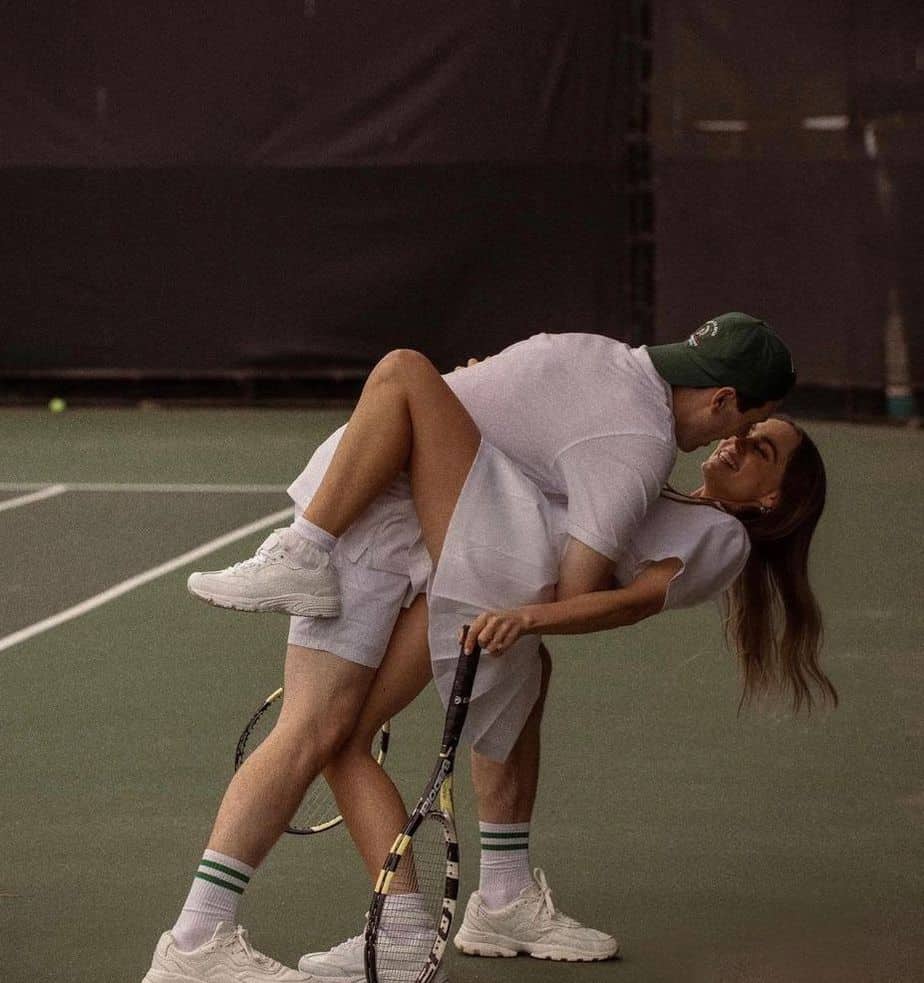 The safest places you can be in Covid times are at home or in a wide open outdoor area.
A great pandemic-friendly date idea would be to play a sport in the park. My local park has basketball hoops, tennis courts, and volleyball nets that are free and available to the public. You just need to bring your own equipment.
Get active together and play a game of one on one tennis or basketball. Or get a group together for some volleyball!
This post was all about the best date ideas for teens.
You may also like: