Looking for the best ways to decorate your apartment for the holidays? Here's the best apartment Christmas decor for 2023.
This post may contain affiliate links, which means I'll receive a commission if you purchase through my link, at no extra cost to you. Learn more: Affiliate Disclaimer.
It's officially that time of year again – time to start thinking about your holiday decorations!
If you're stumped on where to shop for apartment Christmas decor, don't worry. I have you covered!
I put together shopping guides for the cutest Christmas decor of the year from some of the most popular stores. You'll find shopping guides for Target, Walmart, H&M Home, and World Market.
If you're also needing a little bit of help coming up with Christmas gifts, we have tons of gift guides here.
The Cutest Apartment Christmas Decor From Target
Target is one of my all-time favorite places to shop for Christmas decor.
They have a ton of options, ranging from fun and festive to neutral and boho. No matter what your design style is, you'll definitely find what you're looking for at Target.
Here are some of my top picks for fun and festive Christmas decor from Target:
Cable Knit Pillow / Red And White Christmas Tree Pillow/ Copper Tree Collar / Christmas Gnome Set / Wreath With Pinecones And Red Berries / Decorative Star Garland / Shatter-Resistant Ornament Set / Starburst Tree Topper / Woven Red Stocking / Plaid Holiday Stocking
When I think of festive Christmas decor, I always think of red and green! These Christmas colors are classics for a reason.
As you can see, Target has a lot of options for festive decorations. You'll have plenty of options to choose from when it comes to stockings, ornaments, throw pillows, and much more.
If you're more into the neutral or boho design style, there are still a ton of options for you at Target.
Here are some of my favorite neutral Christmas decor pieces from Target: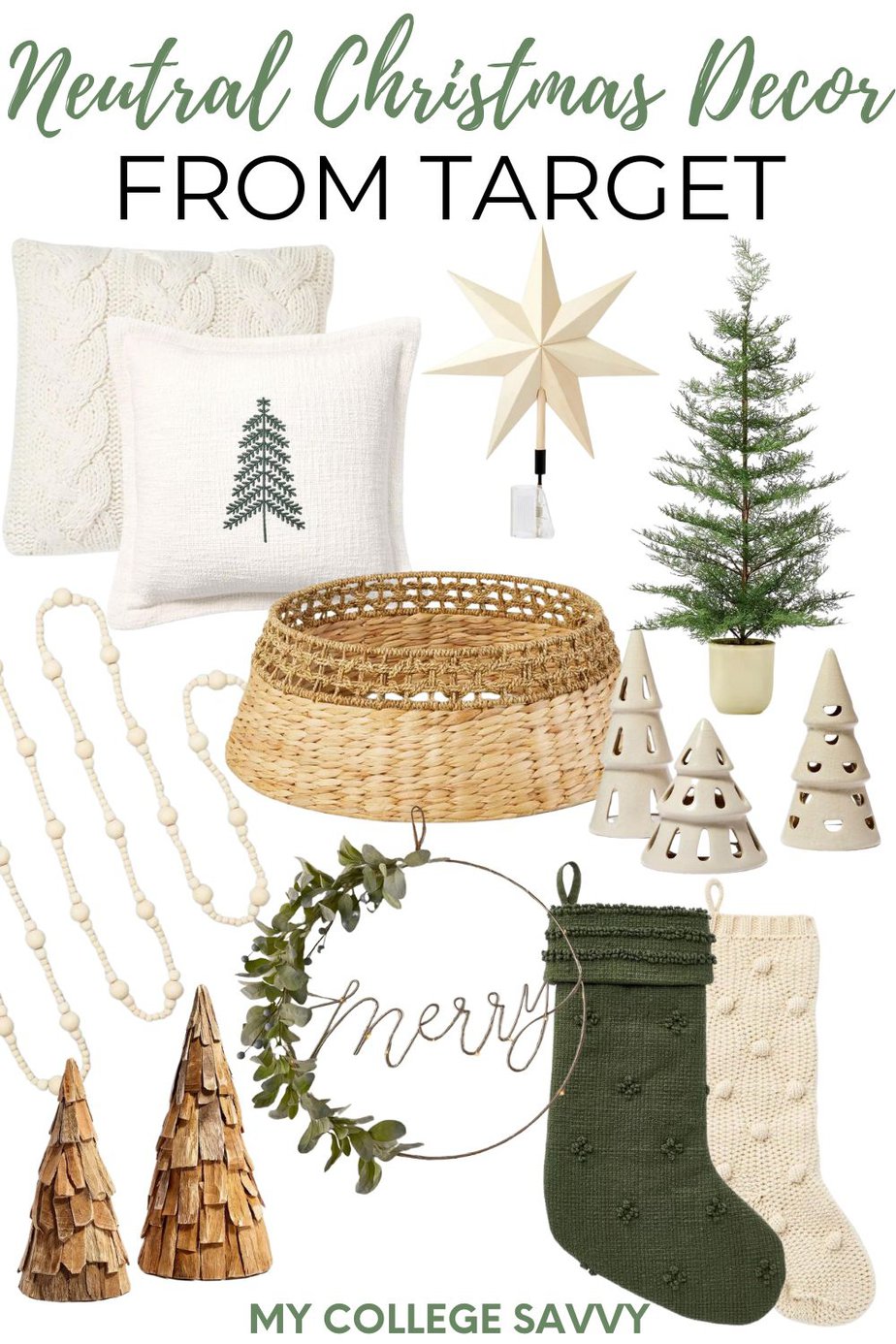 Cable Knit Pillow / Embroidered Winter Tree Pillow / Wooden Star Tree Topper / Artificial Feathery Pine Tree / Ceramic Tree Tea Light Holders / Natural Woven Tree Collar / Wooden Bead Garland / Rustic Wooden Trees / "Merry" Hoop With Greenery / Green Textured Stocking / Cream Bobble Knit Stocking
This is definitely my favorite way to decorate for Christmas! Neutral decorations make your whole house feel more cohesive and put-together.
Whether you're into the boho look or you want something a bit more glamorous, the neutral Christmas decor options at Target are pretty much unmatched.
Cute Apartment Christmas Decor From H&M Home
Did you know that H&M has a whole home decor section? AND that they carry Christmas decorations??
While H&M doesn't have the same level of variety as Target or Amazon, you can find some really chic decor pieces there for the holidays.
Here are some of the cutest Christmas decor pieces from H&M Home:
Christmas Tree Throw Pillow / Paper Star Ornament / Christmas Tree Tablecloth / Glitter Pennant Garland / Stoneware Salt And Pepper Set / Green Merry And Bright Pillow / Stoneware Tea Light Holder / White Fluffy Stocking / Green Glass Vase
As you can see, the Christmas decor at H&M home tends to be more neutral and chic.
You'll find plenty of stoneware vases, neutral throw pillows, and minimalist patterned linens in the H&M holiday store.
The Cutest Christmas Decor From Walmart
Did you know that Walmart actually has some really cute and trendy holiday decor?
I knew they had some hidden gems, but I didn't expect to find SO many trendy Christmas decor pieces there. It was honestly hard to narrow it down!
Here are some of the best Christmas decor items for apartments at Walmart:
Green And White Pillow / Plaid Throw Pillow / Ceramic Tree Candle / Winter Tree Painting / Holiday Garland / Gold Star Tree Topper / Lamb's Ear Wreath / Gold And White Ornaments / Holiday Truck Candle Holder / Beige Christmas Blanket
See what I mean? Walmart has seriously stepped their game up recently when it comes to on-trend home decor.
Cute Christmas Decor Pieces From World Market
When I think of World Market, I usually think of colorful home decor items with bold patterns.
If you want to add some color to your Christmas decor, World Market is definitely the place to shop.
Here are some of the cutest colorful Christmas decor items at World Market: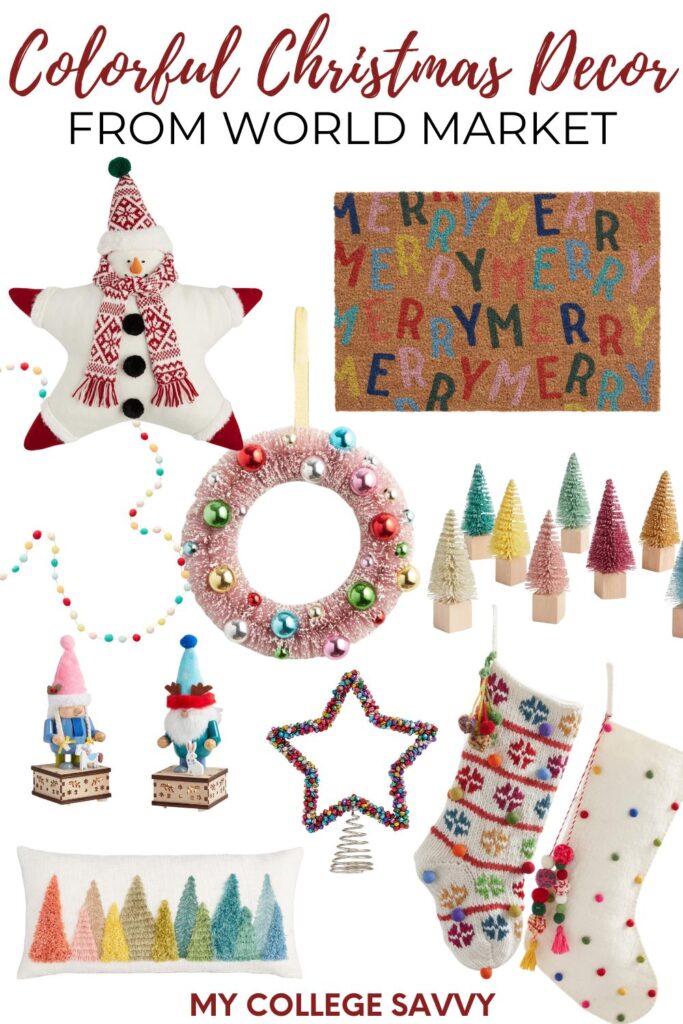 Star Snowman Pillow / Colorful Christmas Doormat / Pastel Bottle Brush Christmas Trees / Pink Wreath With Ornaments / Colorful Felt Pom Pom Garland / Happy Gnome Nutcrackers / Multicolor Bell Tree Topper / Multicolor Felted Wool Stocking / White Stocking With Multicolor Felt Balls / Colorful Trees Lumbar Pillow
As you can see, there are SO many colorful apartment Christmas decor pieces to choose from at World Market.
But they also have tons of pretty neutral Christmas decorations as well!
Here are some of the best neutral Christmas decorations at World Market: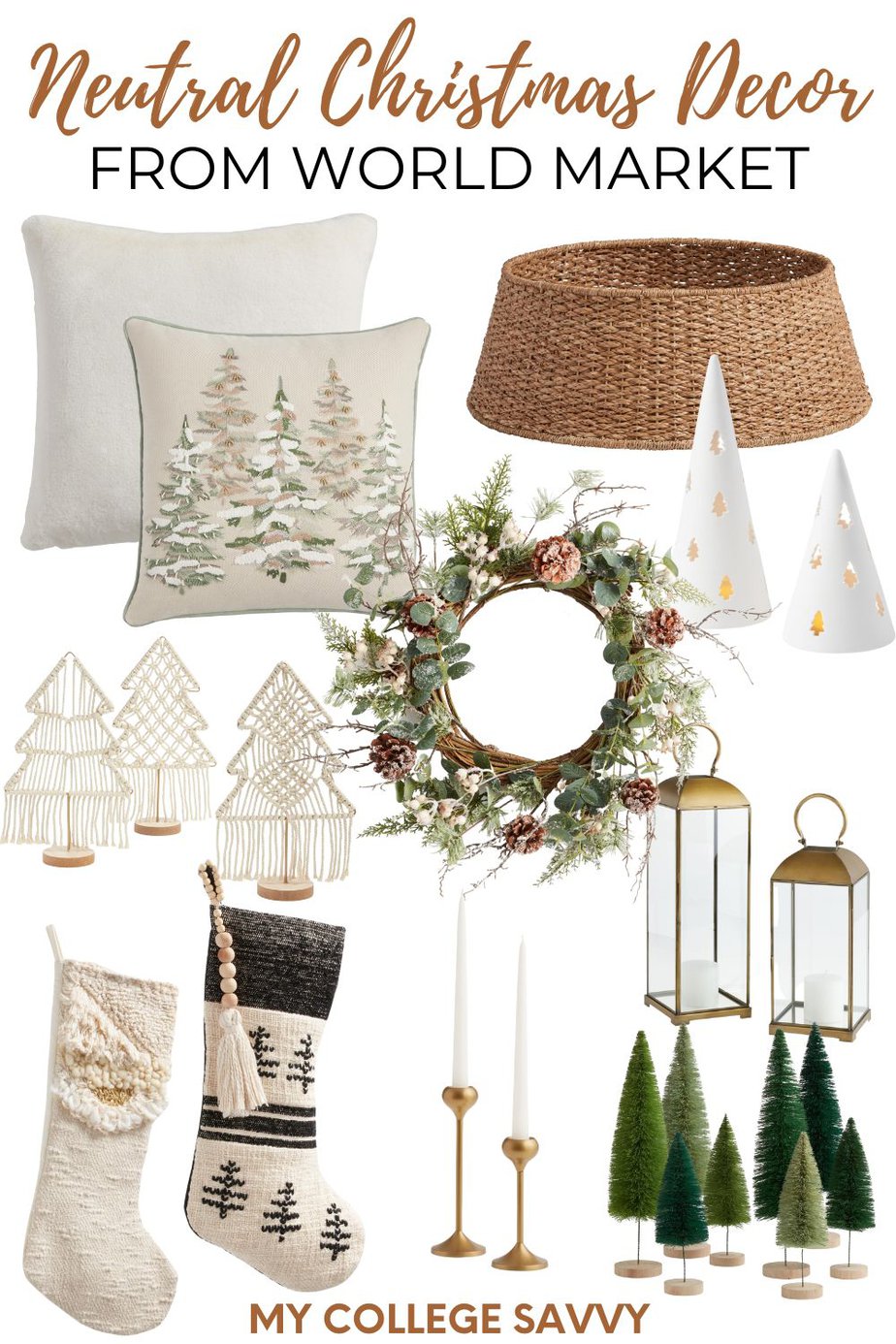 White Plush Throw Pillow / Neutral Christmas Tree Throw Pillow / Natural Woven Tree Collar / White Ceramic Candle Holders / Eucalyptus And White Berry Wreath / Macrame Christmas Trees / Antique Brass Lanterns / Bottle Brush Christmas Trees / Brass Candlesticks / Black And Ivory Stocking / Ivory And Gold Stocking
I'm absolutely obsessed with the neutral Christmas decor from World Market. There's so much variety that it really is one of my favorite places to shop for holiday decorations.
This post was all about the cutest apartment Christmas decor pieces.
You may also like: