45 Cozy Neutral Christmas Decor Ideas For 2023
Looking for the most gorgeous Neutral Christmas Decor ideas? Here are 45 aesthetically pleasing Christmas decorations that will make your house look like totally Pinterest-worthy this year.
This post may contain affiliate links, which means I'll receive a commission if you purchase through my link, at no extra cost to you. Learn more: Affiliate Disclaimer.
I LOVE decorating with neutral colors for holidays.
Don't get me wrong – red and green Christmas decorations can be super fun. But there's just something so chic and cohesive about a house that's fully decked out in cozy neutrals.
You'll find plenty of white, tan, brown, and muted greens in this neutral Christmas decor list.
So whether you're looking for aesthetic stockings or the perfect flocked Christmas tree, we have you covered!
Neutral Christmas Tree Decor
All eyes will be on your Christmas tree on Christmas morning, so make sure it looks pretty!
There's so much that goes into decorating a Christmas tree – ornaments, garland, filler, tree skirts, tree toppers, etc.
So sticking to a neutral color scheme will help everything look cohesive! Here are our top picks for cozy neutral Christmas tree decor:
Neutral Christmas Trees
Before we start decorating, we need to get our trees! Obviously a lot of people want to get a real tree, but fake ones can look gorgeous too!
Here are some pretty options for artificial Christmas trees that will look beautiful with neutral decor palettes:
Neutral Christmas Ornaments
Some people love the nostalgia of a Christmas tree filled with a ton of ornaments in different colors and sizes.
But neutral colored ornaments will give your tree more of a refined and cohesive look. Here are some good options for neutral ornaments:
Tree Toppers
The tree topper pulls the whole Christmas tree decor together. Here are some cozy and aesthetic tree topper options:
Christmas Tree Skirts
The right Christmas tree skirt can make or break your tree decor.
I have a wooden tree collar around our tree and I'm obsessed with it, but any neutral Christmas tree skirts would look amazing.
Here are some solid options from Amazon:
Neutral Tree Filler Options
I added filler to my Christmas tree for the first time last year and I'm obsessed with how it turned out!
If you have a fake tree, you definitely need to add some filler branches to make it look fuller and more realistic! Here are some good options:
Indoor Christmas Decorations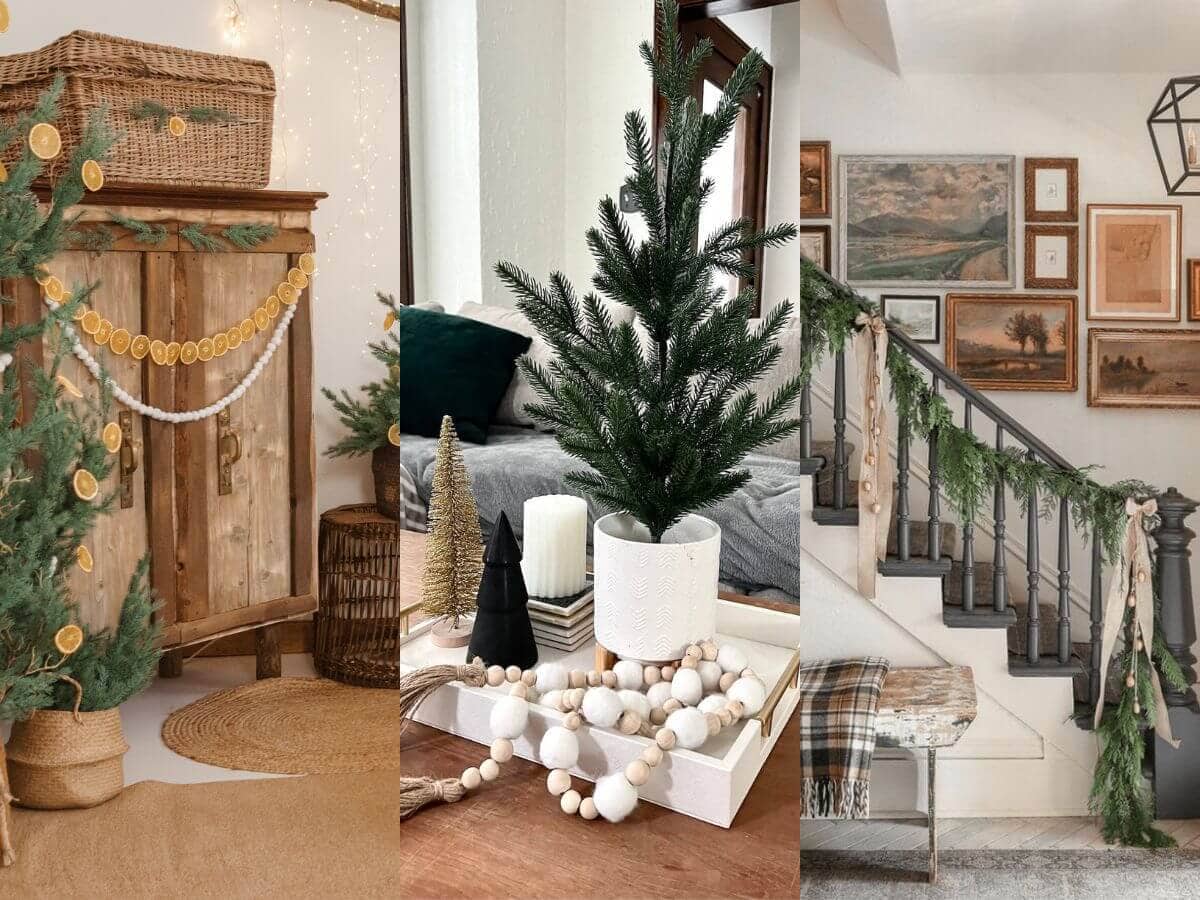 Your Christmas decor doesn't just stop with your tree. There are SO many places in your house or apartment where you can scatter your holiday decorations.
If you want to stick to a neutral theme throughout your house, we've found some amazing options for neutral Christmas decor.
Christmas Garland
Garland is one of my favorite ways to decorate for Christmas because it's SO versatile. Hang it over your mantle, wrap it around your windows, lay it on tables, etc.
Play around with textures and colors to get the perfect combination for your neutral Christmas look.
Here are some gorgeous options for greenery garland:
Beaded or pom pom garland are great ways to add some texture to your Christmas decor. Combine it with your greenery garland or hang it on its own!
Bottlebrush Christmas Trees
Bottlebrush Christmas trees are one of my favorite Christmas decorations.
I love scattering these trees on top of dressers, on my TV stand, and on any other surface that needs a little added Christmas cheer.
Neutral Christmas Stockings
It's not Christmas until the stockings are hung! Your fireplace will look so much more aesthetic if you stick with neutral stockings.
Neutral Christmas Throw Pillows
An easy way to decorate your living room is to add some cute Christmas-y throw pillows.
Here are some good options for aesthetic Christmas pillows:
Cozy Neutral Christmas Figurines
There are SO many cute options for neutral Christmas figurines out there.
I like decorating with little wooden or ceramic trees, Christmas village sets, little gnomes, reindeer figurines, etc.
Neutral Christmas Linens
From towels to throw blankets, there are endless ways to use linens to decorate your house for the holidays.
Here are some cute and festive linens to use in your house this season:
Neutral Wrapping Paper
You may not think that wrapping paper counts as Christmas decor, but it's going to be sitting under your tree! You may as well make it as pretty as all of your other decorations.
I love picking a theme each year and grabbing a few different wrapping paper rolls that fit the theme. That way, it all looks cohesive and pretty under the tree.
Here are some pretty neutral wrapping paper options:
Outdoor Christmas Decor Ideas
Bring some cheer to your neighbors by decorating the outside of your place as well.
Whether you live in an apartment or house, there are options for everyone!
Neutral Wreaths
You can hang these neutral Christmas wreaths inside your house or on your front door.
I'm obsessed with the eucalyptus wreath and I'm definitely getting that for my apartment this year!
Porch And Entrance Decor
Welcome your guests inside with some festive decor on your porch or in front of your apartment entrance.
Neutral Yard Decorations
There are lots of fun ways you can decorate your yard for the holidays.
Add some festive pathway lights, hang some star lights from your trees, or place some light up decorations around your lawn.
Here are some nice options for outdoor Christmas decorations:
Neutral Christmas Decor Inspiration
Ready to get inspired? Here are some real-life examples of neutral Christmas decorations:
This post was all about the best neutral Christmas decor ideas on Amazon.
Looking for more Christmas posts?