75 Creative Anything But A Backpack Day Ideas For Spirit Week
Is your school doing Anything But A Backpack Day for spirit week this year? Here are the absolute funniest items to bring to school instead of a backpack on spirit day.
This post may contain affiliate links, which means I'll receive a commission if you purchase through my link, at no extra cost to you. Learn more: Affiliate Disclaimer.
Is your school doing Anything But A Backpack Day during spirit week this year?
Anything But A Backpack Day is when students come to school carrying their supplies in different funny household items.
There are no real rules except that it can't be too dangerous and it can't be a backpack!
Whether you want to roll around a stroller all day, paddle through the hallways in kayak, or carry around your notebooks in a microwave, we have you covered.
Here are the best and most creative Anything But A Backpack Day ideas that you'll want to copy for spirit week.
The Most Popular Anything But A Backpack Day Ideas
Wondering what people usually bring for anything but a backpack day?
People get REALLY creative for this spirit day, meaning there are endless options for items to bring. But here are 10 of the most common things to bring instead of a backpack for spirit day.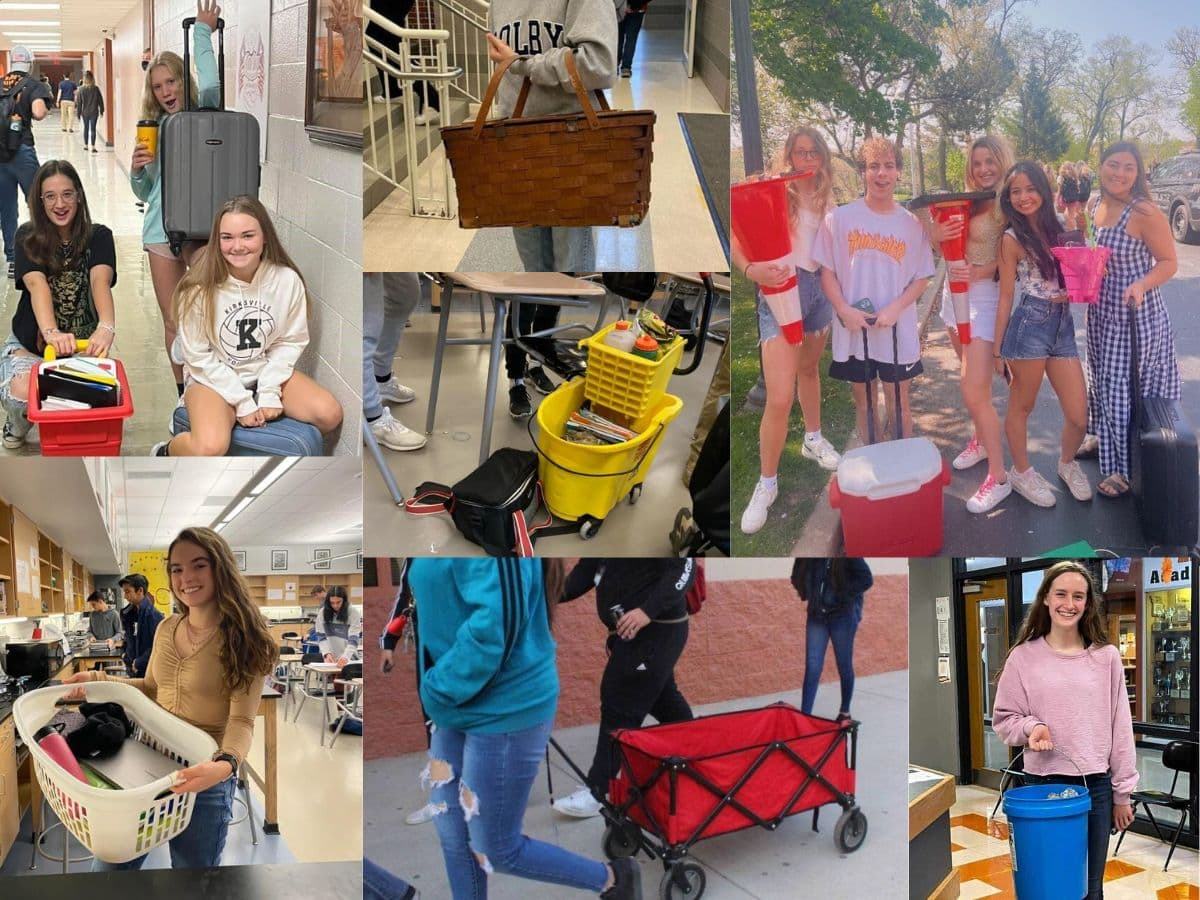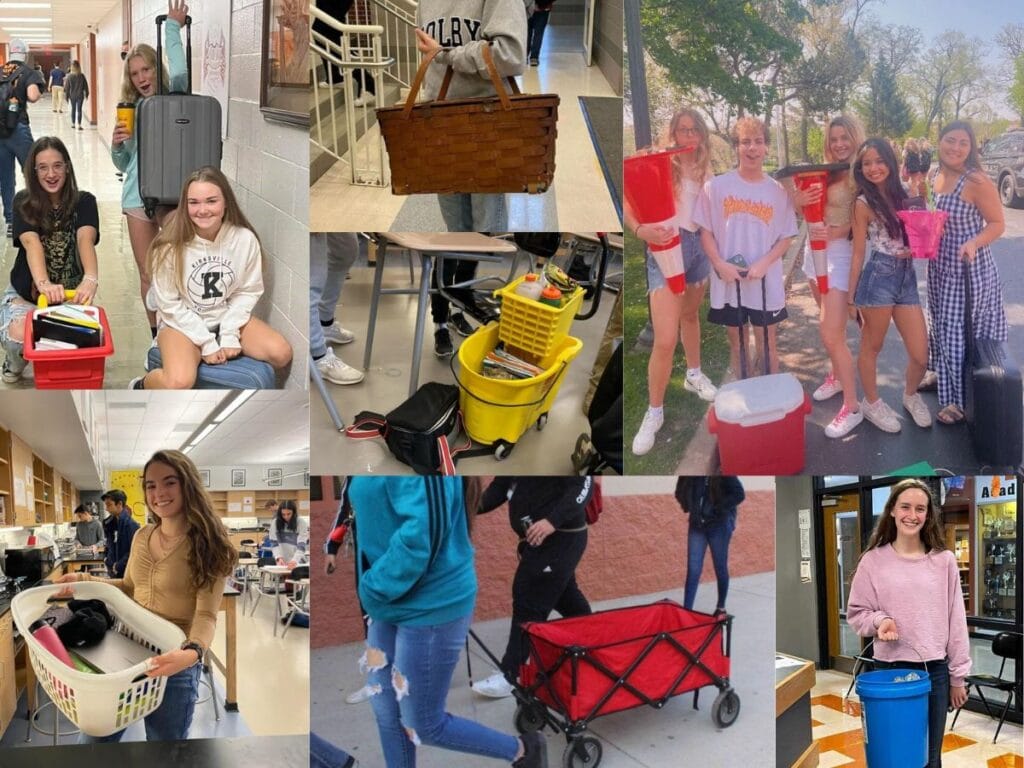 1. Suitcase: A suitcase is a great backpack alternative because it rolls, it's meant to store things, and you definitely already have one laying around your house somewhere!
2. Bucket: Another item that we've seen a lot on no backpacks day is a bucket. It's easy to find one that's big enough for your school supplies, and the handle makes it convenient to carry around to classes all day.
3. Wagon: If you want convenience, go for an item with wheels. A wagon is the perfect solution for a backpack alternative spirit day.
4. Laundry Hamper: Although it doesn't have wheels, a laundry hamper is still pretty easy to carry around all day because it has handles.
5. Toy Shopping Cart: Borrow a little sibling's toy shopping cart for the day. Such a funny but still practical item to bring for no backpacks day!
6. Picnic Basket: A picnic basket is a cute and easy way to carry around your school supplies on Anything But Backpacks Day.
7. Cooler: Here's another great rolling item that you can bring for this spirit day.
8. Traffic Cone: Traffic cones are definitely one of the most popular items to bring for Anything But A Backpack day.
9. Mop Bucket: If you have a rolling mop bucket at home, it can double as your backpack for the day!
10. Beach Pail: If you don't have a lot of school supplies to carry around, you could definitely get by with a plastic beach pail for the day.
More Anything But A Backpack Day Ideas
11. Toy Car
12. Recycling Bin
13. Cooking Pot
14. Cereal Box
15. Dog Crate
16. Grocery Bag
17. Lawnmower
18. Duffel Bag
19. Plant Pot
20. Tool Box
21. Pizza Box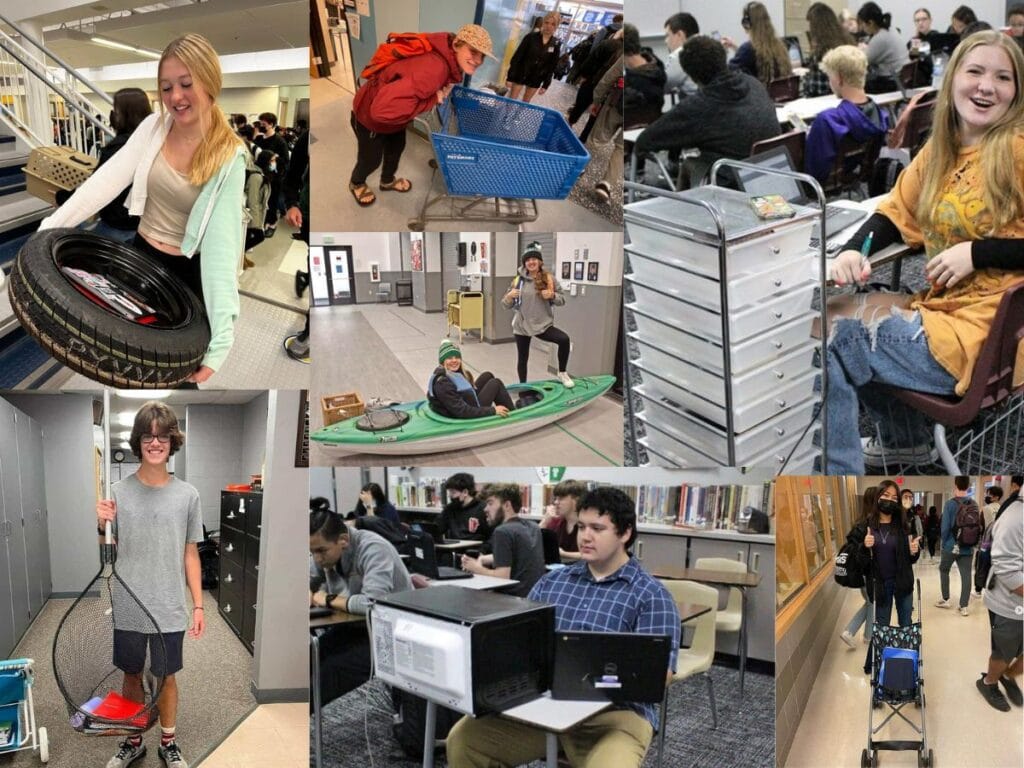 22. Car Tire
23. Fishing Net
24. Microwave
25. Baby Stroller
26. Kayak
27. Rolling Drawers
28. Cardboard Box
29. Plastic Kiddie Pool
30. Guitar Case
31. Sleeping Bag
32. Briefcase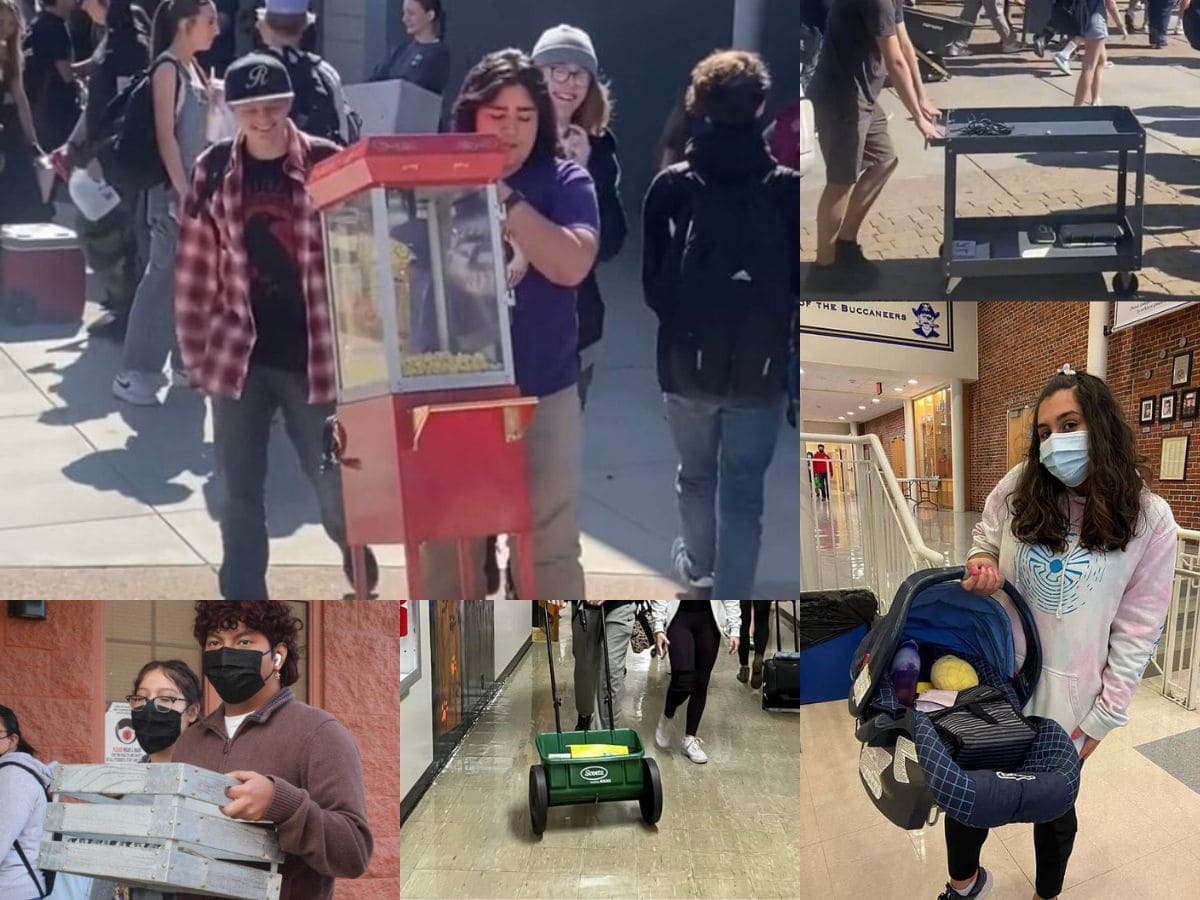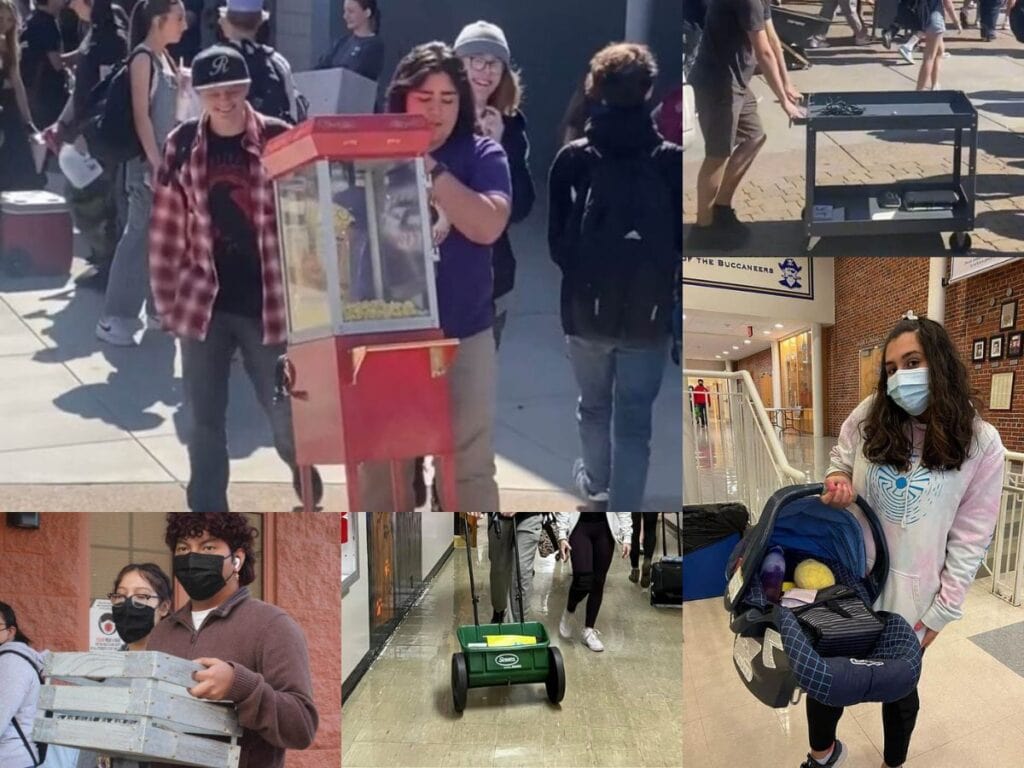 33. Carseat
34. Wooden Crate
35. Lawn Care Spreader
36. Popcorn Machine
37. Rolling Storage Cart
38. Shoe Box
39. Beach Tote
40. Plastic Milk Crates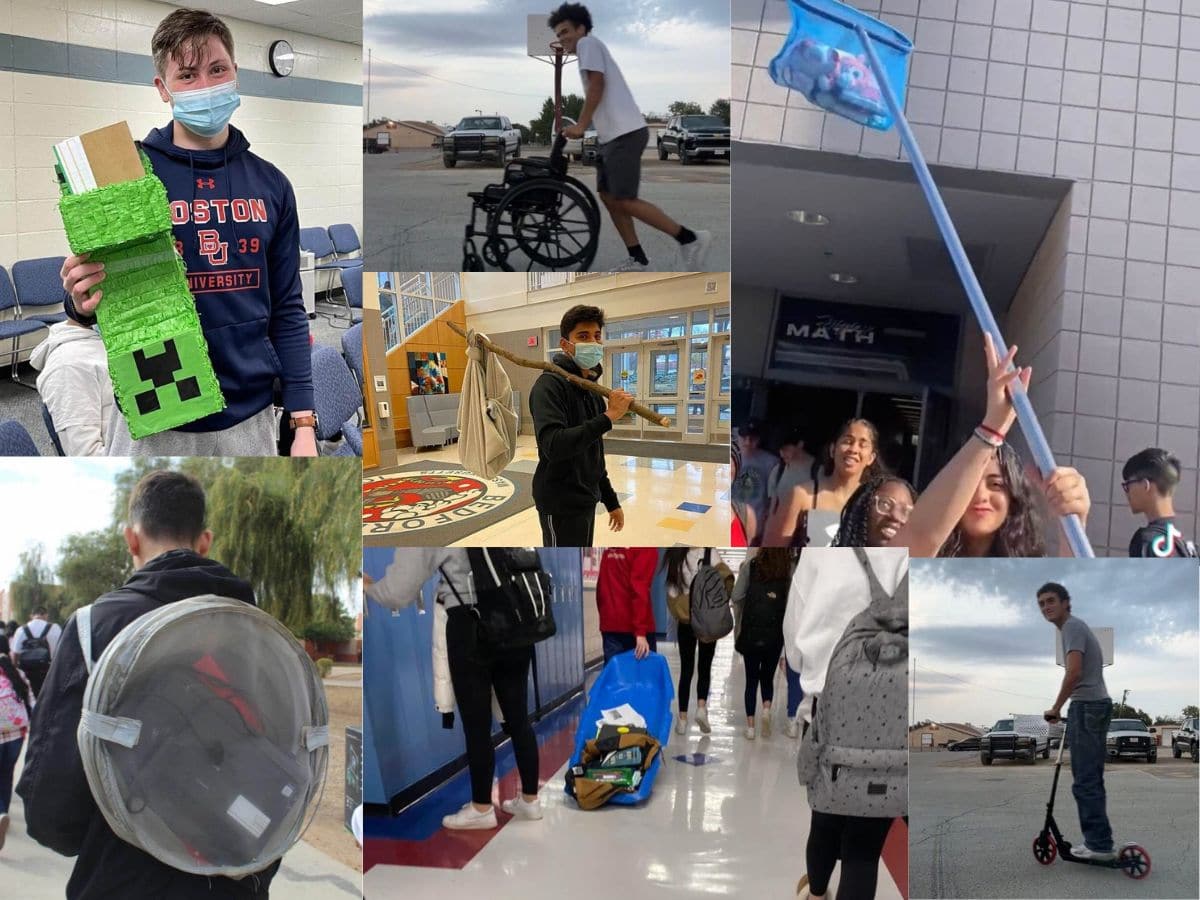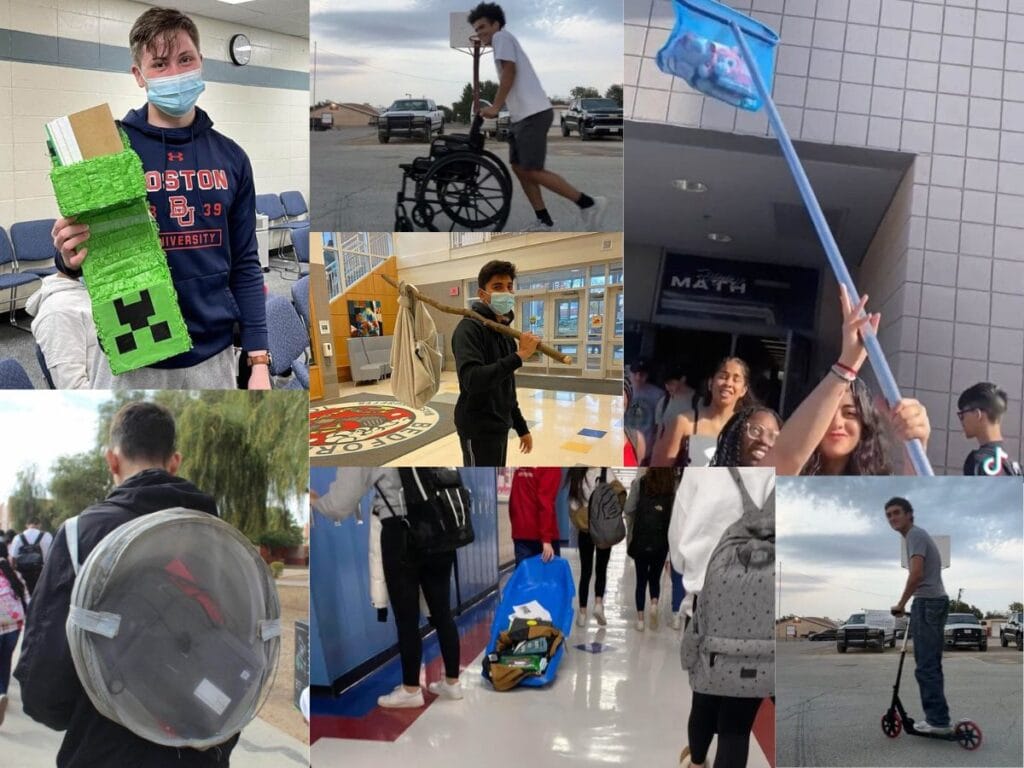 42. Piñata
43. Wheelchair
44. Swimming Pool Net
45. Laundry Hamper
46. Sled
47. Scooter With A Basket
48. Burlap Sack
49. Shower Caddy
50. Bindle
51. Mini Fridge
52. DIY Duct Tape Bag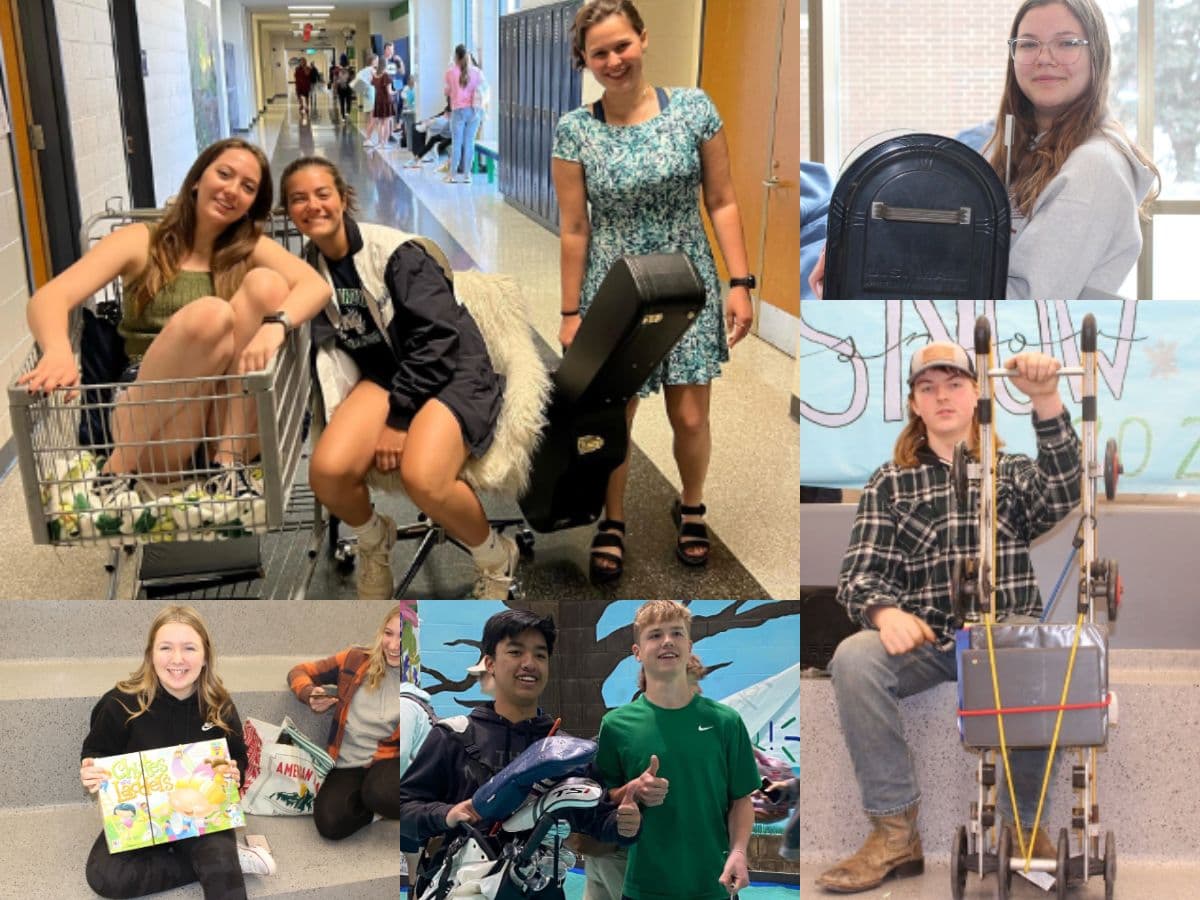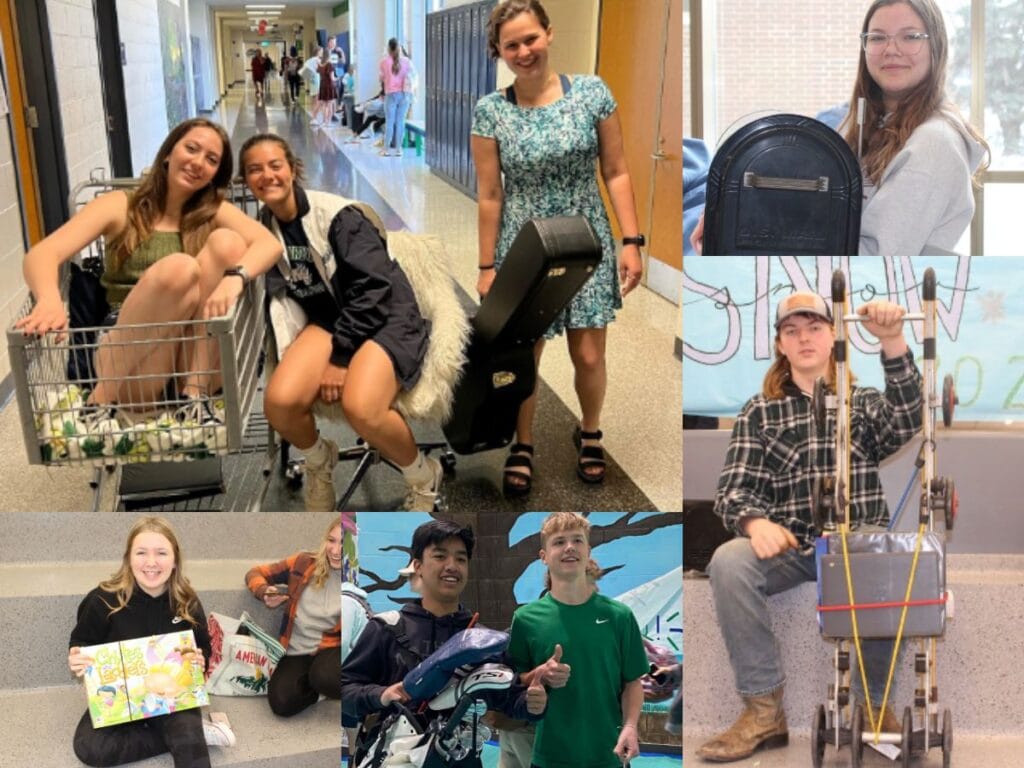 53. Rolling Chair
54. Mailbox
55. Hand Truck
56. Golf Bag
57. Board Game Box
58. Empty Paint Can
59. Trick Or Treat Bucket
60. Storage Bin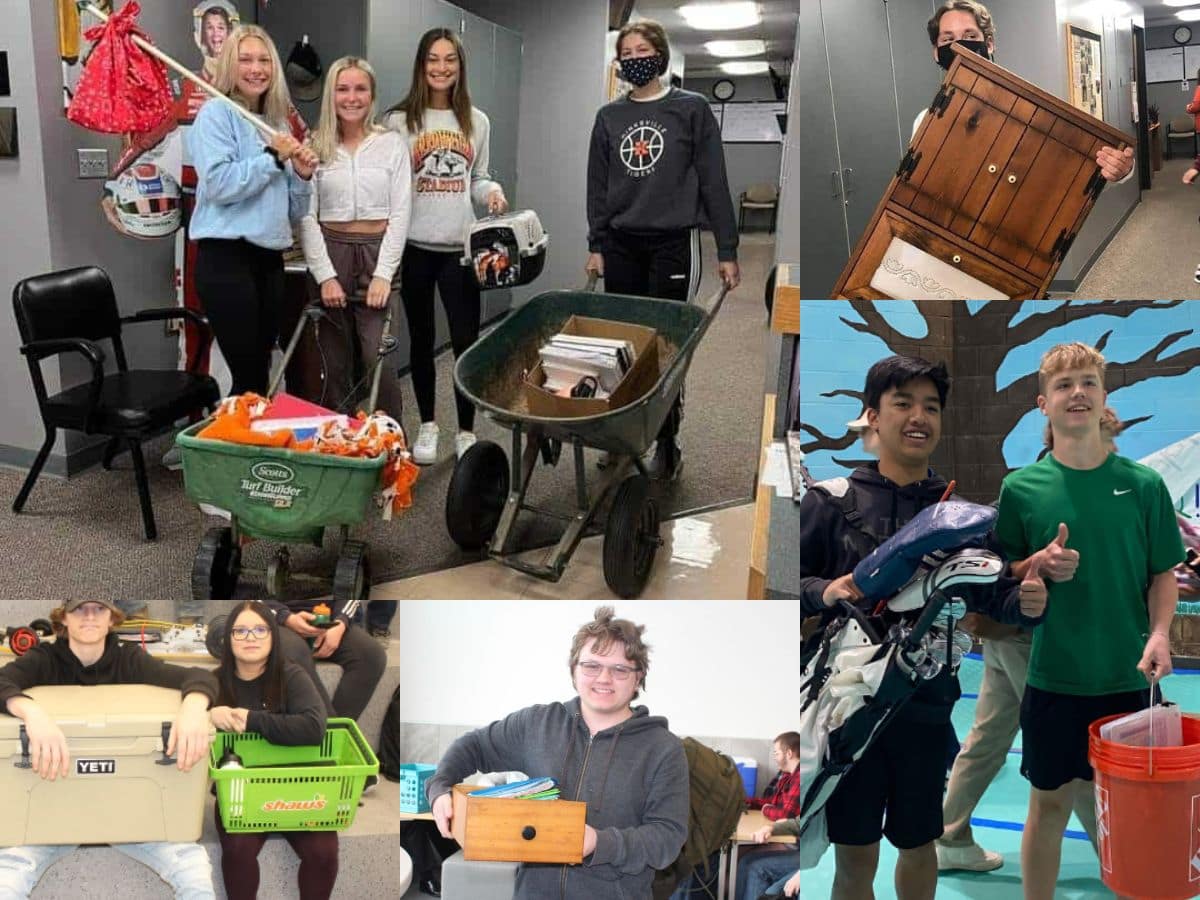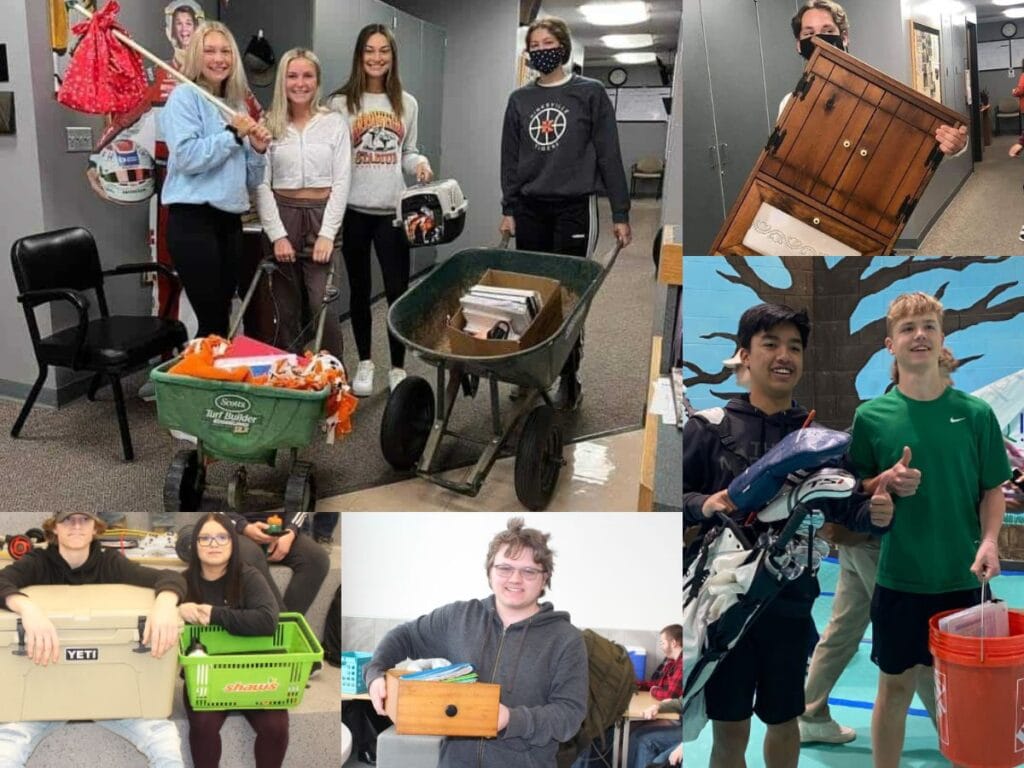 61. Shopping Basket
62. Wheelbarrow
63. Drawer
64. Home Depot Bucket
65. Cabinet
66. Toy Chest
67. Paint Roller Pan
68. Watering Can
69. Camera Bag
70. Inflatable Pool Float
71. Laundry Drying Rack
72. Pop Up Tent
73. Hamster Cage
74. Bread Box
75. Cat Tunnel
What Is Anything But A Backpack Day?
Is your school doing Anything But A Backpack day this year? If so, you're probably wondering what exactly it is.
Anything But A Backpack Day is a themed day that usually takes place during spirit week. On this day, students will bring various items to school in place of backpacks.
This spirit day theme has gone viral in recent years because of how creative students get with it.
Every year, students bring more and more outrageous things to school like shopping carts, sleds, bird cages, and even a kayak lol.
Anything But A Backpack day is one of our favorite spirit week themes ever because it allows students to be creative and think outside the box (or backpack lol).
When Is Anything But A Backpack Day?
Each school will have a different date that they do Anything But A Backpack day. For most schools, it will probably fall within their spirit week.
This may be the first week of school, the week before the homecoming dance, or maybe even the last week of school.
Check your school's activity calendar to see when they plan on having this themed spirit day.
Looking for more spirit week ideas?
Are There Rules For Anything But A Backpack Day?
If this is the first time your school is doing this spirit day, you're probably wondering if there are any rules one what you can bring.
Different schools will have different rules and policies, so make sure to check with your school ahead of time.
However, there are some common rules that we've seen for this spirit day:
Nothing dangerous or harmful (no weapons or contraband)
Nothing that will interfere with school activities
No stolen items (like shopping carts)
You school also probably wouldn't allow you to bring your dog with your notebooks strapped to his back, FYI lol.
If you're not sure about your item, you should always check with your school ahead of time. You don't want to be sent home for having a banned item.
This post was all about the most hilarious Anything But A Backpack Day Ideas.
You may also like: