18 Outfit Ideas For Adam Sandler Day At School
Is your school doing Adam Sandler Day this year? Here are 18 super funny outfit ideas for dressing up like Adam Sandler.
This post may contain affiliate links, which means I'll receive a commission if you purchase through my link, at no extra cost to you. Learn more: Affiliate Disclaimer.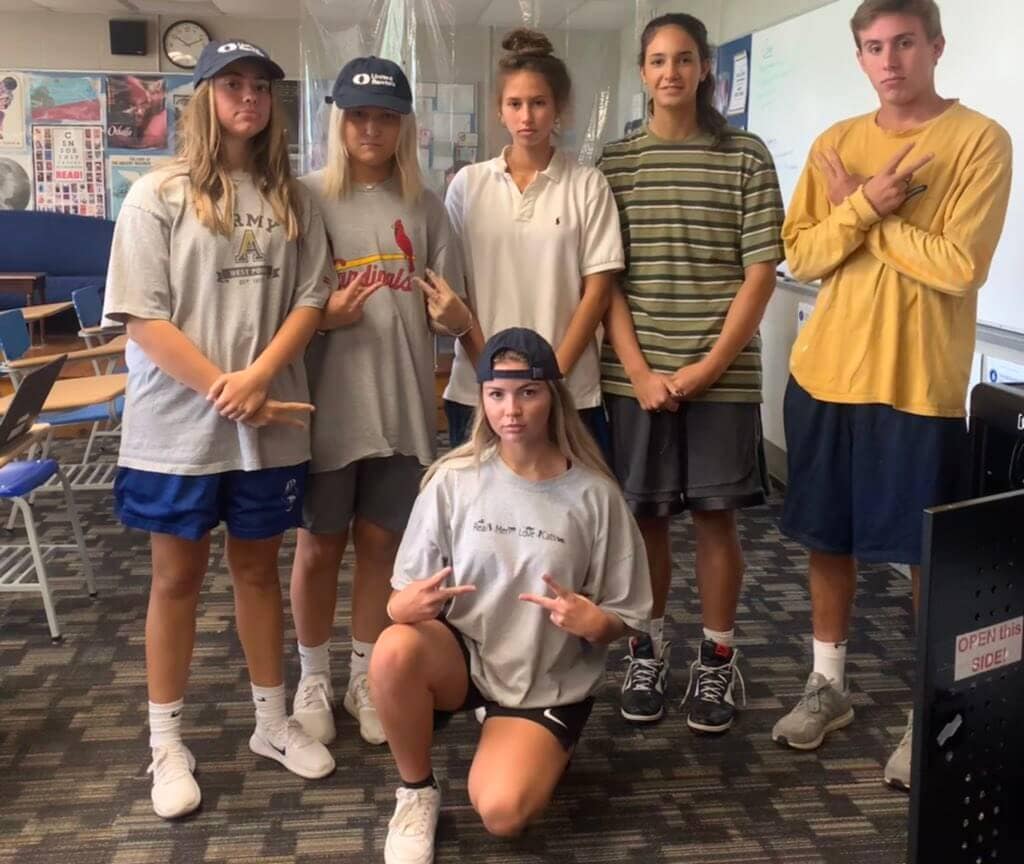 What Is Adam Sandler Day?
Not sure what Adam Sandler day even means? This popular spirit day theme involves dressing up in one of the actor's most iconic looks.
Unlike most celebrities, Adam Sandler is often seen out in baggy athletic shorts and a t-shirt. It's become his signature style.
For this fun spirit week idea, you can pretty much just dress up in any baggy clothes. Or you can use one of the outfit ideas we've put together below!
Adam Sandler Day Outfit Ideas
Want to find the perfect Adam Sandler outfit? Just take a look at some of the outfits he's actually been spotted in!
As you'll see, he's a big fan of oversized clothes, sunglasses, and backwards hats. He's also often spotted wearing a pair of UGG boots.
Here are some of Adam's most iconic outfit ideas that you can recreate:
1. Sweatpants And A Polo Shirt
This classic Adam Sandler fit is super easy to recreate. Just throw on a pair of sweatpants, a polo shirt, and a bright pair of sneakers.
You'll want to add a pair of sunglasses as well. Adam pretty much never leaves the house without shades!
2. Superman T-shirt And Baggy Shorts
Here's another super classic Adam Sandler outfit idea.
You can get this look with pretty much any oversized t-shirt and shorts. Again, don't forget the sunglasses!
3. Baggy Clothes And UGG Boots
Adam Sandler likes to break all of the fashion rules – and we love him for it!
Copy his bold style by throwing on a pair of UGG boots with some shorts and a t-shirt.
4. Giant Puffer Coat And Shorts
This has to be one of Adam's strangest outfits. He paired a GIANT puffer jacket with some shorts and basketball shoes.
5. Adam Sandler In Happy Gilmore
When he's not sporting his crazy style out on the streets, Adam Sandler is starring in some pretty iconic movies.
You can dress up as one of his characters if you're not a fan of his street style. This Happy Gilmore outfit would be super easy to recreate with sweatpants, a flannel, and a baseball hat.
6. Baggy Monochrome Outfit
Green shorts, a green t-shirt, and brown moccasins are all you need to recreate this throwback fit that Adam wore.
7. Adam Sandler's Pickle-Eating Fit
This has to be my all-time favorite Adam Sandler look.
He walked the streets of New York in an oversized coat, red scarf, and blue gym bag while eating pickles straight from the jar. Iconic.
8. Zip-Up Hoodie With Athletic Shorts
Here's another super easy Adam Sandler fit to copy. Just throw on a hoodie, long athletic shorts, and some sunglasses.
9. Plaid Shirt And Big Hat
Here's another outfit that's so terrible it's kind of good??
Throw on some basketball shorts, a plaid shirt, and an oversized hat. Of course, you can't forget the sunglasses.
10. Color Block Sweats
Adam Sandler has been rocking his sweatpants and sweatshirts outfits for a long time.
Get this retro look by wearing plain sweatpants and a plain crewneck in different colors.
11. Adam Sandler In The Water Boy
The Water Boy is another one of Adam Sandler's most popular movies. Dress up as his character by wearing a gray t-shirt and a brown vest with pockets.
12. Jersey And Backwards Hat
It doesn't get much easier than this! Just wear an oversized jersey and some baggy shorts. Top off the look with a backwards hat and you're good to go.
13. Adam Sandler's Basketball Fit
Adam Sandler is often spotted playing basketball at outdoor courts. Copy his basketball fit with an oversized t-shirt and some athletic shorts. Super easy.
Real Examples Of Adam Sandler Day Outfit Ideas
A lot of schools are doing Adam Sandler day during spirit week. This means that there are tons of pictures from this spirit day online!
Here are some of the most iconic outfits that students have worn for Dress Like Adam Sandler Day.
Adam Sandler day! @OHSDuckNation #spiritweek pic.twitter.com/jd3LgwbPY3

— Amanda Binkley (@BinkleyTweets) November 2, 2022
Spirit Day 2: Adam Sandler Day pic.twitter.com/MvDnpWcuv2

— PawPrint (@KHSPawPrint) October 5, 2021
This post was all about the best Adam Sandler Day outfit ideas.
You may also like: