15 Cutest Senior Jeans Ideas We're Obsessing Over Right Now
Not sure how to decorate your jeans for senior week? Here are 15 of the cutest senior jeans ideas that you can recreate this year.
This post may contain affiliate links, which means I'll receive a commission if you purchase through my link, at no extra cost to you. Learn more: Affiliate Disclaimer.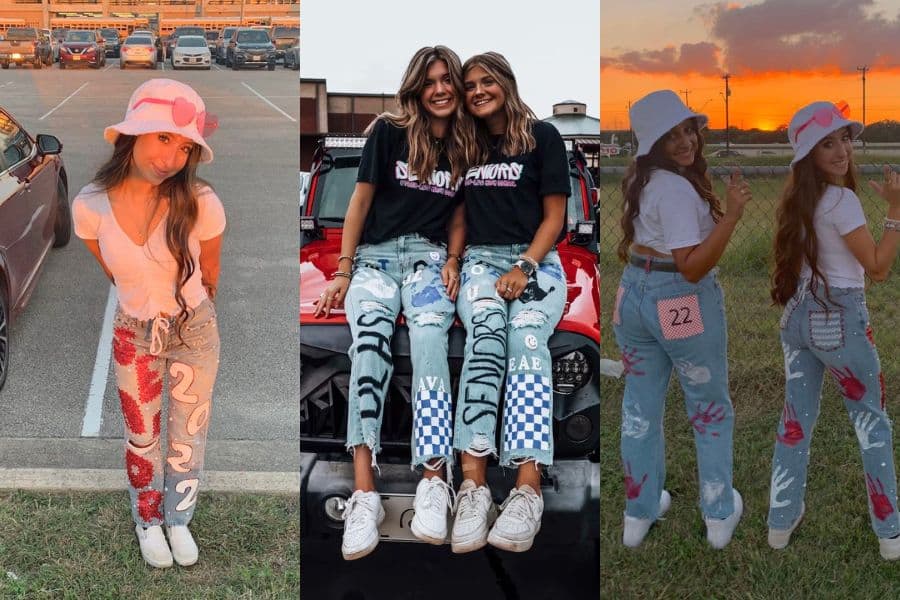 In many U.S. high schools, seniors will decorate a pair of jeans to celebrate being in their last year of high school.
These jeans may be worn during senior week, the first week of school, homecoming week, or another time throughout the year. Some people will also wear their senior jeans for their graduation pictures.
If you're stuck trying to decide how to decorate your jeans, you're in luck! We put together this list of 15 of the cutest senior jeans from around the internet to give you some inspiration.
What Are Senior Jeans?
If you've never heard of senior jeans, they're basically a pair of painted jeans that seniors make to show off their school spirit and celebrate their last year of high school.
You can either buy a new pair of jeans or use some that are already in your closet. Decorate them with paint, iron-on patches, rhinestones, fringe, and anything else you'd like to use.
Most students will write their graduation year, the word senior, and add some fun decorations. You could also decorate them with sports memorabilia from your time in high school.
These jeans are typically worn either during the first week of school, homecoming week, or around graduation. Different schools will participate in this trend at different times throughout the year.
Some schools also do painted senior overalls, which we've covered in this post!
What Do You Need To Make Senior Jeans?
Senior jeans aren't too difficult to make, but you will need some arts and crafts supplies.
Here are some supplies you may need to make your spirit jeans:
A pair of jeans (thrifted if you want to save some money!)
Paint brushes
Fringe, fabric trim, ribbons, gemstones, etc.
Iron-on patches
How Do You Make Senior Jeans?
Start with a plain pair of jeans or pants. You could do blue jeans, white denim, or any other pair of pants you'd like.
Gather all of the supplies you'd like to use for this project. At the very least, you'll need fabric paint and paint brushes.
Now it's time to start decorating. Sketch out your design with a pencil before you move on to paint. This will help ensure that you have clean lines with no mistakes.
Once your paint dries, you can add your embellishments. This could be fringe, ribbons, patches, or gemstones. Get creative with it!
The Best Senior Jeans Ideas
1. School Color Handprints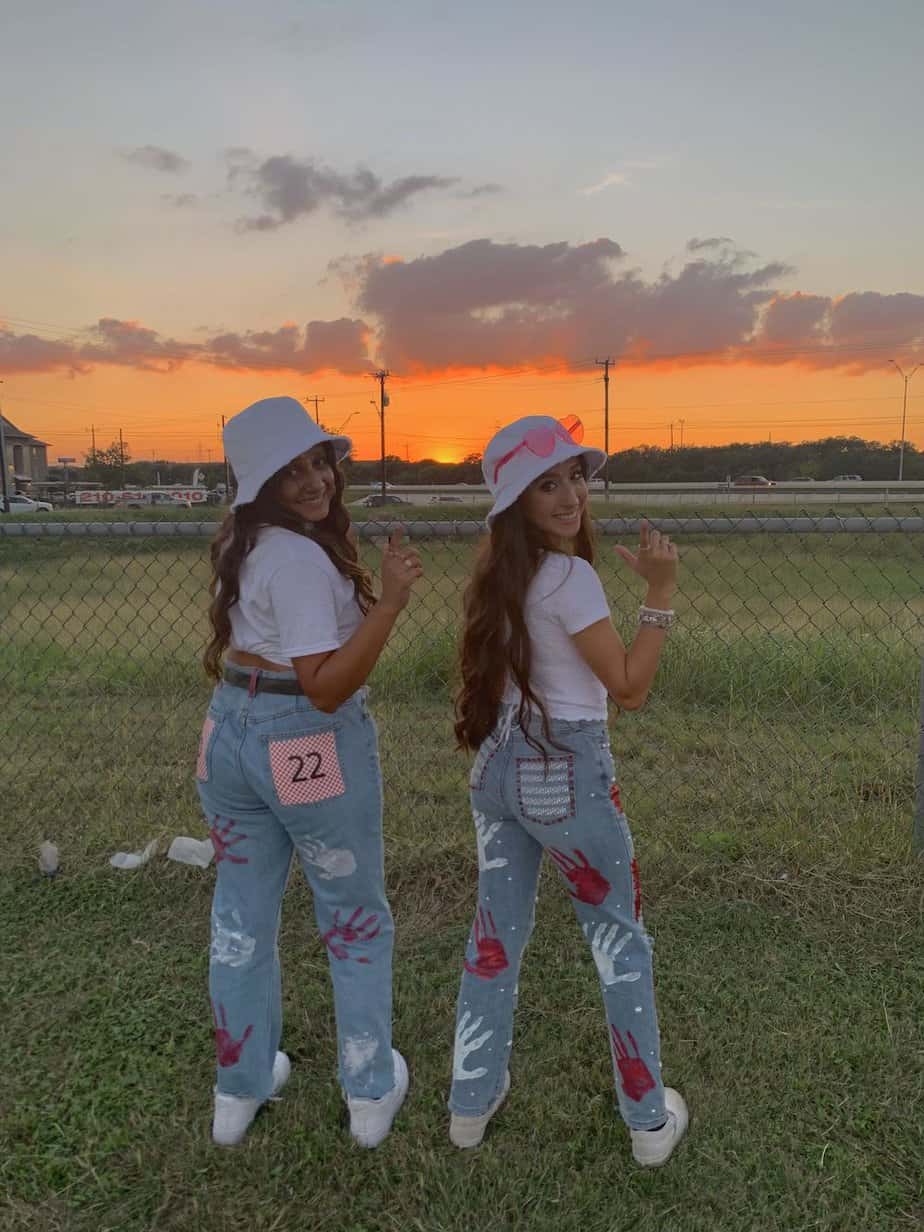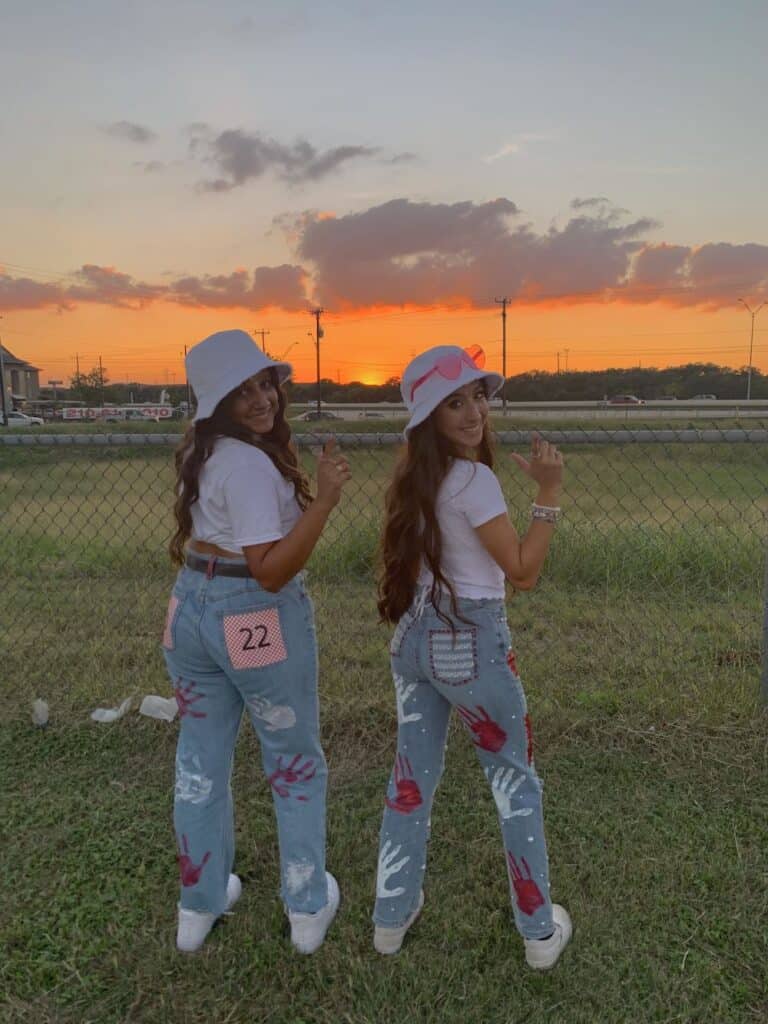 How adorable are these pants for senior week? All you'll need to do is decorate the pocket however you'd like.
Then, you can pour out some paint onto a paper plate and make paint handprints on your jeans. Be sure to write your graduation year somewhere on your jeans!
2. White Senior Pants With Fringe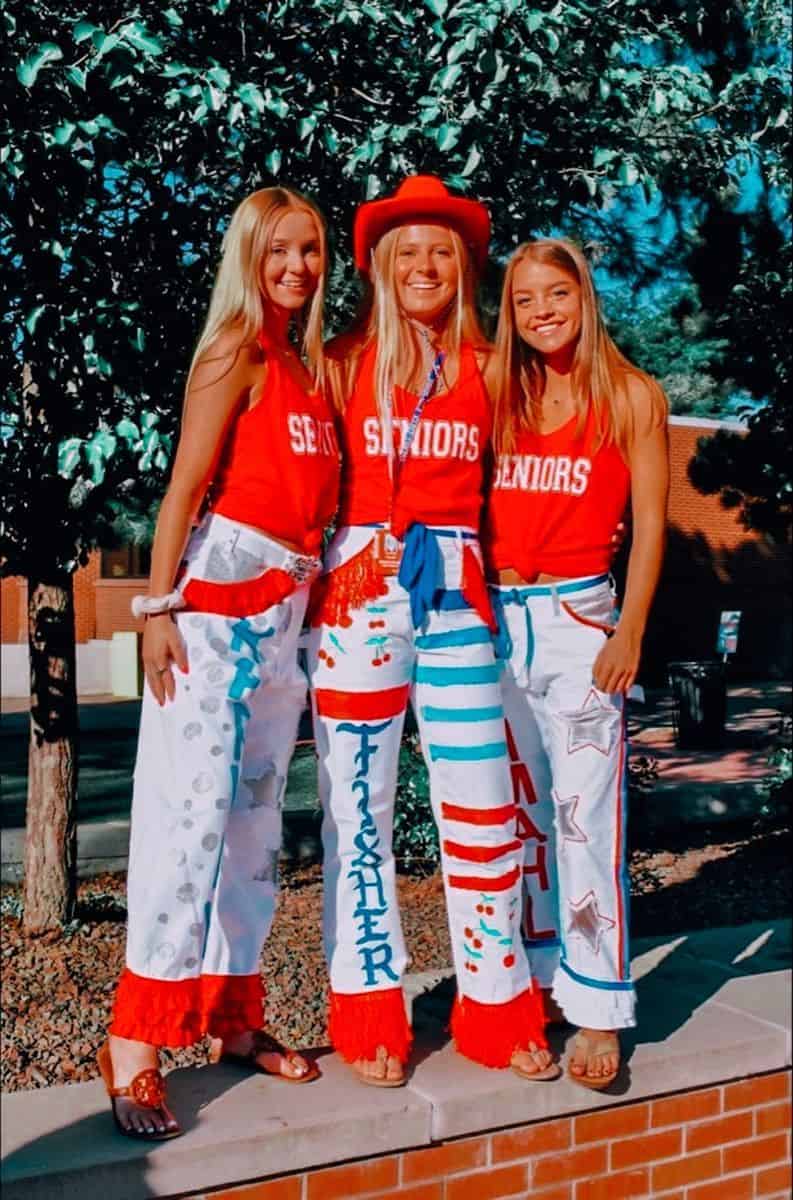 White jeans are great for this project because they provide a clean, blank canvas to start on. Get creative with fabric paint, fringe, and ribbons to achieve this look.
I love how each one is different but they all go together so well! This would be such a cute craft to do with your besties before the school year starts.
3. Spirit Jeans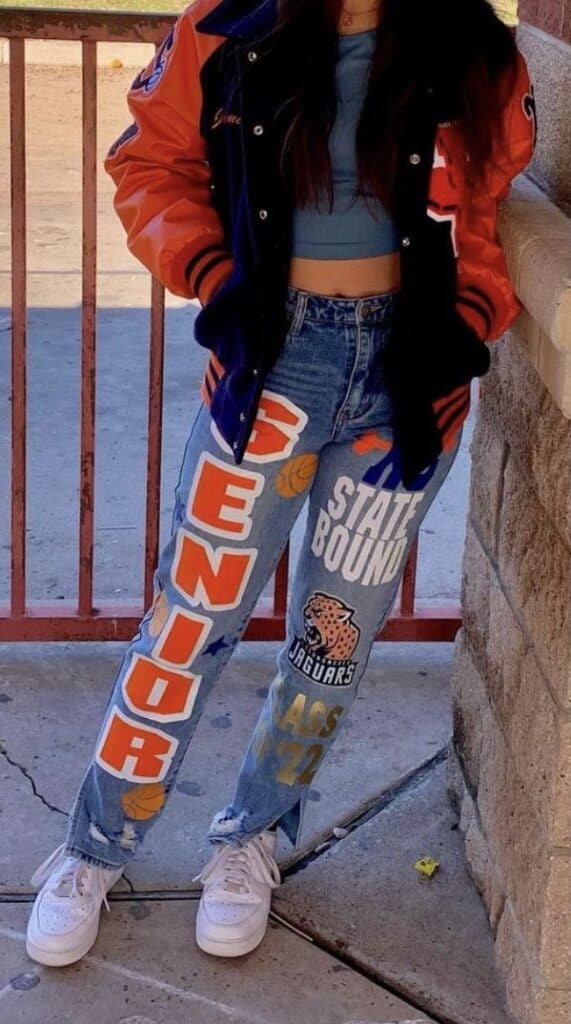 Don't want to mess with paint? Get some iron-on decals in your school colors to decorate your jeans with.
Try to find letters to spell out 'senior', your school mascot, and maybe a few other decals that represent your school well.
4. Ripped And Painted Homecoming Jeans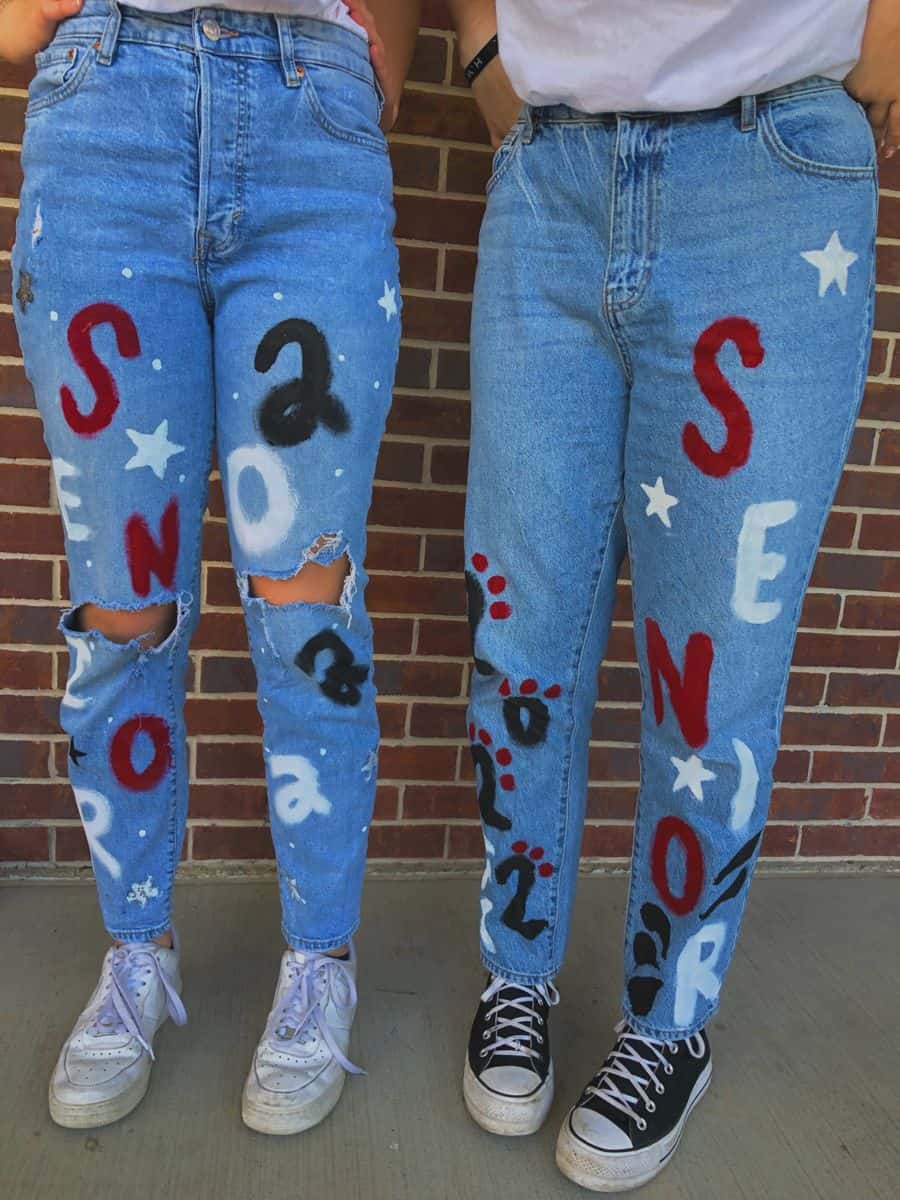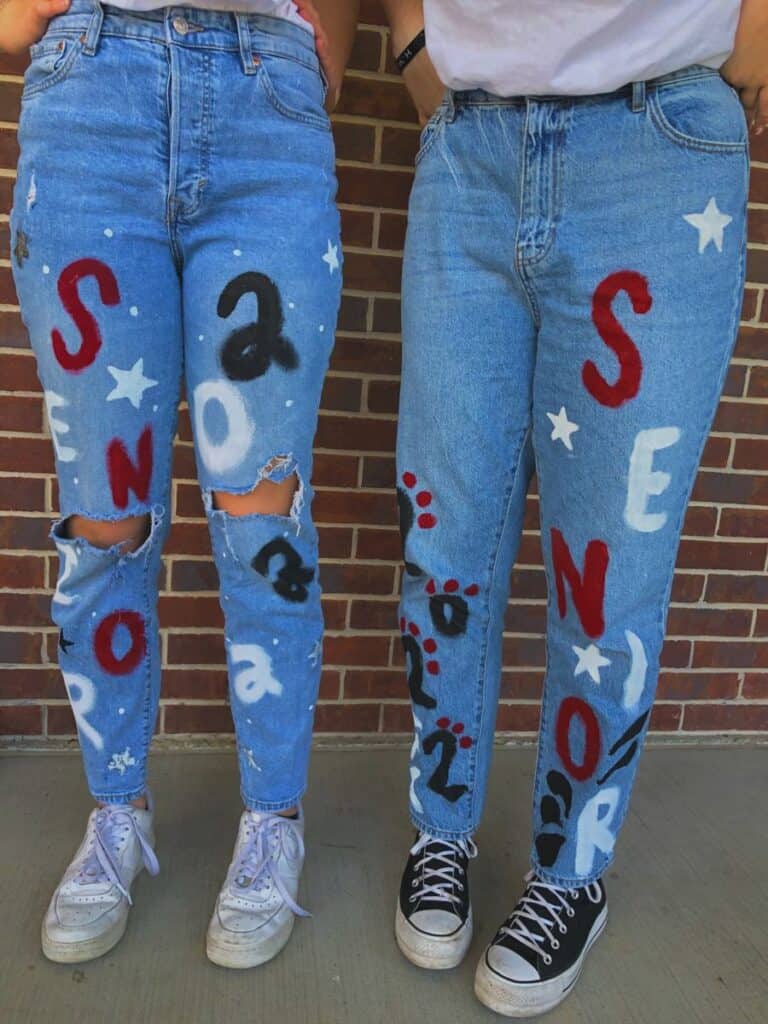 Sometimes the simpler designs look the best! These girls just wrote out the word 'senior' in fabric paint and added a few little embellishments.
This star stencil will help you create really clean and cute star designs on your jeans.
5. Bubble Letters Senior Jeans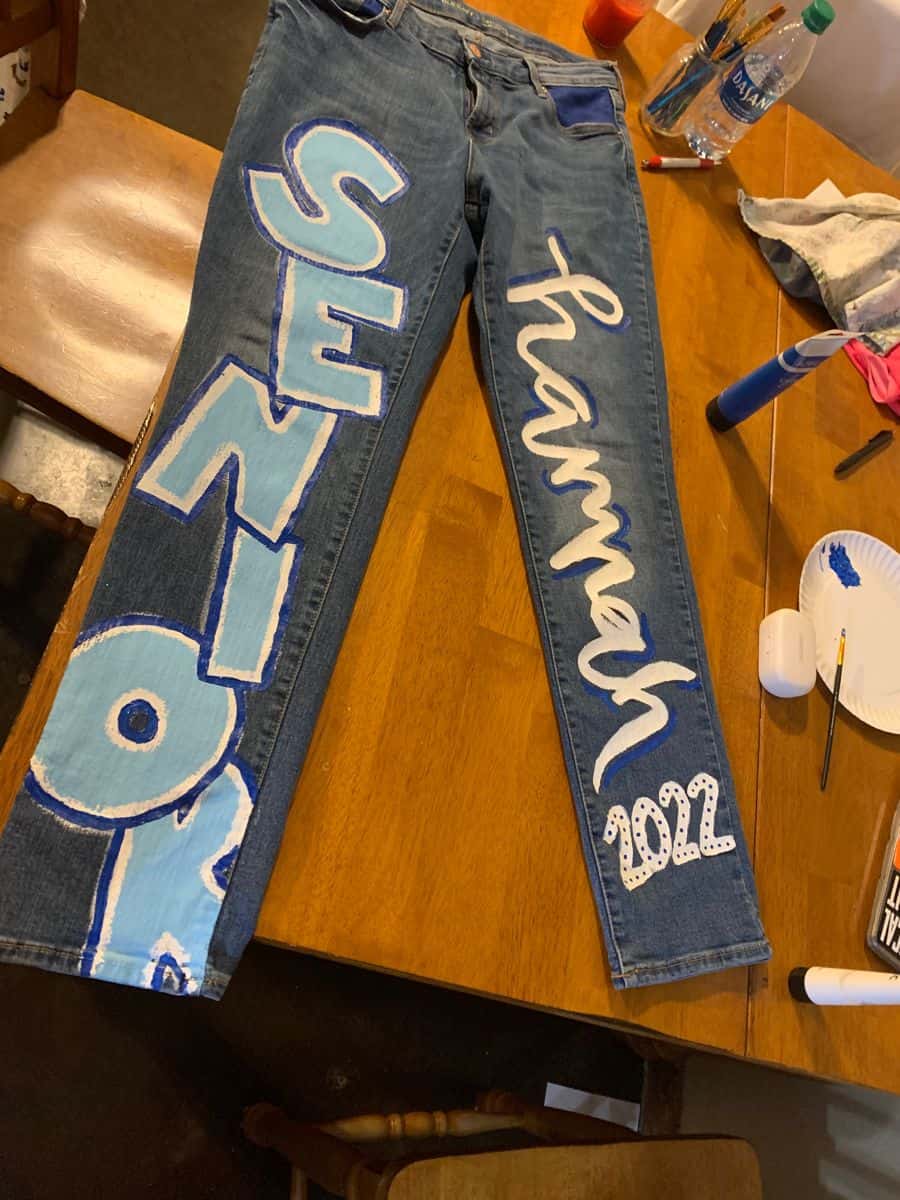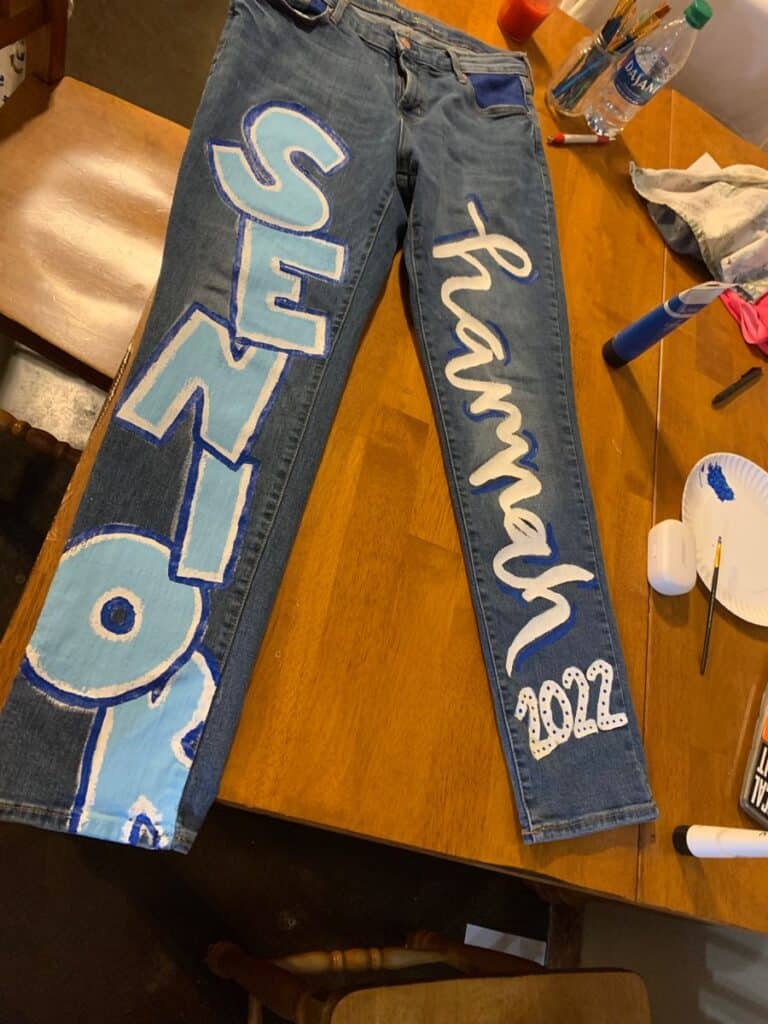 How cute do these bubble letters look on these spirit jeans? You'll definitely want to sketch out this design ahead of time so you don't make any mistakes.
6. Striped Painted Senior Jeans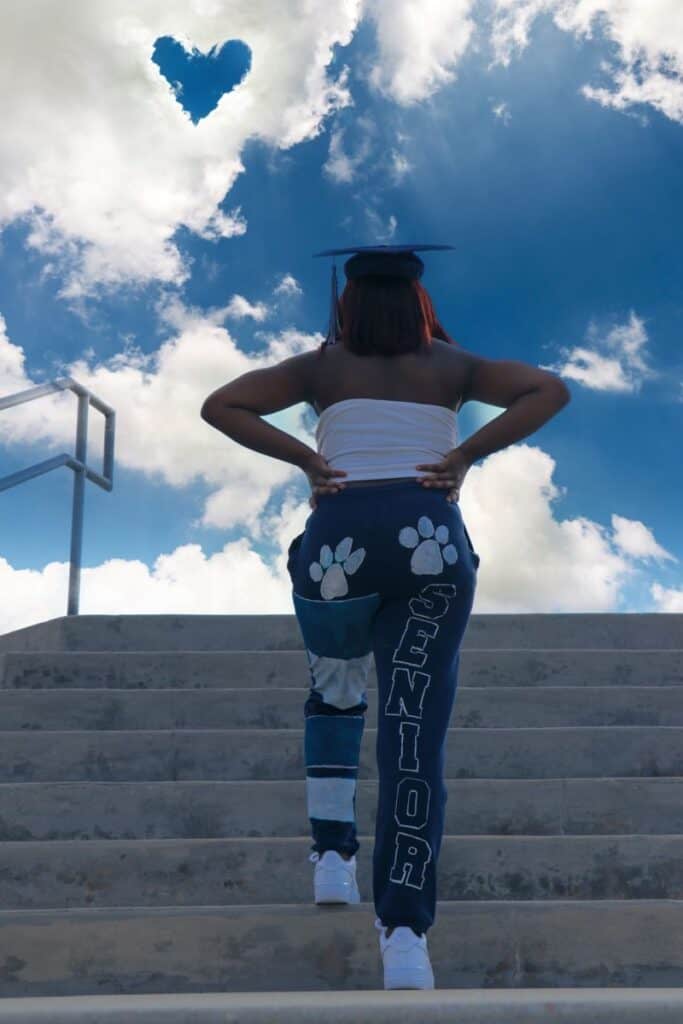 These senior spirit jeans are so adorable! Paint your mascot's symbol on the pockets of the jeans, add some stripes on one leg, and add letter patches to the other leg.
7. Checkerboard Design Senior Pants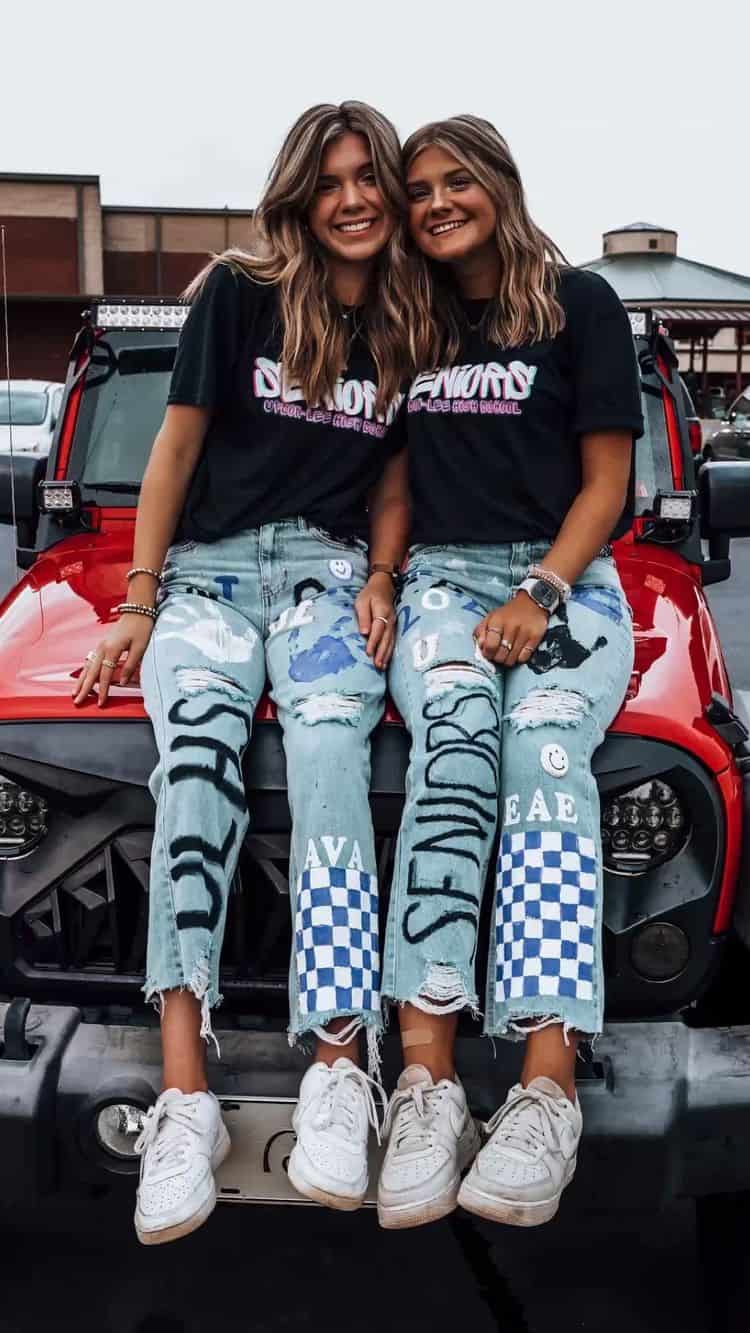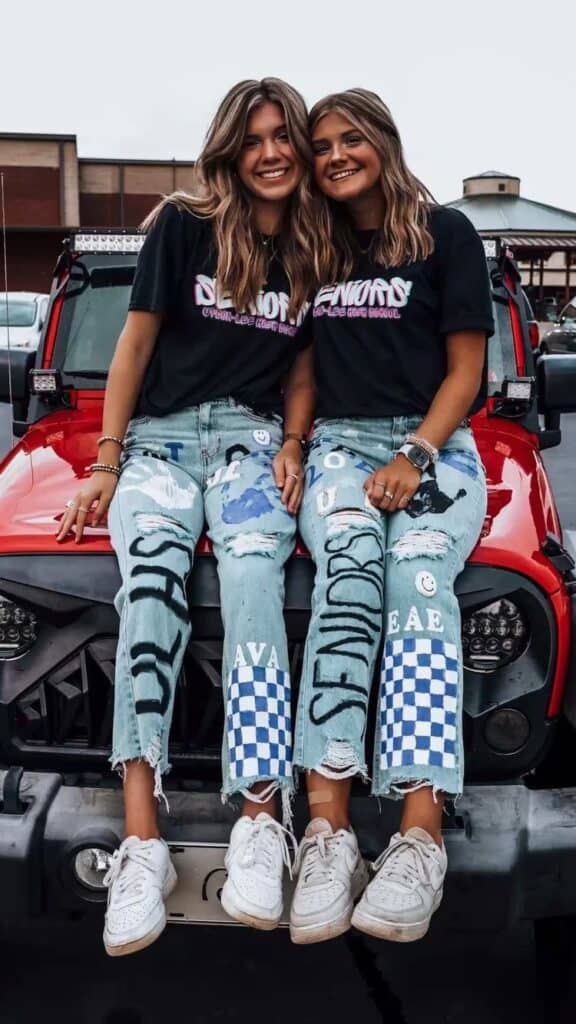 These are definitely some of the cutest jeans on this list! I love the little details like the handprints, checkerboard pattern, and smiley faces.
These jeans are proof that a little bit of creativity pays off!
8. Bedazzled Senior Jeans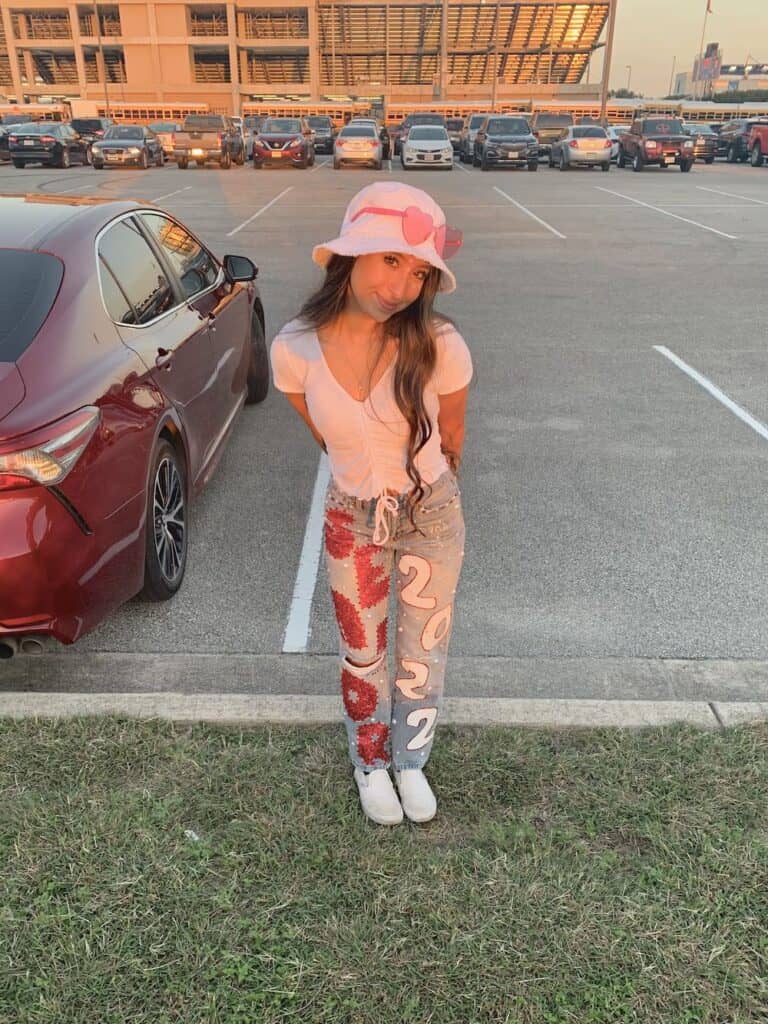 Want your jeans to really stand out? Add some sparkles!
Adding some gemstones around your jeans will really help them look polished and put-together. This bedazzling kit is super affordable and will make the whole process way easier.
9. Colorful Painted Senior Jeans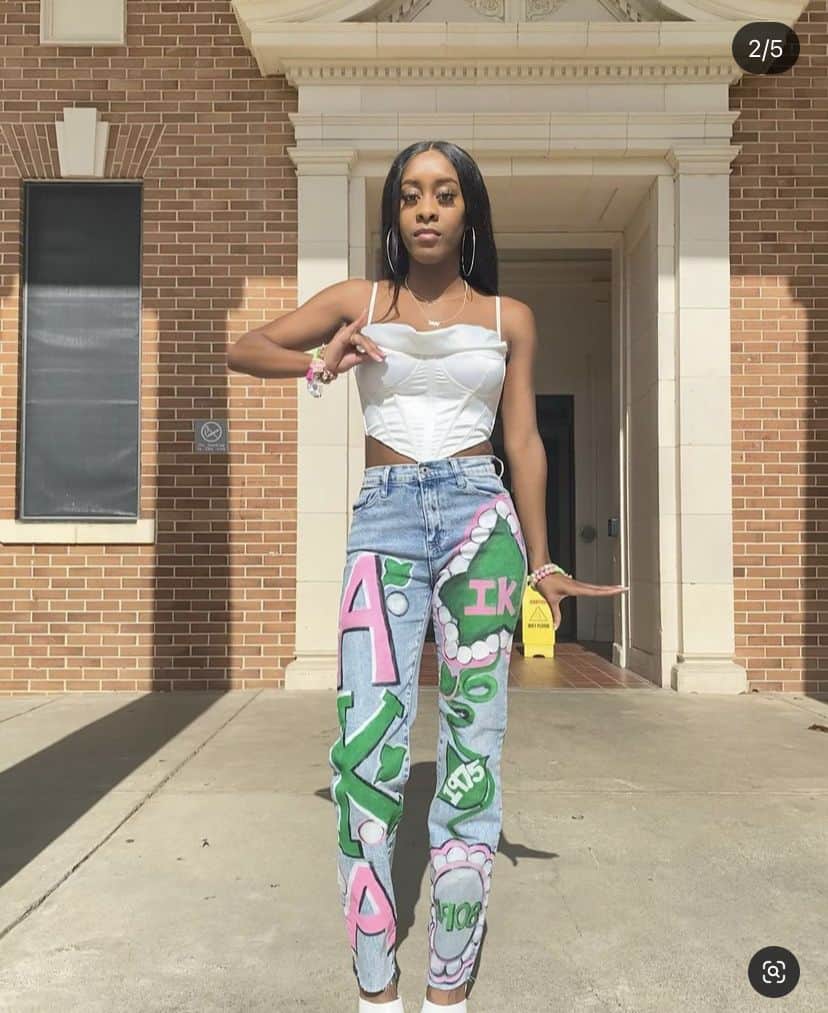 Okay, technically these jeans look like they were made for a sorority. But they were so cute we had to include them!
You could totally recreate this look for a pair of senior jeans. Just paint some fun designs on your pants in your favorite colors!
10. White Spirit Jeans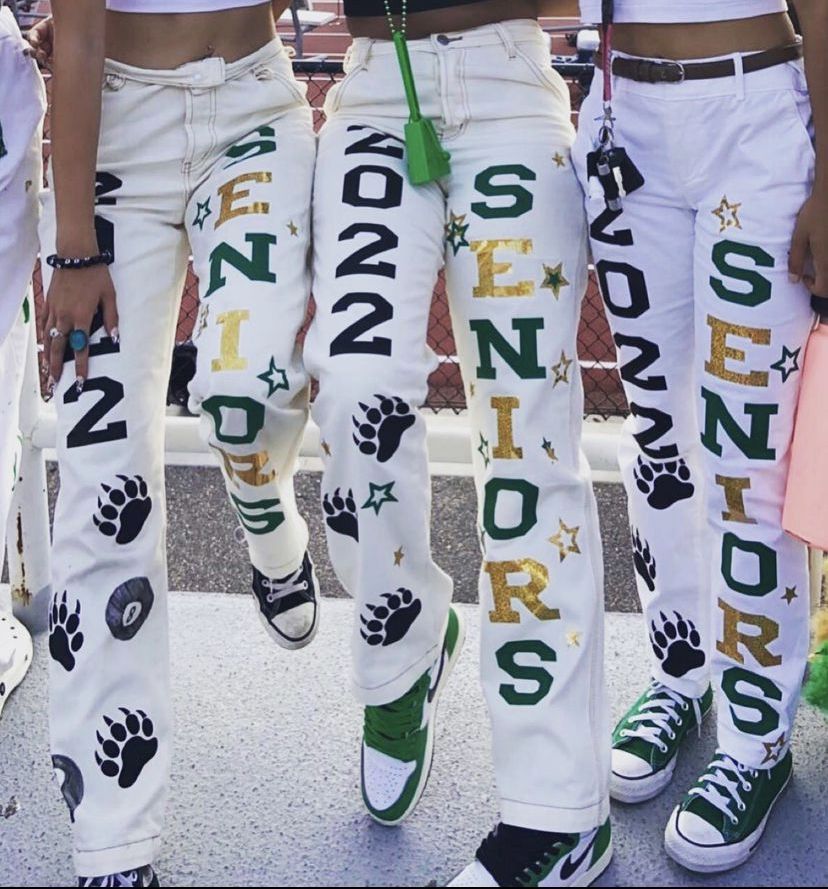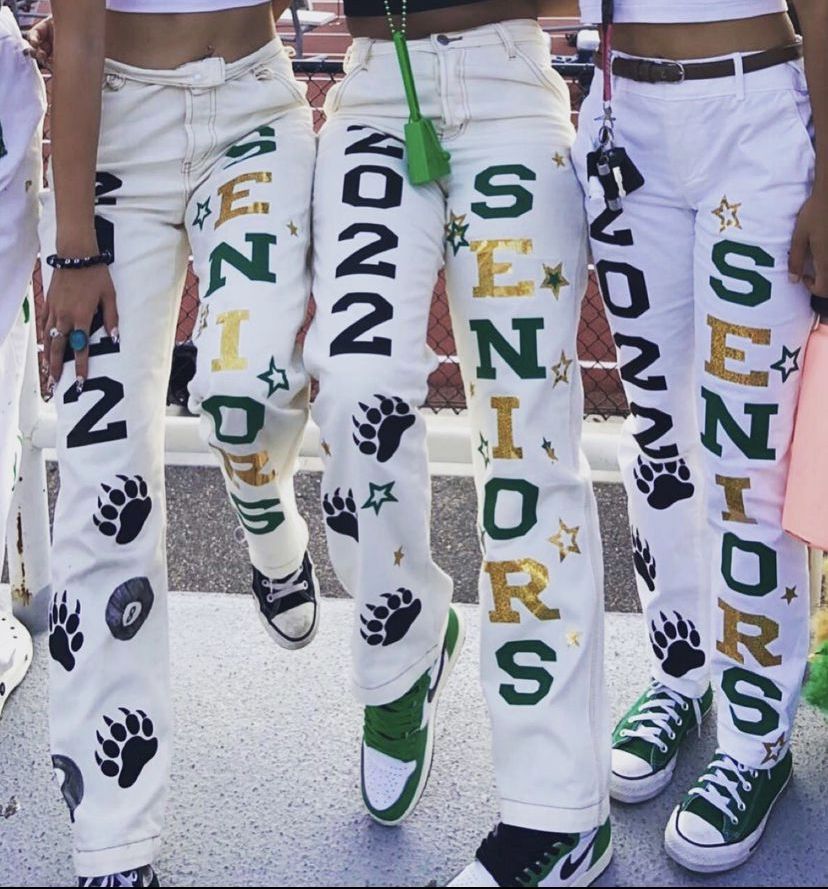 Here's another super cute example of white senior jeans. These seniors used iron-on transfer letters to achieve a really cute and clean look.
These iron on transfer letters would be perfect for this project.
11. PomPom Bottom Senior Pants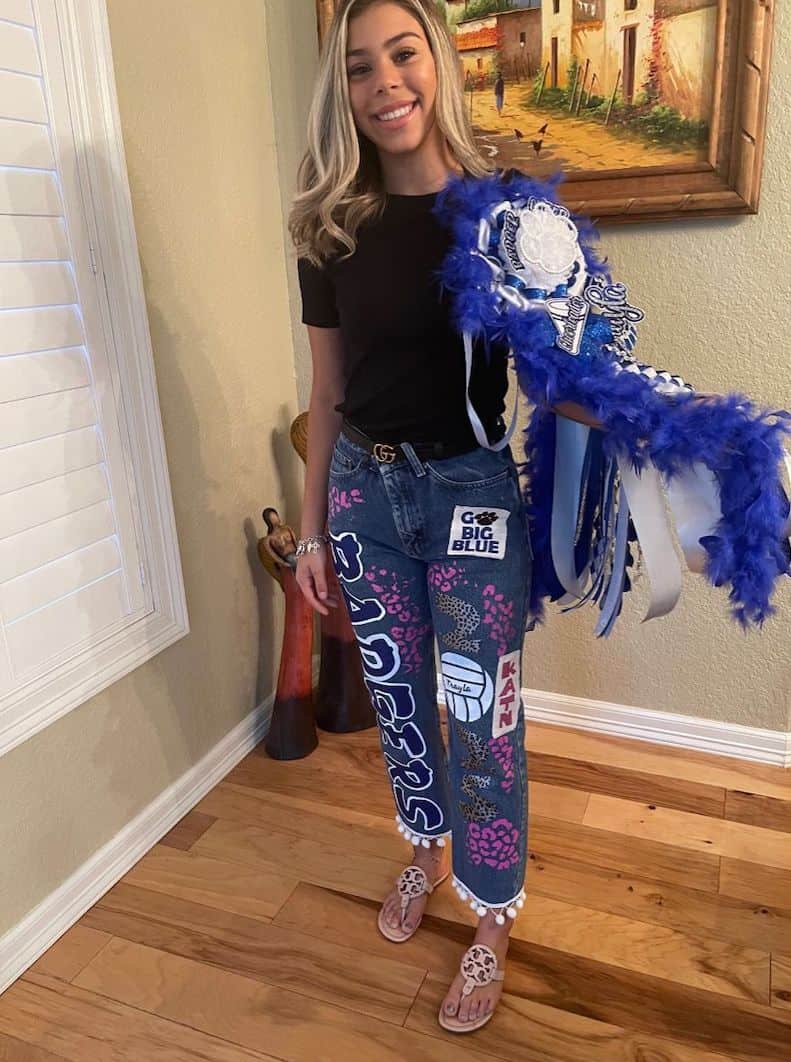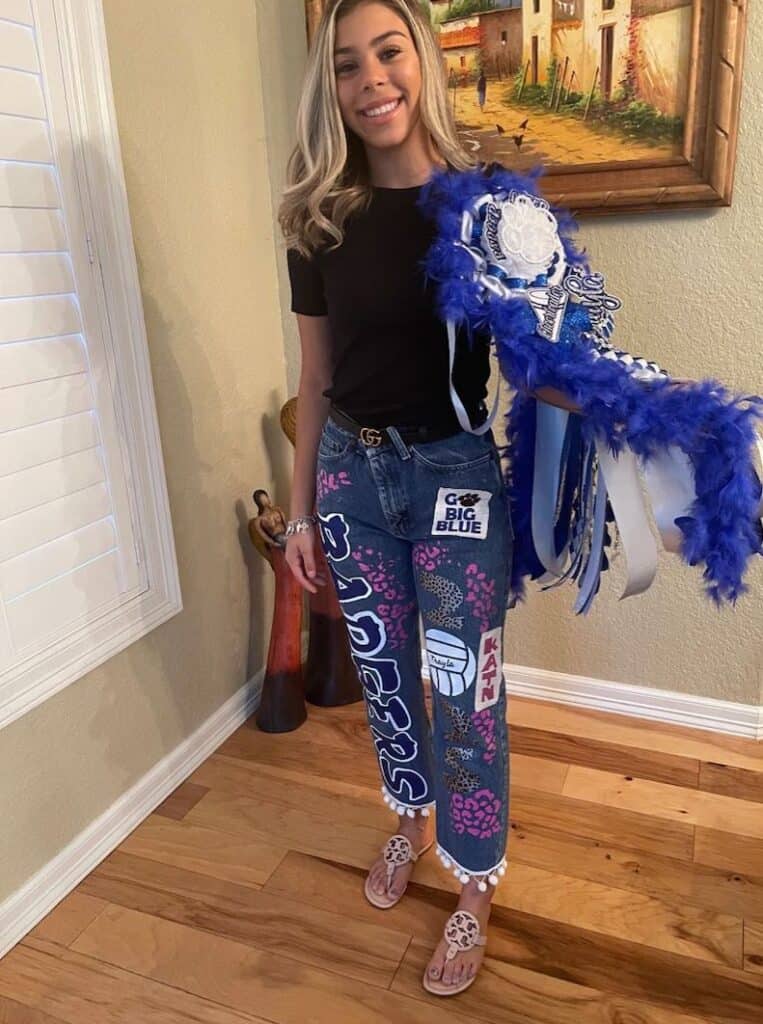 Some cheap pom pom ribbon makes these senior jeans stand out from the crowd! Such an easy embellishment that adds so much flair.
12. Fringe Side Graduation Jeans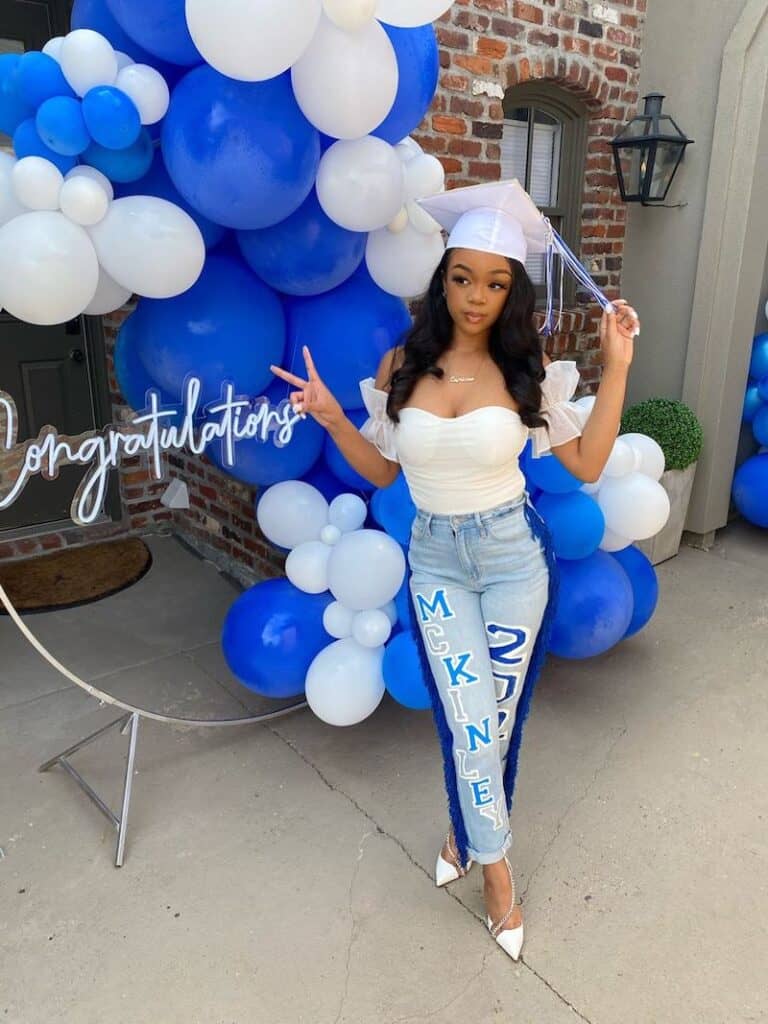 Another great way to have your spirit jeans stand out is to add some fringe to the sides. Use hot glue or fabric glue to attach fringe trim to the seams of your jeans.
You can always cut down your fringe if you feel like it's a bit too long for your liking.
13. Heart Pocket Senior Pants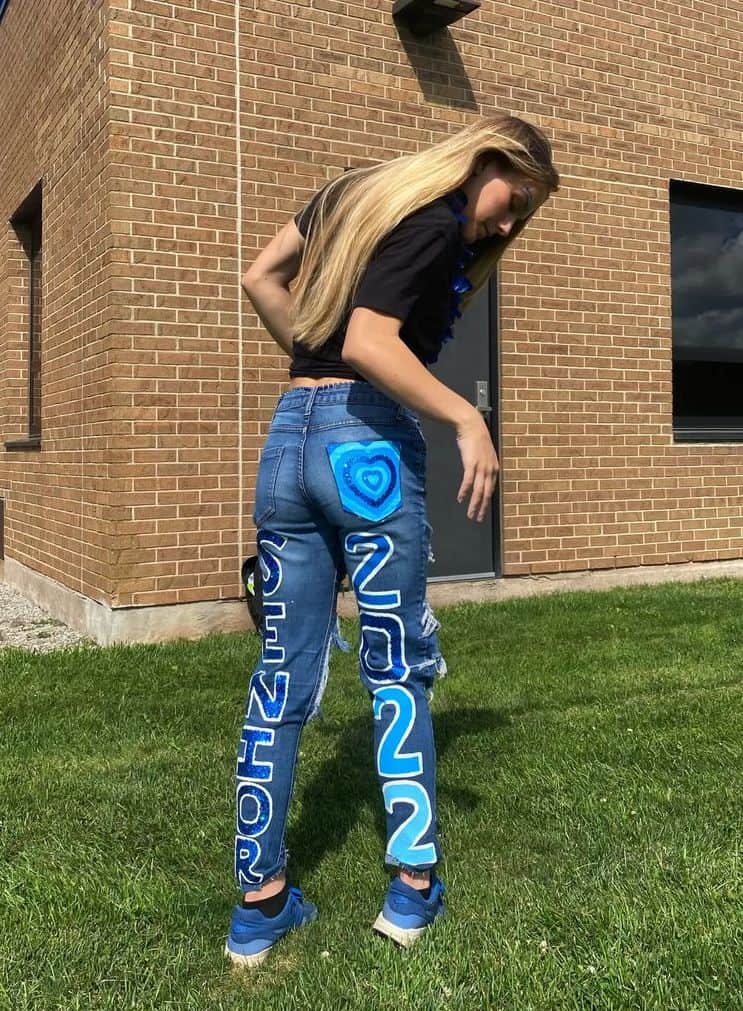 One of the cutest ways to decorate your jeans is to paint the pockets. This painted heart looks so adorable on the pocket and really ties in with the rest of the designs.
14. Floral And Faux Fur Senior Week Jeans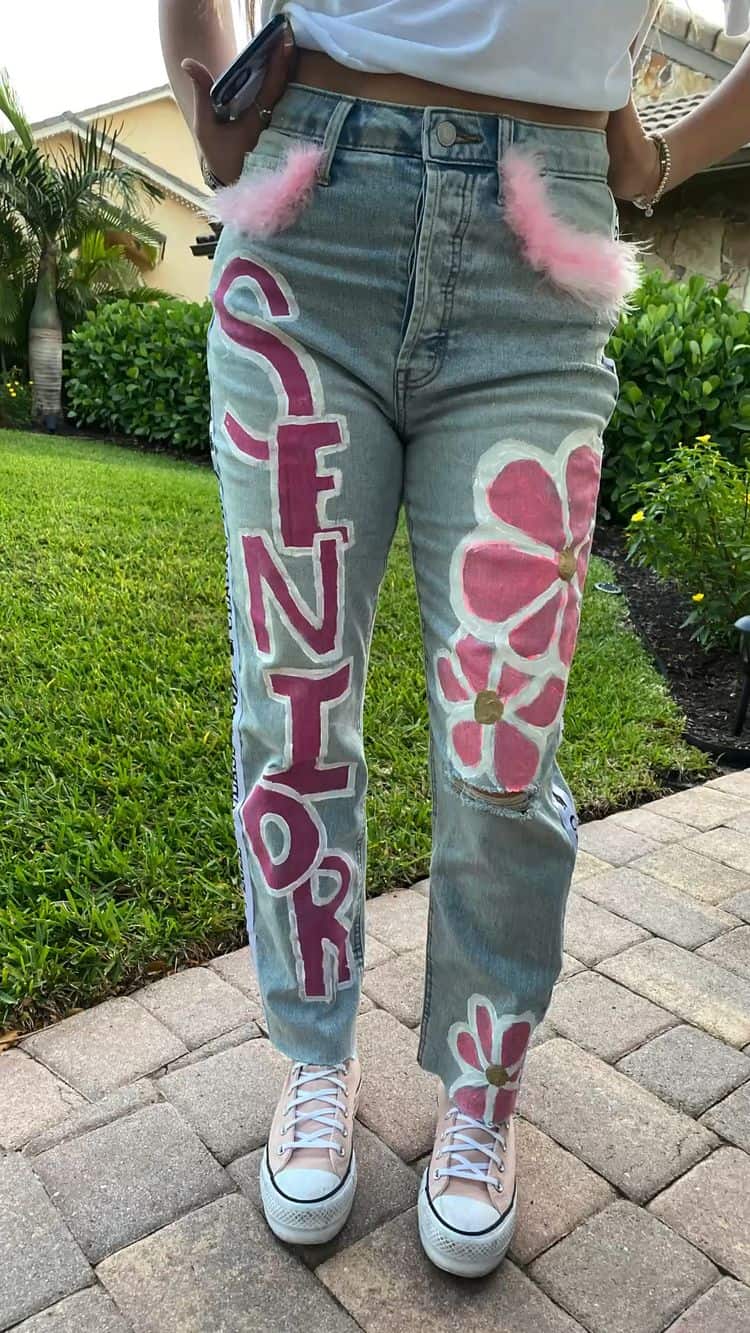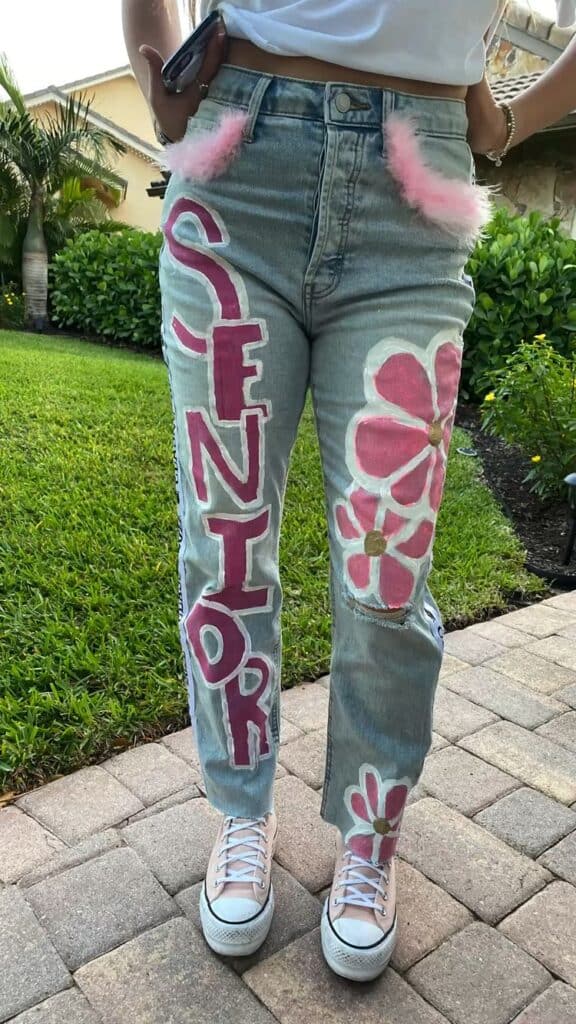 How adorable are these girly painted senior jeans? Paint on some flowers to one of the legs and add some faux fur trim to the pockets for a super girly and fun look.
15. Polka Dot Letters Senior Jeans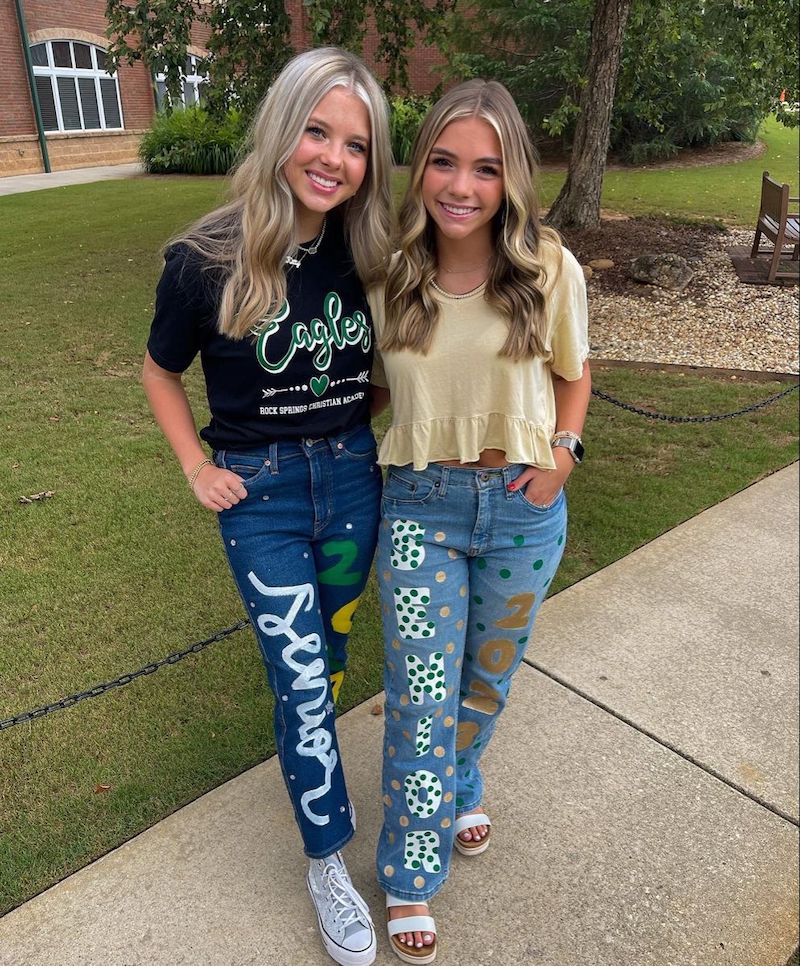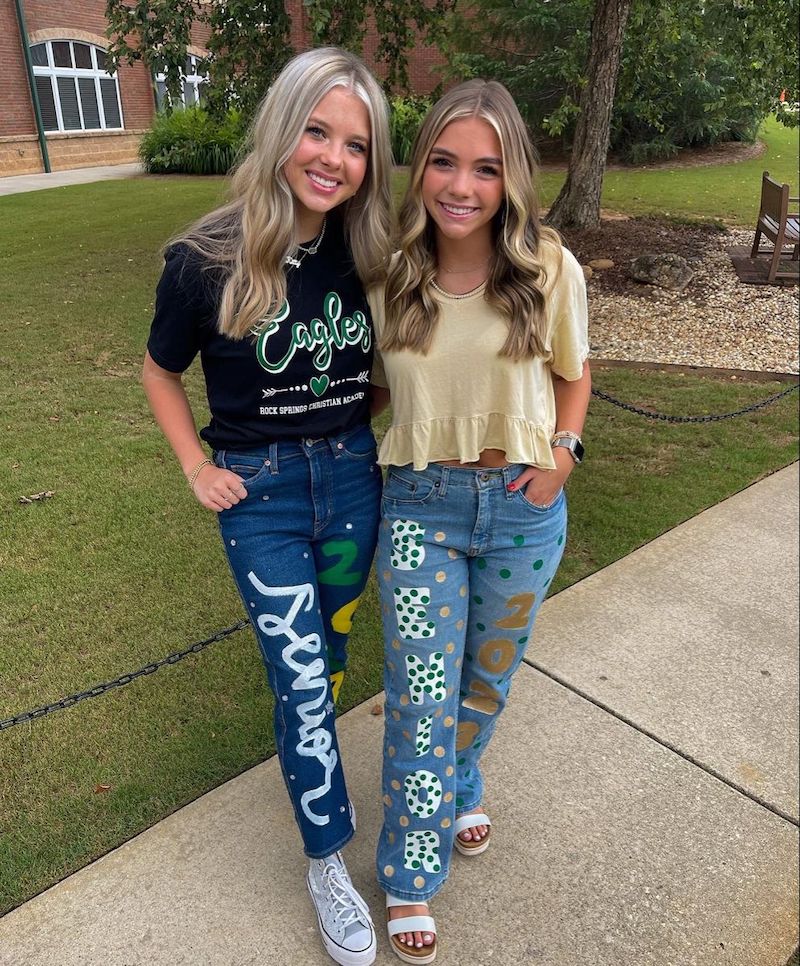 Polka dots never go out of style! Add them to your jeans inside the bubble letters, scattered around, or anywhere you need a little extra embellishment.
This post was all about the cutest painted senior jeans ideas.
You may also like: