11 Genius Senior Crown Ideas For High School Guys
Looking for the best senior crown decorations for boys? Here are 11 perfect senior crown ideas for guys that they'll want to recreate.
This post may contain affiliate links, which means I'll receive a commission if you purchase through my link, at no extra cost to you. Learn more: Affiliate Disclaimer.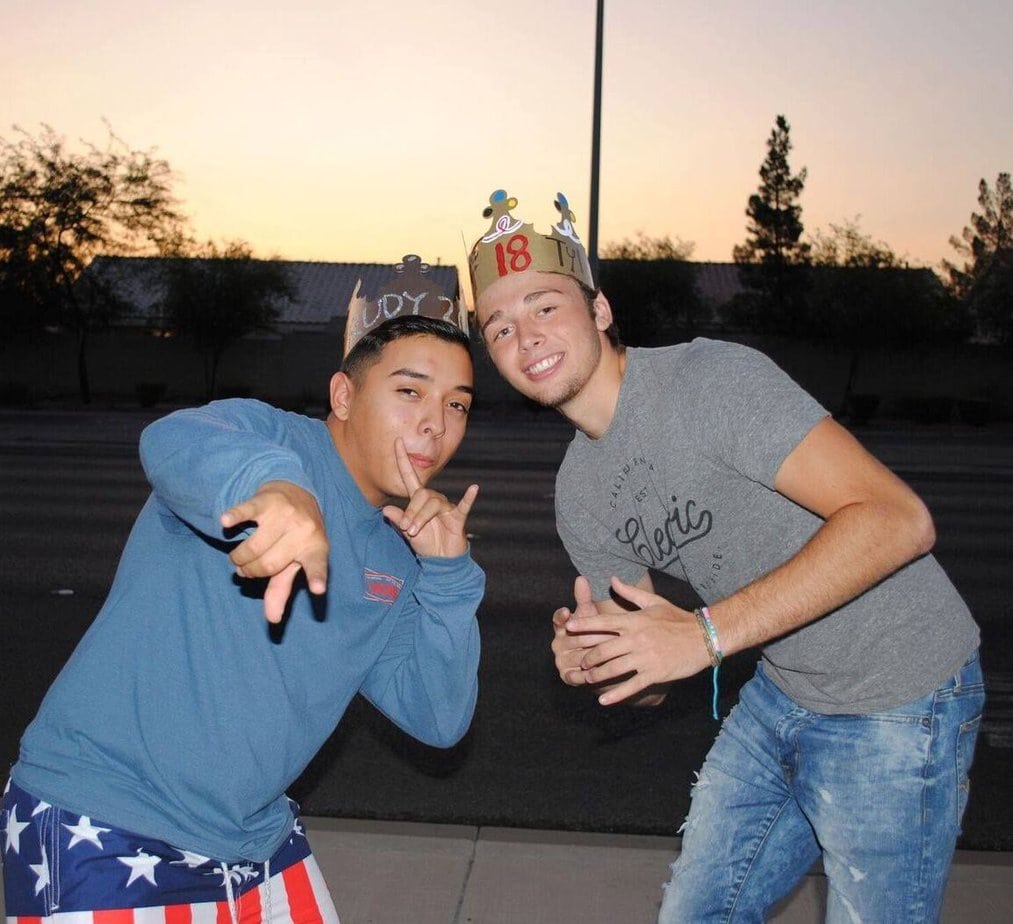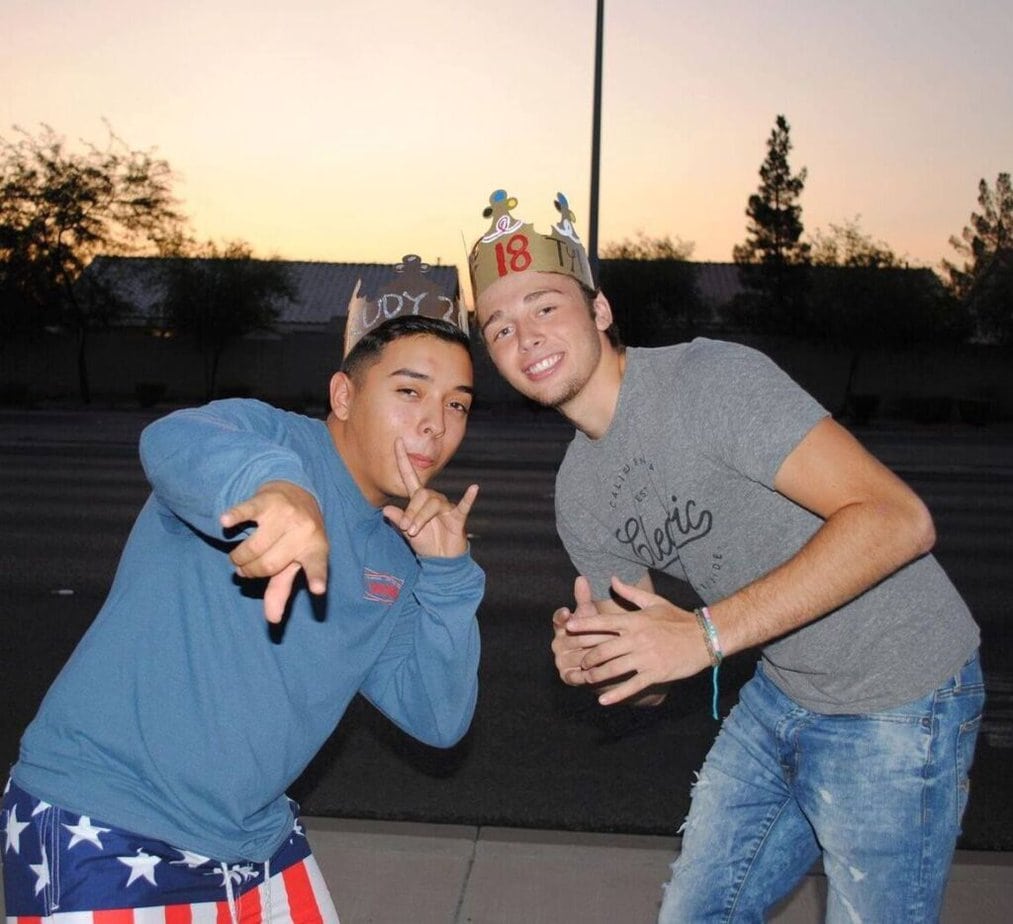 What Is A Senior Crown?
If you've never heard of this tradition, it's basically just a DIY crown that you wear to celebrate your last year of being in high school!
It basically symbolizes that the seniors are the kings and queens of the school for the year.
This tradition is especially popular with senior girls, but guys do wear them too at most schools!
Typically, students will decorate crowns and wear them during the first week of school, during spirit day, or certain other days throughout the year.
Each school has its own tradition for when to wear a senior crown, so be sure to check with your school to verify what day you're supposed to wear yours.
How Should Guys Decorate Their Senior Crowns?
A lot of male seniors will typically decorate their crowns with their school colors, their favorite sports teams, or a pop culture reference.
Honestly, you can decorate your crown however you'd like. This tradition is all about celebrating your accomplishments so just make sure your crown really represents you!
We'll go over some specific examples of senior crown ideas for guys later in this post, so make sure you check those out!
How Do You Make A Senior Crown?
Putting together a senior crown is actually super simple. You'll just need the following supplies:
To make your senior crown, you'll first need to make or buy a paper crown.
You could cut out your own paper crown out of thick paper, buy a pack of paper crowns from Amazon, or go get one of the free paper crowns from Burger King.
Next, you'll want to paint the front and back of your crown any color you'd like.
Let it dry and then decorate it however you want! You could make a photo collage, add patches or stickers, or paint on a fun design.
When you're all done decorating, tape or glue your crown together so that it can rest on top of your head.
Senior Crown Ideas For Guys
1. Bubble Letter Senior Crown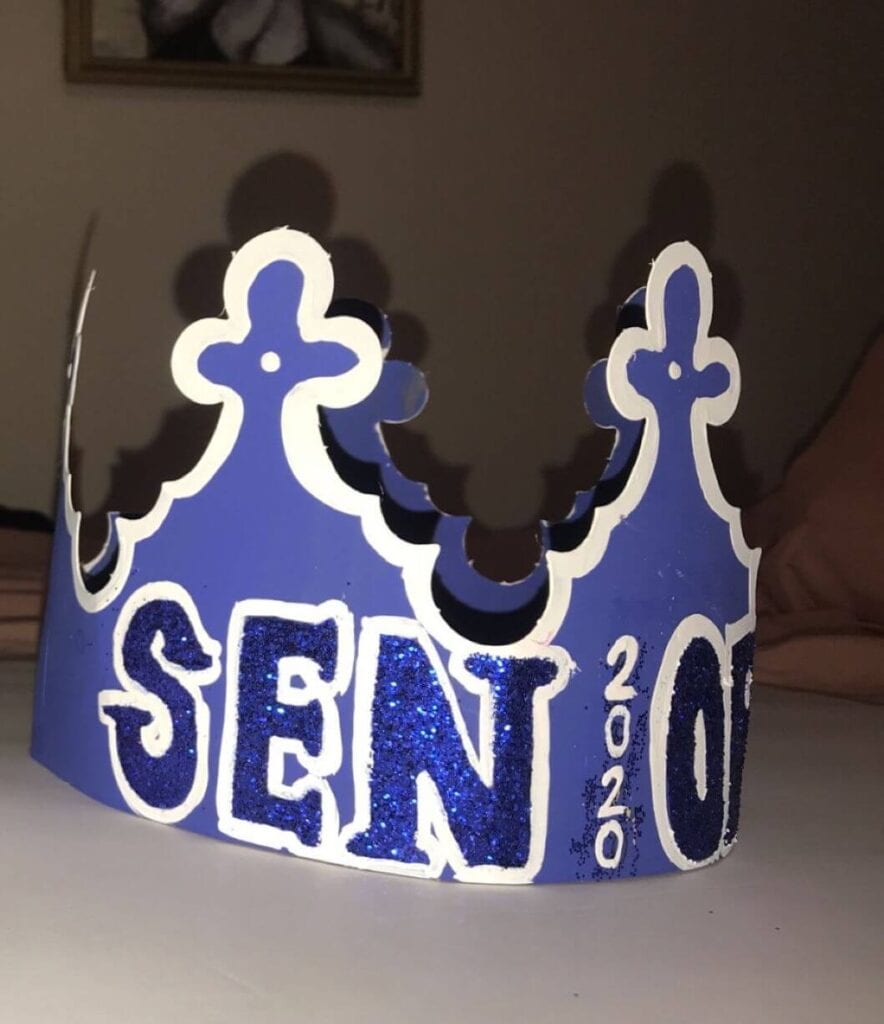 When in doubt, just write the word senior in bubble letters on your crown!
It's a super simple way to celebrate that you're in your last year of high school and that you "rule" the school.
If you want to get a little bit creative with it, write your graduation year vertically to make the 'i' in senior.
2. Flame Letters Senior Crown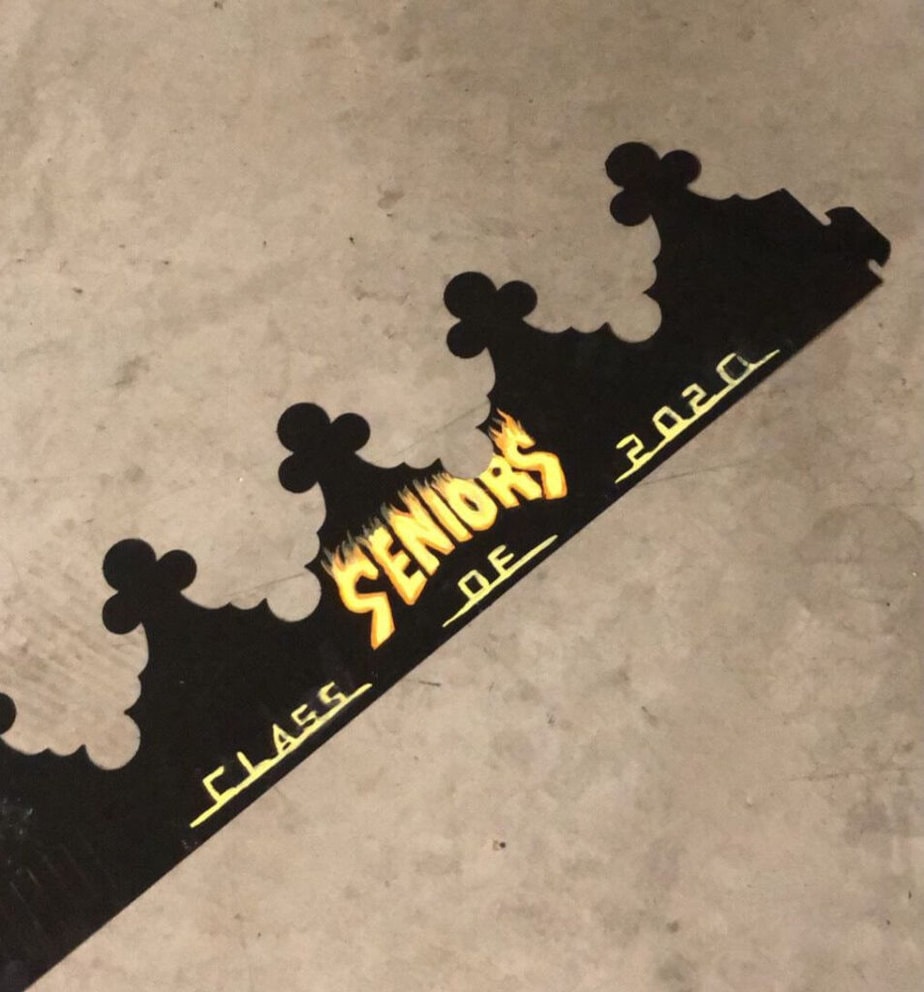 If you consider yourself a little bit artsy, this would be a really cool senior crown idea for guys to recreate.
Paint your paper crown all black. Once it's dry, write the word "seniors" in a flame design. Then add your graduation year to the bottom.
Not sure how to create the flame effect? Here's a great tutorial from YouTube.
3. Senior Crown With Devil Horns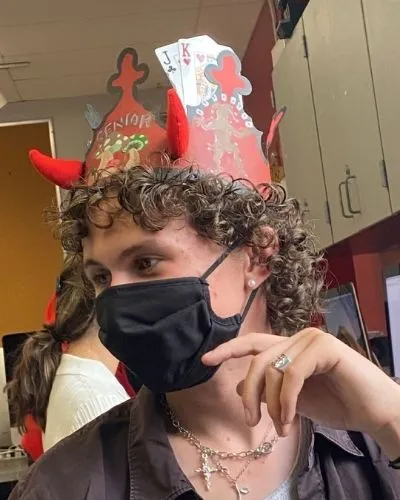 I love the way it looks to add 3D elements to your crown like this guy did. It really makes your crown stand out from everyone else's!
You can get this same look by attaching some devil horns and playing cards to your senior crown.
4. Football Crown For Guys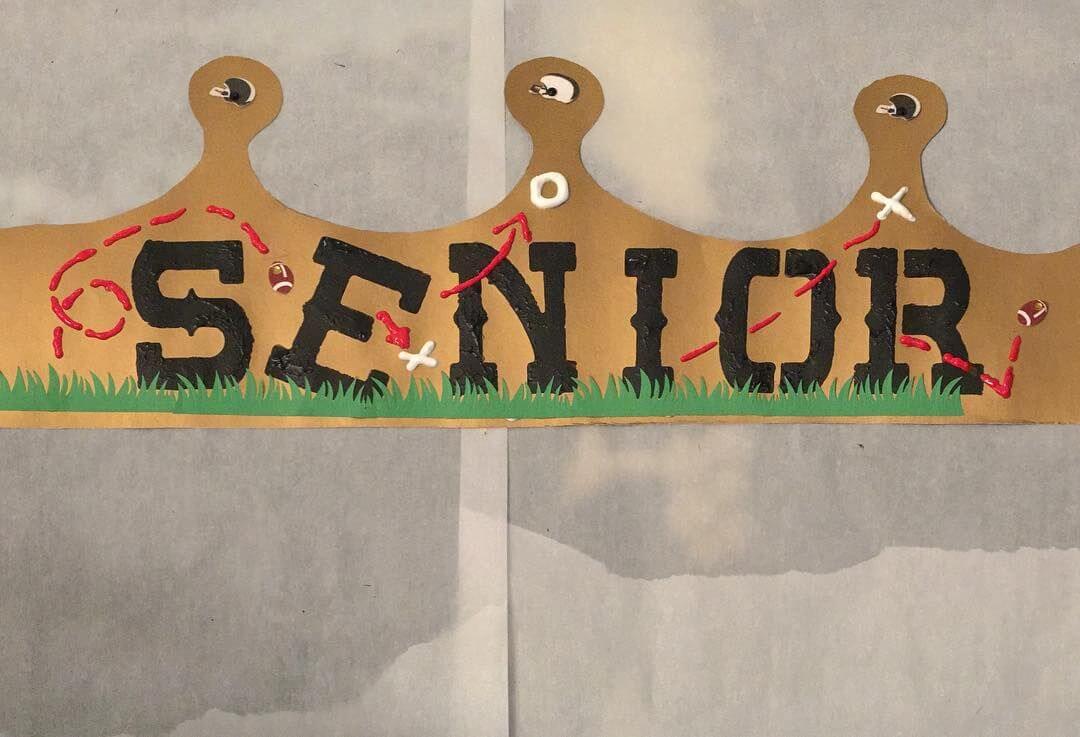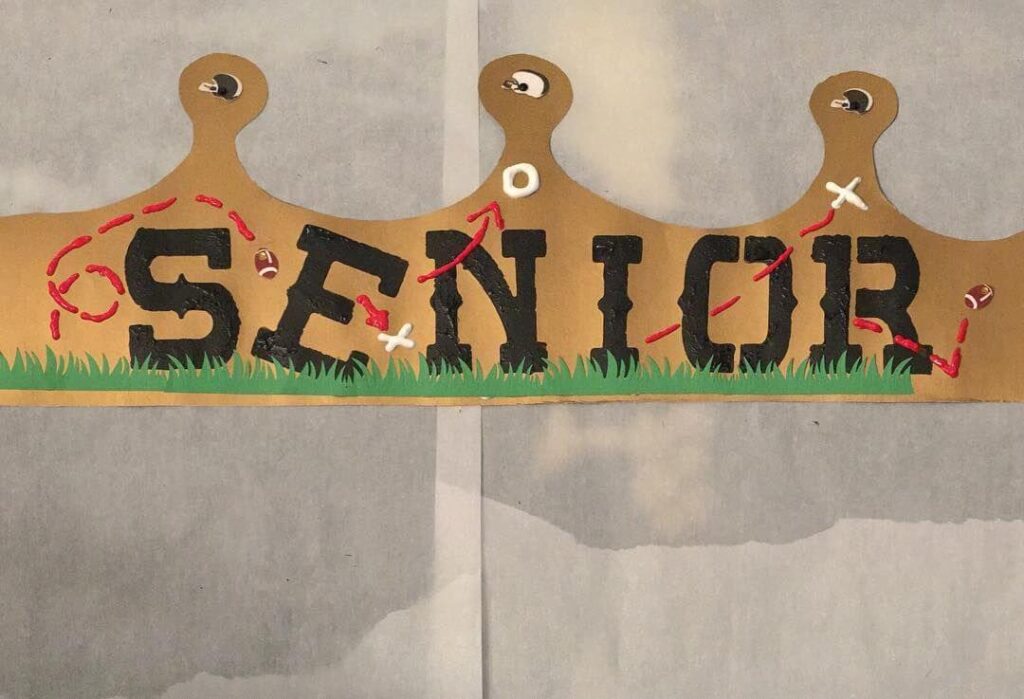 One of the most popular senior crown ideas for guys is to decorate it with your favorite sport.
If you're a football fan, this would be a really fun crown idea to recreate.
5. The Infinity Crown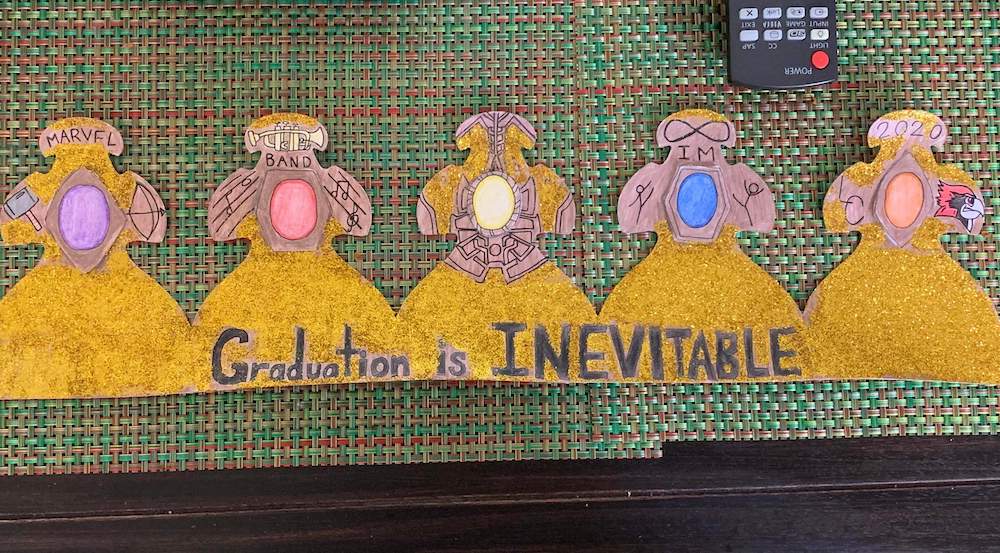 Fans of the Marvel movies will totally get this reference to the infinity stones.
One cool idea is to have each of the infinity stones represent one of your interests or hobbies throughout high school.
For example, this student was interested in Marvel and involved in band during school. They also added their graduation year on top of one of the stones.
So creative and unique!
6. Twenty One Pilots Senior Crown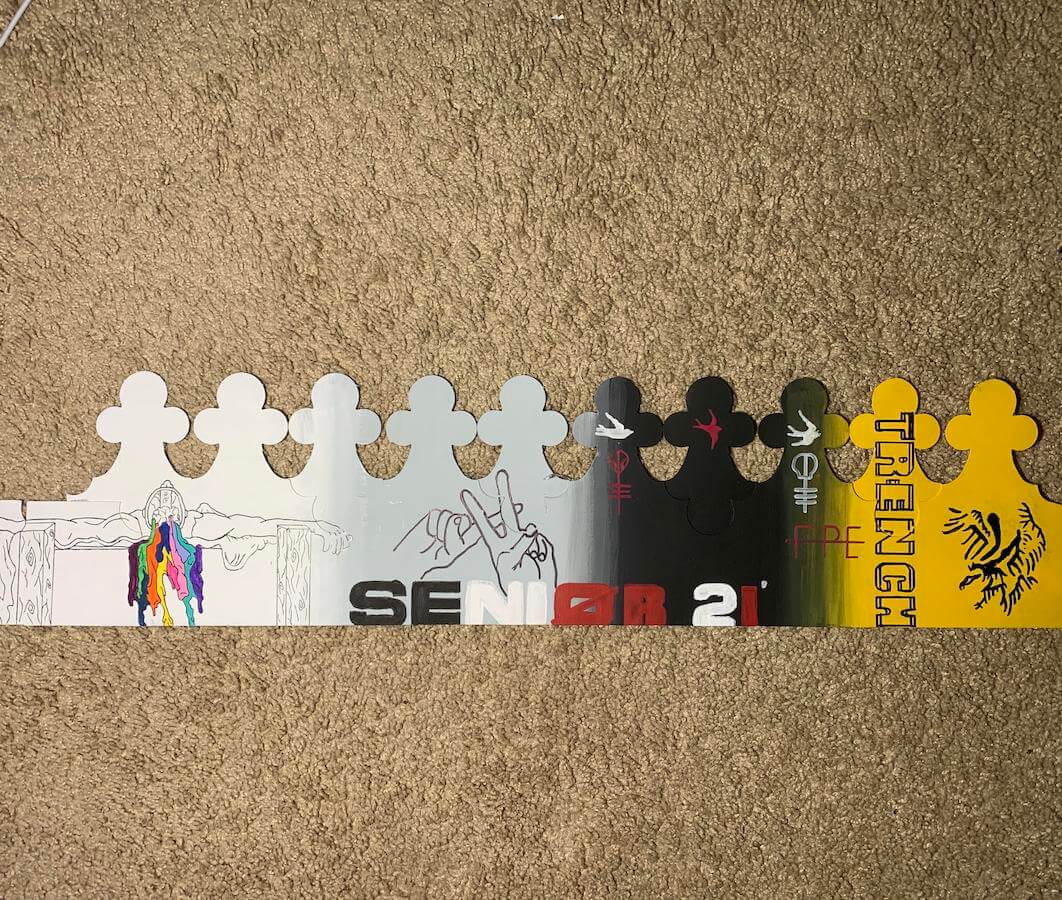 How talented is the Reddit user who made this Twenty One Pilots senior crown?
This is a great example of making a senior crown that shows off your interests or passions.
You could decorate your senior crown with artwork that represents your favorite band, artist, or TV show.
7. One Piece Senior Crown For Guys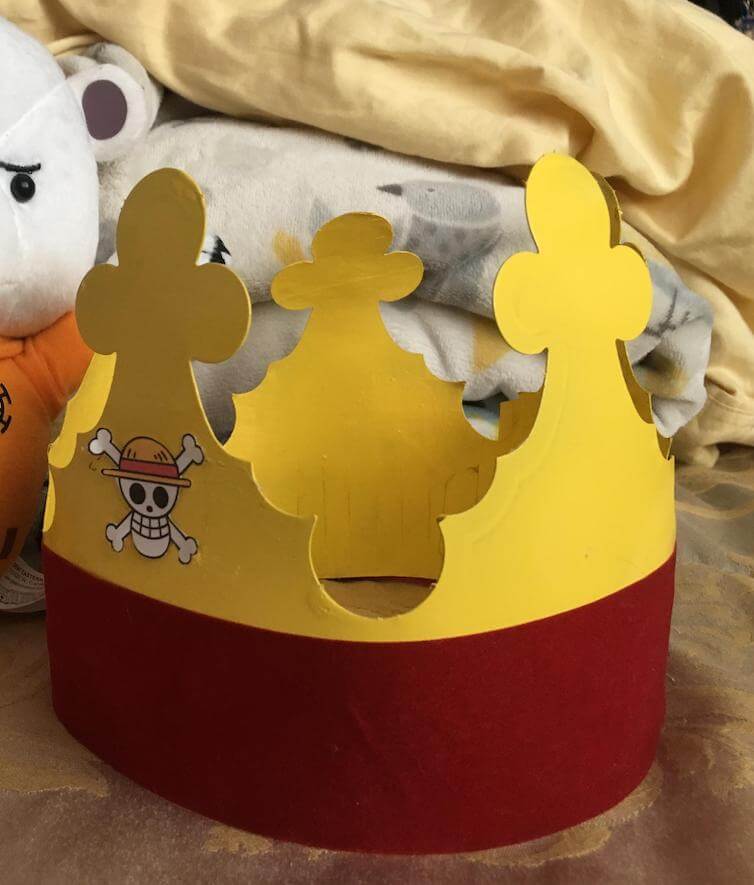 Anime fans will definitely appreciate this senior crown idea, which features the logo for the anime One Piece.
This is an example of a super simple senior crown idea for guys that turned out great! You don't have to make your crown super complex or intricate in order to make it look good.
8. Spongebob Senior Crown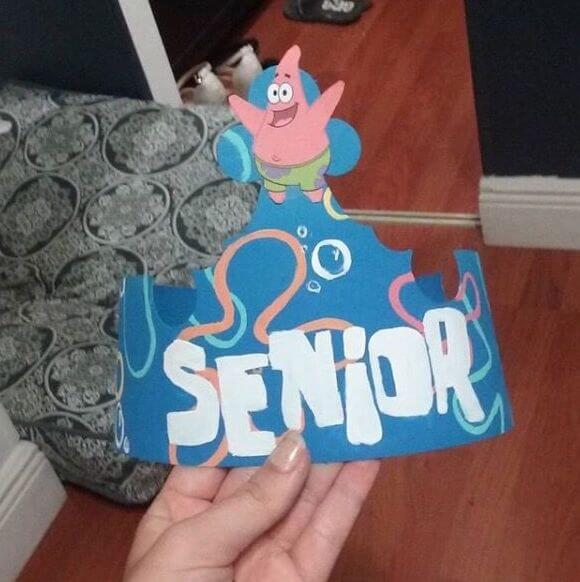 Here's another great example of basing your crown around one of your interests.
You could pick any TV show for your senior crown theme, but this Spongebob one does look really fun!
9. Baseball Senior Crown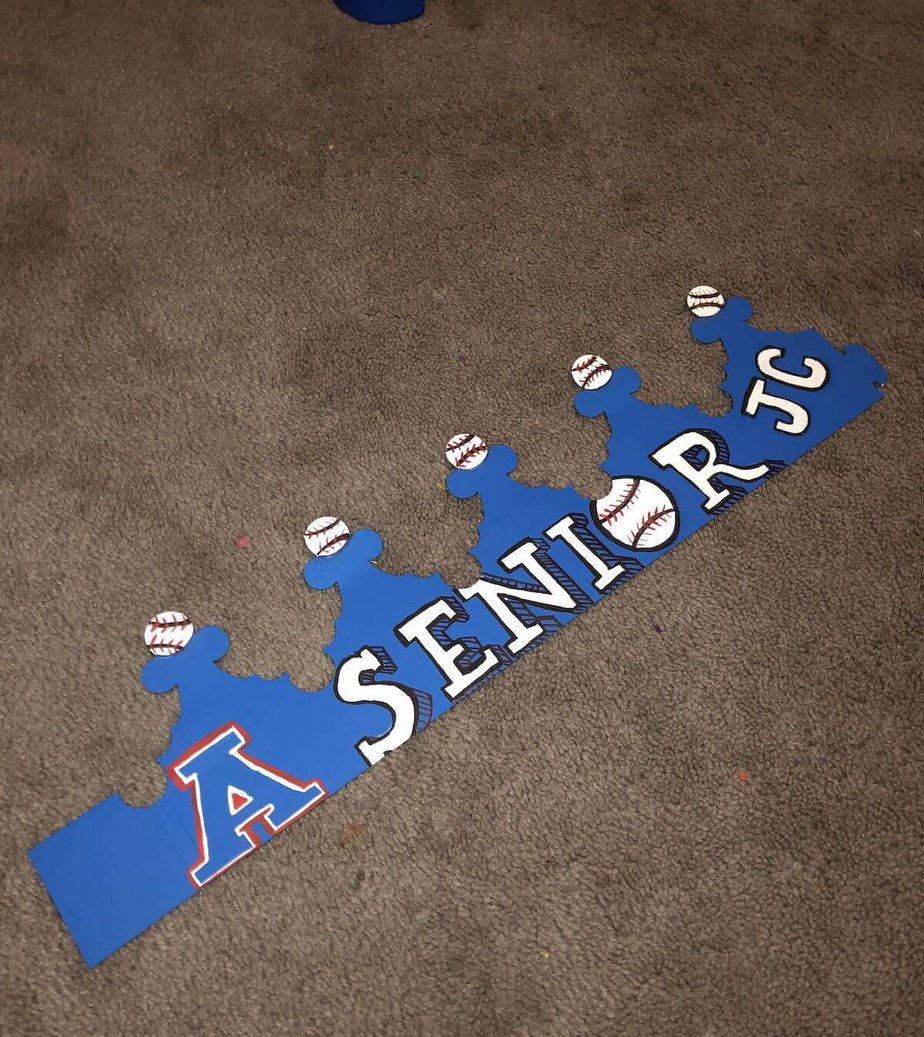 How good does this baseball-themed senior crown look?
The baseballs painted in the points of the crown look so good! And I love the baseball as the 'o' in senior.
10. J. Cole Crown Decoration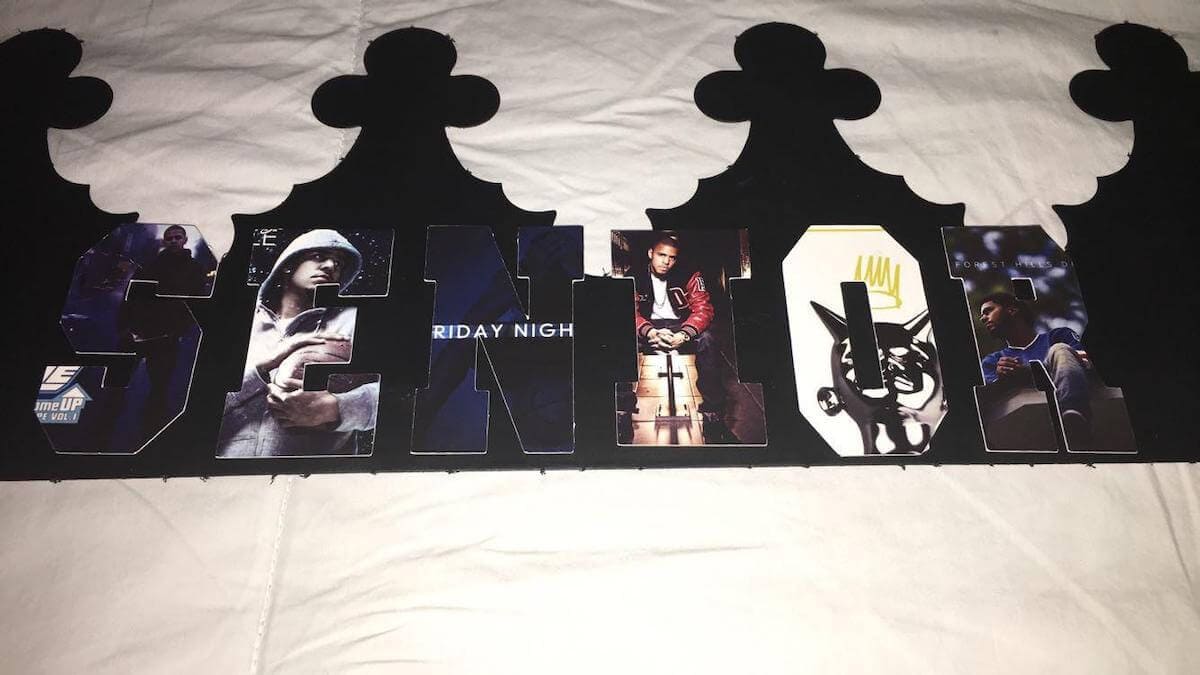 I was super impressed by this J. Cole themed crown idea. It's so smart to cut the letters for the word "senior" out of pictures of one of your interests.
Recreate this with your favorite artist by printing out pictures of their album covers, using stencils to cut out the word "senior", and then gluing them onto your crown.
11. Glittery Senior Crown For Guys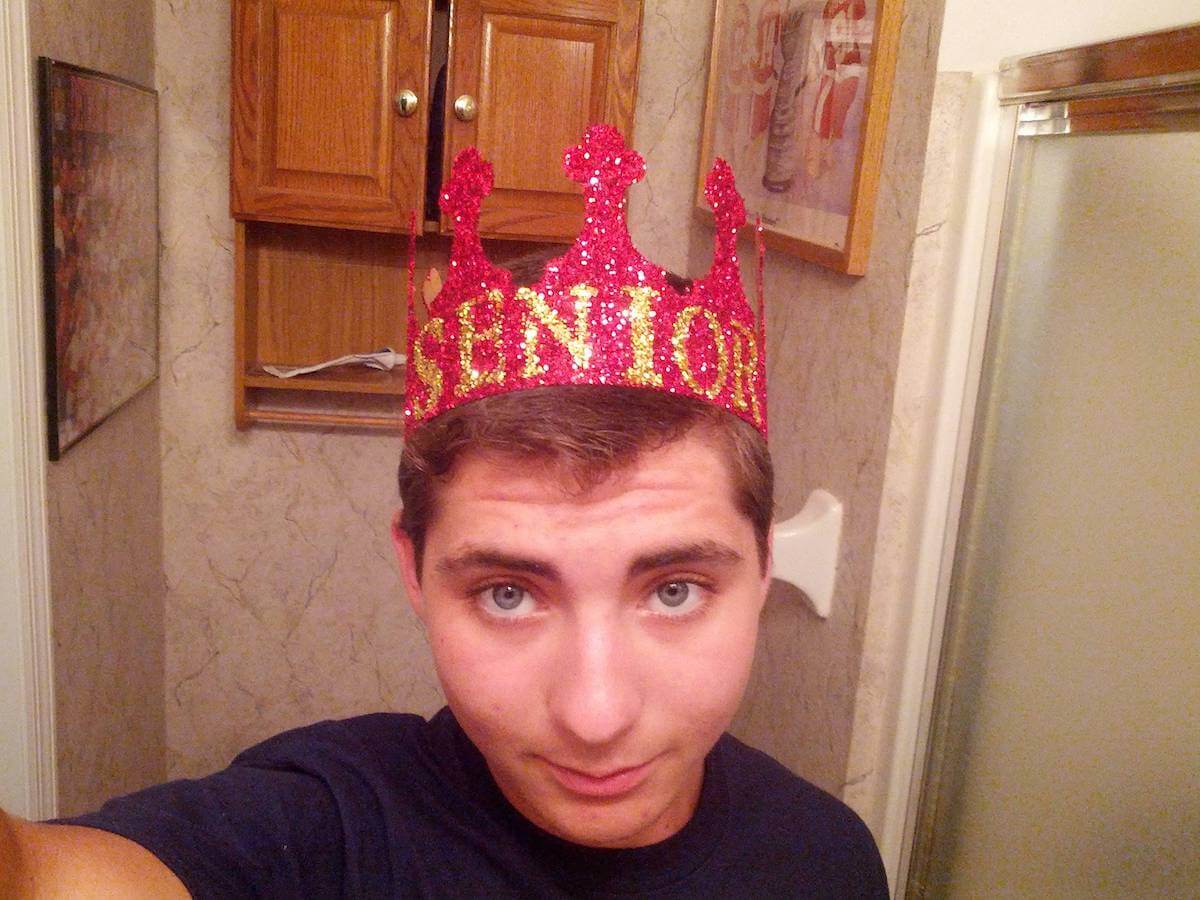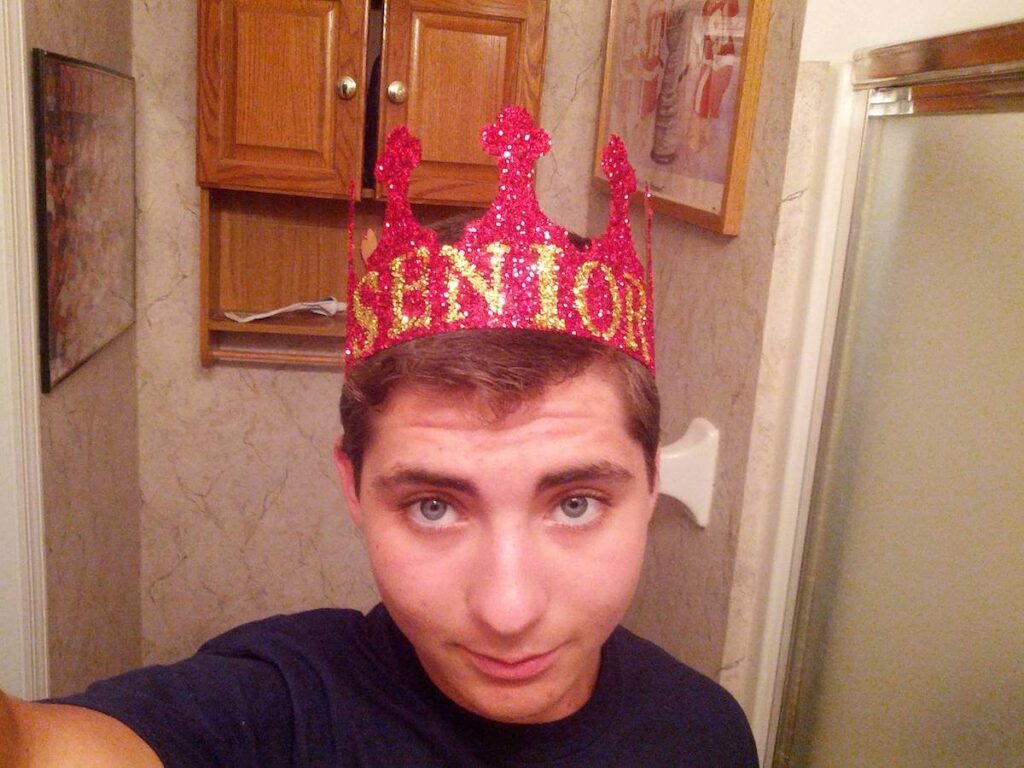 Who said guys can't add some sparkle to their senior crowns?
This glittery senior crown for guys looks awesome. You could definitely recreate this in your school's colors.
This post was all about the best senior crown ideas for guys.
You may also like: