In many high schools in the U.S., there is a tradition of decorating senior overalls to show off your school spirit and celebrate the last year of high school. If you're not sure how to decorate your own pair, here are 12 of the best spirit overalls ideas that will spark your creativity.
This post may contain affiliate links, which means I'll receive a commission if you purchase through my link, at no extra cost to you. Learn more: Affiliate Disclaimer.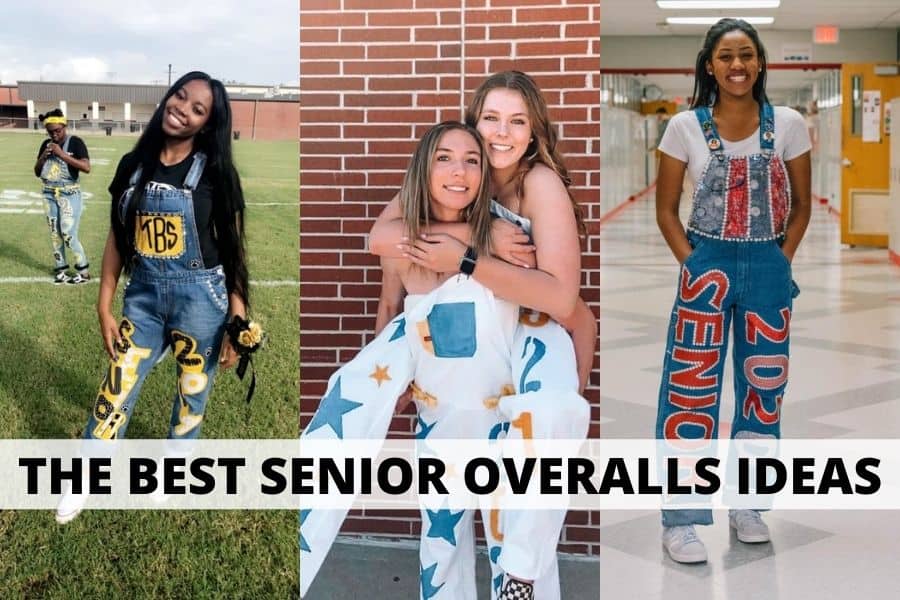 What Are Senior Overalls?
Decorating overalls is a tradition in many schools around the nation. They're meant to show off your school spirit and celebrate being in your last year of high school.
Seniors may wear their blinged out overalls to school during homecoming week, the first week of school, or another spirit week throughout the year. Some people also decorate overalls during or right before high school graduation.
What Do You Need To Make Senior Overalls?
Here are some of the supplies you need to make homecoming overalls:
Any color of overalls
Scissors
Ribbons, fabric trim, fringe, etc.
Gemstones, patches, and other decorations
How Do You Make Senior Overalls?
Making school spirit overalls is as simple or complicated as you want it to be!
You'll start with a plain pair of overalls. You can go with the classic blue denim, white denim, camouflage, or really any type of overalls you have!
I recommend checking out thrift stores if you want to do this project on a budget. If you're not having any luck at thrift stores, these overalls from Amazon aren't too expensive and they have great reviews.
Once you have all of your supplies, it's time to start decorating. Most seniors will write different words or slogans that celebrate their final year of school. You may want to include your grade, your graduation year, or your name on your overalls.
Now you can start adding any designs or embellishments you want. Popular embellishments include gemstones, faux fur trim, iron-on patches, and fabric paint.
The Best Senior Overalls Ideas
1. Simple White Senior Overalls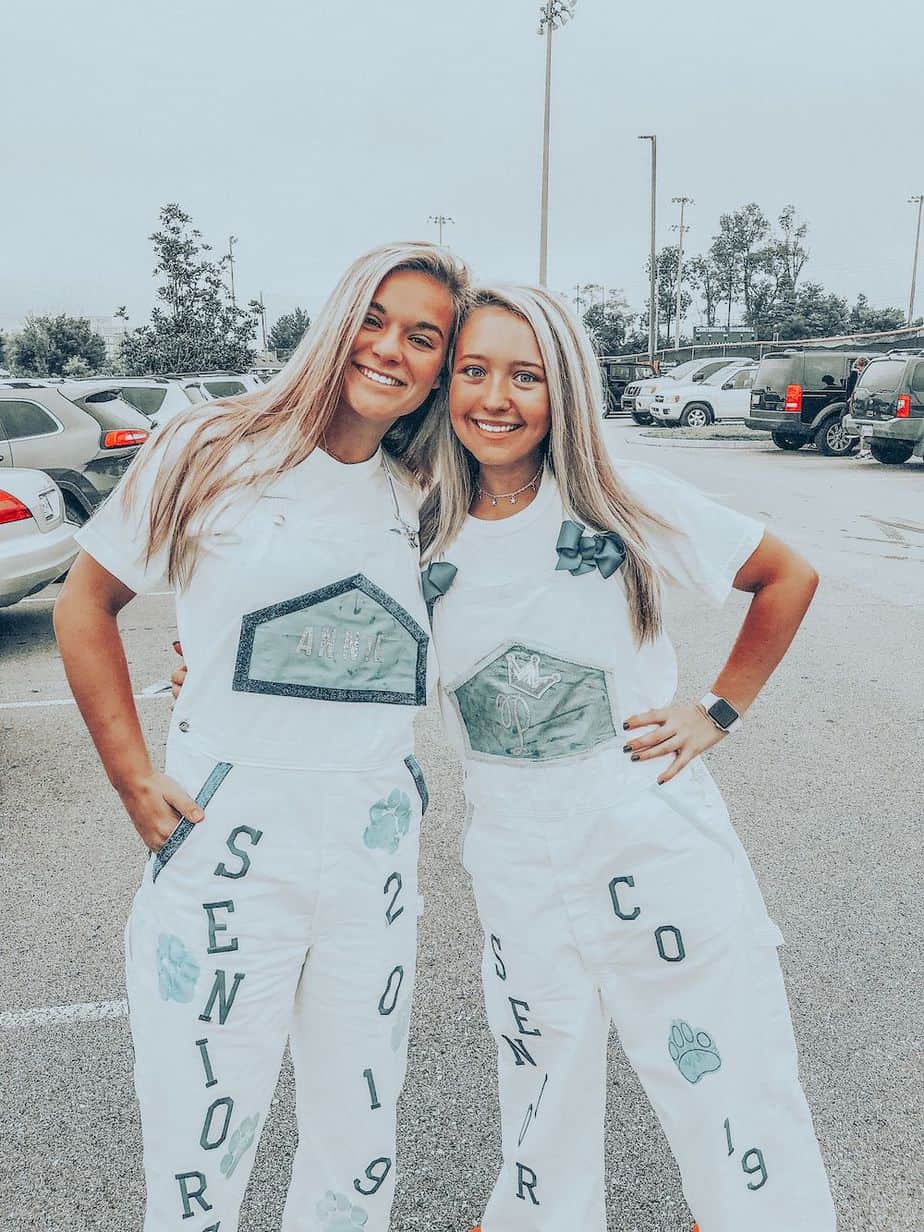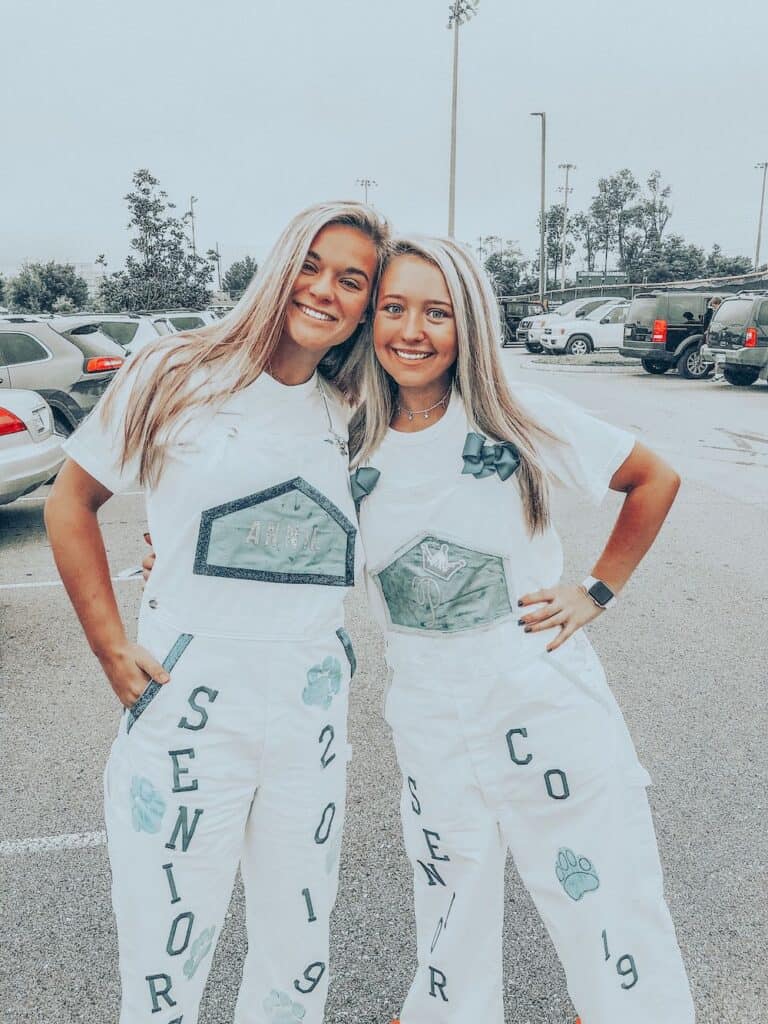 I love how clean and simple these white senior overalls look! Iron-on decorations make the whole process so much easier and less messy.
Just take a pair of white overalls, add some iron-on decals, and decorate the pockets!
2. Fringe Bottom Overalls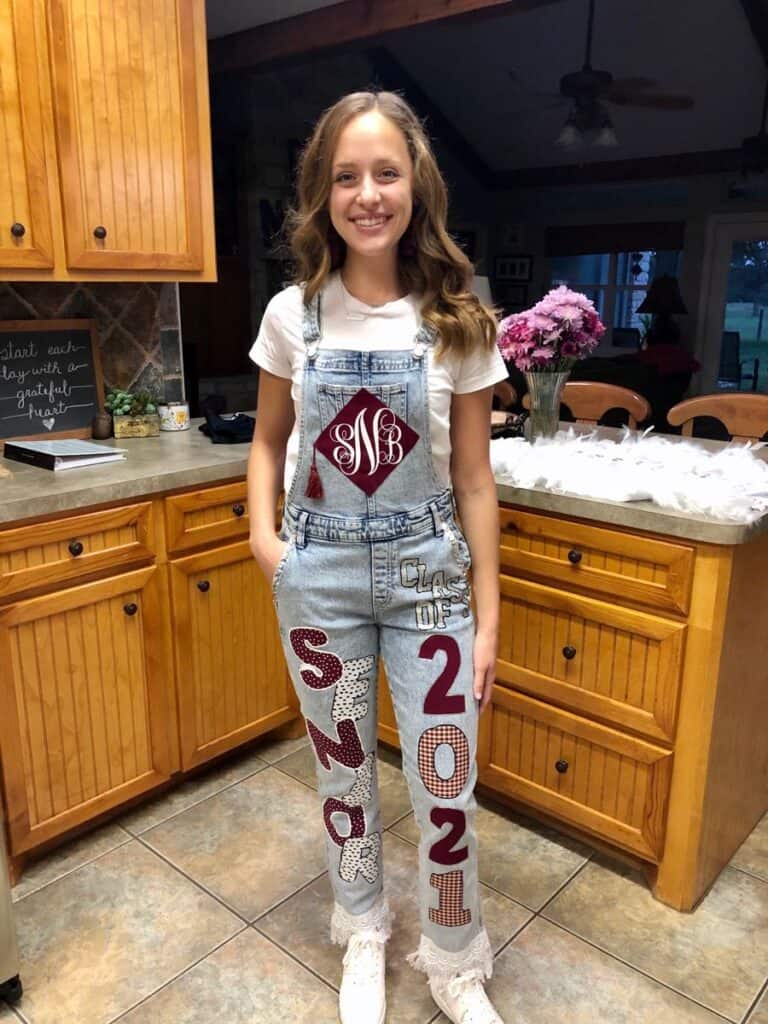 Another cute decorating idea is to glue some white fringe to the ankles of your overalls. This gives them a super fun and unique look.
3. Leopard Print Homecoming Overalls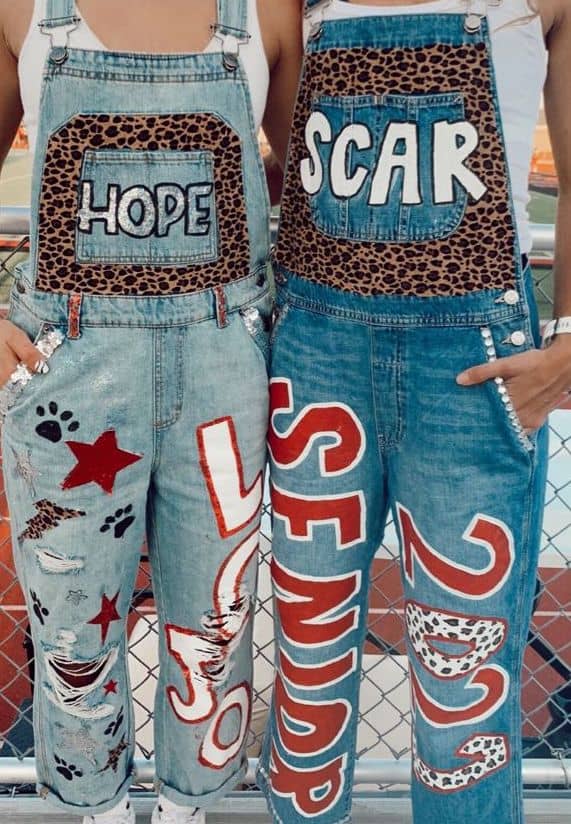 Another great way to make your overalls stand out is to add some patterned fabric. I love how these girls added leopard print fabric around the pocket area of their coveralls.
To recreate this look you'll need some leopard print fabric, sharp scissors, and fabric glue. Cut out your fabric in the shape that you need it and then glue it onto your overalls.
4. School Spirit Overalls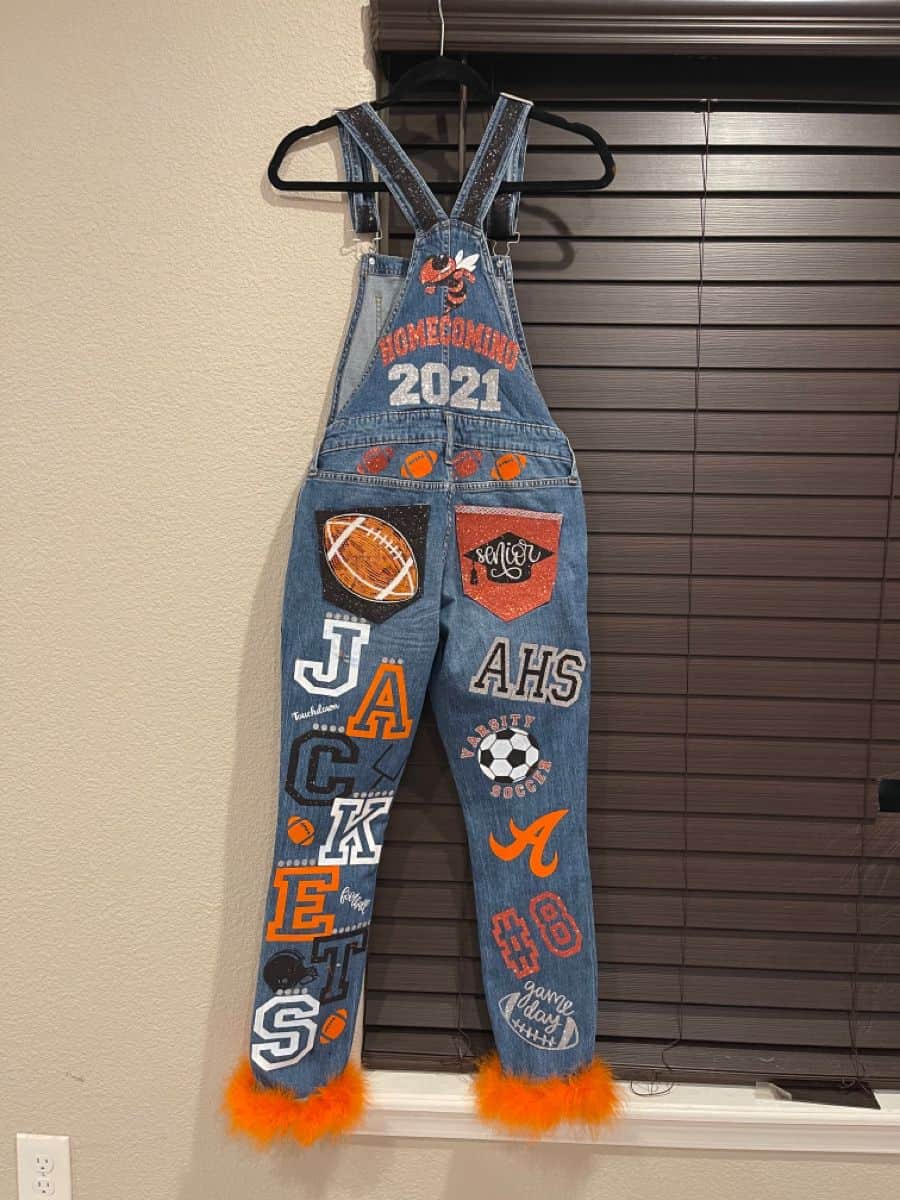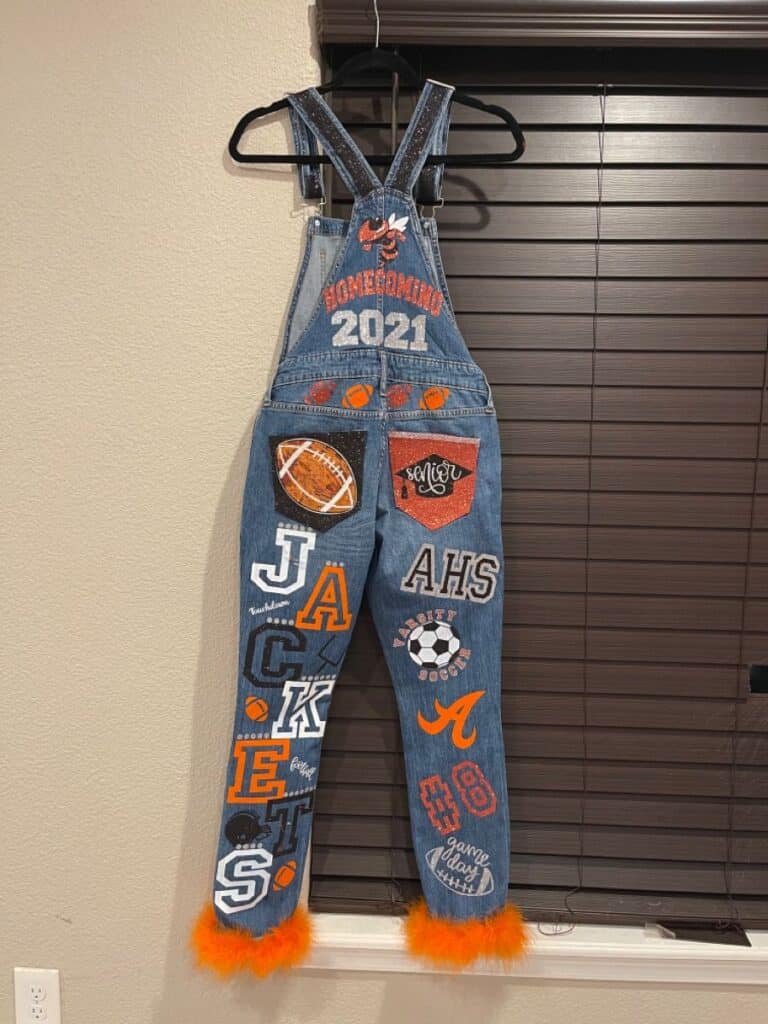 Do you want to go all out and show your school spirit? Decorate your overalls with your school's colors.
Get tons of patches and iron-on decals with your mascot, graduation year, and sports teams. Spell out your school's name with your school colors. I also love the idea of adding a faux fur trim around the ankles in your school colors.
5. Purple And White Senior Spirit Overalls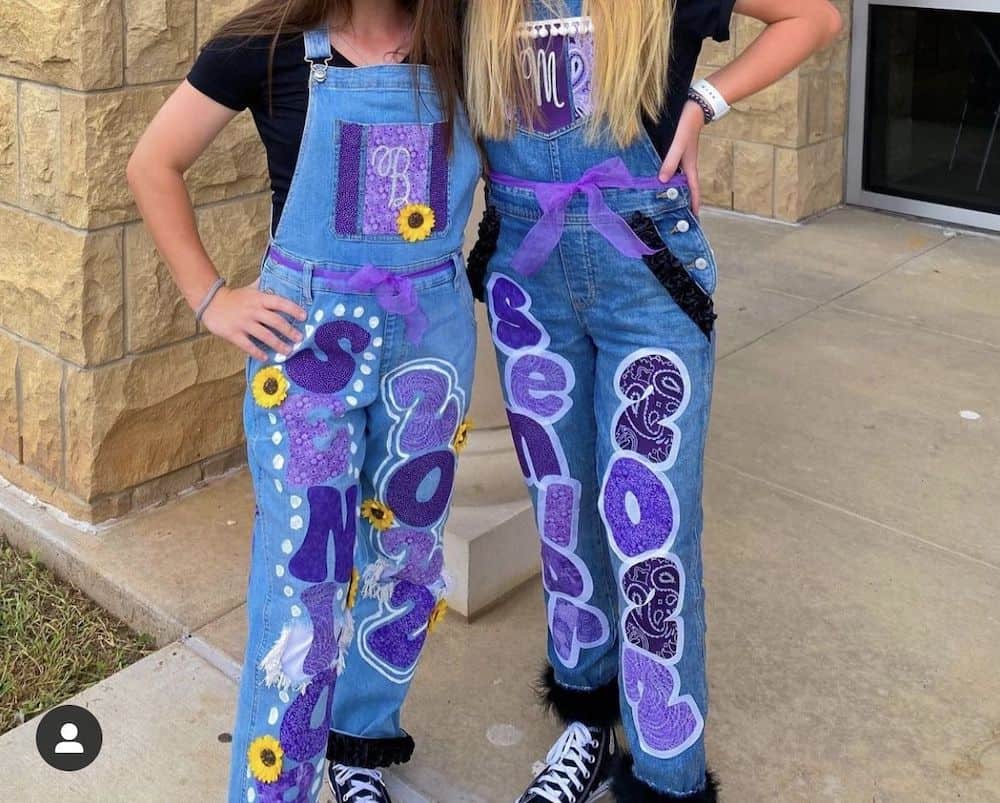 One great way to get really cute letters on your senior overalls is to use fabric. Trace the outline of the letters onto some cute patterned fabric, cut them out, and then use fabric glue to secure them onto your overalls.
Once all of your letters are secured down, you can use other decorations like paint, ribbon, flowers, etc. to enhance your design.
6. Yellow And Black Overalls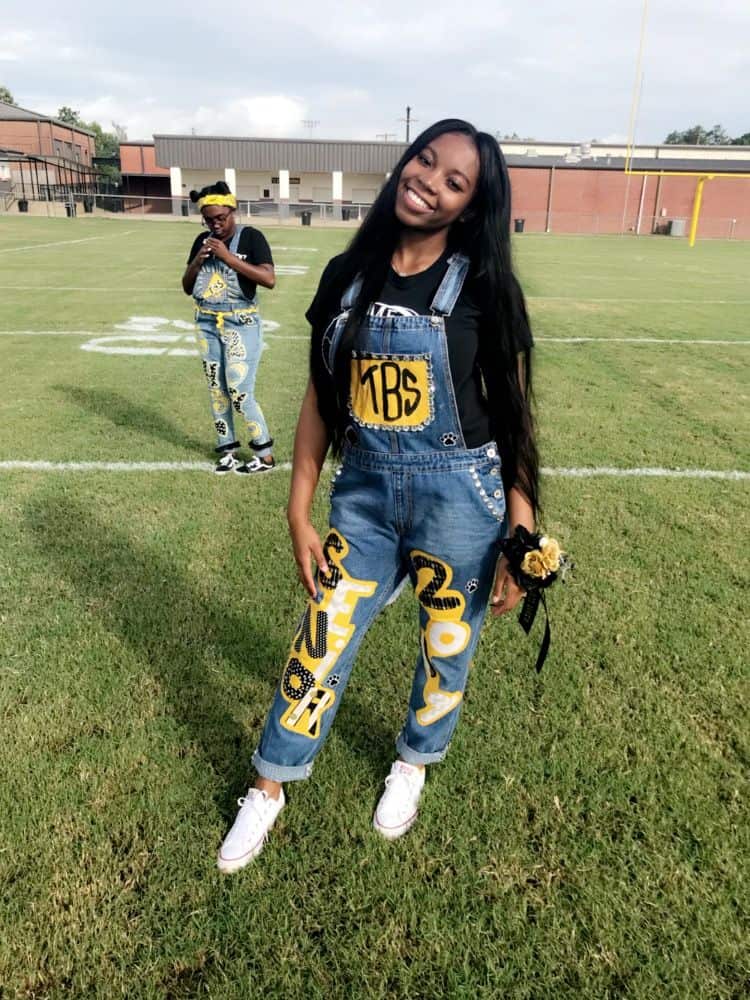 How adorable are these yellow and black senior overalls? These look like they were made with patterned fabric, faux gemstones, and fabric paint.
7. Camouflage Overalls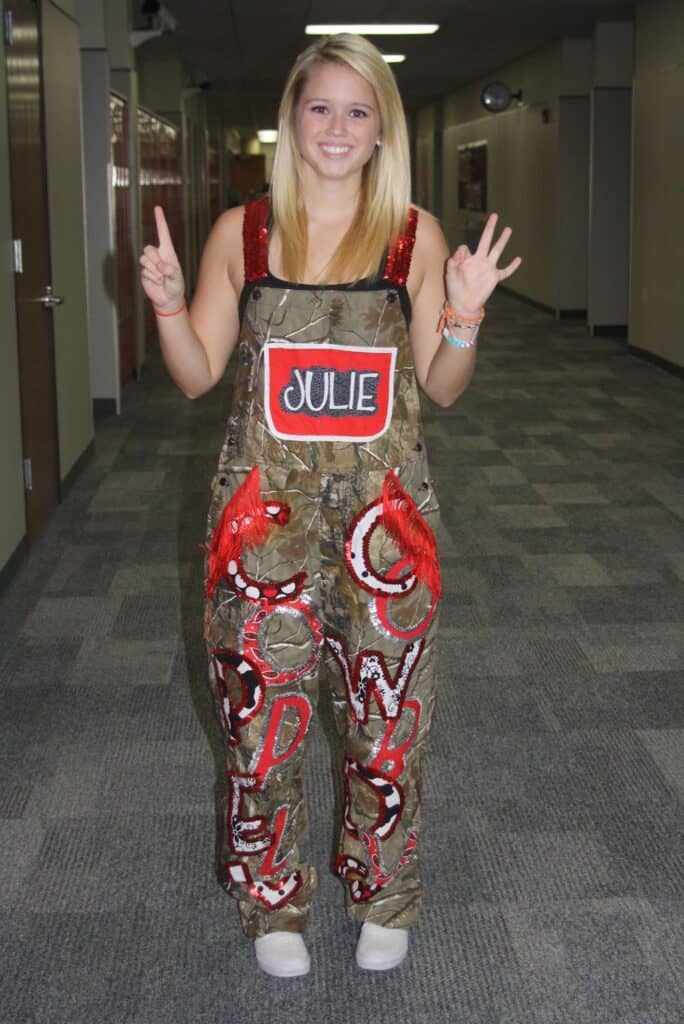 Who said your senior overalls have to be denim? If camo print is more your jam then go for it! Add some cute fabric letters, paint, and cute fringe to finish off the look.
8. Senior Homecoming Overalls Dress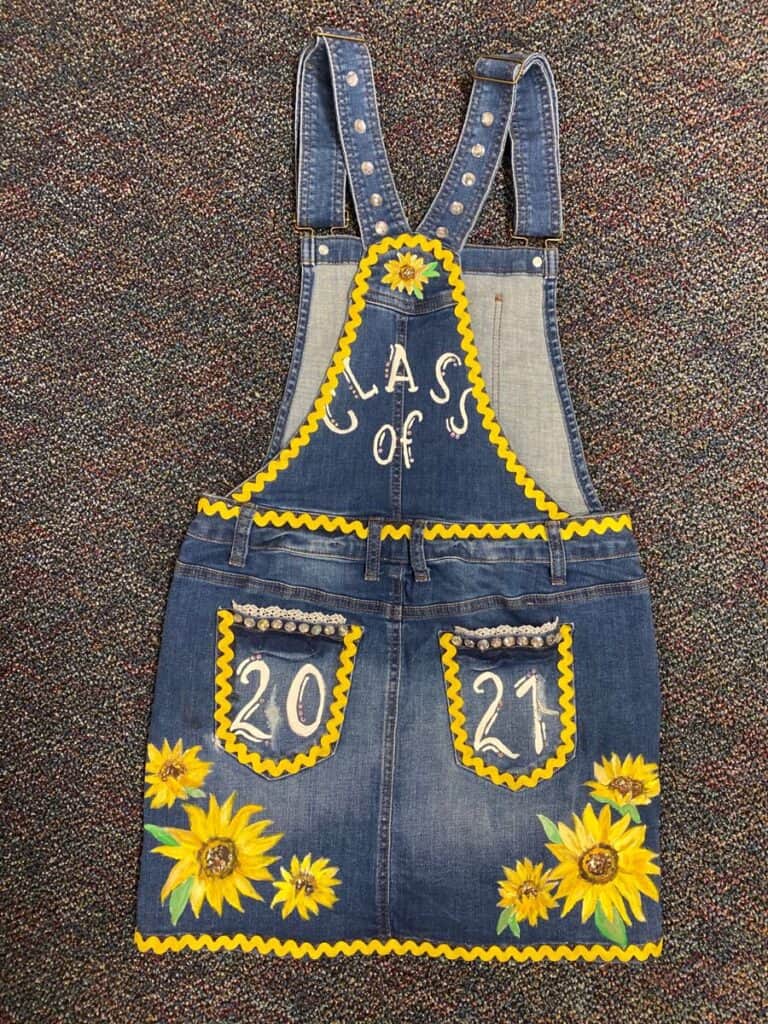 There are plenty of different types of overalls, so don't feel like you need to wear the traditional long pants overalls.
I love how this senior made an overalls dress. They added plenty of cute iron-on patches, fun yellow trim, and put their graduation year on the pockets with fabric paint. So many fun ideas for overalls.
9. Black And White Senior Spirit Overalls
Looking for a super simple idea for senior overalls? Use black paint to create some designs on white overalls.
10. Blinged Out Overalls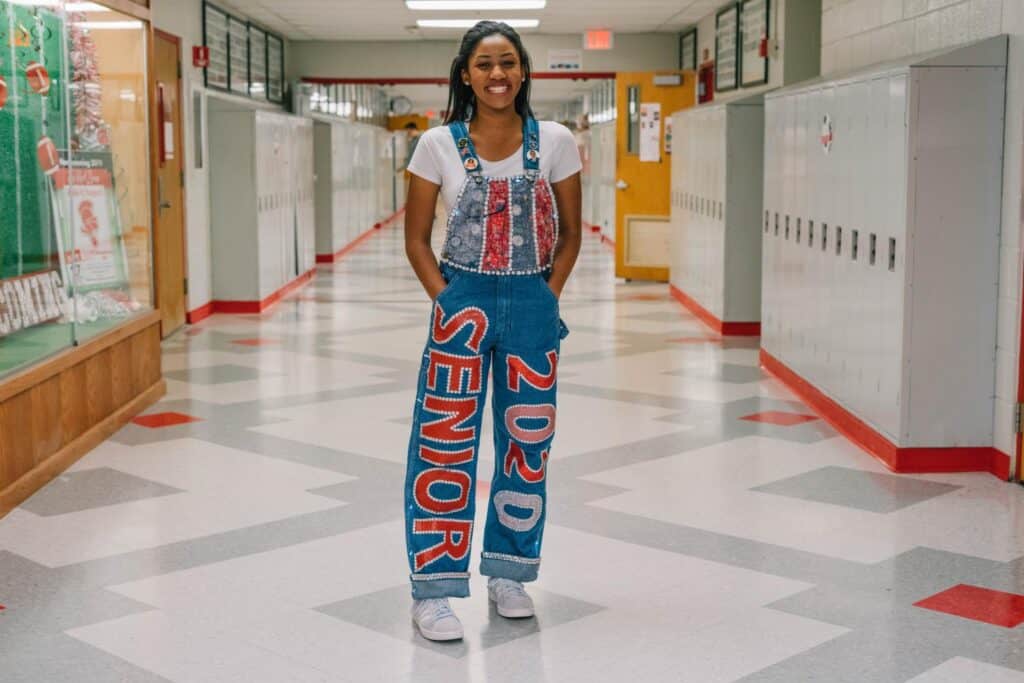 How stunning are these embellished school spirit overalls?
This senior spent over 10 hours painting, gluing, and decorating these jeans to perfection. It's hard to tell from the picture, but they even light up!
According to the girl who made them, it took quite a bit of trial and error. "I found a solution. I poked holes through the sides of my overalls, and strung the lights through, hiding the battery for the lights in my pocket."
11. Decorated Pockets
Another great way to make your overalls stand out is to decorate the pockets. Add a fun design or write your favorite quote on the pocket to make them pop.
12. Simple Stars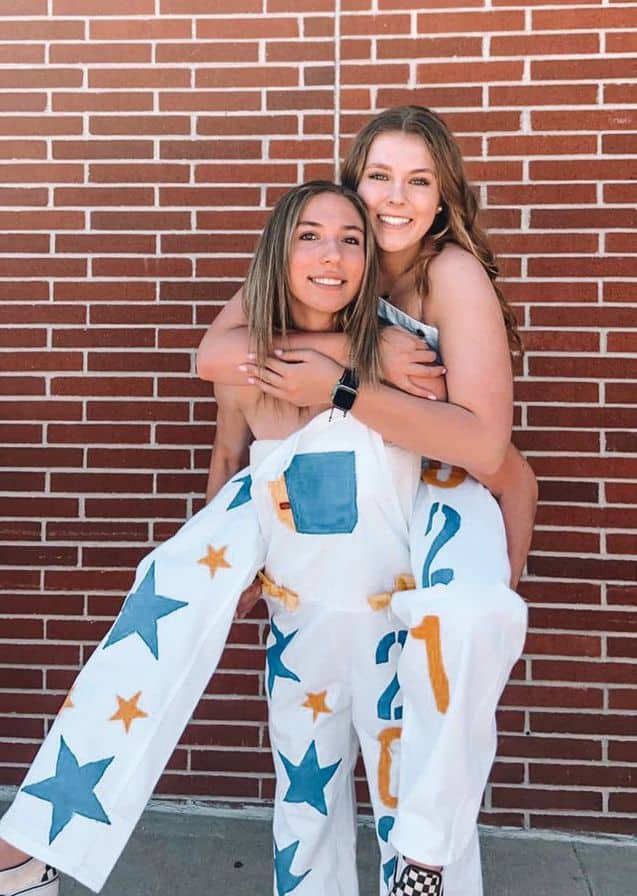 I'm absolutely obsessed with these simple senior spirit overalls! All you really need are some star stencils and fabric paint.
Paint your graduation year on one pant leg and some multicolored stars on your other leg. Bonus points if you use your school's colors.
This post was all about the best senior overalls ideas for homecoming or spirit week.
You may also like: