55 Free Christmas Wallpapers For iPhone
This post is all about free Christmas Wallpapers for iPhone.
Are you looking for the best aesthetic Christmas wallpapers for iPhone?
Once the temperatures drop, I'm SO ready for cookie baking, house decorating, hot cocoa drinking, and present shopping. And you better believe that Christmas music is playing in my house 24/7 during the early winter months.
One little touch that you may not think of is to add a cute Christmas or winter wallpaper background to your phone. It may seem like a small detail, but it's a great way to get in the holiday spirit every time you open your phone.
If you want to bring Christmas cheer with you everywhere you go, here are 55 Christmas wallpapers for iPhone that are sure to brighten your day.
How To Download And Use The Christmas Wallpapers for iPhone
These Christmas backgrounds are SUPER easy to use on your iPhone (or any phone really). To save these wallpapers:
On your phone: Hold down on the picture and save to your camera roll. Or just take a screenshot and crop it.
On Desktop: Right click and press "save image". Open your downloads folder and send the image to your phone using Airdrop, email, or messages.
Once the wallpapers are in your camera roll, you can just go into your settings and change the wallpaper. Set them as your lock screen, home screen, or both.
If you find that the images are a little bit too bright or busy for your phone, bring the image into Canva and add a muted overlay on top. If you're not familiar with Canva, you can also try decreasing the contrast or playing around with brightness right on your phone.
Cozy Aesthetic Christmas Wallpapers For iPhone
Christmas is all about being cozy for me. I'm not a winter person so I need to think about all of the warm and fuzzy moments ahead when winter is approaching.
Here are some of the coziest Christmas wallpapers for iPhone that will give you all of the warm and fuzzy feels whenever you open your phone.
Cozy Fireplace Wallpaper
If this Christmas wallpaper doesn't make you feel immediately cozy, I don't know what will. There's nothing like a hot drink, some cozy socks, and a wood burning stove in the winter.
Gingerbread Wallpaper
There's nothing cozier than the smell of gingerbread cookies at Christmastime. Bring that feeling with you everywhere you go with this gingerbread Christmas wallpaper background for iPhone.
Cozy Mug iPhone Wallpaper
The moody tones in this wallpaper make me feel so warm and fuzzy. I want to sit by a snowy window with a mug of hot chocolate ASAP.
Cozy Christmas Flat Lay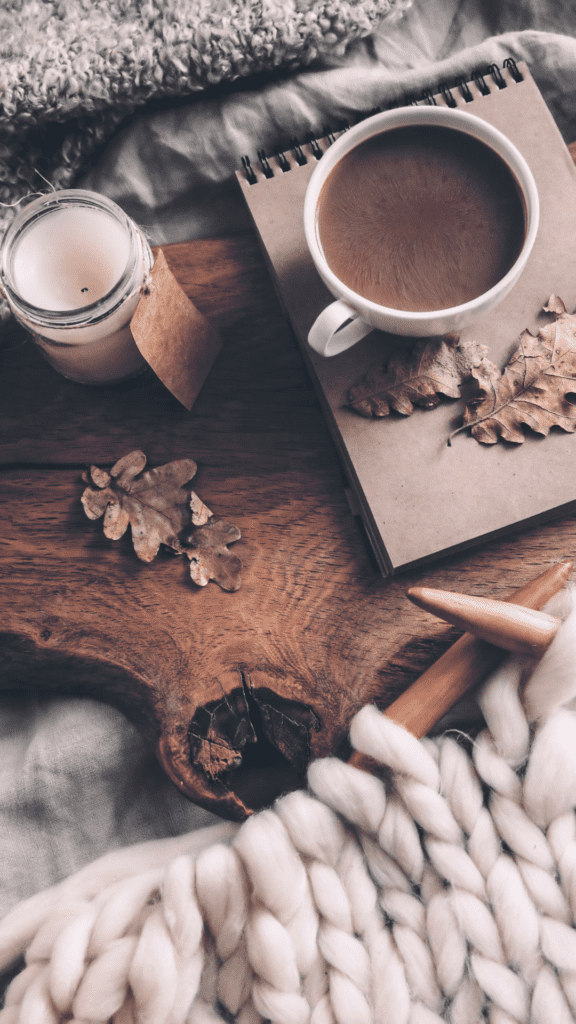 I love all of the layers and textures in this cozy Christmas flat lay background.
Close Up Mug Wallpaper
Okay I know I'm including a lot of mug shots (get it?), but there's just something so cozy about a cup of something warm at Christmastime. And honestly, I want to carry those vibes with me on my phone at all times.
Hot Chocolate iPhone Wallpaper
Okay imagine you're a kid again and you just got done playing outside in the snow. Your mom is waiting inside with a mug of hot chocolate and all of the marshmallows you can eat. Are you feeling cozy yet??
Christmas Wallpaper Graphics For iPhone
These Christmas wallpaper graphics are SO cute, you'll instantly get into the holiday spirit anytime you look at your phone.
Pine Tree Overload
Colorful Ornaments
Santa's Helpers iPhone Wallpaper
Christmas Colors
Red Reindeer Christmas wallpaper
Sage Green Christmas Ornaments
Christmas Aesthetic iPhone Wallpaper
Cozy Mittens and Stockings
Hot Cocoa Bliss
Gingerbread Cookies iPhone Wallpaper
All Things Christmas Wallpaper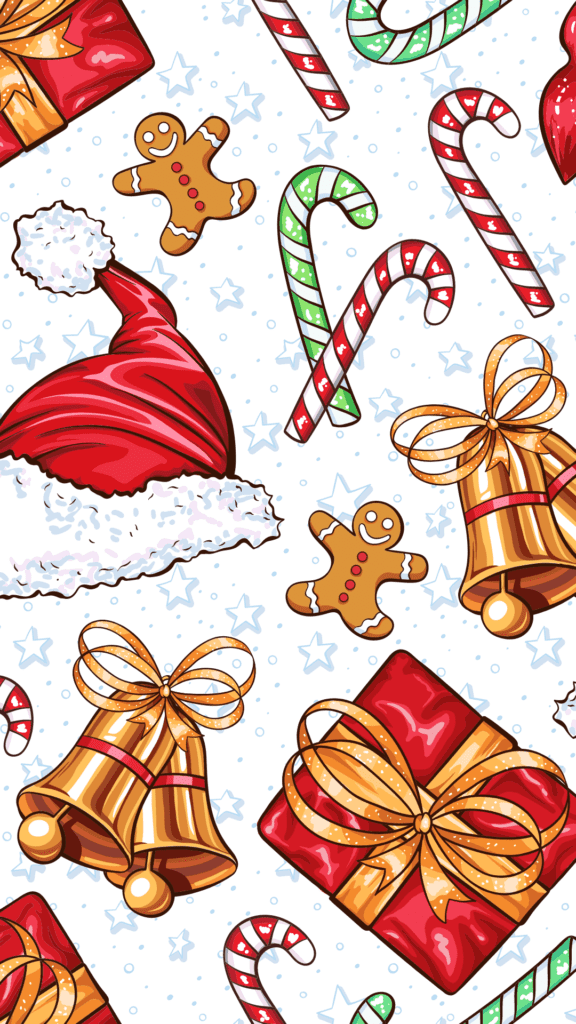 Pastel Christmas
Christmas Vibes iPhone Wallpaper
Christmas Tree Drawings
Maximalist Christmas Wallpaper iPhone
Snowflake Christmas Background
Christmas Tree iPhone Wallpapers
Red, Silver, and Gold Christmas Tree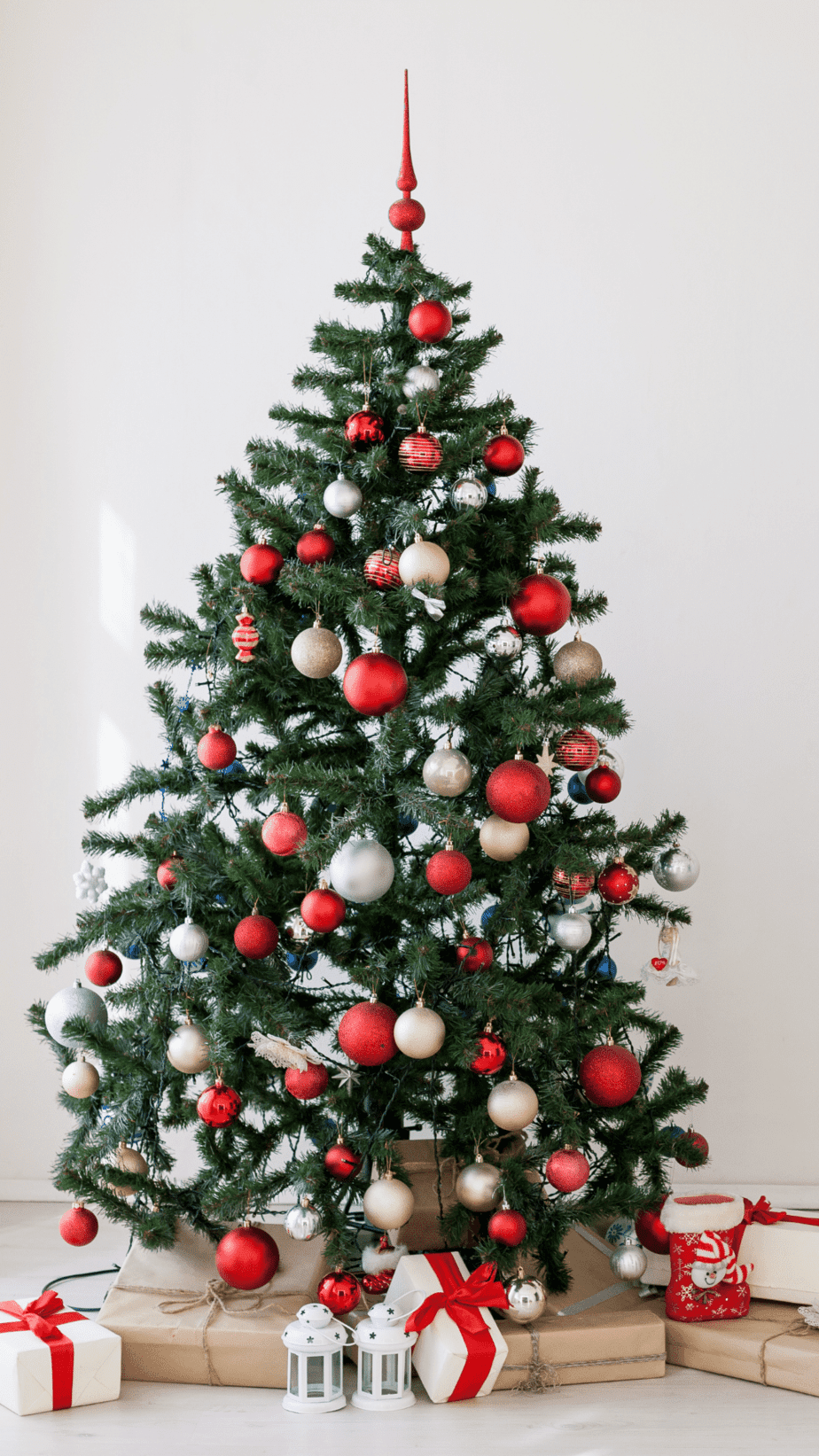 I bet there are the BEST Christmas presents underneath this tree. This Christmas iPhone wallpaper would definitely get me in the holiday spirit.
Blurred Christmas Tree Wallpaper
I love the blurred Christmas tree backgrounds because you'll actually be able to read the text on your screen. Plus, it's just the coziest vibes.
Christmas Tree Lights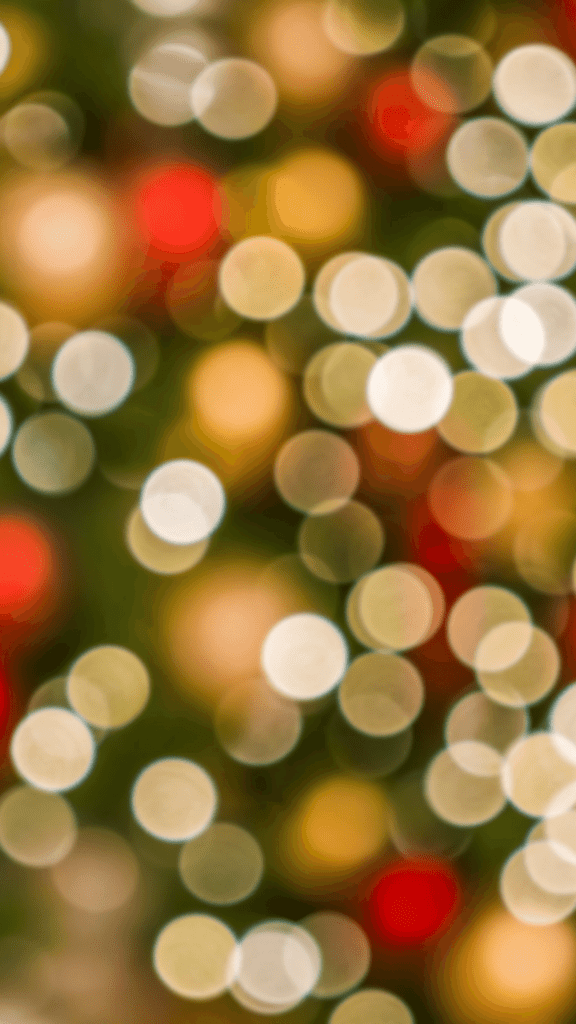 These out of focus Christmas tree lights will give off Christmas vibes without being TOO in your face about it. Plus, you'll be able to see all of your apps really clearly.
Warm Tone Christmas Tree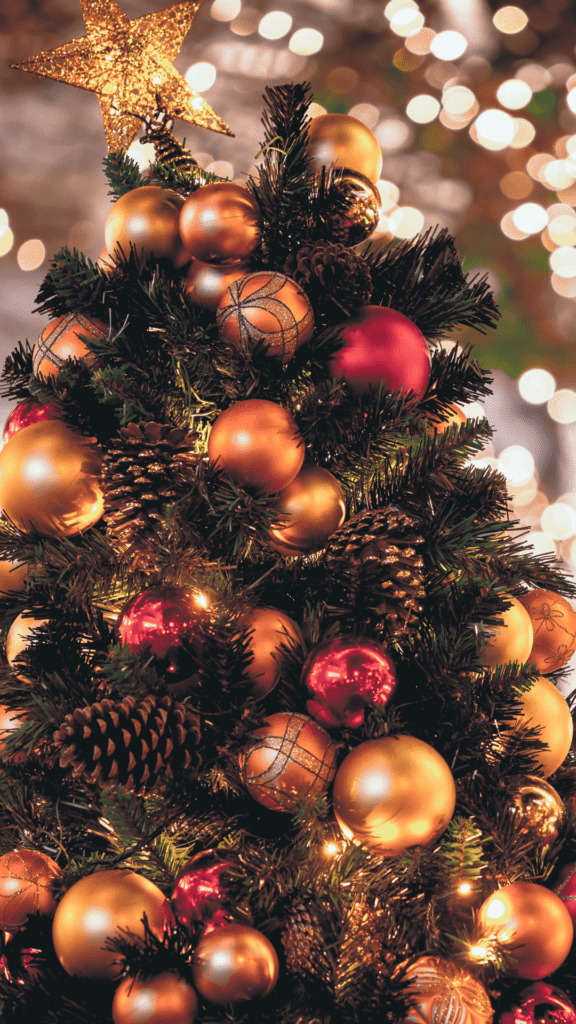 I love all of the warm toned ornaments and festive pinecones on this Christmas tree.
Decked Out Christmas Tree
The tree in this Christmas wallpaper is absolutely DECKED out and I'm here for it. I love the combo of ornaments, bows, and lights on it.
More Christmas Tree Lights
You can't go wrong with an artsy, out-of-focus Christmas tree iPhone wallpaper.
Outdoor Christmas Tree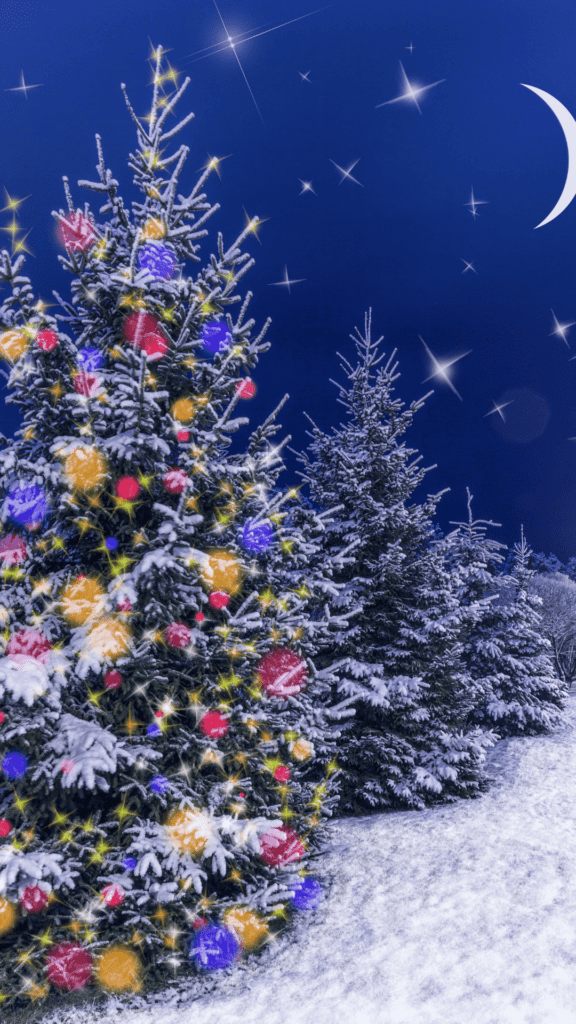 This whole snowy Christmas tree scene looks totally magical.
Giant Christmas Tree
I've always wanted to live somewhere where they light up a giant Christmas tree outside. You can bring the Christmas town vibes to your phone with this giant Christmas tree iPhone wallpaper.
Christmas Market iPhone Wallpapers
A bucket list dream of mine is to visit the Christmas markets in Europe. Until I can make that a reality, I'm definitely going to be using one of these Christmas market pictures as a wallpaper on my phone.
I can almost taste the gingerbread and mulled wine just looking at these Christmas market iPhone wallpapers.
Cozy Christmas Market Stall
I bet this Christmas market stall sells the BEST sweet baked goods.
Christmas Market At Night
This looks like the Christmas market of my DREAMS! I just want to sip hot chocolate and ride on that magical carousel. I'm definitely setting this Christmas market wallpaper as my iPhone background for at least a few weeks this year.
European Streets at Christmastime
How stunning is this cobblestone street that's decked out in Christmas decorations?!? It's giving such cozy Christmas vibes.
Christmas Market Vendor
This Christmas market vendor definitely knows how to decorate their stall. This would be such an adorable Christmas themed wallpaper.
Christmas Market Aerial View
Somehow the Christmas markets look even more magical from above. This is such an aesthetic Christmas iPhone wallpaper.
Santa's Workshop
This is one of my favorite Christmas market scenes. I love the garland, stuffed animals, and cozy Christmas lights on this Santa's Workshop market stall.
Snowy Christmas Market
The snow, the warm glow of the lights, and the beautiful Christmas tree in the background. This picture is just SO magical and I definitely want to make it my iPhone background.
Winter iPhone Wallpapers
Sometimes you just want to appreciate winter without all of the Christmas stuff getting in the way. Here are some of the most aesthetic winter wallpapers for iPhone to get you excited about the coming season.
Snow Flocked Trees
What a gorgeous winter scene. I love waking up and looking out at the snow covered trees after a night of snowfall. This is the perfect winter iPhone background for snow lovers.
Snowy Winter iPhone Background
This fun snowy scene would be a perfect winter wonderland iPhone background.
Winter Pinecones
This picture just feels like I'm on a snowy winter hike among the pine trees.
Aerial Snow Covered Trees
Snow-capped trees somehow look even more beautiful from above. I absolutely love this aerial view of a snowy forest for an iPhone background.
Blurry Pine Tree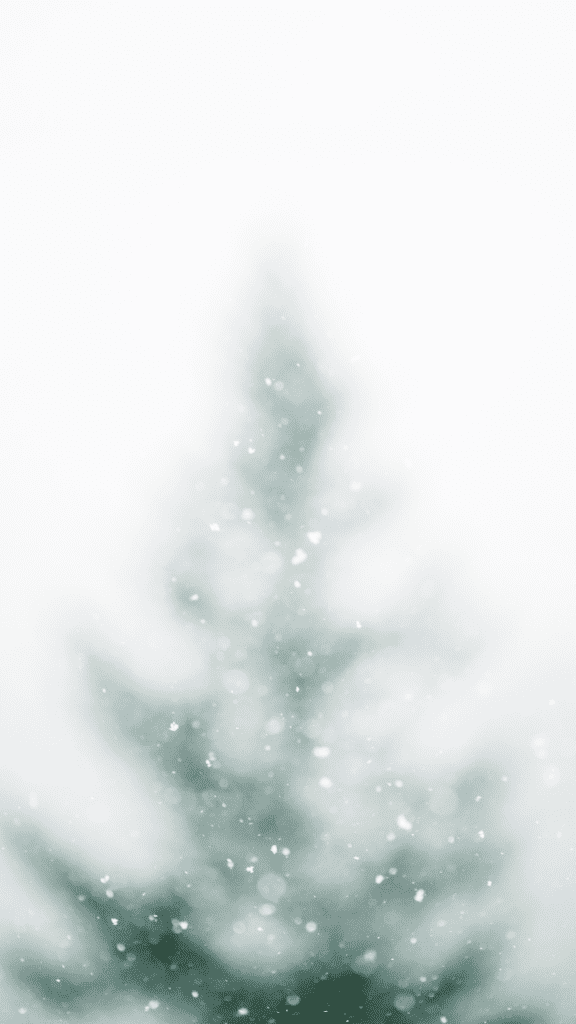 This iPhone wallpaper reminds me of a winter blizzard. It would be perfect as a phone background because you would be able to see all of your apps really clearly.
Snowy Mountain Scene
The mountains are calling! How peaceful does this winter mountain scene look?
Other Christmas Wallpapers for iPhone
Cozy Present Background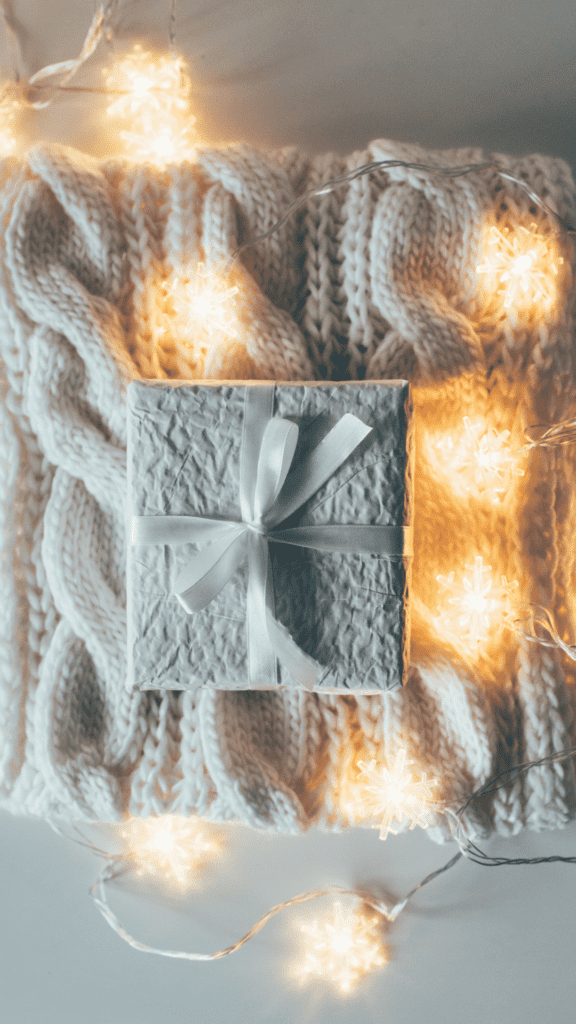 There's so much texture and pattern in this cozy Christmas present iPhone wallpaper.
Bright Red Christmas Gift
If you want to add a pop of color to your lock screen, this wallpaper is perfect. The bright red is so cheery for Christmastime.
Cozy Plaid Pile of Presents
I love a beautifully wrapped Christmas present. These plaid themed Christmas presents are so perfectly wrapped and they are so pleasing to look at.
Christmas Cookies Wallpaper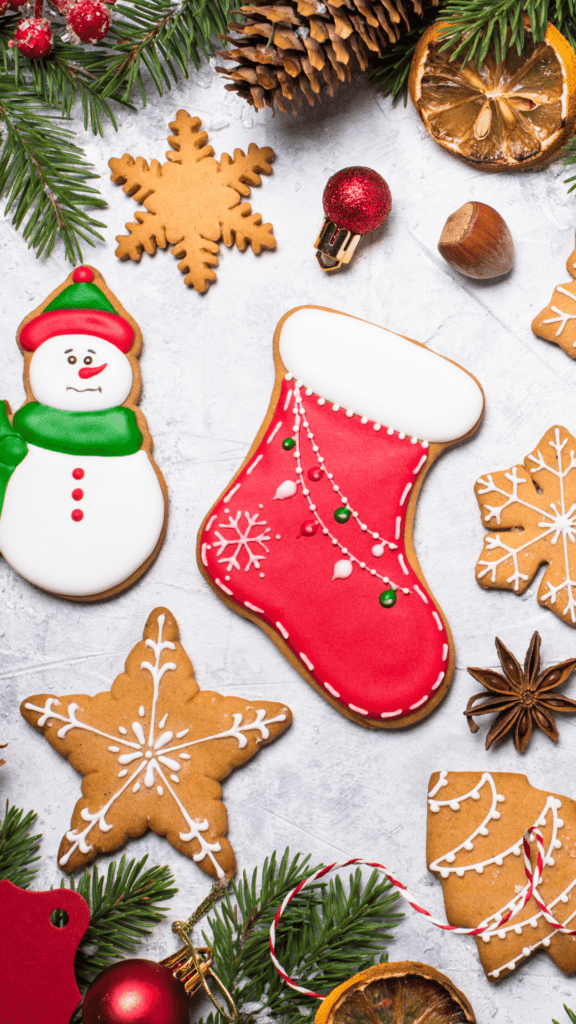 I'm obsessed with this Christmas cookie iPhone wallpaper. First of all, the cookies are SO perfectly decorated. And I love the other little Christmas details they added to the scene.
Simple Christmas Present
I love the incorporation of natural elements in Christmas present wrapping. This wallpaper background is so organic and nice to look at.
White and Red Gifts
The perfect wallpaper for anyone who likes clean naturals with a pop of color.
Teal Ornaments Wallpaper
I love that this teal ornament wallpaper has a lot of negative space at the top. This would make a great lock screen because there's a blank area where the clock display goes.
Christmas Stocking Wallpaper
This Christmas wallpaper is simple, merry, and bright.
Pretty Ornaments Background
Christmas elements with a pop of bubblegum pink. I love that they didn't stick to traditional Christmas colors with this one.
Snowy Christmas Presents
A perfect winter wonderland complete with presents at the bottom. You couldn't really ask for anything better!
This post was all about the best Christmas wallpaper backgrounds for iPhone.
You may also like: