12 Affordable Anthropologie Mirror Dupes (Same Look For Way Less!)
In this post, I'll share 12 of the cutest and most affordable Anthropologie Mirror Dupes. These are some of the best alternatives to the Gleaming Primrose mirror from Anthropologie.
This post may contain affiliate links, which means I'll receive a commission if you purchase through my link, at no extra cost to you. Learn more: Affiliate Disclaimer.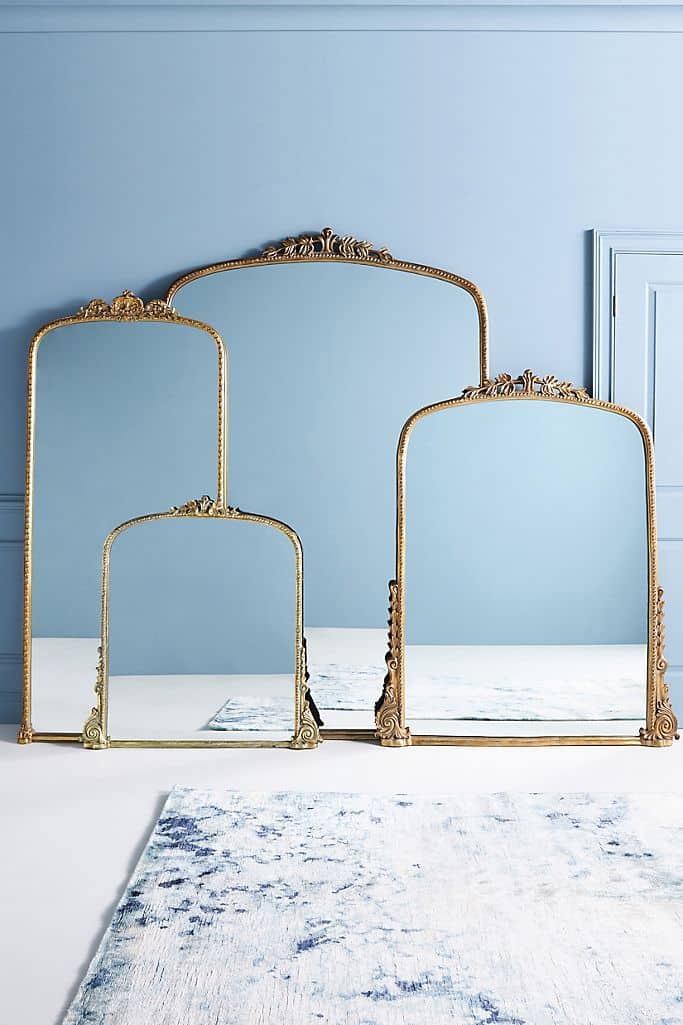 You know that Anthropologie mirror that every single Instagram influencer has in their house right now? Well it's been haunting my dreams for years because of how gorgeous it is.
Just check out some of these pictures:
It's called the Gleaming Primrose Mirror and it's absolutely taking over the interior design world.
The ornate gold mirror goes with just about any design style and comes in several sizes. Basically it could go in every room in your house.
The only issue with the Gleaming primrose mirror? It's EXPENSIVE! Like $498-1548 depending on the size.
That's why I've put together this list of 12 Anthropologie mirror dupes that are much more affordable than the original.
Anthropologie Gleaming Primrose Mirror Dupes
1. World Market Brass Vintage Mirror
2. Kirkland Antique Gold Victoria Scroll Mirror
3. Hobby Lobby Anthropologie Mirror Dupe
4. Sam's Club Anthropologie Mirror Dupe
5. Camilla Arched Floor Mirror
6. Hamilton Hills Top Gold Baroque Wall Mirror
7. Small Jacqueline Mirror
8. Morrey Crown Top Angled Wall Mirror
9. Cooper Classics Lincoln Wall Mirror
[RELATED: Dorm Room Wall Decor – 10 Ways to Decorate Your Dorm Room Walls]
10. World Market Arched Gold Mirror
11. Kate and Laurel Arendahl Traditional Arch Mirror
12. Antique Wall Mirror
This post was all about the best affordable Anthropologie mirror dupes.
Looking for more decor ideas?