Want to make your daughter's boyfriend feel like he's a part of the family this year? Here are 26 super thoughtful gift ideas for daughter's boyfriend.
This post may contain affiliate links, which means I'll receive a commission if you purchase through my link, at no extra cost to you. Learn more: Affiliate Disclaimer.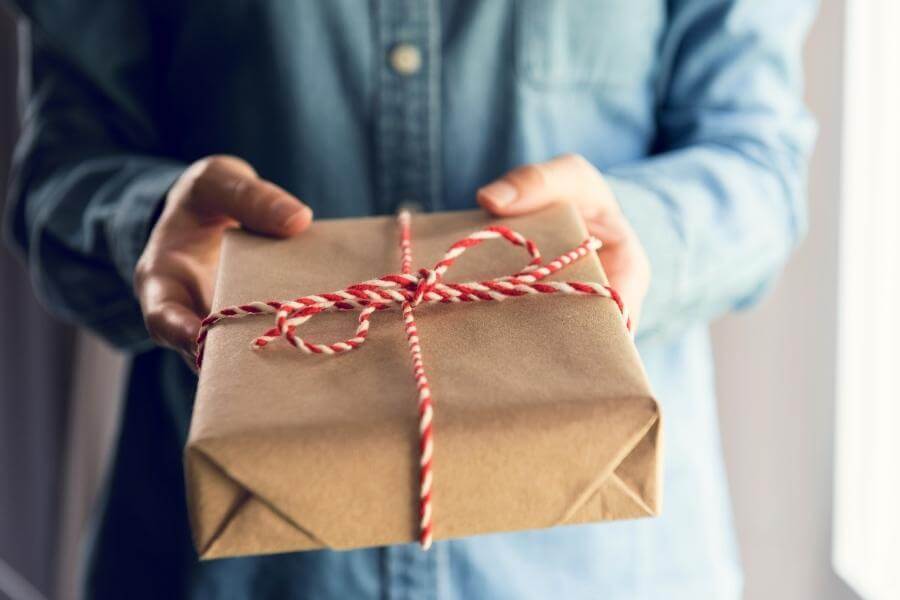 No matter how long your daughter has been dating her boyfriend, it's always nice to make him feel like you're welcoming him in.
Getting her boyfriend a Christmas or birthday present is a great way to show him that you approve of the relationship and that you know a bit about him.
Of course, if they've just started dating you may be wondering if it's even appropriate to get him a gift.
And if so, how much do you spend? We'll answer all of your burning questions and more in this guide to gift ideas for daughter's boyfriend.
Should You Get Your Daughter's Boyfriend A Gift?
First of all, should you even get your daughter's boyfriend a gift for Christmas or his birthday?
We say yes – even if they just started dating! This guy could end up becoming your son-in-law someday.
A small gift is a great way to show a new boyfriend that you approve of the relationship and that you're happy to get to know him.
You definitely don't need to spend a ton of money on the gift, especially if the relationship is really new.
One really thoughtful idea is to get him something that he can do together with your daughter. Concert tickets, movie gift cards, or other activity vouchers are a great way to get the couple a gift that they can enjoy together.
How Much To Spend On Daughter's Boyfriend
So how much should you spend on this gift? Of course, this will depend on your overall budget and financial position.
However, we don't recommend spending more than $20-30 if it's a brand new relationship. An expensive gift can put pressure on a new relationship.
If they've been dating for a long time, you can get away with giving nicer gifts in the $50-100 range – especially if it's a gift that the couple can enjoy together.
The Top Gifts For Your Daughter's Boyfriend
Best Affordable Gift: Leather Card Holder
Funniest Gift Idea: Toilet Golf Set
Best For Guys 21+: DIY Craft Beer Kit
Most Thoughtful Gift: Daily Q&A Journal
Best For Long Distance Couples: Weekender Duffel Bag
Affordable Gift Ideas For Daughter's Boyfriend
Don't want to break the bank? Here are cheap gift ideas for if you're on a budget or the relationship is brand new:
1. Can Flannels
How fun are these beer can flannels? They're super cute and they're practical because they help keep your drink cold.
If he's under 21 he can use these for soda or energy drinks too!
2. Card-Sized Bottle Opener
These card sized bottle openers are the perfect stocking stuffer for daughter's boyfriend.
They fit in your wallet and they look really cool. My boyfriend has one of these and he loves showing it off at parties.
3. Daily Q&A Book
Looking for an affordable gift idea that your daughter and boyfriend can do together?
This daily Q&A book is SO adorable for couples to fill out together. You basically answer daily questions together and each year you can go back and look at your answers from the year before.
Be aware that this is probably a better gift idea for couples that have been dating awhile. The journal is meant to be filled out for 3 years, so that would put a lot of pressure on a new relationship.
4. Leather Card Holder
A lot of guys really like these card holders because they fit all of their IDs and credit cards but don't have the bulk that regular wallets do. Plus, at less than $12 this gift is super affordable.
5. Ticket Stub Diary
For the guy who loves going to concerts or sports came. This ticket stub diary is so perfect because he can keep all of his favorite memories in one place.
Or your daughter and her boyfriend can just collect stubs for concerts they've been to together!
6. Bombas Socks
Socks may seem like a boring gift but guys literally go crazy over Bombas socks. They're durable and super cushy. Plus they donate a pair to the homeless for each pair you purchase.
7. Slippers
One of my favorite Christmas gifts for daughter's boyfriend is a good pair of slippers. Guys love to be comfortable when they're lounging at home or watching a football game.
These Dearfoams slippers are super affordable and have incredible reviews.
8. Coffee Variety Pack
A really affordable gift for coffee-lovers is this sample pack of coffee. It contains four varieties of freshly-ground (or whole bean) coffee from around the world.
It's a great way to get a taste of some of the best coffee in the world without spending a ton.
Thoughtful Gifts For Daughter's Boyfriend
Want to get your daughter's boyfriend a gift that shows you care? Here are some of the most thoughtful gift ideas for daughter's boyfriend:
9. Dopp Kit
Every guy needs a dopp kit for storing his toiletries when he travels. This leather dopp kit is the perfect thoughtful gift for your daughter's boyfriend.
It's made of premium leather, has a waterproof lining, and even has metal studs on the bottom to protect the bottom. It's also way more affordable than it looks!
10. Waterproof Speaker
JBL makes some of the best speakers available on the market. Any guy would love to have one of these for parties, tailgates, or just listening to music with his friends.
I love that it's waterproof so you can use it outside without worrying about rain damaging it.
11. Mug Warmer
One of the most popular Christmas gifts for anyone on your list is a mug warmer. You can set your coffee mug on it and it'll keep your drink warm as long as you need it to.
There are a ton of different options on the market but I like this one because it has an automatic shutoff option.
12. Heated Blanket
If you live in a colder climate, a heated blanket is a super thoughtful gift idea for just about anyone!
Someone else actually got this blanket for my boyfriend and I'm surprised how much he uses this!
When he's working from home or just gaming at night he's almost always wrapped up in his electric blanket.
13. DIY Hot Sauce Kit
I don't know what it is about guys and hot sauce but they seem to be obsessed!
He can recreate the show Hot Ones with his friends with this homemade hot sauce kit.
14. Yeti Coffee Mug
If you've read any of my gift guides, you know I always recommend Yeti products. I'm just OBSESSED with my Yeti mug and I want everyone to know about it lol.
But seriously, these keep your drinks so hot all day and they're pretty much indestructible. They would be a great gift for any coffee or tea drinker.
15. Grilling Spices
A lot of guys are super into grilling. If your daughter's boyfriend is one of them, he'll go crazy over this huge grilling spices gift set. Such a unique Christmas gift idea.
16. Cologne
Cologne is a great gift because it benefits your daughter and her boyfriend. Get him a scent that you think your daughter will enjoy too.
Not sure which scent to choose? Here's a guide to the best colognes for college-aged guys.
17. Weekender Duffel bag
This attractive duffel bag is a perfect gift for long distance couples. It gives him even more of a reason to come see your daughter more often.
It also would be perfect as a more sophisticated gym bag!
18. Beer Brewing Kit
I know my boyfriend would LOVE to get this gift. What guy hasn't talked about brewing craft beer with their friends?
Funny Gifts For Daughter's Boyfriend
A funny gift can make your daughter's boyfriend feel like he's a part of an inside joke with the family. Here are some funny gift ideas for your daughter's beau:
19. Fake Lottery Tickets
Want to pull a funny prank on your daughter's boyfriend? Give him these fake winning lottery tickets.
Warning – he may never want to come back to your house after you pull this prank on him lol.
20. Toilet Timer
This funny gift idea sends a pretty clear message to your daughter's boyfriend – hurry up in there!
21. The Comfy
My boyfriend and all of his roommates had these oversized blanket hoodies in college.
They wore them ALL the time while they were studying, playing video games, and watching TV in their college apartment.
Your daugher's boyfriend will definitely think this is a funny gift idea but he'll also get lots of use out of it!
22. Pooping Pooches Calendar
He'll definitely get a good laugh when he opens up this gift. This calendar just features pictures of dogs doing their business in nature.
23. Burrito Blanket
This gift idea is hilarious AND practical. The design on the blanket is super funny but the blanket itself is actually really cozy and nice.
He'll have a great time curling up on the couch in his new burrito blanket.
24. Toilet Golf Set
A really funny gift idea for daughter's boyfriend would be this toilet golf set.
It includes a little putting green that fits around the toilet, golf balls, a mini putter, and a do not disturb sign. If he plays golf, he'll think this gift is hilarious.
25. Beer Holster Belt
This beer holster belt is hilarious AND practical! Now he can have his favorite drinks on hand when he's grilling, doing yard work, or just hanging out.
The belt can fit 6 beers at a time and it'll fit up to a size 50 waist.
26. Shower Drink Holder
Another one of the funniest gift ideas for daughter's boyfriend is this shower drink holder. Place any can or stemmed glass in the holder and you can drink while you shower!
This post was all about the best gift ideas for daughter's boyfriend.
Looking for more gift guides?